Yeah ... but let's see you do it with no hands?
===========================================================================================
And he has a licence to carry that weapon concealed ...
"Am I early?" 3/26/18 ... I fear this piping plover gal might become a snowy owl tidbit. A massive, late-staying owl was sitting only 30 yards away ... watching her intently.

Tuesday, March 27, 2018: With the snow quickly melted away, I've gotten in loads of outsiding, both beach and Outback.
Although this web server butchers photos by lowering the quality to abysmal levels, I want to show a hyper load of pics with LBI written all over them. See down below. To view them in a better light, please befriend me on Facebook, where I show many a pic. I've eliminated some inactive friends to make room for newcomers, after reaching my allowed 5,000 friends. I'm also working on a photo storage/display app but not everyone wants to take that extra step to go there.
---------------------------------------------------------------------------------------------------------------------
My digs have been focused on sifting a dump area from an old RCA tower facility, just off Route 9 in Tuckerton. I'm hoping to find the likes of badges or metal IDs from back in the day. I previously found a numbered "Radio Tuckerton" brass badge, one that workers would hang from a board – in an "in" and "out" manner – indicating they were working out in the field, which could be a dangerous proposition for those "working the wires."
I recently found my fourth brass clamming license, which were issued from roughly the late 1930s up to the war, when the use of all brass was directed to the war effort.
These metal clamming permits just ooze baymen nostalgia, only being issued to professional clammers. Public/recreational clamming was pretty much catch-as-catch-can back then. Since each tag is numbered, it's distantly conceivable that I could track down the clamming names belonging to the permits. That would entail a paper chase up in Trenton. Any armchair historians want to give it a go? I've got the permit registration numbers.
----------------------------------------------------------------------------------------------------------------
I've recently done a couple Holgate hikes, going no further than maybe half way to the end. It closes to foot traffic next week.
The first one-third of the Refuge-adjacent beach it quite a vast and sandy expanse. From the beach berm area – adjacent to the ocean – over to Refuge "Keep Out" signage is pushing 150 yards across. Not that many years back, the same area was undrivable at high tide because the ocean water went up to the refuge signs. The trickledown sand from nearby beach replenishments – done twice in Holgate proper – is drastically filling in, to about 1,500 feet south, or further. There are still tight, badly eroded spots further toward the end, not that beach buggy drivers need worry about them, seeing that buggying is done until Aug. 30.
The bayside of the erosion area of the Refuge is as stark as ever. In fact, the eastward-moving Holgate erosion of winter shows no signs of backing off. The material from that eating away is likely adding to the shallowing of the bay. Also, folks are telling me that sand from Holgate's eroding front beaches is migrating around the Rip and into the bay. That doesn't bode well for boating between the 113 Buoy all the way through Little Egg Inlet, including the new channel.
If you're among the first to use the new inlet channel, please drop me a line about what's what out there. I don't use names … unless okayed.
Below: All sand, wind and sun angle ... no snow shots.








=================================================

Last week.
=========================================================================================
SPRING AND SUMMER SURVEYS SHOW STRONG REBOUND OF AMERICAN SHAD IN THE DELAWARE RIVER
(17/P103) TRENTON – Biological surveys conducted this year suggest American shad are making a strong comeback in the Delaware River, historically famous for a once-prodigious population of this important fish species, Department of Environmental Protection Commissioner Bob Martin announced today.
Net surveys conducted during the spring resulted in the ninth largest overall haul of migrating adult shad ever recorded, while summer surveys of juvenile shad that hatched this year were the best in the nearly four decades of monitoring for juvenile shad.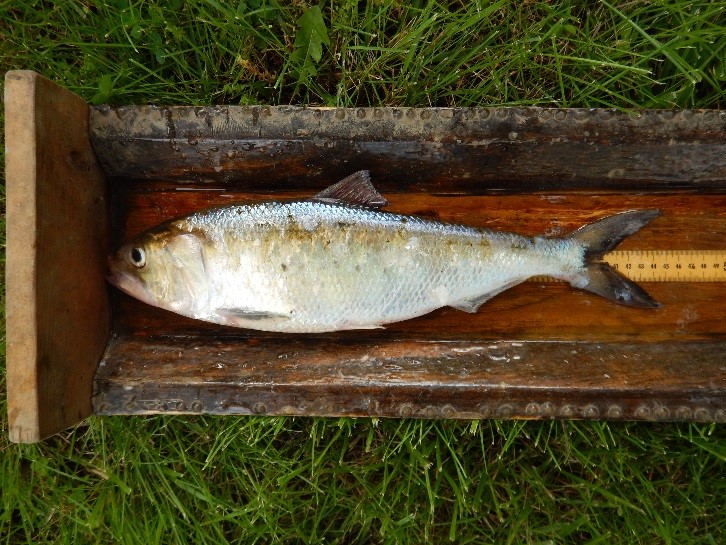 "The strong shad spawning run and record-setting juvenile numbers this summer lead us to be very optimistic about the future of shad, a species that is important to the overall ecological health of the Delaware River," said Commissioner Martin. "We have worked very closely over the years with our partner state and federal agencies in the river basin as well as numerous nonprofit and community groups to restore this species to the Delaware, the largest free-flowing river in the eastern United States."
The history of shad runs deep in the Delaware River, with the fish providing food and other essential uses to Native Americans, feeding George Washington's Continental Army, and supporting a major 19th century commercial fishery that fed the region's burgeoning population.
But water quality problems that developed in lower, urbanized portions of the river around Philadelphia effectively created a dissolved-oxygen barrier to the age-old spawning runs. Water quality improvements, especially in the 1980s and 1990s resulting from upgrades to wastewater treatment systems, greatly improved dissolved oxygen levels, enabling shad to gain access to the upper river and its tributaries.
The closure of the commercial shad fishery in the ocean by state and federal fisheries managers more than a decade ago in response to all-time lows in shad stocks appears to be another significant contributor to the rebound of shad in the Delaware River.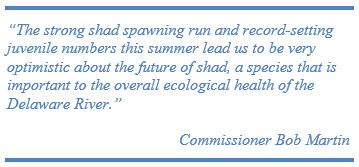 "Building on our encouraging survey results and ongoing conservation measures, the DEP and the New Jersey Division of Fish and Wildlife will continue to work on local and coastwide management strategies that will further the recovery of shad, with the hope of restoring numbers to historic levels," said Division Director Larry Herrighty.
The American shad is the largest member of the herring family, weighing from four to eight pounds at maturity. They spend most of their lives in the ocean but return to rivers and their tributaries to spawn. The species' range stretches from the St. Lawrence River in Canada south to the St. Johns River, which flows from its mouth at Jacksonville south through much of eastern Florida.
Adults are capable of swimming some 2,000 miles from ocean feeding grounds to rivers to spawn. They may travel upwards of 200 miles in these rivers to find suitable spawning habitat, usually in rocky or gravelly shallows. Females can release hundreds of thousands of eggs. Juvenile shad spend several years in the ocean, returning to river systems to spawn when they reach sexual maturity.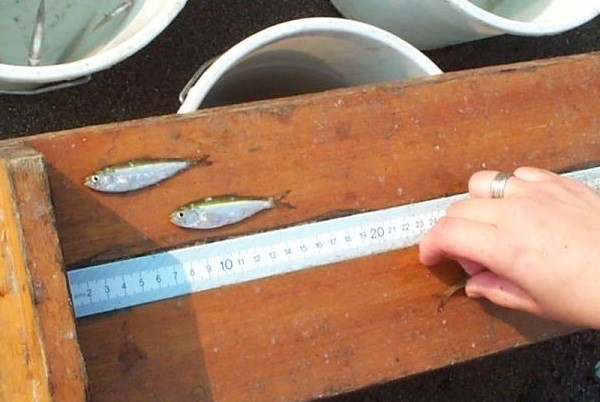 The fish once supported massive commercial and recreational fisheries in rivers along the Atlantic coast, especially the Delaware River. But, in addition to water quality problems, dams built to generate power, for mills and for other now-obsolete purposes greatly reduced their ability to access potential spawning habitat in the Delaware's many tributaries.
The DEP has been working with numerous partners to remove dams along Delaware River tributaries, with efforts focused on the Musconetcong River as it flows through Hunterdon and Warren counties.
Steve Meserve, who runs the Lewis Fishery in Lambertville, Hunterdon County, works with the DEP in reporting spring shad runs at this critical point in the Delaware. Netting surveys he conducted in the spring resulted in hauls totaling 1,262 shad, the ninth best in 92 years of reliable record-keeping results and the best since 1,257 were netted in 1995.
Meserve tracks shad as part of a business that sells the fish to people who wait along the riverbank to buy fish he hauls in. His family has been fishing shad in Lambertville since 1888, and is the last remaining operation to do so following a crash in the shad population in the 1940s and 1950s due to poor water quality in the Philadelphia area.
"It's a much brighter picture than we've seen in years," said Meserve, noting that in 2011 he was catching an average of just two fish per netting operation compared to 30 this year. "It's certainly good news and we'd like to see it continue, and we will be out there keeping track of what's going on."
The DEP also conducts numerous surveys of juvenile shad at various locations along the upper river beginning in late August. This year's survey resulted in the highest totals in 38 years of monitoring. These surveys counted 24,536 juvenile shad this summer, compared to 2,664 in 2013, and 8,360 in 2016.
Netting hauls conducted in August at Milford Beach in Hunterdon County, for example, were so strong that the total counts of juvenile fish exceeded hauls at that location for all previous five years combined.
Shad, which are very popular as a feisty sport fish, also play a very important role in the ecosystem of the Delaware River, as well as estuarine and ocean ecosystems. Shad are important prey for larger fish and other predators, such as birds. Many wildlife species synchronize their migrations to coincide with shad runs.
Some shad may return to the same river system to spawn two to three times during their lifetimes. Many will die after spawning. When they die, their decomposing bodies return to river systems important nutrients that are essential to other aquatic life.
The Division of Fish and Wildlife uses money from the U.S. Fish and Wildlife Service's Sport Fish Restoration program to help fund American shad research and recovery projects. Funds for this program are generated by federal excise taxes on fishing equipment, as well as motorboat and small-engine fuels.
For more information on shad and annual shad survey reports, visit: www.nj.gov/dep/fgw/fish_shad.htm
For a news release on dam removal efforts along the Musconetcong, visit: www.nj.gov/dep/newsrel/2017/17_0065.htm
DEP Photos/Top: Adult shad in measuring box; Bottom: Measuring juvenile shad
###
=====================================================================================
Jay Mann Not looking for a pissing match but, I'm sorry, Sandy was not even in the same violent league as the Great March Storm, power- and impact-wise. To be sure, Sandy was a hideous flooding event, second to none in modern times. Of course, one can only imagine what storms primordial peoples might have experienced ... going back over 10,000 years. It is unlikely that the March Storm was anywhere near being a 10,000-year storm.
Another 1962 March storm photo that I dug deeply to find.
================================================================================
White Marlin Open to Host 45th Annual Deep-Sea Fishing Tournament this August
World's largest billfishing tournament expected to award more than $5 million to 2018 winners
OCEAN CITY, MARYLAND – March 20, 2018 – The White Marlin Open, an offshore billfish tournament held in Ocean City, today announces plans for its upcoming 45th annual tournament to be held August 6th through August 10th. The tournament, which has awarded more than $63 million in prizes to date, expects to give out more than $5 million to this year's tournament winners. Prizes are awarded for catches of white marlin, blue marlin, tuna, wahoo, dolphin, and shark, as well as most release points by boat and daily catches of wahoo, tuna and dolphin.
New Tuna Entry Level
A new addition to the 2018 tournament is an added level to the tuna category (level T4). "Our tuna division has grown consistently every year, with last year's prize totaling just under $1 million," stated Jim Motsko, Founder of the White Marlin Open. This year, the new tuna entry category will be available for a $3,000 fee, with the winner taking all. "This basically sets up the tournament to have a $1 million tuna winner."
An Appeal to Novices and Small Boats
"Many people believe you need to be an experienced offshore angler with a large boat and deep pockets to participate and win in the White Marlin Open. That's simply not the case," said Motsko. "Many of our participants have little to no experience. They also fish in groups where each person contributes to the entry fee and takes turns fishing each day. Anyone can win."
On top of a group entry, participating boats can depart from anywhere within the 100 nautical mile limit fishing boundary. As a result, smaller boats do not have to launch from the Ocean City Inlet in order to participate, and can depart from as north as Barnegat, NJ and Cape May Inlet, all the way south to Rudee Inlet in Virginia Beach at the Virginia Beach Fishing Center. Additionally, smaller boats may compete against the whole fleet or enter categories limited to boats under 40 feet.
"We're excited to make our 45th year one for the record books," said Madelyne Rowan, Tournament Director at the White Marlin Open. "With more prize money than ever before, new fishing categories and options for both large and small vessels, we're expecting this year's payout to be our biggest ever."
In addition to tournament participants, the White Marlin Open draws thousands of families who schedule their vacations around "Tournament Week" in Ocean City. Spectators are welcome to view the weigh-ins free of charge at the official scale at Harbour Island each day from 4:00 pm to 9:15 pm.
The White Marlin Open 2018 tournament is presented by Quiet Storm. Platinum sponsors include Rick Bogert Marine Art and Park Place Jewelers. Diamond sponsors include Pelagic, Salt Life and Casino at Ocean Downs. Gold sponsors are Miller Lite, Okiaya, Sunset Marina, Casa Vieja Lodge, HUK, Chantilly Air, Viking, Clarion Resort, Garmin, Bertram, Mid Shore Electronics, Costa, Los Cabos Billfish Tournament, and Jersey Marine.
Silver sponsors include Atlantic Tackle, Travelers Insurance, Christi Insurance, Big Game Fishing Journal, Bayliss Boatworks, Contender Boats, and Fish Unlimited. Bronze sponsors are AtlasTrax, Buoyweather/Fish Track, Release Marine, Phillips Seafood Restaurants, Atlantic Smith Cropper & Deeley, Action Island, Johnson & Towers, Baitmasters of South Florida, Harborside Bar and Grill, Cummins Power Systems, Papa's Pilar and Seacrets. Tournament partners include D3 Corporation, Maryland Food Bank and Recreational Fishing Alliance.
About White Marlin Open
The White Marlin Open is a 45-year-old offshore fishing tournament held annually in Ocean City, Maryland. The tournament awards prize money for catches of white marlin, blue marlin, tuna, wahoo, dolphin, and shark. Long known as "World's Largest Billfishing Tournament," the White Marlin Open (WMO) has awarded over $63 million dollars since 1974 to the lucky winners among more than 100,000 anglers aboard over 13,000 registered boats. Along the way, the WMO became the largest billfish tournament and holds the world record for prize money payouts for any type of fishing tournament. To learn more, please visit https://whitemarlinopen.com.
==============================================================================
New York State Asking Feds to Revise 1980s Quotas For Fluke
SEAFOODNEWS.COM [Associated Press] - March 26, 2018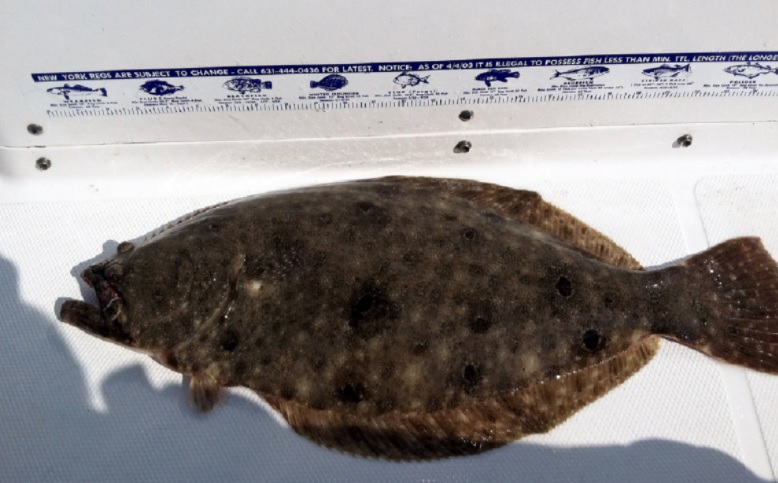 State officials are asking the federal government to change its quotas to allow New York-based commercial fishing companies to haul in more fluke.
Gov. Andrew Cuomo and Attorney General Eric Schneiderman have filed a petition seeking revised allocations for fish also known as summer flounder.
The Democrats say the current quotas unfairly limit the New York fishers' allocation because they're based on outdated data from the 1980s. The New York officials say scientific studies have shown the summer flounder fishery has shifted north toward New York waters since then.
Cuomo and Schneiderman say the current quotas hurt New York's commercial fishers and seafood dealers. They say increasing the allotment for New York-based commercial fishing operations will allow more fish to be landed in ports closer to where they are caught.
======================================================================================
DFO Technical Meeting Hears Bad News About Northern Cod Stocks, with Potential 29% Biomass Decline
SEAFOODNEWS.COM by John Sackton March 23, 2018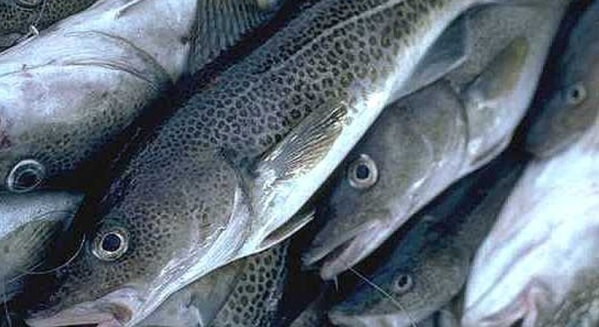 After participating in several days of technical meetings on Northern Cod Stocks, the Groundfish Enterprise Allocation Council, representing offshore quota holders and year-round harvesters of cod, said the data showed a 29% decline in the Northern Cod spawning stock biomass.

This is a shock to an industry that was expecting rapid continued growth of Northern Cod.

"Unfortunately, this significant decline comes only two years after DFO projected that the spawning stock biomass would double by 2019. Despite relatively low levels of younger cod, a changing environment and declining food supply (capelin and shrimp) that could slow the cod recovery, DFO implemented significant increases in catch in response to some industry groups" explained Kris Vascotto, GEAC's Executive Director.

GEAC is determined to push for the most conservative possible cod quotas for this stock, on the theory that there is only one chance to get it rebuilt properly.

There have been major investments in Newfoundland on the part of both harvesters and processors gearing up for a rebuilding cod fishery. Many harvesters have put longline systems on board, and plants have invested in more mechanization. Besides the traditional sales of frozen cod loins from Newfoundland, some companies had been experimenting with single frozen shatterpack, and even fresh cod. A reduction in the quota in 2018 would be a significant blow to those who have spent this money.

The GEAC says that If there is a silver lining at this point, it's that this might be a wake-up call that while we cannot control nature's dynamics, we can control fishery removals.

In 2015, reported landings of Northern Cod by commercial seasonal harvesters was about 4,400 mt. By 2017, this number had jumped to over 13,100 mt and clearly did not follow the trajectory of the resource.

In order to realize sustainable benefits from a recovered Northern Cod stock, there is a need to practice a more precautionary approach that constrains fishing until the resource increases above its Critical Zone.

"We look forward to working with the Department to achieve a better harvest strategy for the future," emphasized Vascotto.

"There is a need to focus on the long-term, to be cautious and to go-slow in our approach towards a sustainable recovery," said Alberto Wareham, President and CEO of Icewater Seafoods in Arnold's Cove, NL. Icewater's plant and its 210 employees rely solely on cod, yet the company is still encouraging a conservative approach. "The sustainability of the resource has to be the top priority," Wareham added.

"Given the spawning stock biomass is back to its 2014-15 level and continuing to decline, it would be prudent for Minister Leblanc to reduce the allowable catch accordingly," observed Mr. Vascotto.

"Furthermore, any future increase in the catch should be contemplated only after the spawning stock biomass has been verified to have reached 50% of the limit reference point, and even then, only if projections show continued growth."

"The world is watching how we manage the recovery of Northern Cod," cautioned Blaine Sullivan, Chief Operations Officer of Ocean Choice International, whose family has been harvesting cod for generations. "We need to avoid the cycle of past mistakes. We owe it to future generations to do the right thing, to slow-down and allow the stock to rebuild to levels that allow a viable fishery for the future. "

The disagreement over how much cod to harvest has been exacerbated by the sharp declines in the inshore shrimp fishery, where landings have fallen back to their levels in the 1990's, cutting off significant income from the inshore fleet. The snow crab resource in Newfoundland is also on a downward trajectory, although the current high prices of crab have meant that the economic returns from that fishery are still very positive for the inshore sector.

The bad news on the spawning stock biomass is going to exacerbate the tensions in the province between those who are trying to maintain income for the widely dispursed inshore fleet, and those who would like to see a fishery that is more attuned to larger vessels fishing year round. However, the first 100,000 tons of cod that is allowed to be caught is now reserved for the inshore fleet, and only once the quota exceeds that will some of the historical offshore quotas become active, according to recent agreements on northern cod.

The ultimate decision on quota amounts for 2018 will be with the federal minister of fisheries.
==========================================================================================
Fishermen Clash With Conservationists Over Endangered Status of Leatherback Turtle
SEAFOODNEWS.COM [Orlando Sentinel Communications] By David Fleshler - March 27, 2018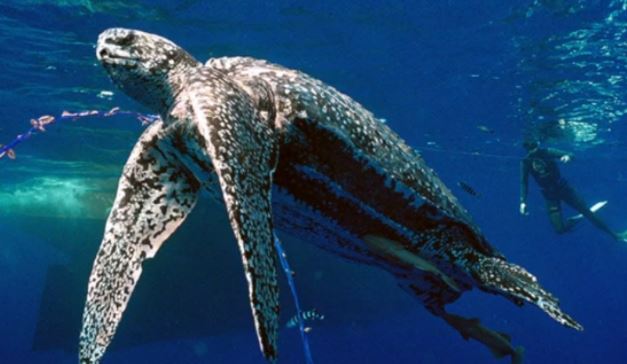 Leatherback turtles are nature's U-boats, 1,500-pound reptiles that can dive to depths of more than half a mile, snatch a jellyfish and stay submerged for more than an hour before resurfacing.
Protected as endangered species for nearly half a century, their Atlantic population soon may lose that status, in what is becoming a fight between commercial fishermen and conservationists.
The Blue Water Fishermen's Association, which represents longline fishermen who catch swordfish, tuna and other big fish along the East Coast, has petitioned the federal government to reclassify from endangered to threatened the northwest Atlantic population of leatherbacks, which crawl up on Florida beaches every spring and summer to lay eggs.
With the Pacific leatherback population crashing, they say the northwest Atlantic population should be classified separately so U.S. fishermen aren't penalized for the failure of other countries to protect them.
"Right now the leatherback population of the Earth is considered to be one stock of turtles," said Jack Devnew, president of the Blue Water Fishermen's Association. "Things happen in a different part of the ocean, and our fishermen pay the price."
European, Canadian and Pacific fishing fleets operate with fewer of the restrictions imposed by the U.S. government to prevent the accidental catch of sea turtles, he said. U.S. longline boats, for example, must use circle hooks, sharply curved hooks that are harder to swallow and have reduced their swordfish catch by 30 percent, he said.
Although leatherback populations in the Atlantic are generally increasing, with some fluctuations, their outlook in the Pacific is far grimmer, according to the National Marine Fisheries Service. In the western Pacific, they have declined more than 80 percent over the past three generations, and in the eastern Pacific, they have declined more than 97 percent. In Malaysia, Indonesia, Mexico and other Pacific rim countries, people routinely dig up leatherback nests to eat their eggs.
Opponents of the change say the leatherback's Atlantic future only appears bright in comparison with the Pacific catastrophe. Despite the federal government's claim that numbers have increased, they say, the most recent nest counts for many beaches have shown a decrease.And there have been worrisome indications of the effects of climate change, since temperature plays a major role in determining the ratio of male to female hatchlings, with warmer temperatures skewing the yield heavily toward females.
"We are witnessing a serious decline or near collapse of nesting on some beaches we monitor," said Gary Appelson, policy coordinator for the Sea Turtle Conservancy. "These iconic and amazing marine reptiles need all the protections we can give them."
Every year, these holdovers from the dinosaur age crawl ashore on South Florida beaches to lay eggs, continuing an ancient reproductive ritual despite the complications created by hotels, sea walls and bright lights. Although their flesh is too greasy for them to have suffered the fate of green sea turtles, once a table favorite in the United States, leatherbacks get caught accidentally on longlines and in shrimp nets, die from consuming plastic bags and other trash and suffer from the degradation of nesting beaches to coastal development.
Broward County "strongly opposes" stripping leatherbacks of the "endangered" label, wrote Jennifer Jurado, director of the county's Environmental Planning and Community Resilience Division, in a letter to the National Marine Fisheries Service.
Leatherbacks established 12 nests last seasonon Broward beaches, the lowest number since 2011, paralleling a statewide nesting decline, she wrote.
"If there is in fact a long-term declining trend in leatherback nesting in Florida and Broward County, it is vital to retain their status as 'endangered' to allow nesting populations to rebound again," she wrote.
In northern Palm Beach County, leatherback nests increased through 2009, when 277 were counted, according to a letter from the Loggerhead Marine Life Center, which monitors those beaches. But since then, the number has fallen sharply, with only 64 nests established last season, the center said.
"This abrupt reversal is a concerning trend that may indicate the Florida leatherback population is not doing as well as once thought," the center said.
But another commercial fishing group supports the change.
"We are faced with regulations without proper assessments to species," wrote Acy Cooper, president of the Louisiana Shrimp Association. "And we are also facing unjust allegations from environmental groups that are slandering our industry. Our fishermen respect the Endangered Species Act. We have a legal right to know if all of these species are still endangered. We stand by New Jersey-based Blue Water Fishermen's Association in their request. We are saving the turtles now save our Fishermen!"
The National Marine Fisheries Service has made an initial finding that the fishing group's petition had provided substantial scientific information that the proposal "may be warranted." The agency will make a preliminary decision toward the end of the year.
===================================================================================
New Brunswick Crab Fishermen Testing Ropeless Fishing Gear In Effort To Save Right Whales
SEAFOODNEWS.COM [CBC News] By Hadeel Ibrahim - March 26, 2018
New Brunswick snow crab fishermen will test two ropeless trap methods this spring to reduce the use of the fishing rope blamed in the deaths of two North Atlantic right whales last year.
The two whales were among seven found tangled up in ropes and buoys in the Gulf of St. Lawrence during an especially dangerous year for the whales.
"Ropeless fishing will solve this problem," U.S. marine biologist Mark Baumgartner said Friday after crab fishermen announced plans to try an approach already in use in Australia.
Robert Haché, director general of the Acadian Crabbers Association, said the fishermen want to do all they can to prevent entanglements.
And researchers think technology has advanced to the point where ropes and buoys floating in the ocean column for days and weeks are no longer necessary.
Mark Baumgartner, of Woods Hole Oceanographic Institution in Massachusetts, said ropeless fishing is the solution to the entanglement problem.
"Ropeless [fishing] was seen as kind of a crazy idea before," said Baumgartner, of the Woods Hole Oceanographic Institution in Massachusetts. "But now it looks like the only actual solution to the problem.
How Crab Fishing Works
Ten New Brunswick fishermen will be testing two different ropeless trap methods — one based on acoustic release and another that uses an inflatable buoy.
Both use sonar to track and communicate with the traps.
A traditional crab trap or pot is made of metal or mesh. Fishermen load it with bait and lower it to the ocean floor. Similar to a lobster trap, crabs can get in but they can't get out.
For the fishermen to keep track of the traps so they can retrieve them, a rope is attached and a buoy marks its place on the surface.
The techniques to be tested this season will be from U.S.-based technology and research companies, Haché said.
"For years here in the gulf with snow crab, it was never an issue because we never had any whales come in the gulf in that kind of numbers," he said.
"So anything that we will be testing in terms of improvement for fishing gear, is always something that we will borrow from experiments that have been done with the lobster fishery in the states."
The Acoustic Release
The first method, the acoustic release, is made by the California-based underwater tech company Desert Star.
The release tool — a 2½-foot-tall PVC pipe — is attached to the regular traps fishermen use.
It has a lever arm that holds the buoy and the rope. The rope is furled in a mesh bag so it's not floating freely in the water. The trap, the mesh bag and release tool are all thrown into the ocean.
When fishermen are ready to pull up the trap, they send a signal and the acoustic release lets go of the buoy, which floats to the surface where it can be located by the fishermen.
Jacob Wolf, marketing and sales co-ordinator with Desert Star, said this means the rope is only in the water column for as long as it takes the buoy to float up and the fishermen to retrieve it, which could be a few minutes.
He said with the exception of regulatory bodies, only the fisherman who bought the device can release it.
"Everybody is going to benefit from this kind of system whether it's our system or somebody else who comes along and makes it better," Wolf said. "No matter what, ropeless fishing is going to benefit the whales, it's going to benefit the fishers, the community and the consumers.
"So it's kind of cool to think about it like this is a real-life fairytale, kind of."
If fishermen were to buy one to nine acoustic releases, it would cost them $1,000 to $1,995 each.
The lifetime of one acoustic release is 10 years, and it works up to 350 metres deep.
According to Fisheries and Oceans Canada, crabs can be fished in up to 600 metres.
An Australian lobster fishery has been using this device commercially since 2011, but it began as a way to retrieve scientific research equipment in 2004.
The Inflatable Buoy
The second method is the brainchild of Richard Riels, executive director of the Washington-based Sea Mammal Education Learning Technology Society, known as SMELTS.
He said his ropeless fishing technology is inspired by a scuba tank and an inflatable bag used by scavengers and scientists.
"The buoy is still on the pot but it's deflated," Riels said. "And we inflate it by an acoustic trigger that opens high-pressure gas that will fill the bag and lift the trap.
"I realized that there's no gear that we can't lift from the bottom of the ocean to the surface with this type of technology."
This technology is patent pending, and Riels said it hasn't been used commercially yet, but he wants to work directly with fishermen.
"Basically, I think what we should do is work with fishermen who are willing to test and trust," he said. "I think there's fishermen right now in the world that would be very interested in trying to do that.
He described some current fishing methods as "archaic 400-year-old systems," which are effective and work but have an impact on other things.
Earlier Season
Haché said he expects this season to start seven or 10 days earlier than last year because the ice is melting faster. So he expects to start testing as early as April 20.
At least 17 North Atlantic right whales were found dead last year — 12 in Canadian waters and five in U.S. waters. Scientists believe human activity, including shipping and fishing, was the primary cause.
The $75-million gulf snow crab industry learned recently that its sustainable fishery designation was being suspended until the Marine Stewardship Council is satisfied the fishermen have solved the entanglement problem.
Only an estimated 400 North Atlantic right whales are left in the world.