On Saturday, March 21, New Jersey Governor Phil Murphy issued Executive Order No. 107 directing all residents to stay at home until further notice, while providing certain exceptions like obtaining essential goods or services, seeking medical attentions, visiting family or close friends, reporting to work, or engaging in outdoor activities. Governor Murphy's executive order aimed at stemming the spread of COVID-10 also ordered the closing of all non-essential retail businesses as of Saturday night.
The Recreational Fishing Alliance (RFA) responded on Monday by way of an official waiver request to Col. Patrick J. Callahan, Superintendent of New Jersey State Police (NJSP), seeking essential status designation for New Jersey's recreational fishing ... during the crisis. Signed by RFA executive director Jim Donofrio, the letter to Col. Callahan seeks the Superintendent's consideration of "those in the recreational fishing industry, bait and tackle shops and licensed for-hire operators catering to legal, sustainable harvest of seafood for personal consumption" as essential retail operations, so long as those businesses take precautions for the health and safety of both workers and customers.
There was no immediate response from the State of New Jersey or the NJSP as of Tuesday morning, but The Fisherman Magazine will stay on top of the RFA effort on behalf of the recreational fishing industry in New Jersey, and efforts to help anglers continue fishing safely and sustainably through the COVID-19 crisis.
The RFA letter to Col. Callahan is as follows.
In the final interpretative breakdown of Governor Murphy's Executive Order No. 107 Issued on Saturday, March 21, 2020, it states where "Manufacturing, industrial, logistics, ports, heavy construction, shipping, food production, food delivery, and other commercial operations may continue operating, but as explained above, they should limit staff on site to the minimal number to ensure that essential operations can continue."
As the governor has deemed commercial fishing an essential business by way of "food production, food delivery and other commercial operations," it is formerly requested that the recreational fishing industry by way of retail bait and tackle shops and licensed for-hire operators also be allowed to operate during the COVID-19 crisis. Essential fishing equipment like bait, tackle, waders, foul weather gear and the like are often purchased by existing "essential" business and municipalities in New Jersey by way of local bait and tackle shops, which operate as all-purpose outfitters in most shore communities. For those making a living at most Jersey Shore towns, the local tackle shop is an essential operation.
The U.S. Department of Commerce through its National Marine Fisheries Service (NMFS) adheres to a federal policy pertaining to non-commercial activities of fishermen who fish for sport or pleasure, as set out in the Magnuson Stevens Fisheries Conservation and Management Act's definition of recreational fishing, whether retaining for personal consumption or releasing their catches, as well as the businesses and industries (e.g., the for-hire fleets, bait and tackle businesses, tournaments) which support them. Under this federal definition of recreational fishing, it is critical during the COVID-19 crisis in New Jersey to consider how recreational fishing businesses in New Jersey are essential to serving those who fish for subsistence, or those supplementing family diet with fresh, sustainably harvested New Jersey seafood.
A caveat in the Governor's edict reads "If you believe that your retail business or operations are unique and should be included as "essential," you may submit it to the State Director of Emergency Management, who is the Superintendent of State Police. Recognizing how the Director as having the discretion to make additions, amendments, clarifications, exceptions, and exclusions to these lists, we humbly respect that an allowance be made for those retail businesses serving New Jersey's fishing industry and recreational fishermen. Many of these bait and tackle shops in particular can operate with few staff in places, taking orders by phone and leaving necessary bait or tackle product curbside for pickup. Thus, similar to what is already contained in Executive Order No. 107 in reference to "Manufacturing, industrial, logistics, ports, heavy construction, shipping, food production, food delivery, and other commercial operations," we formally request something along the following be considered for these unique New Jersey businesses.
Allow for "those in the recreational fishing industry, bait and tackle shops and licensed for-hire operators catering to legal, sustainable harvest of seafood for personal consumption may continue operating, but as explained above, they should limit staff on site to the minimal number to ensure that essential operations can continue."
*************************************************************
Fishing, Aquaculture and Food Processing Considered 'Essential' Services in Maine
March 25, 2020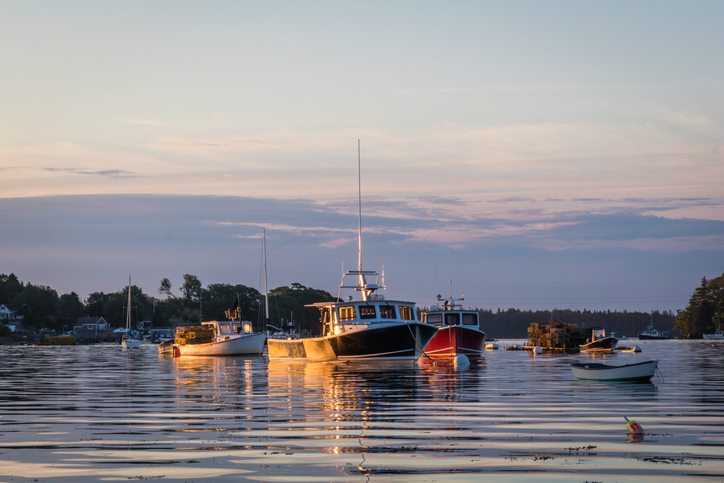 With each state making different mandates, it's unclear what jobs and services are considered "essential" during the coronavirus outbreak. While each state is releasing their own information, Maine has made it clear that they consider those in food processing, fishing and aquaculture as "essential."
On Tuesday Maine Governor Janet Mills issued an Executive Order mandating that "all non-essential businesses and operations in Maine close their physical locations that are public facing." The Executive Order also closed non-essential business sites that "require more than 10 workers to convene in a space where physical distancing is not possible." 
The order, which went into effect on Wednesday, and is in place until April 8, 2020 at 12:00 a.m., left many workers uncertain about whether they were legally allowed to continue working. However, the Maine Department of Marine Resources sent a bulletin clarifying the Executive Order:
"NOTE that food processing, fishing and aquaculture are considered essential services under the Executive Order and shall continue their activities consistent with guidance on social distancing included in the order."
Although fishing, aquaculture and food processing is considered "essential," the coronavirus has already delayed Maine's multi-million dollar comercial baby eel season. Patrick Keliher, the Commissioner of the Maine Department of Marine Resources, said that "portions of the elver fishery make it impossible to follow social distancing recommendations, including maintaining 6 feet from other people to reduce the spread of this disease. The fishery was pushed back to April 5, but it could potentially be delayed further.
With that said, Governor Mills is working on some relief for the state's fishing and seafood industries. Over the weekend she urged President Donald Trump to marshal resources of federal government to support Maine's fishing and seafood industries. 
"The COVID-19 pandemic is taking a substantial toll on Maine's independent fishermen, aquaculturists, wholesale dealers, and seafood processors," Gov. Mills wrote to Trump. "The markets for their products are collapsing both globally and locally. The men and women who ply our waters harvesting lobster, groundfish, herring, shellfish, countless other species, and farming aquacultured products are the very backbone of our rural coastal economy."
One of the bigger issues here is that Maine's fishermen are not eligible for unemployment because they're technically independent operators.
"In the short-term, harvesters have only limited opportunities within their communities to sell small quantities of product in the hopes of earning just enough money to buy weekly groceries," Mills continued. "In the long-term, it is clear that the collapse of the international and larger domestic markets will devastate Maine's commercial fisheries."
What Happens to All Surplus Food? Restaurants Offer Up Supplies and Groceries
Copyright © 2020 The Cincinnati Enquirer
By Polly Campbell
March 25, 2020
At the same time that there are empty shelves at grocery stores and shoppers struggle to find what they want, food is going to waste in closed restaurants and wholesalers.
"It's just a different supply chain," said Stephen Harman, co-founder of Fusian sushi restaurant. "There are restaurant wholesalers and there are grocery wholesalers. A restaurant wholesaler can't just switch to selling to Kroger."
Now, along with ordering sushi and rice bowls through Fusian's website, you can order from a limited list of groceries, including avocados, white rice and brown rice. They'll deliver with one of their own vehicles or a third party.
Frisch's is offering supplies and groceries through their regular takeout system, selling milk and bread and toilet paper and tuna salad stocked in their commissary. Frisch's business is already about 40-50% to-go, whether that's drive-thru, pickup or delivery, so they've managed to keep a greater percentage of their employees working than some restaurants. At www.frischs.com, you can order from a pretty good list of essential groceries.
Some restaurants have organized sales of the food they had on hand. Revolution Rotisserie in Pleasant Ridge organized what they had into lists and offered it to the neighborhood, who paid ahead and picked up at the restaurant. Owner Nicholas Pesola has decided not to try to operate carryout. He made enough to pay outstanding bills and a week of salary to managers.
On a larger scale, Mike Haunert, the President of Sysco Cincinnati, the local division of national, publically traded restaurant supply company, said they've been pedaling as fast as they can. He says while his inventory is piling up, "they're screaming for it in retail."
"We have 40% of our product in the cooler," he said, meaning perishable, so they're working on a quickly moving timeline. Because they sell some food-service items to Kroger, they've been able to supply them with a wider variety of products, including fresh produce.
"If we can find a retail customer, we do that, but then it makes sense to go to donations," Haunert said. "We have a very good relationship with the Freestore Foodbank and with La Soupe."
The challenge is getting everything sold or donated before it expires.
Kam Siu, who owns Panda Trading Company, which sells to Asian restaurants, has completely pivoted. "We have never hustled so hard in our lives," he said. With no restaurants to sell to, he set up deliveries to consumers, instituted a neighborhood program where people could have cases delivered and shared with neighbors. And then even created customized boxes in smaller quantities than crates. He said response has been very good. "We're thinking home delivery of fresh produce might be a permanent thing for us," he said. For now, he's just running orders from his personal Facebook page, but they're working on a website.
He also made a deal with a wholesaler who supplies Kroger, to take some of his produce and help fill those empty bins at stores.
Pic's Produce, a family-owned food distributor that's more than 100 years old, is doing very little business, though they still have a few accounts. They laid off everyone but family members and gave away their perishable stock to employees. They've also sold some to customers who come to their warehouse on Paddock Road, said Jim Pichichero.
Creation Gardens, a restaurant food distributor, gave away four skids of produce. Some restaurant wholesalers have simply given away some food, and others are donating to efforts to feed people who are out of work.
The LEE Initiative, a Louisville-based philanthropic organization for restaurants, has set up an operation to use surplus food to feed restaurant workers who have been laid off. It's operating at Mita's Downtown. They are receiving donations from many places: wholesalers, restaurants, manufacturers, small businesses, turning the food into meals-to-go for laid-off restaurant workers. They serve one time a day and will continue to do so. (They are accepting donations at Goose and Elder, which is open for business.) To receive a meal, you need an ID or pay stub to show you're a restaurant worker.
La Soupe, the tireless organization whose mission is to rescue food and turn it into soup and meals for those who need it, has ramped up. They rescued food from five closed Procter and Gamble cafeterias, among others. Founder Suzy De Young is trying to set up satellite kitchens to feed laid-off workers.
The supply chain includes local producers who supply restaurants almost exclusively.
Ryan Morgan, who owns Sixteen Bricks Bread, has built up a business baking bread and other baked goods to restaurants. They do have a little bit of retail, including the Downtown Kroger, but the business is 87% restaurant-based. He has laid off 27 people. "It's been an emotional roller-coaster," he said. "But they're basically better off with unemployment than trying to rely on me. I've kept people I can give enough hours to." He'll be selling his bread out of his bakery on Saturdays, and maybe other days if demand warrants. "I'm doing a lot of whole-grain bread. I feel like we need healthy food in this situation," said Morgan. He'll take orders in front of the bakery at 4760 Paddock Road and accept payment with Venmo or Pay Pal.
Waterfields, a locally-based indoor farming operation that grows herbs and microgreens, almost exclusively to restaurants, closed down and gave away all their product. They laid off their 13 employees. "It breaks my heart," said Daniel Klemens, who started Waterfields with partners with a social mission to create careers for people who hadn't had opportunities. "Even when things start up again, it will take us six weeks to get back up to speed."