Below: It was a nuthatch kinda day for me. Who needs rara avis? (Last week)
Safe swimming meets proper recycling protocols ... 
Tuesday, June 30, 2020: Clouds. They've been offering quite the show for weeks on end, even at night, when spookily back-lit by lightning. What we likely won't be seeing are clouds discolored by Saharan dust, even though a second round of those annual waves of airborne desert material is on its way, once again showing strongest cross in the Caribbean.
Those who study the Saharan dust clouds, now say the first dust passage might have been the strongest in many decades. Researchers won't fully know the details until all the measurements are tabulated. Yes, measurements. Using tricks of the measuring trade, scientists take millimetre and micrometer readings to determine the depth of freshly fallen Saharan dust.
Wishing them the best of luck trying to read those micrometer rulers – considering a human hair is roughly 50 microns – one must wonder is this year's dust showing is yet another example of increasing wind speeds over the oceans.
I've been studying the overall increase in oceanic currents due to those surface wind increases. And even though the offshore winds that violently exhaled desert sand onto the eastern part of the North Atlantic originated over land, it was quickly tag-teamed by the enhanced oceanic winds.
Life on Earth has gotten as interesting as it has gotten weird … and spooky.
Below: Dust plume, as seen from space station. 
SHARK CENTRAL: Of both angling and beachgoer import, the big-ass inshore sharks are in the wash. While many smaller sandbar sharks were being caught, five-footer (and up) are showing while the first of the fully formidable-looking sand tiger, which can go 10 feet when protected. The "protected" angle is worth bringing up since one of the first indicators of conservation are sharks exceeding established maximum sizes.
Not to belabor it for another summer but the protecting of bull sharks will lead to more shark attacks. These unpredictable graysuits are attacks just waiting to happen.
It's a good thing for us that bulls still out primarily to our south, though I've endlessly explained that the killer shark from "Jaws" was surely a bull and not a great white, which could never have gone up the brackish rivers where the 1916 shark swam, attacking people along the way.  
If you're going out to fish sharks at night, keep it on the QT. I know it's hard to stay subtle when amazing photos have also been captured of the killer shark you just fought onto the beach. Gospel truth: I've already had three calls/messages about sharks being posed for pics before release --- based on FB pics I didn't put up. I sure as hell don't mind sharking – since just about all we have to fish for in the summer are sharks – but the Fish and Wildlife folks know that the letter of the law demands the "in water" release of sharks, including those taken by surfcasters. For that reason, I'm never sure if I should even display the often quite-cool shark photos I get.
KEEP A COOL HEAD: I doubt I'll change anyone's thinking but I'll proffer that it's simply not worth facing off (pun) with folks not wearing masks in buildings where they are required by law to wear them.
I had a buddy charged by an unmasked menace after telling him about the instore dangers of not masking up. You have likely read about the numerous cases of damn decent fistfights breaking out. One I personally know of was warranted when an obviously unwell and unmasked individual purposely made a display of all bit spitting an exhale at a lady who mentioned his lack of a mask. Little did the ugly exhale know that hubby was well within head-slapping distance. "Smack!" I believe nothing legal came of it as all parties chose to quickly go their unmerry ways. I have a feeling that wasn't the slapee's first to-do – and not all that anxious to again meet the proper authorities.  
Anyway, let's all try to maybe go with the peaceful in-store flow and, if utter need be, contact a store manager to do our bidding – though a local grocery manager recently had to run roughshod over a maskless moron who came at him like gangbusters. I believe that incident made the police blotter.
By the by, it's not worth the time to call me, all, "You have to do a story about people not wearing masks." First of all, the vast majority of fine folks are faithfully wearing them. Also, enough ink has been spilt on stories about conflictive masking matters. "Can't we all just mask along," … was never said by me.
MASKING THE FUTURE: While still an unknown, school mask policy for fall could be a complex matter. I've been contacted by businesses and organizations that are willing to literally donate free masks to needy school districts. Weirdly, they're being turned down for the same reason: No masking polices for fall have yet to be set. I'll be the first to admit that free can sometimes be costly. But, I've double checked donators and there are, indeed, free masks for the needier school districts.
Without delving into politics or soothsaying, schools had better get on the ASAP stick, knowing full-well that masks aren't going anywhere anytime soon. I've now heard dozens of the top nonpolitical experts confidently assuring masks will be in play until easily next spring – if not all of eternity, as one doc all but implied. It seems a no-brainer that now is the time to acquire masks galore, even if it means purchasing them from district-approved sources – at a discount price. As to BYO masks for school kids, I see some advantages, possible legal, for all kids to have the same facewear. How soon before some parents allege Johnny Clothmask is endangering their Annie Docmask?
Parent should be monitoring what grade masks are being purchased/supplied by schools – or if homemade cloth masks suffice, providing they're not left in lockers for day-after-day reuse.
 Below:  
Students wearing face masks in a classroom at the Marie Curie school in Hanoi, Vietnam
Lest you think this masking school kids thing can't get scary ... 
Two Chinese boys reportedly die within week of each other while wearing face masks in gym class
https://www.nydailynews.com/coronavirus/ny-coronavirus-two-chinese-...
**********************************************
UPDATED ... 
This is a new one on me ...
Official announcement from LBT about fireworks on the 4th.
I have to think the Island will see grass roots beach fireworks like never before – and we've seen some near professional displays for many years running. I know of a coulpe/few folks who make trip down south just to buy big-boy fireworks.
As if conflict is never ending – which it endlessly is – homefront fireworks indubitably lead to fierce, often face-to-face exchanges between dog owners and fans of fireworks that offer loudest pops unallowed by law. There are a slew of chewy calmatives for fireworks-freaked dogs. Local pet stores carry them. Of note:
As to the police busting displays, I've seen no fewer than thousands of people on the beaches after dark, July 4th, admiring the pyrotechnics. Imagine officers trying to sort through the throngs, to locate and cite the lighters, then needing to move on to a repeat busting activities only a couple blocks away – for 18 miles!
Now I'll be egregiously guilty of politicizing by noting unpoliced rioting around the nation. Allowing some patriotic steam to be let off on LBI … why not? And, yes, someone could injure an eye – which is where I'd like our fine officers to be rapidly responding ... instead of beachwalking for fireworksters. 
****************************************************
Humpback whales are the largest animals on Earth. Given their massive weight (up to 40 ton) it is unlikely to see these gigantic creatures to entirely leap out of the water. Maybe that's why this incredible footage of a humpback whale momentarily taking off as it breaches the water off the coast of South Africa is going viral.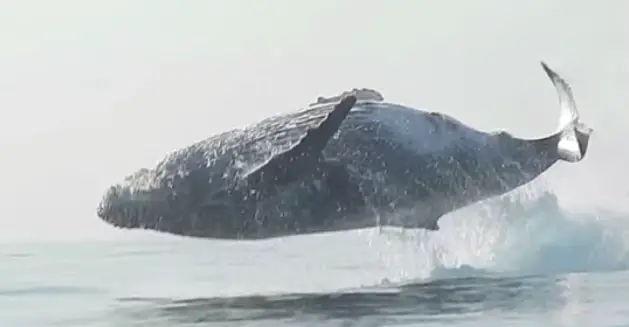 https://www.majesticanimals.net/wp-content/uploads/2019/04/1-12-300... 300w" sizes="(max-width: 629px) 100vw, 629px" />
The scuba diver Craig Capehart, captured on camera the breathtaking video off the coast of Mbotyi, South Africa. As he estimates, the adult whale weight nearly 40 ton. Later he shared the incredible video on Youtube, gaining millions of views so far. Capehart said that he and three other divers were on board an inflatable motorboat looking for sardines so they could track the predators that they attract when the humpback whale breached nearby.
((((((((((((((((((((((((((((((((((((((((((((((()))))))))))))))))))))))))))))))))))))))))))))
We may never know why the skull of a Stone Age man ended up on a stake in a mysterious underwater grave 8,000 years ago, but thanks to a new facial reconstruction, we can see what he probably looked like before he died.
Archaeologists discovered the man's skull, as well as the remains of at least 10 other Stone Age adults and an infant, in 2012 at the bottom of what used to be a small lake in what is now Motala, a municipality in eastern-central Sweden. However, only one of the adults had a jaw; the rest were jawless, and two of the skulls had been placed on stakes sticking out from the lake's surface.
U.S. Fish and Wildlife Service and Union Sportsmen's Alliance Join Forces to Increase Public Access for Outdoor Recreation
Agreement will Help Restore and Support Recreational Opportunities on
National Wildlife Refuges and National Fish Hatcheries
Today, the U.S. Fish and Wildlife Service and the Union Sportsmen's Alliance (USA) have reaffirmed an existing relationship that promises to benefit hunters, anglers and other outdoor enthusiasts for generations to come. A recently signed agreement builds on past successes between the Service and the USA by creating new volunteer opportunities for skilled union trades workers to engage in infrastructure and access projects on national wildlife refuges and national fish hatcheries.
The agreement will facilitate volunteer public service opportunities for USA members that will support outdoor recreation, environmental and recreational education and other opportunities on Service-managed lands. It also aligns with the administration's commitment to maintain and expand recreational access on America's public lands. Union volunteers will bring on the ground expertise and practical help needed to deliver our promise of access to all Americans.
For the 80 percent of Americans who live in or near cities, Urban National Wildlife Refuges provide vital access to nature and outdoor recreation, boosting residents' health and well-being. The USA's volunteer work at urban national wildlife refuges benefits these communities and cities helping to increase public access while benefiting the surrounding habitat.
"President Trump and Secretary Bernhardt have made increasing access to public lands for hunting, fishing and other outdoor recreation opportunities a priority." said U.S. Fish and Wildlife Service Director Aurelia Skipwith. "We're thrilled to team up with the Union Sportsmen's Alliance, and greatly value the efforts of their members in bringing access to public lands by addressing infrastructure and access projects."
"We are honored to strengthen our support of the U.S. Fish and Wildlife Service. Its commitment to improved recreational access and opportunities for all Americans is inspiring," said USA CEO and Executive Director Scott Vance. "We are also grateful to Service Director Aurelia Skipwith and her team of professionals for believing in our mission and our unique abilities to help keep these efforts moving through challenging and daunting times."
"The agreement will allow the USA and its nearly 300,000 union members to further improve Americans' ability to access and enjoy these public resources," said USA Director of Conservation and Communications Forrest Parker. "This improved access will come through our member-led conservation projects as well as outreach events that encourage people to embrace their outdoor heritage."
With federal investment in infrastructure maintenance at approximately one-quarter of the level seen in the private sector, the Service relies heavily on volunteers to complete projects and execute programs that maximize public access and opportunities.
The USA is poised to fulfill that need through its Work Boots on the Ground program, in which union members volunteer their time and trade skills to complete critical conservation, public access, education, youth outreach and adult mentorship projects in communities across the country.
The USA's ability to unite highly skilled union trades workers who are eager and willing to donate their time and talents has already supported a string of success stories at Service-managed lands. These include:
Construction of a 500-foot elevated boardwalk at Trinity River National Wildlife Refuge in Liberty, Texas, representing a donation of more than 900 volunteer hours valued at more than $30,000.

Restoration of a 150-foot fishing and wildlife viewing pier on Champion Lake at Trinity River National Wildlife Refuge – representing a donation of 320 hours of labor worth nearly $15,000.

Restoration of access roads and a wildlife observation tower, as well as construction of a non-motorized boat launch on the Tinicum Tidal Marsh at 

John Heinz at Tinicum National Wildlife Refuge

 in Philadelphia — accomplished by nearly 700 donated hours and heavy-equipment usage valued at more than $56,000.

Donated labor plus a $10,000 grant from the USA's United Outdoors Conservation Fund to construct a 100-foot wheelchair accessible walkway and three fishing stations around a popular pond at Ottawa National Wildlife Refuge on Lake Erie in Ohio.

Volunteer coaching of novice hunters during a special mentored deer hunt at Blackwater National Wildlife Refuge in Maryland, as well as the donation of hunting stands and other materials to enhance the experience of the mentored hunters.
Located just six miles from downtown Philadelphia, the John Heinz at Tinicum National Wildlife Refuge conserves critical wildlife habitat of the Tinicum Tidal Marsh. The refuge welcomes 300,000 visitors annually with a wide variety of interpretive and environmental educational programs and recreational activities including fishing, kayaking, archery, hunting and wildlife watching.
In 2018, union volunteers from four Philadelphia-area locals donated nearly 700 hours of skilled labor to make critical road repairs and restore a popular wildlife observation tower and rebuild the access walkway. They also installed a support foundation for a new floating boat launch and constructed a hinged walkway that allows the platform to rise and fall with tidal fluctuations. The project earned the Union Sportsmen's Alliance 2019 Project of the Year Award.
"The work of these skilled volunteers really benefits the public by making sure we have safe and equal access for everyone who comes to visit the refuge," said Refuge Manager Lamar Gore. "The Union Sportsmen's Alliance helps us keep things moving, which means people can continue to fully appreciate this urban wildlife space."
"The USA has already been a valuable partner," said biologist Laurie Lomas Gonzales at Trinity River National Wildlife Refuge. "The work they do is monumental. It allows more access for the American public to get out and witness the natural beauty we have to offer. Our national treasures are out on display because of the initiatives put forth by the USA."
There are 70 national fish hatcheries visited by more than one million people each year. Hatcheries offer opportunities for viewing the operations and learning about fish, as well as activities such as fishing, hunting, hiking, sightseeing, nature study, birdwatching and photography.
The National Wildlife Refuge System is an unparalleled network of 568 national wildlife refuges and 38 wetland management districts. There is a national wildlife refuge within an hour's drive of most major metropolitan areas. The Refuge System receives more than 59 million annual visits. National wildlife refuges provide vital habitat for thousands of species and access to world-class recreation, from fishing, hunting and paddling to nature watching, photography and environmental education.
###
Union Sportsmen's Alliance (USA): The USA is a union-dedicated, 501(c)(3) nonprofit organization whose members hunt, fish, shoot and volunteer their skills for conservation. The USA is uniting the union community through conservation to preserve North America's outdoor heritage. For more information, visit www.unionsportsmen.org or connect on Facebook, Twitter and Instagram.
Work Boots on the Ground (WBG): WBG is the USA's flagship conservation program that brings together union members willing to volunteer their time and expertise to conservation projects that improve and enhance public access to the outdoors, conserve wildlife habitat, restore America's parks and mentor youth in the outdoors. The USA's Work Boots on the Ground program works closely with federal, state and local agencies and other conservation groups to provide manpower needed to complete critical projects that may otherwise go undone.
The U.S. Fish and Wildlife Service works with others to conserve, protect and enhance fish, wildlife, plants and their habitats for the continuing benefit of the American people. For more information, visit www.fws.gov, or connect with us through any of these social media channels: Facebook, Twitter, YouTube and Flickr.
NEW SCIENTIFIC REPORT DETAILS CLIMATE CHANGE IMPACTS ON NEW JERSEY, SUPPORTS MURPHY ADMINISTRATION EFFORTS TO PROTECT THE STATE'S ENVIRONMENTAL, PUBLIC AND ECONOMIC HEALTH
(20/P33) TRENTON – New Jersey's Department of Environmental Protection (DEP) has led a comprehensive effort to synthesize the latest and most reliable scientific information on the current and predicted future impacts of climate change on the Garden State, Governor Phil Murphy and DEP Commissioner Catherine R. McCabe announced today as they released New Jersey's Scientific Report on Climate Change. The report is one component of the State's comprehensive strategy to both reduce emissions of climate pollutants that fuel global warming, and proactively plan and prepare for the climate impacts that New Jersey cannot avoid.
According to the report, New Jersey has seen the evidence of climate change in its increasingly mild winters, more intense rainfalls, flooding along inland streams and rivers, and more tidal flooding along the coast. These events can threaten public health and safety, destroy property, undermine critical infrastructure, and damage New Jersey's economy, including the vibrant tourism industry supported by our beloved shore and lake communities.
 "As New Jerseyans know too well, the impacts of climate change threaten our property, public health, safety, and can wreak long-lasting damage to our economy," Governor Phil Murphy said. "Almost eight years later, some residents of our state are still struggling to recover from Superstorm Sandy, and there are businesses and beloved landmarks that have never recovered. Just as we have seen with respect to the COVID-19 crisis, our commitment to environmental health will too create economic health. We know that now is the time for climate action, and DEP's Scientific Report on Climate Change will shape our planning and response to this coming crisis."
"Many of the impacts of climate change are already familiar to New Jerseyans, including increasing temperatures, rising sea levels, and more frequent and intense storms," DEP Commissioner Catherine R. McCabe said. "As our climate continues to change, it is urgent that New Jerseyans understand what future impacts are likely to occur, and when. Together, we can plan for and adapt to those changes, helping one another to keep our communities safe and our economy strong. This report provides the information necessary to focus New Jersey's strategic climate resilience planning initiatives while we work to modernize our environmental regulations, making them more responsive to these climate realities."
As New Jersey's Scientific Report on Climate Change explains, data indicates that as atmospheric levels of carbon dioxide and other greenhouse gases increase, New Jersey will experience significant direct and secondary changes in its environment. These include increases in temperature, variability in precipitation, frequency and intensity of storms, sea-level rise, ocean acidification and the associated impacts to ecological systems, natural resources, built environments, human health and the economy.
Key Findings from New Jersey's Scientific Report on Climate Change 
Historically unprecedented warming is projected for the 21st century, resulting in longer and more frequent heat waves that impact larger geographic areas.
Annual precipitation is expected to increase from 7% to 11% by 2050 and occur in more intense rain events that could result in an increase in localized flooding.
By 2050, there is a 50% chance that sea-level rise will meet or exceed 1.4 feet and a 17% chance it will meet or exceed 2.1 feet, resulting in increased coastal flooding during sunny days and storm events, impacting infrastructure, residents and businesses. Sea level will further increase by 2100—by as much as 6 or more feet.
Periods between rain events may be longer, causing drought conditions more frequently, increasing potential for reduced water supply availability, reductions in agricultural capacity that lead to shortages in food production and increased prices, and economic loss from impacts to livestock, and reductions in hydroelectric power production.
Unabated CO2

 

emissions would reduce ocean pH, creating a more acidic ocean that could impact important marine and estuarine life and New Jersey's thriving fishing industry.
Increases in temperature expected as a result of climate change could intensify air pollution as well as respiratory and cardiovascular health concerns. Such impacts are of particular concern for already overburdened environmental justice communities.
New Jersey's agricultural yields could suffer as water supplies are stressed from an expanded growing season, while some crops may not thrive in warmer temperatures.
Wildfire seasons could lengthen or become more intense as a result of hot, dry periods resulting from increased temperatures, potentially increasing the risk to New Jersey communities.
The frequency and intensity of harmful algal blooms may increase, disrupting swimming and fishing in New Jersey's lakes, and posing risks to drinking water reservoirs.
"This report will empower governments, businesses, and people across the state to better understand how climate change is impacting and will continue to impact all aspects of life in New Jersey," said David Rosenblatt, the State's Chief Resilience Officer and Assistant Commissioner for Climate and Flood Resilience at DEP. "The more we learn about and experience the impacts of climate change in New Jersey, the clearer our urgent need for resilience planning becomes. My DEP team and I are grateful for the incredible scientists and institutions whose work underlies this report, which will help facilitate our Statewide Climate Resilience Strategy and Coastal Resilience Plan to be presented later this year."
New Jersey is Taking Action to Protect Against Current and Future Climate Threats
The Scientific Report on Climate Change is one component of New Jersey's comprehensive strategy to both reduce emissions and proactively plan and prepare for unavoidable climate impacts. In October 2019, Governor Murphy signed Executive No. Order 89, appointing New Jersey's first Chief Resilience Officer, establishing the Interagency Council on Climate Resilience, and ordering the development of Statewide Climate Resilience Strategy to protect and promote public health and safety, as well as the physical, economic and social vitality of New Jersey's diverse communities. Governor Murphy followed up with Executive Order No. 100 in January 2020, ordering DEP to undertake the New Jersey Protecting Against Climate Threats (NJ PACT) , initiative, which will modernize the State's environmental regulations to implement reductions in greenhouse gas emissions, and build resilience measures into the State's environmental land use rules.
"Under Governor Murphy's visionary leadership, the NJBPU is proud to have joined DEP and our other state agencies in working to address the existential threat of climate change," said Joseph L. Fiordaliso, President of the New Jersey Board of Public Utilities. "The Scientific Report is a crucial waypoint on our journey to 100 percent clean energy and further crystallizes our understanding of how climate change stands to impact our lives here in the Garden State. The findings clearly show that combatting this crisis is the most important moral obligation of our lifetimes. The NJBPU will continue to do all that it can to leave a healthy and safe New Jersey for our children and grandchildren."
"We have already suffered the detrimental effects of climate change in New Jersey with serious flooding occurring in many of our communities. Climate change has and will continue to be a growing threat to our lives and livelihoods, and we need to be equipped with the knowledge to fight it," said Lt. Governor Sheila Y. Oliver, who serves as Commissioner of the Department of Community Affairs. "The science-based data in this report will give our state an opportunity to better prepare for and mitigate the impacts. Taking action now will lead to greater adaptability and resiliency for future generations."
"Expanding New Jersey's green economy is a top priority for the NJEDA, because environmental protection and economic development go hand-in-hand. The DEP's Scientific Report on Climate Change clearly demonstrates the pressing need for investing in clean energy and other green technologies that can reduce the worsening of climate change and help New Jersey build more resilient communities," said New Jersey Economic Development Authority Chief Executive Officer Tim Sullivan. "I look forward to working with Commissioner McCabe and our partners at BPU and DCA to advance policies that grow our economy and create high-quality jobs while moving us closer to a more sustainable, greener future."
Other Murphy Administration initiatives to fight the climate crisis include:
The state recently announced plans to develop a more than 200-acre seaport that will facilitate offshore wind projects in New Jersey and throughout the mid-Atlantic.
Governor Murphy unveiled

 

New Jersey's Energy Master Plan, a comprehensive long-term strategy for transitioning the state to 100% clean energy by 2050.
New Jersey rejoined the Regional Greenhouse Gas Initiative, a 10-state group committed to cutting carbon emissions and reducing greenhouse gas emissions. The state generated over $40 million in proceeds from the first two RGGI auctions since rejoining in 2019.
New Jersey has committed to expanding electric vehicle (EV) charging infrastructure and promoting electric vehicle through one of the best EV incentive structures in the country.
The DEP partnered with Rutgers University to release The Rising Seas and Changing Coastal Storms study in December 2019. Data within the study, developed by leading climate change experts, is included in the Scientific Report on Climate Change and forms parts of the basis for modernizing New Jersey's environmental regulations.
For a copy of the Scientific Report on Climate Change, and more information on climate change and resilience, visit www.nj.gov/dep/climatechange/
For questions about the report or to provide additional resources and information, email climateresilience@dep.nj.gov.
New Jersey Board of Public Utilities: www.bpu.state.nj.us/
New Jersey Economic Development Authority: www.njeda.com/
New Jersey Department of Community Affairs: www.nj.gov/dca/
Follow the DEP on Twitter @NewJerseyDEP.
###
New Jersey State Fire Marshal Urges Safe Use of Sparkling Devices and Novelties in Advance of the July 4th Holiday
Fire Marshal Also Warns Residents of an Extreme Fire Hazard known as "Flame Jetting"
Trenton, NJ – The Murphy Administration and New Jersey Division of Fire Safety (NJDFS) Director and State Fire Marshal Richard Mikutsky remind New Jersey residents about the safe use of ground-based sparkling devices and novelties for the upcoming Fourth of July holiday.
"Governor Murphy and I understand that people will want to celebrate our independence enthusiastically this Fourth of July, but we want residents to understand the dangers of using legal sparkling devices and novelties and how to handle them safely," said Lt. Governor Sheila Oliver, who serves as Commissioner of the New Jersey Department of Community Affairs (DCA). "As we continue to face the COVID-19 public health emergency, we ask that people use extreme caution with these devices so as not to put additional stresses on our health care workers."
"The state legislature acted more than three years ago to loosen restrictions on the purchase and use of sparkling devices and novelties in our state. The current law restricts the use of aerial fireworks. However, ground-based, non-aerial sparkling devices and novelties are permitted but carry an inherent risk to adults and especially small children," said Fire Marshal Mikutsky.
You can view and download a visual guide of which devices are legal and which are not on DCA's website.
The State Fire Marshal joins with law enforcement, emergency medical personnel, hospital emergency rooms and state burn centers in advising against the use of sparkling devices and novelties. Previously planned public fireworks shows are permitted to resume in the State as long as they follow the Governor's orders for social distancing guidelines for outdoor gatherings. Currently, the maximum number of persons permitted for outdoor gathering is 250 and individuals must wear face coverings and maintain at least six feet distance from each other.
For people who decide to buy and use ground-based sparkling devices and novelties, NJDFS provides the following guidelines:
Small, Non-Aerial Sparkling Devices and Novelties Safety Guidelines
Only buy from reputable outlets.

Don't buy if the packaging is damaged or appears tampered with.

Don't use or try to fix broken or "dud" devices.

Don't allow children to use. While non-aerial sparkling devices may be legal, they can still burn. Temperatures of one sparkler can reach about 1,200 degrees Fahrenheit and are not intended for children.

Never use these devices indoors.

Always have water handy and follow the manufacturer's instructions.

Wait 20 minutes to properly dispose of these devices.
Small, Non-Aerial Sparkling Devices and Novelties Safe Disposal
Completely soak used devices and "duds" in a bucket of water and let soak overnight.

Double-wrap soaked devices in plastic wrap or a plastic bag to help keep them from drying out.

Place wrapped bags in regular household garbage.
Flame Jetting Warnings
NJDFS also wants to inform the public about a relatively unknown, but extremely dangerous phenomena associated with fuel in open and unsecured containers. The risk increases in the presence of open flame cooking and fireworks, commonly associated with the July 4th holiday.
Experts refer to this phenomena as "flame jetting," which can occur with stored volatile liquids in necked containers in the vicinity of a flame source, such as a grill or a sparkler.
Researchers at the Bureau of Alcohol, Tobacco and Firearms (ATF) have documented the phenomena at testing laboratories and are issuing the following warnings:
Almost any necked, portable container with a flammable liquid can jet.

In addition to gasoline, common household flammable liquids include methanol, ethanol, acetone, and liquor above 150 proof.

Flame jetting is typically observed when the container is being tilted and vapors are pouring from the mouth of the container. This allows air to be captured in the top of the container, diluting the rich fuel vapors to flammable limits.
Flame arrestor caps (as pictured above) are highly effective in preventing flame jetting and typically cost about 50 cents each. In ATF testing, no flame jetting was observed in portable flammable liquid containers equipped with flame arrestors.
The Division of Fire Safety serves as the central fire service agency in the state. The Division is responsible for the development and enforcement of the State Uniform Fire Code, as well as engaging the public on community risk reduction strategies, assisting in fire department preparedness and conducting firefighter training programs.
DCA was established in 1967 and today offers a wide range of programs and services, including energy assistance, housing vouchers, affordable housing production, fire and building safety, community planning and development, local government management and finance, and disaster recovery.
For more information about DCA, visit nj.gov/dca/ or follow the Department on social media: