Stay peaceful when driving. Do not let road rage lead you to pull over -- to see this in your rearview mirror.
Having one of those days ....
Below: Local cops looking for this destructive dumb-ass. If you know who it is, let me know.
Tuesday, June 29, 2021: There is no tabulating the turnout for this coming holiday weekend. Think in terms of a human tsunami – to the point there will be a series of waves, especially in the morning rushes.   
While I'm demented enough to embrace the rush, I know more than few of you get your dander up something awful when the Island bows to outsiders, as it bows under the weight of vehicles.
Anticipated crowd in Beach Haven ... 
The smartest of you crowd haters are going as far as the Poconos to escape the crush, though I'm told even the mountains are alive with the sound of tourists.
If you're dementedly opposed to summer crowds, just go to where you can only hear the sound of tumbling tumbleweeds – and lizards gasping for air. I read where the deserts out west are hitting ...
LOCAL STOPPAGE: Never has stopping for crossing pedestrians been such a tough go. There are a couple angles on such stoppings that need a mention.
Obviously, the law demands—with something of an iron fist – that we break for road-crossers. I'll suggest, from what I've seen, we all do a dang decent job of it – spurred on by the foreboding penalties should we fail to break. Spookily, failure to stop carries a $200 (court costs additional) fine, a 2-point license penalty, insurance surcharges and 15 days of community service. Not for nothin' but that last one is a killer! Just shoot me now.
I'm hoping first the cops and ultimately the courts understand certain accentuating circumstances, like those times when roadside parked vehicles and even telephone poles block a clear read of folks entering the roadway. Worst of all is twilight and nights, when there is simply no way to see darkly clothed about-to-cross folks. Those tenuous crossing times are when the onus swings to the crossers.
Side gripe: These new, far brighter, High Intensity Discharge headlights, when coming at you, create such a glare – almost a multi-pointed light flare effect – that there is barely any telling what's on the roadway twixt you and those headlights. I know of a number of deer strikes blamed on the blinding nature of such lights, blocking a look ahead. HIDs should be outlawed – but won't be.
Returning to daytime stopping for pedestrians, I'll relay something I saw just last weekend when a larger family group was crossing and the SUV driver ahead of me, heading south, came to a proper stop, eliciting waves of thanks from the crossers. However, once the crossers were just out of his lane, he accelerated as if he was racing at Atco Speedway. I swear he almost clipped the heels of the last crosser. The family had, in fact, another southbound lane and two stopped northbound lanes of traffic to trod pass. By the by, I caught the above leadfoot on dashcam but allowed the scene to slide, unpublished. Had something bad occurred, I would have yanked my cam's suddenly evidential memory card.   
Hear ye, hear ye. The law is explicit: Pedestrians must be fully across the roadway before stopped motorists can proceed.
I'll pitch in why I think such an extended stop is critical. I can't count the number of times I've seen families crossing when one of the kids – and occasionally a parent -- inexplicably backtrack, suddenly, most often to pick up a dropped something or, maybe, remembering something forgotten back at the house.
I know of one (near) bumping of a child due exactly to a backtrack move by a mother and child. It was momentarily spooky so I stopped, overhearing the mother say the little girl suddenly needed to "go pee-pee."
Nothing came of the incident, police-wise, since I saw everything, and was mighty sure it was the mom's jerking of the girl – out of harm's way – that simulated a car bump. I saw no indicator on the bumper that moist skin had impacted the layer of dust thereupon. Nonetheless, the driver, a mortified younger gal, rightfully got an earful from the mother, and took it like a champ -- being sincerely (to me) regretful/tearful while apologizing to high heavens. Not that I'd suggest it as a learning tool, but that young driver will never fast-stop like that again. Nor, hopefully, will the little girl wait until mid-crossing to announce bladder urges. 
I'll even toss some fault on crossers by saying they're totally unpredictable at all times – and should be closely monitored as such. When driving, stop until crossers are fully and totally across ... or pay the piper. A momentary inconvenience is all it takes to avoid a vacation ruiner -- or even a life ruiner if the strike is of the dead serious kind.
There are complexities and inherent inconsistencies within the pedestrian crossing laws. A biggie on LBI is the problem of jaywalkers, failing to use marked crosswalks. The law reads: Every pedestrian upon a roadway at any point other than within a marked crosswalk or within an unmarked crosswalk at an intersection shall yield the right-of-way to all vehicles upon the roadway.
This does not mean a motorist can ignore folks illegally stepping into the street to cross. A court will often side with the frail human body when up against a ton of powerful metal. At the same time, that does not mean you must stop for jaywalkers, which would be technically/legally encouraging jaywalking. Simply give illegal crossers the benefit of the doubt by slowing down when passing by.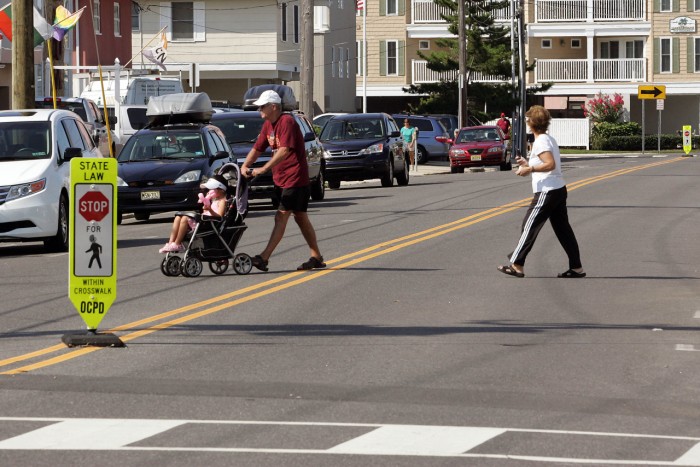 My personal read on how to approach jaywalkers is to be wary, very wary, by slowing -- but not enough that they think you're stopping. I know that's convoluted but it's playing the legal hand we're dealt as drivers in NJ.  
For more, see www.nj.gov/oag/hts/pedestrian.html.
I'm not sure what pedestrian laws apply to here ...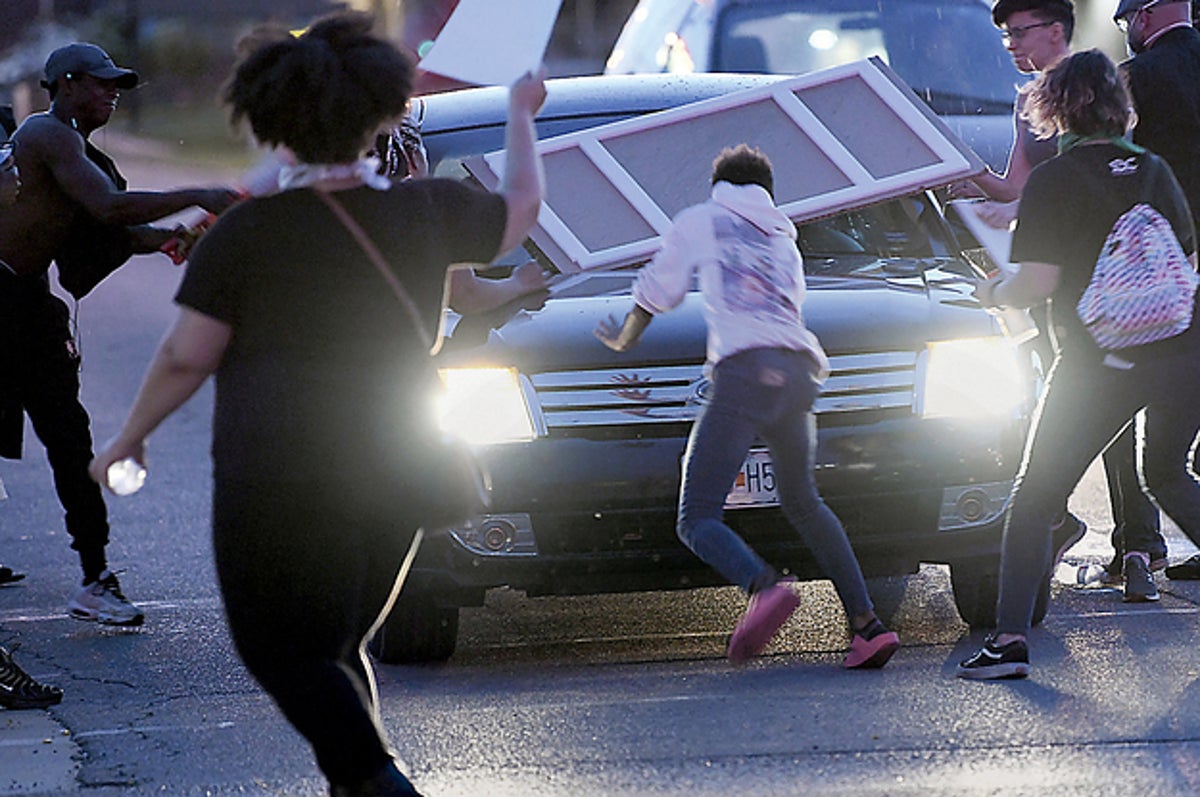 RUNDOWN: If you're a fan of brisk south winds, this stretch of summer is for you. Weather systems are aligning to really lock us into a summer flow. While it means a honking heat pump over mainland way, it's not nearly as torrid for lucky us.  
This south flow set-up could eventually turn against surfcasting by drawing in icy water, though mainly right along the beachfront. A bit further out, boat anglers should be atop 70-degree seas, though contending with frisky afternoon winds. The inlets water temps could swing wildly, with bay waters well into the 70s during outgoing, quickly followed by icy incoming ocean waters.
For those captains wanting to get onto some of those chunky nearshore fluke, winds will demand some mighty weighty sinkers. Better bet is to hang in the inlets or inside the bay, where a few monster flatties are making shop photo sites.
What bluefishing has lacked in consistency, it's making up for in persistency. Some springlike all-head blues in the cocktail range are still making passages. Surfcasters and South Jettyites are nabbing enough fillet weight to make sessions well worthwhile. Still, there is no spot-on targeting of them, though the South Jetty harbors the best hope.
A quick politeness request regarding the walkway at Barnegat Light State Park. Please minimize the bloodletting atop the concrete portion of the jetty. Not everyone visiting there is keen on treading atop blood splotches, some still sticky. Bleed or clean fish rockwards.  
Bass are present and being accounted for, though the mighty fine spring run of trophy linesiders is tailing off to the north, leaving behind a spattering of keeper fish, best sought after in the early a.m. and lured hookward by fresh bunker or clam baits on slightly smaller circle hooks.
Sharking has launched. If you're fishing for stripers and just happen to be using larger chunk baits and major circle hooks, you might be accidently-on-purpose bycatching the exotic likes of sand tigers, arguably the most awesomely toothed of any shark, with jagged whites menacingly sticking out in all different directions. That same look has been mimicked in Hollywood to create hideous sci-fi creatures.
Despite a sand tiger's epic dentures, they are a very docile creature when it comes to trying them out on humans, unless you're dragging one into the shallows to unhook. All sharks can see out of water and will intentionally go after the hand they sense is not there to rock the cradle. Who can blame them? To sharks, we look hideously ominous.   
The popular brown sharks are also starting to show, albeit slowly Throughout summer, most non-dogfish type sharks caught in the surf are browns, aka sandbar sharks. They are government protected so they demand the kindest of C&R treatments.
Keeping that need for gentleness in tow, browns are far-away the greatest taker of human chunks during unhookings. Not only are they a highly active species overall, but they will swing and bite in a human heartbeat. When unhooking, keep in mind it doesn't take a fight fatigued shark all that long to get its second wind – a biting wind. In fact, the vids I've seen of sharks swinging on their takers come when a totally still fish launches an out-of-nowhere side-swing attack.
I'm duly obligated, at the request of Fish and Wildlife enforcement, to continuously remind fishing folks who accidently bycatch protected shark species, that it is unlawful to the nth degree to drag the fish onto the beach, much less perform a nose uplift to force a toothy smile for the camera.  
I know for a fact that officers now spend time looking closely at social media posts displaying shark hookups. When they're not online investigating, a multitude of shark huggers are on the look.
I have lost count of the calls and messages I've taken by folks somehow wanting me to expose anglers who have mishandled protected shark species. As I would hear when I went to college in Mexico City, "It's not my yob, mang." Nonetheless, I do my part by offering public service announcements like this.
I still see circle hook, catch-and-release sharking as a summer/fall joy for anglers restricted by a mindboggling array of regs on most gamefish. My thinking: If anglers are seen as fully capable of catching-and-releasing small and overly large trophy striped bass, they should also be seen as more than capable of safely doing so with shark species caught with circle hooks.  
(((((((((((((((((((((((((((((((((((((((((((((((((((((()))))))))))))))))))))))))))))))))))))))))))))))))
Bill Removing Local Control of NJ Wind Power Lines Approved
Copyright © 2021 The Associated Press
By Wayne Parry
June 28, 2021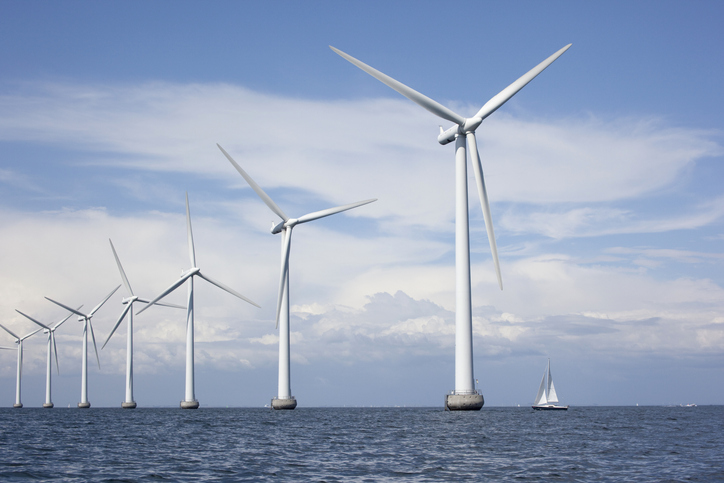 Local communities would be stripped of most control over where and how power lines from offshore wind energy projects come ashore under a bill that received final approval Thursday in the state Legislature.
It now heads to the desk of Democratic Gov. Phil Murphy.
The bill would give wind energy projects approved by the New Jersey Board of Public Utilities authority to locate, build, use and maintain wires and associated land-based infrastructure as long as they run underground on public property including streets. The BPU could determine that some aboveground wires are necessary.
It appears to be an effort to head off any local objections to at least one wind power project envisioned to come ashore at two former power plants, and run cables under two of the state's most popular beaches.
After officials in some shore towns objected to the bill last week during a hearing in the state Assembly, a provision was added that would require a public hearing on a proposed project.
"There's going to be a high level of seriousness given to local concerns," said Assemblyman John Burzichelli, a southern New Jersey Democrat and sponsor of the bill.
But he said the goal of the bill is to give power lines from offshore wind projects the same level of presumptive approval as those from other energy sources.
"There is some misunderstanding with a small group trying to make sure offshore wind won't happen at all," Burzichelli said. "We're way past that now."
A project planned by Orsted and Public Service Enterprise Group, a New Jersey utility company, would connect to the electric grid at decommissioned power plants in Ocean and Cape May Counties.
Cables running from the wind farm, to be located between 15 and 27 miles (24 to 43 kilometers) off the coast of Atlantic City, would come ashore at one of three potential locations in Ocean City, and would run under a roadway to a former power plant in Upper Township.
Cables also would need to cross Island Beach State Park in Ocean County, running under the dunes and beach — and possibly existing parking lots — out into Barnegat Bay. They would come ashore either at the former Oyster Creek nuclear power plant in the Forked River section of Lacey, or in Waretown, also known as Ocean Township in Ocean County.
Orsted also proposes a second project off New Jersey, and Atlantic Shores Offshore Wind, a joint venture between EDF Renewables North America and Shell New Energies US LLC, also proposes an offshore wind farm off the state's coast.
In addition, a Massachusetts company plans to build a high-voltage line to bring electricity from a future New Jersey offshore wind farm onto land, and connect it to the power grid. Anbaric, of Wakefield, Massachusetts, has already obtained several permits from New Jersey environmental regulators for what it calls its Boardwalk Power Link project.
The bill entitles a qualified wind energy project to obtain easements, rights-of-way or other property rights from any level of government that are necessary to build the project. The BPU would make a final decision if such approvals are withheld by governments.
No state, county or local government would be able to prohibit or charge a fee for the use of a street or other public property other than a road opening permit. If these governments refuse the permit for any other reason than legitimate public safety concerns, the state utilities board would be required to issue an order granting the necessary approval.
If a company's project impacts land that had previously been preserved as open space, the company would have to provide money to acquire three times the amount of affected land as a replacement.
(((((((((((((((((((((((((((((((((((((((((((((((((((((((()))))))))))))))))))))))))))))))))))))))))))))))))
In early May, CPOs Capri and Meyer conducted a vessel patrol in Barnegat Bay and the mouth of the Gunning River specifically looking for fyke nets that had not been removed after the season had ended. The commercial fyke net season closed April 29th and all nets are required to be removed from the water prior to May 1st. CPOs Meyer and Capri located a total of eight fyke nets which appeared heavily neglected and contained multiple dead and dying fish. The fisherman was later identified and charged with multiple counts of utilizing a fyke net during the closed season, failure to properly mark fyke net stakes, and failure to mark fyke nets with identification. - from the May 2021 Bureau of Law Enforcement report to the Fish and Game Council
No outstretched arms here !! They are just right 
((((((((((((((((((((((((((((((((((((((((((((((((((((())))))))))))))))))))))))))))))))))))))))))))))
Should be reaching  NJ water soon ... 
Sponsored
·
Paid for by THEODORE ROOSEVELT CONSERVATION PARTNERSHIP, INC
 · 
Menhaden are vitally important forage for the most economically and culturally important sportfish in the Atlantic—and better menhaden management will create better recreational fishing. Sign our open letter in support of healthy fish populations and a strong marine ecosystem.
Nice weather and calm seas resulted in a high level of recreational fishing activity for the black sea bass season opening weekend. CPOs Meyer, Capri and Szelc conducted extended vessel patrols in Barnegat Light Inlet and Absecon Inlet for vessels returning from the ocean. CPOs Meyer and Capri conducted an inspection of an inbound charter fishing vessel and located thirty-five black sea bass over the five-man, fifty fish, limit. In total, the two patrols resulted in thirteen summonses ranging from undersized/over the limit black sea bass to closed season tautog. Additionally, CPOs Meyer and Szelc inspected a charter vessel returning from a black sea bass trip which revealed the vessel did not possess the required federal party/charter black sea permit. The case was referred to NMFS for further enforcement action. - from the May 2021 Bureau of Law Enforcement report to the Fish and Game Council 
((((((((((((((((((((((((((((((((((((((((((())))))))))))))))))))))))))))))))))
1848 was a huge year for James Marshall as the Wild West was about to learn a secret that had been living under their nose the entire time. James was responsible for discovering gold at the now-famous Sutter's Mill. In fact, he was working on building the mill when he first made the discovery. James was originally from New Jersey before he traveled to California.