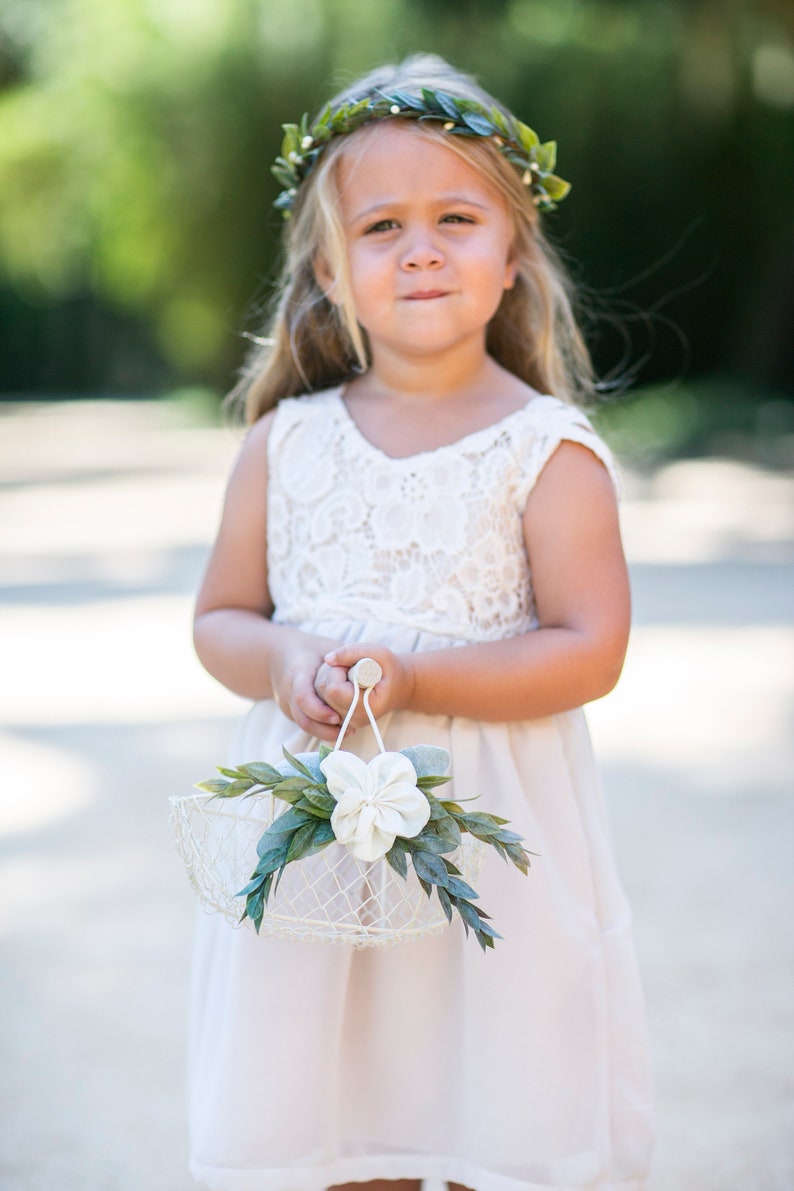 CPO BEAT: In Conservation Police officer reports, the following hit the numbnuts five-fecta. Officers responding to suspicious behavior in a neighborhood were shown security footage of a deer running into a yard from an adjacent wooded lot. Further footage showed "an individual walking around in the street at 2 a.m. before entering the woods where the deer had run from."
"CPOs Faith and Malinski followed a blood trail that led to a baited clearing where they observed a tree stump with more bolts stuck in it. They spoke to a resident who lives in the direction the bolts were shot from. After a short interview, the man admitted to shooting the deer and his crossbow equipped with a thermal imaging scope was seized as evidence."
"The man was issued summonses for hunting without a license, hunting deer closed season, hunting deer at night, hunting deer archery without a well sharpened cutting edge and wanton waste of deer."
 With bunker the focus of many fishery recovery efforts, the following report indicates an ugly incident of waste while also hinting at the volume of bunker taken by commercial vessels.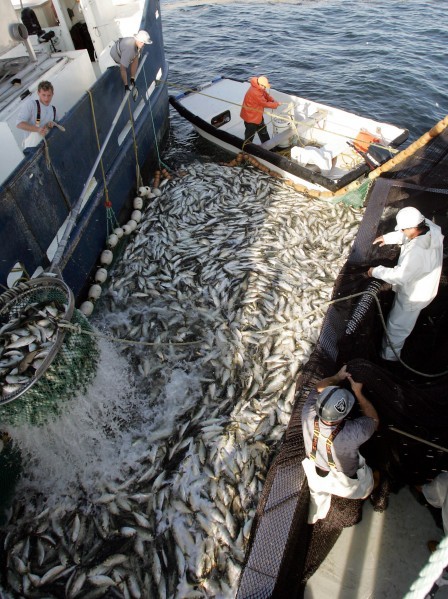 "CPO Tomlin responded to numerous complaints of Atlantic menhaden washing up dead on the beaches of Cape May Point. Identifying that the commercial menhaden fishing fleet was fishing in the Delaware Bay around the time the fish washed up, CPO Tomlin conducted interviews with the vessel operators. It was admitted by one vessel operator that they tore a large hole in their net and accidently released approximately 40,000 pounds of dead Atlantic menhaden in the Delaware Bay roughly a day before the fish washed up on the beaches. The operator admitted he should have called the accidental release of dead fish into the Department as required but had hoped the fish were going to sink before reaching the beaches. CPO Tomlin issued summonses for failing to notify the Department of the release. The notification requirement is essential for calming the public hysteria that is often created when dead fish wash up on the beaches and additionally gives the Department a chance to prepare municipalities for any potential clean-up efforts."
Reports of illegal Sunday clamming just inside Barnegat Inlet came my way not long ago. It was passed on to authorities. The following might have been in response – or just good policing on a regular basis.
"CPOs Meyer and Capri have been actively conducting shellfish patrols in the Sedge Island Marine Conservation Zone. This unique area only allows for the recreational harvest of shellfish and has become a popular area for clamming. … As a result, CPOs Meyer and Capri have "issued multiple summonses and warnings for failure to obtain shellfish licenses, harvesting shellfish on Sunday, and the taking of undersized hard clams."
The CPO Capri mentioned here is an Island fellow, and as the report notes, "That area is backyard stuff for Capri" who knew that "Officers must utilize a shallow draft vessel and often walk several hundred yards in the water to conduct inspections for compliance with shellfish regulations." 
For more on this sedge island natural zone, see:  https://www.savebarnegatbay.org/science_reports/sedge-island-marine...
Examples of the latest in eye enhancements ...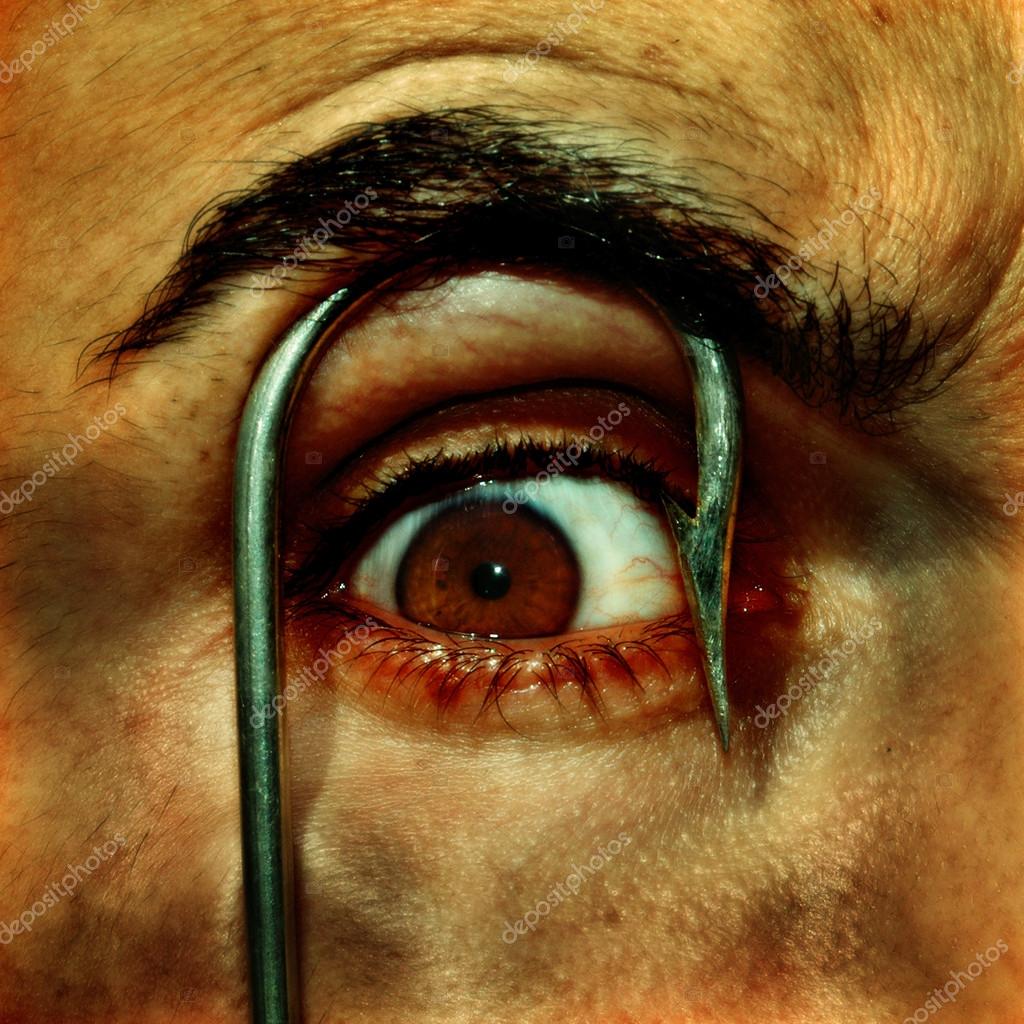 RUNDOWN: Blowfishing in parts of Barnegat Bay has risen to a whole new degree of fevered. An unscheduled catch-count competition took place between a couple anglers I see at church. One was a bay regular, who told of catching 113 during a trip. Then, up steps pianist Paul P, who happenstancely caught 114 on a different day. That's some harried bayside hooking.
There is some mystery to the late-summer movements of these puffers. Despite moving out in massive numbers, they are rarely if ever caught in significant numbers in the surfline. That could be due to a mass exodus phenomenon common to fall migrations whereby the entire biomass departs on an overnight dime, tightly schooling for protection. There is also the possibility they don't dine when on the run southward. Whatever, get them now in the bay.
On the exotic fish front, four pompano of hook-up size have been caught, two in the bay and two in the surf. The bayside hookups were, somewhat oddly, drawn to chum logs set out for blowfish. This might be a sign of quite a pompano presence down below since they are rather picky eaters, greatly preferring sandcrabs in the beachfront suds.
Below: Joe Handley with a fine LBI pompano ... yes, pompano. 
Sidebar: When throwing net for mullet, I've often come across some significant schools of baby pompano, which likely grew up locally after being blown in as larvae in the early spring. They were tiny buggers. Hookable-size pompano are migratory and might easily be attributed to global warming times. To target them, with a third rod, use smaller hooks and just-dug sandcrabs, aka sand fleas.
Some Spanish mackerel are in the surfline system, at least from what I'm seeing in tackle shop FB pages and websites -- and they're a remarkable source of late-breaking angling news.
The fun/easy part of fishing for Spanish macks is how you're doing it every time you throw out an Ava, Hopkins, sand eel jig, or a classic spoon. Anything retrieved very fast and flashy drive these macks crazy. There is minor debate on the helpfulness – or hindrance – of coupling the metals with teasers. I say the purest representation is tying line directly to the metal – no rings. Even the knot should be tight and low-viz, maybe even melting any excess line.
I read a bluefish-oriented news clip harvested by historian Steve Dodson, author of "The Tuckerton Beacon, 1917-1929 …" available at Amazon and local book outlets.
The piece from Aug. 29, 1946, offers on-scene insights into bluefish going back some 75 years. It also confirms the long-term coming and going of bluefish stocks. There are also some fascinating size insights.  
Headline: "Beach Haven Party Boats Report Big Catch of Blue Fish/ Recent Catches Spike Rumor That Species Had Fled Local Waters."
"The party boats of Beach Haven ran into excellent catches of giant bluefish off shore in the Atlantic ocean during the past week. The old time rumor that bluefish had disappeared from these waters was squelched with record catches by boat captains of the Beach Haven Yacht Club, Coney's Dock and the boats at Gaskill's and Clover's Docks in Beach Haven Terrace.
The weight of the bluefish ran as high as eight- and one-half pounds each, with many running to six pounds taken by delighted fishing parties just a few miles off Beach Haven. …"
This news article reflects the cyclicality of blues, which consistently flee local waters for long stints abroad.  
Then there's the "giant bluefish" of the past, running eight pounds, tops. One might surmise that blues returning from a hiatus first show sorta small-like. We've seen them at their heaviest. Hell, we still think of an eight-pound blue as barely midsize. A "giant" to us is 20 pounds and up. Even now, the NJ Division of Fish and Wildlife's Skillful Angler Program has a minimum weight for an adult entry as 18 pounds.
 *********************************************
I wrote an s-load on cow-nosed rays in my weekly SandPaper column. I didn't touch on the question of rays as vittles, using the southernish term since that's where efforts to market them as seafood have been tried. Apparently, they're not the stuff of rave reviews. In fact, the winning recipe in a contest to find the best way to serve rays required enough whisky-based sauce that the fish's true taste was duly disguised.
My weekly also goes big on Steve Irwin's demise. Below: An eight-inch short-tailed stingray barb like the one that pierced Steve's heart, killing him almost instantly due to trauma and not toxin.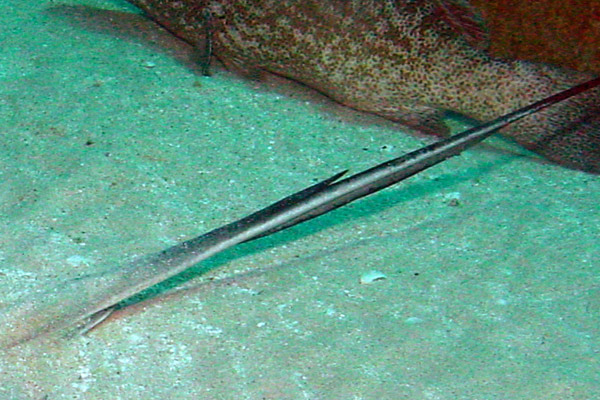 My column didn't include data from deepblu.com indicating 17 stingray deaths recorded worldwide.
Scientists describe stingrays as ''docile creatures that only ever attack in self-defense. With the extremely low number of fatal accidents and the non-fatal accidents occurring from human intervention, it can be said that stingrays are not innately dangerous. But instead, we need to be aware of how to interact correctly with these creatures."
As to actually angling for rays, it's as much an acquired taste as eating them. There's no problem drawing them to bait, using clams or smaller bunker chunks.
Hooking rays with lures most often snags them in an artificial way, by foul-hooking the wings. Talk about a drawn-out battle. A foul-hooked ray can take an entire fishing session to land – and, in the end, the ray often ends up far smaller than the angler thought during the struggle. 
It's worth noting that cow-nosed rays can be sight fished, meaning you spy them in the near-beach troughs and cast bait just ahead of them. I can't imagine anyone wanting to purposely foul hook then though that it wouldn't be at all hard when there's a herd of them. I liken such an unadvisable move to purposely castnetting on a packed ball of peanut bunker.  
When mouth hooked, the fight of a ray, after a quick out-to-sea runoff of line, is a proverbial tug-of-war-like standoff, with very little head shaking. Of the half dozen or so I've fought, much of the battle was a dead-weight pull-fest, though things got more interesting in the shorebreak.
Circle hooks are essential when fishing rays. Firstly, the rigs are close enough to striped bass rigs that the law requires them. Far more important, once landed, a ray needs to be meticulously unhooked with as little messing around as possible. The sting is worse than it even sounds. A throat-hooked ray demands far too much unhooking interplay than can be safely carried out.
I was told – and saw a photo of -- a snorkeler recently spearing a large cow-nosed ray. Not sure if it was Jersey. That's just double dumb-ass stupid. There's no eating them. An enraged ray in the water might very well attack, which is how Steve got killed. Most of all, a struggling ray is a dinner bell for every shark within a mile. Stupid is as stupid does.
When not spearing stingrays, Bo takes on chickens ... 
WASTE NOT BRETHREN: I rarely bring church homilies up in here but last Sunday a visiting priest preached on the distasteful subject of food waste. In the United States alone, 40 frickin' percent of food gets tossed, according to the Natural Resources Defense Council. That amounts to $162 billion in waste … annually! For bean counters, that amount can cover 58 billion meals, using the national average amount spent on a meal of $2.79.
I'll be the first to include myself when I say that our area easily qualifies as being the proverbial "fat cat" segment of society. That makes it neigh impossible for us to register that 49 million Americans, including 12 million children and 7 million seniors, are food insecure. That's not starvation but empty pantries staring them in the face on a regular basis. What's wrong with that picture?  
In a needlessly overdramatic way, I'm alluding to the ethical need to utilize as much of our harvested fish as possible, currently thinking in terms of waste after filleting fluke, with virtually the entire fish being highly edible as solids, broth, or bones for grinding or gardening.
In a more evangelical way, I'm egging on the giving of larger donations toward food banks and church tithes, both of which truly reach the people in need.
((((((((((((((((((((((((((((((((((((((((((((((((()))))))))))))))))))))))))))))))))))))))))))
Read the full story at The Washington Post
Are striped bass doomed? Some conservationists are worried.
July 26, 2021 -- According to the Atlantic States Marine Fisheries Commission's (ASMFC's) 2018 Benchmark Stock Assessment and Peer Review Report, Atlantic striped bass is overfished and experiencing overfishing. The following is an excerpt from a story published today by the Washington Post:
Fish, particularly species known as both sporting fish and table fare like the striped bass, need to be managed, collectively, among the states where they are sought. There's often tinkering year to year, a tidelike give-and-take of state regulations — such as rules governing how many fish one person can keep — to appease recreational anglers, charter boat captains and commercial fishermen. That tinkering extends to other species of fish the striped bass eat. In some places, like the Chesapeake, Cape Cod and Montauk, at the eastern tip of Long Island, striped bass are intertwined with both the economy and the culture.
Stripers Forever believes the time for tinkering is over when it comes to striped bass. The call for a 10-year moratorium is an alarm meant to wake up anyone who believes the stock is healthy, says Mike Spinney, a member of the national board of Stripers Forever. "Immediately after we made that suggestion, the conversation changed," Spinney, a Massachusetts resident, told me. "We got lambasted by some, but we received positive reception from others. The fact that people are debating whether this is the right approach is a plus for us. Why do we have to wait for a collapse to take action that is necessary now?"
Most of the Atlantic's striped bass spawn in the Chesapeake Bay and its many tributaries each spring, and juveniles often stay there for years before heading into open ocean. Counting fish is not easy, obviously, and extrapolations are made based on the size of large breeding females known as cows. The Atlantic States Marine Fisheries Commission (ASMFC), which oversees management of the species for the Eastern states, has deemed the striped bass "overfished," based on a 2018 assessment. The commission also found the striped bass's mortality rate was high, meaning too many fish that are caught and released are not surviving.
"The stock is declining, and we've been seeing that in the stock assessments," says Toni Kerns, the ASMFC's fisheries policy director. As a result, the commission told states they needed to reduce the overall "removals" of the fish from the water, whether they are taken for food or accidentally killed. Lowering removals is often done in myriad ways, including instituting open and closed seasons, regulating the size of fish that can be kept and requiring the use of specific hooks aimed at reducing mortality. In Maryland, in June, each fisherman on Motovidlak's boat was allowed to keep two striped bass between 19 and 28 inches. Everyone caught two legal fish, and plenty of smaller ones were thrown back. Occasionally, small dead stripers floated past the Dawn Marie ...