Below: One reason many kids are a bit twisted throughout their entire lives ... 
Below: Reshowing -- for SandPaper readers -- this screen grab from a 24/7 Surfline cameras located on a rooftop in Spray Beach. It shows that there was surely something in the sky at the time a reported splashdown witnessed in the area- leading to a massive first response. When no debris was found, the call-in about a crash was deemed "unfounded." Well, this pic shows something was founded. For my initial write-up, go to http://jaymanntoday.ning.com/profiles/blogs/my-first-ufo-coverup-as...;
(((((((((((((((((((((((((((((((((((((((((((())))))))))))))))))))))))))))))))))))))))))
As the argument raged over whose brilliant idea it was to get as close to the water as possible ...
Below: Luckily, this fellow had some strong buddies willing to simply lift real hard ... "On three. One, two ..." 
Below: Hoodie design failure of the year ...
Tuesday, July 06, 2021: Never been anything like that July 4th weekend. It exploded, literally, at night with extemporaneous fireworks for as far as an Island eye could see. The overall traffic flow was off the charts, likely leading to worsening flooding. I'm serious. I'm convinced that the ongoing – and increasing – press-down from hundreds of thousand of vehicles plays a role in depressing roadways. Those depressions can't wait for the next downpour to fill up  – so bay marine life can swim in to keep them company.   
As of today, many a celebrator hasn't gotten word that it's time to call it a weekend … and scurry on home.
Closer to reality, the Island's record-setting crowds aren't going anywhere fast, based on the fullness of all available Island beds. I can see why all Island towns are against campers and trailers being parked in side yards – or a slew of tents popping up in backyards.
I'll re-mention that the increasing mainland populations from Lacey through New Gretna all this way cometh. They comprise our daily influx and outflux.
Every morn and late afternoon from now through September can lead to bridge-based traffic backups -- putting quite the crimps in the lives and times of local workers and residents. As I say about being a local: That and a few bucks will get you a coffee. Nope, not even a local discount at coffee shops.
Further below is stuff on the lighthouse's possible woes, along with the meat on bay scallops. But first a quick mention of my search for a joke worth going to jail over. This is a true story via a police report.
A Florida couple had just walked into their home when the man of the house told his wife a joke. It got quite the response. Not only did a laugh issue forth from his wife but a solid chortle could also be heard ... upstairs! This was no joking matter to the husband and wife, who bolted from the house.
I picture two burglars hiding in the upstairs closet when one of them busts out laughing at the joke and other slapping him behind the head, all, "What is wrong with you!?"
Cops were called and an arrest for burglary was made.
For me it just can't end there. I gotta know that joke, so much so I'm tracking down more info on the incident, hoping to reach the jokester hubby.   
What's more, the story has me a bit nervous. When I come home late at night to my empty house, I first stick my head in the door, all, "So, a nun, a turkey and a wombat walk into a bar …"
                                             ((((((((((((((((((((((((((((((((((((((((((((((()))))))))))))))))))))))))))))))))))))))))))))))))))))
 Getting info through state channels is tougher than overcooked calamari. All questions must go through the press department, which in turn seemingly lives by the unwritten motto: "Let No Question Go Fully Answered." Thus, I oft resort to behind-the-scenes info searches. That recently got me some interesting albeit unofficial info regarding the currently shuttered Barnegat Lighthouse. It seems the pandemic-closed landmark has taken the shutdown quite hard, literally peelings away inside, paint-wise. I might guess that mold is also on the attack within.
Per national experts, the main attackers of lighthouse interiors are moisture, condensation, and overall neglect. Which have reigned supreme in C-19 times. Now, don't get me wrong. I'm a huge fan of the park, the most visited landmark in our great state. What's more, the "neglect" of which I speak has been utterly unavoidable -- and surely painful to the park folks who meticulously watch over Barney.
Based solely on my extrapolations, Barney might need a complete inside facelift, which is hard to conceptualize in physiological terms. However, in architectural rehab speak, it means a top-to-bottom – or vice versa – scraping off of failing paint, mainly on the steps. As to scraping, one might fear there's old lead paint involved, instantly presenting both a health and disposal headache to whomever will be hired to rehab Barney's innards.     
Out of all the write ups I've done on Barney, I never thought about looking deeply into the inside paint, despite writing on the complex makeup and application of the outside paint. How old might that tucked-inside coating be? And might there be some cool messages concealed beneath, like, "Vote for Honest Abe." I'm quite proficient at reading Early Americana cartouches. Put me in, coach.
Once the lighthouse's insides are painstakingly prepped, always the hardest part of any painting process, the laying on of colors would seem a breeze by comparison. However, reading up on the rehabbing of other lighthouses, apparently nothing is easy when working on old and precipitously upright structures. Along with the need for a clever total-coverage application plan comes with the demand for an enduring coat or many more. The problem there is how enduring paints are synonymous with fumey paints. Once the inside work is done, how does one even begin to de-fume a lighthouse -- to the point where the park system can allow the return of thousands of folks, all sucking air to ascend the 217 steps.
By the way, that fume thing is just me wondering out loud, while hoping to be among the first to climb open-for-ascending lighthouse.
One other factor adding to the time needed to get barney up and running will be the final decision making on the inside color scheme. If women are involved, we'll be dating checks "2022" before work is done. Might I therefore boldly suggest a dominate backdrop color using Behr's "Song of Summer," with spiraling strips of "Obstinate Orange" by Sherwin-Williams, both of those complimented with floating 3-D effect squares of assorted sizes using Farrow & Ball's "Dead Salmon" hue. As a façade finale, pimp up the paint surface look hardy shakes of Stuart Semple's "Diamond Dust" glitter. That should give future lighthouse climbers a feel for our time and place.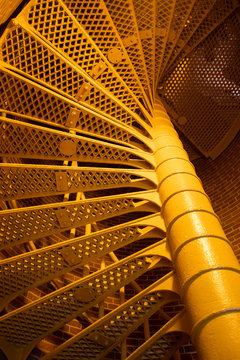 Hopefully, official word on the reopening of Barney's innards will be released soon. If there is, in fact, much to be done inside, even the posted "possibly August" timeframe is 172-foot leap of faith.  
N.B.: Despite Barney proper being kept in moth balls, the rest of the park still royally rocks with things to see and do, fishing being way up there. Please keep in mind, you can't be encroaching on the marked bird sanctuary area. Also, for any park newbies, it's far safer to walk to the far east end of the South Jetty by using the sandy beach adjacent to it. The most common serious injuries in the park are folks falling in between multi-ton granite jetty stones. They just don't give way.  Hell, there was even a case of a fellow falling headfirst twixt the chunks stop of granite. What an extraction process. I still feel a bit bad about giggling so hard as I was helping pull him out. Oh, stop. He was barely bruised, his ego damaged more than anything, especially when his pants came off in my hands during the pull-out.    
((((((((((((((((((((((((((((((((((((((((((((((()))))))))))))))))))))))))))))))))))))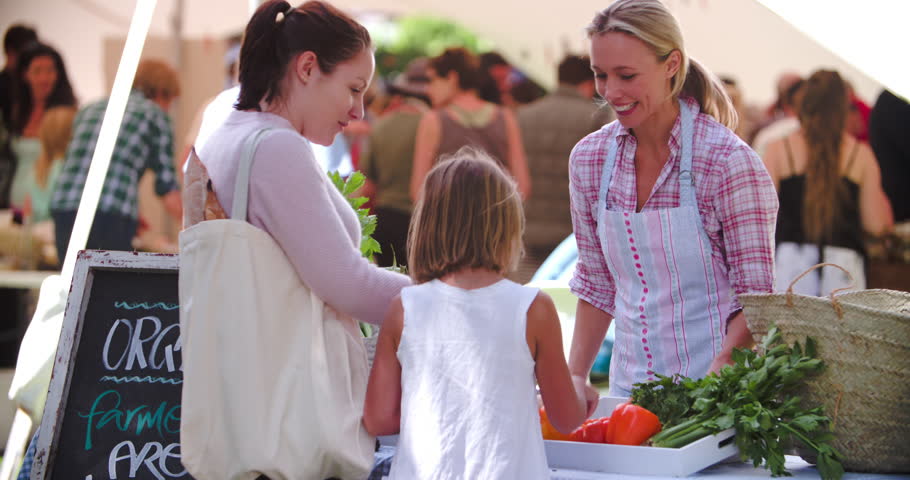 So, this young mother and cutest-little-thing daughter, maybe seven years old, were standing at the seafood section of a too-popular supermarket when the mom head-shakingly questions how big scallops be $20 a pound. The little girl, in a quiet sweet-as-pie voice says, "That's because they kill all the babies, Mommy." The mom instantly dismissed the girl's remark, saying, "Oh, stop. They don't kill the babies." Despite never having been a parent, I instantly got what the brilliantly observant child was talking about. Right next to the tray of expensive sea scallops was a huge tray of bay scallops. Yep, they were the "babies" in this young'un's eyes. Brilliant.
While on the subject, bay scallops played a formative part in my life, one that would become fully water oriented, obsessed with surfing, fishing, clamming and underwater exploration, including treasure hunting.
Back in early 1960s, I would often snorkel the bay off Holgate, where water was often clear enough to get a gander at life down below Little Egg Harbor. Nothing was finer to come across than bottom swimming bay scallops. And, yes, they swim … sorta. They moved from one spot to the next in hops and surges, powered by expulsions of water.
Bay scallops turned me onto one of most stunning colors I had ever seen. It shone forth via a string of glowing eyes, as many as 30 of them, aligned within the opened shell of a feeding scallop. On a sunny day, the eyes popped in a blue hue like no other. Sometimes, rays of blue would emanate outward from the eyes. Those eyes lured me in.
Shifting scallop gear a bit, the white fleshy adductor muscle of bay scallops is now pervasive in America, a poor man's scallop, as it were. Less than half the price of sea scallops.
So how are there enough bay scallops to feed the world? Don't look toward wild-caught as a suitable source. Bottom dredged natural bay scallops would almost match sea scallops in price. And that's only if there were enough to harvest. There isn't, at least in terms of filling fish markets.
The odds are close to certain those bay scallops come in on a fast boat from the Orient, where they're quite cleverly grown on long top-to-bottom ropes bearing growing platforms.
Per cport.net, "The Bay Scallop, Argopecten irradians, a native of the U.S. East Coast was sent to China in the early 1980's and has evolved into quite an aquaculture successful industry.  In fact, the majority of Bay Scallops marketed in the U.S. are from China."
In many ways, scallop farming it's the purest form of aquaculture known. It is not only non-polluting but cleans the farm waters.
According to Wikipedia, scallop aquaculture removes "suspended solids, unwanted nutrients, silt, bacteria and viruses from the water column so to increase water clarity which, in turn, improves pelagic and benthic ecosystems, particularly by promoting growth of vegetation such as seagrasses."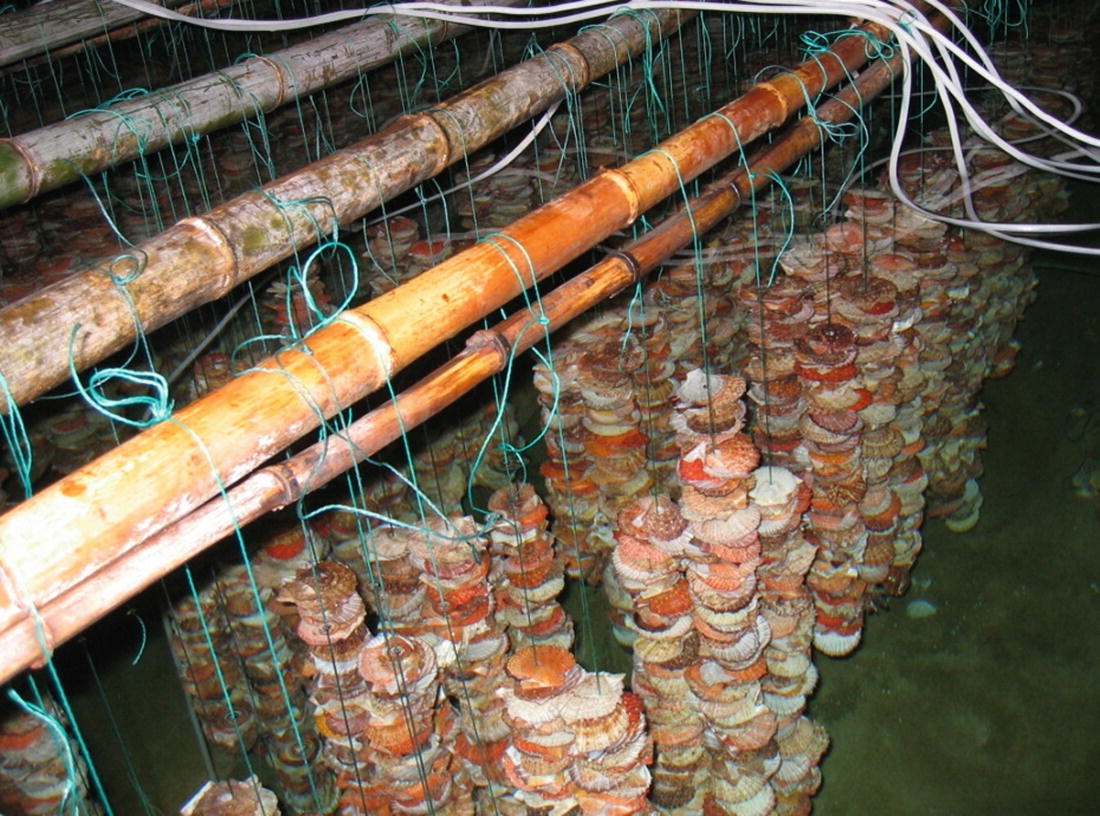 Right about now, China's dominance of the bay scallop realm – using the exact species we have in Barnegat Bay – plays a part in the whole trade deficit thing. That need not be.
Seemingly slow to catch on America could easily mimic the Chinese by growing bay scallops galore, while cleaning waters in places like Barnegat and Chesapeake bays. Sure there's the whole cheaper labor thing in Asia but placing seed scallops in water to then sit back and watch them grow is hardly overly cost or work intensive. Neither is harvesting. Processing does get costly, but it means jobs and tons of shell to use in reef building and such.
Of local note, scallops are trying their hardest to make a B-Bay comeback. It's a slow go at best. Still, there are some out there to be had, though commercial harvesting is frowned upon.
An NJ recreational shellfish license also allows the taking of 150 (combined) hard and soft clams, surf clams, oysters, bay scallops and mussels. Whelks/conchs are not included.
((((((((((((((((((((((((((((((((((((((((((((((((((((()))))))))))))))))))))))))))))))))))))))))))))))))))))
Below: Drops in Chesapeake crabs hugely effect NJ harvesting. 
It's Boom or Bust for Chesapeake Bay Crabs. But why?
Copyright © 2021 The Virginian-Pilot
By Dave Ress
July 6, 2021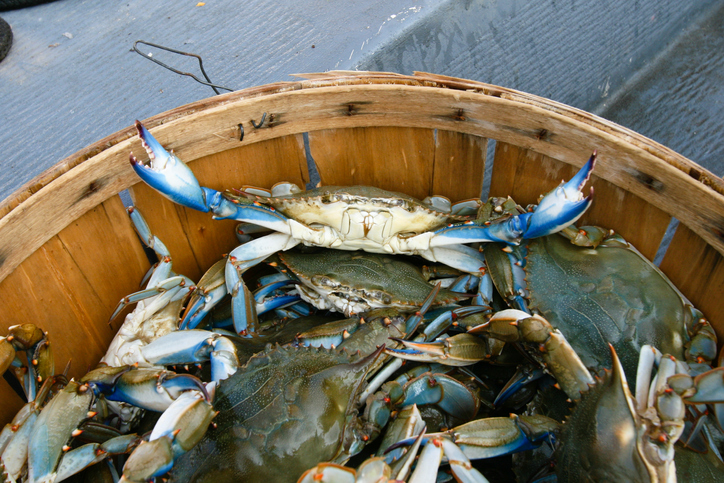 Big swings in juvenile crab numbers, like last year's drop, aren't uncommon but the Chesapeake Bay Program thinks it's time for more study of the environmental factors that make the bay population bounce around so much.
The bay program's review of data from the winter dredge survey, which estimated a drop of nearly 100 million juvenile crabs to just 86 million, did not find any need to tighten controls on the catch.
But the bay program's latest Blue Crab Advisory Report said it may be time to require licenses for recreational crabbers, after a new analysis of a Maryland tagging study suggested these crabbers were harvesting larger numbers than had been thought. Virginia's last survey of the recreational crab catch was in 2002.
The report formally declared that crabs are not being over-fished - that is, being caught in numbers that mean populations are unsustainable - even though it increased the trigger for making that assessment by 3.6%, to 72.5 million female crabs.
The dredge survey estimated female crab numbers at 158 million, which is well above threshold but below the target fisheries managers are aiming for - 196 million. Last year was the 13th in a row in which female crab numbers were below the target.
While the juvenile numbers were the lowest yet seen in the winter dredge survey, the bay program said that would not be a concern unless the trend continues. It is asking the Virginia Marine Resources Commission and Maryland's Department of Natural Resources to keep an eye on juvenile numbers as they conduct their trawl surveys this year.
The report also called for more work on environmental factors that might explain why juvenile crab numbers vary so much from year to year. It said the VMRC, Maryland and the Potomac River Fisheries Commission should track commercial and recreational harvest more accurately, including the use of electronic reporting systems.
The Virginia Institute of Marine Science is looking at new
ways of mapping those environmental factors that affect juvenile numbers after deciding that its current aerial survey of underwater plant life isn't giving a good enough picture, the report noted.
VIMS, meanwhile, is seeking funding for a shallow water survey is see if that will yield better data on juvenile populations, since a large percent of these crabs prefer shallow water.
"Better understanding how environmental factors affect juvenile blue crab numbers would help fisheries managers plan and adjust harvests when environmental stressors are high. This is particularly important as climate change increasingly influences factors such as temperature, dissolved oxygen levels, salinity, and more," said Allison Colden, Chesapeake Bay Foundation fisheries scientist.
The report said the commercial harvest last year of 41.6 million pounds was below the 20-year average of approximately 61 million pounds, despite the VMRC's decision to extend hard crab pot season through Dec. 19, 2021, and Maryland's decision to increase female bushel limits for one week in November 2020.
The Blue Crab Advisory Report is developed by the Chesapeake Bay Stock Assessment Committee, a group of experts from state and federal agencies and academic institutions.
The Chesapeake Bay Program is a regional partnership that includes 9 federal agencies, nearly 40 state agencies and programs in Delaware, Maryland, New York, Pennsylvania, Virginia, West Virginia and the District of Columbia and dozens of nonprofit organizations.
If only we didn't have bluefish around here. Bass would go gonzo over this plastic. 
_____________________________________________________________________