So, I'm at this trade show and I'm told I can't live without one of these bad boys ...
++++++++++++++++++++++++++++++++++++++++++++++++++++++++++++++++++++++++++++++++++++++++++++
My phone is going crazy as NYC designers want me to collect bones for them; something about a new killer style for summer 2018.
+++++++++++++++++++++++++++++++++++++++++++++++
Tuesday, January 16, 2018: Double Creek dredging is pretty much done. Barnegat Light State Park is open and back to normal, with the dredged material, which had been placed in a large retention basin within the park, now spread along the south side of the jetty.
The scheduled replen of the Harvey Cedars, Surf City and Brant Beach by Weeks is nowhere near starting. In fact, work on a Weeks' Brigantine replen, which will precede the LBI work, hasn't even begun yet -- put on hold due to the death grip winter has had on our entire coast. Same delayishness goes for the south end, where work has been sketchy, related to the clearing of a channel in Little Egg Inlet.
I've been so pissed at the wicked weather I haven't been offering my looks-ahead. Now, there is a veritable glow on the 10-day horizon, including day after day in the 50s. I also see a 60 thrown in. Are frozen days over? You can't trust February any further than you can throw it. Remember, February is to winter what August is to summer – and we've sweltered through many an August. You can extrapolate from that what February is capable of loosing upon us.
Below: I think even this forecast is on the low side when it comes to high temps a-comin'.

Thu
Sunny
38°26°
Fri
Sunny
45°30°
Sat
Mostly Sunny
50°32°
Sun
Partly Cloudy
50°36°
Mon
Cloudy
50°40°
Tue
Scattered Showers
47°3

++++++++++++++++++++++++++++++++++++++++++++++++++
Photo by: Kim Hollander
Per the Ocean County fire marshal, the cause of the fire aboard the scallop boat Karen L was accidental, possibly due to spontaneous combustion -- not the vessel's electrics, as was first thought.
No one was injured in the blaze, which is good news since firefighting below deck is hugely hazardous.
"It was an accidental fire originating in a storage room below the deck galley," said Assistant Fire Marshal John Pasola. The cause was "not electrical," he said, and "we can't rule out spontaneous combustion."
That spontaneous combustion possibility is very real. I know of fires in other vessels that were likely the result of this complex variety of combustion.
Boats are often/always holders of oily, even fuel-drenched rags. When bundled tightly and thrown in a corner, they can easily ignite, especially any rags bearing linseed oil, sometimes used to preserve onboard wood.
As a kid, my family home caught fire from turpentined rags, tossed aside after my dad had done some painting that day. It was never determined if the fire was the result of spontaneous combustion or a stray spark from a nearby gas heater's pilot light.
The Karen L, despite being an older commercial vessel, will likely be repaired, not scuttled.
FLASH POINT: For me, this spontaneous combustion sparks the long-standing academic question regarding the mind-boggingly weird subject of spontaneous human combustion (SHC) -- whereby humans burst into flames, seemingly burning from the inside out. Yuck, right?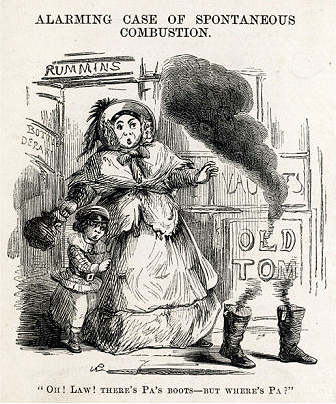 Suspected SHC cases have long been explained away as victims accidently lighting themselves on fire, after which the fire stays strictly confined to the person's body, not spreading to nearby objects. The lack of fire spreading beyond the body looms large since the lack of collateral burning is what baffles investigators most.
So, how would one set themselves on fire and then allow themselves to burn freely? Cases of drunks passing out with a lit ciggy in-hand are actually common. In fact, many a house fire has been caused by non-inebriated ciggyists passing out.
A recent research project demonstrated how the human body – make that cleverly-crafted models of a human bodies – when ignited, became veritable candles, slowly burning bodily fats. It is theorized that such a low-blaze fire could leave a long-simmering body looking as if it ignited from the inside out. If said slow-burning soul passed out in the middle of a room, it could also explain how nothing else caught fire.
But, not so fast. Enter Cambridge research biologist Brian J. Ford. Ford has determined that naturally-occurring acetone in the human body could conceivably cause a person to burst into flames, somewhat. That semi-insane scenario could explain burn patterns consistent with suspected SHC victims.
Per an article in gizmodo.com, "Acetone is characterized by Prof. Ford as 'one flammable constituent in the body that can greatly increase in concentration,' and this happens when a body is in a state of ketosis. Potential causes of ketosis include certain diets, diabetes, teething and even alcoholism. Regardless of its source, acetone is highly flammable."
Wow. You know it's winter when I pass on sh-tuff like this.
++++++++++++++++++++++++++++++++++++++++++++++++++++++++++++++++++
Just today:
Since many in here are of a Facebook ilk, I want to pass on word that our written FB words will soon trump that of publishers, who offer FB-based lead-ins to fully legit stories -- in hopes of getting FB readership to enter their online versions. Sure, publishers also hope to get readers to sign up to for-pay subscriptions. I'll note here that newspapers are fully a-struggle, trying to keep costly news gathering infrastructures up and running. They need readers.
The reason that Facebook leadership is tuning down news copy, which now routinely surfaces, is to somehow sort out "bad news" posts, which visually and verbally present as legitimate news sources/agencies.
Despite often slick appearances, bogus news outlets and customer wooer – using posts as something called clickbait -- are so far from legitimate they can make your head spin … and change the course of elections.
In the longer run, Facebook assures that the proven-true news outlets and news wires will be allowed to show themselves with full FB honors. In the interim, look for you-and-I types to have free reign over Facebook posts.
Notice that "Illegal Information" and "Political Protests" are in the deepest part of The Dark Web:

OBSERVER TRAINING
February 10, 2018
9 am - 1 pm
South Florida
IGFA Headquarters
300 Gulf Stream Way
Dania Beach, FL 33004
---
May 19, 2018
9 am - 1 pm
Long Island, NY
Strong's Water Club and Marina
2255 Wickham Avenue
Mattituck, NY 11952
---
Click here to download an application. Completed applications can be emailed to jvitek@igfa.org.

For all questions, please contact Jack Vitek at 954-924-4246 or by email at jvitek@igfa.org.
---
The IGFA OTC trains captains, anglers, and mates to participate as observers in national and international billfish tournaments. IGFA's OTC benefits both tournaments and our fisheries by promoting billfish conservation through an all release tournament format. The half-day session trains attendees on IGFA's International Angling Rules and billfish identification. Additional topics covered in the class include observer etiquette and boating safety. The cost of the class is $150.00, which covers the OTC manual, two DVD's, and a one-year IGFA membership. The class will run from 9:00 am to 1:00 pm.
What is Observer Training?
Over the years, billfish tournaments have transformed into big business enterprises. Many prestigious tournaments now have enormous calcuttas and purses as well as large numbers of participating anglers. With huge purses and egos on the line, concern often arises whether all participants are adhering to the letter of the rules. This causes turmoil for tournament directors and, at its worst, prevents tournaments from adopting release formats. An obvious solution is to have observers on boats to ensure a level playing field. But how do you know if observers have been properly trained and where do you go to find them? The answer is simple; IGFA.
The International Game Fish Association's Observer classes began as a conservation initiative to allow offshore billfish tournaments the option to go to a 100% release format with trained and experienced observers on board to verify catches and educate anglers about IGFA angling rules. With the decline of many billfish stocks, the importance of release formats in tournaments has increased. As release tournaments become more common and cash payouts increase, unbiased observers become vital in reporting rule infractions as well as for identifying billfish species. Observers can often benefit anglers by preventing inadvertent rule infractions before they even happen. Having observers that are trained to identify billfish species under frantic tournament conditions virtually eliminates the need to bring back dead fish to the dock for official scoring. Observers also raise the prestige level and credibility of tournaments while contributing to conservation efforts with the safe release of tournament billfish.
With the aid of the National Marine Fisheries Service, IGFA has had over 2000 individuals complete the IGFA Observer Training Course. The IGFA Observer Training Course trains captains, mates, and experienced anglers worldwide in one-day training classes. During the class, subjects covered include species identification, IGFA saltwater angling rules, boating safety, and observer responsibilities and etiquette. Once an individual has taken the course, they have the ability to observe in numerous exotic fishing destinations. Tournament locations that are presently utilizing Observers are Costa Rica, Virgin Islands, Mexico, Panama, Guatemala, Bermuda, Venezuela, Dominican Republic, Turks, Caicos, Bahamas, and Florida.
Through contributions and sponsorship, IGFA endeavors to provide more training opportunities so that more tournaments can utilize observers. IGFA trained Observers and the tournaments that use them play a leadership role in billfish conservation and act as stewards of the sport. The overall goal is to contribute to billfish conservation through the promotion of catch and release and to uphold IGFA angling and tournament rules. Using observers that have been IGFA trained will provide prestige and credibility to any tournament, encouraging more participation.
Interested in taking the IGFA Observer Course?
The half-day session trains attendees on IGFA's International Angling Rules and billfish identification. Additional topics covered in the class include observer etiquette and boating safety. The cost of the class is $150.00, which covers the OTC manual, two DVD's, and a one-year IGFA membership. The class will run from 9:00 am to 1:00 pm. Click here to download an application. For more information, call Jack Vitek at 954-924-4246 or by email at jvitek@igfa.org.
Individuals that have completed the IGFA Observer Course are notified of tournaments requiring Observers by email blasts and posts on the IGFA Observer Talk Forum. There is no annual fee to receive these notices, but Observers must keep an up-to-date IGFA membership.
Interested in holding an Observer Training Class in your area?
In addition to holding OTCs at IGFA, we've held classes in six different countries, two US territories and a slew of states. Arranging an OTC in your area is a relatively simple affair. IGFA needs a point person to correspond with in planning and promoting the course. That person is responsible for helping recruit interested individuals and for securing a venue to hold the course. Before IGFA can travel to hold a course, we need a commitment, in the form of signed applications, from a minimum of 20 people. This is a great opportunity for angling clubs. If you are interested in holding a course in your area, contact Jack Vitek at 954-924-4320 or jvitek@igfa.org.
Are you a tournament that is interested in using Observers?
There is no charge to use IGFA trained observers. Simply send us an email with the following information:
Tournament's name and location

Tournament dates

Tournament Director's name and contact information

Number of Observers needed

Logistics covered by the tournament

Any additional information necessary for Observers
Once we receive this information, we will do a blast email to Observers.