A touch of surfing before getting in some surfcasting ... 
***************************************
More sickassedness ...
On Sunday, December 15th, 2019, Lt. Steve Sutton received a complaint via Trenton dispatch about an individual that had posted a video and photo on "Snapchat" about shooting deer with a .22 rifle. The suspect is well known by Lt. Sutton and was charged with several violations last year for taking pheasants with a baseball bat, the night before opening day. CPO Merritt and Lt. Sutton tracked him down and interviewed him. He was in possession of a doe, that was in the bed of his truck. He gave a full confession and advised that he and a friend had decided to shoot a deer at approximately 3am on Sunday morning. They located the doe, on River Road in Montague Twp., Sussex County and that his friend shot it, with his .22 rifle, with the aid of a spotlight. CPO Merritt interviewed the second suspect and received a full confession from him as well. The firearm was seized, along with the deer and multiple summonses were issued to both individuals for night deer violations.
********************************************
Tuesday, February 18, 2020: Is it spring yet. I'm realizing that winter doesn't need to be wintry to be blahed out. While it's great to be out digging (artifacts and such) right through January and February, the days are still short and stubby. What's more, on the Island we really don't get the feel of freaky mild winter days since they usually arrive on southeast winds, which blow dang cold air off the ocean and upon us. Nonetheless, I'm not overly complaining.
Looking at big-picture meteorological maps and such, along with professional guesses at long-term trends, and nothing much is changing from what we've had here to now; lots of mildness with a few low-impact stints of short-term coldness. In fact, going into March, the weather looks to be settling into an almost unrockable pattern of highs in the 40s and barely freezing lows.
With January already down as the warmest on record – I believe that's dating back to the late 1800s – February will surely rate right up there with mildest-ever Febs. With March possible going way warm – latest jet stream predictions indicating such – this winter will be the thing of global warmists dreams.
See: "January 2020: Earth's Warmest January on Record" at https://blogs.scientificamerican.com/eye-of-the-storm/january-2020-...
I'll also duly pass on NOAA findings that "For average annual Northern Hemisphere temperatures, the period 1983–2012 was very likely the warmest 30-year period of the last 800 years and likely the warmest 30-year period of the last 1,400 years."
How can we see back that far? NOAA says it's coming down to paleoclimatologists, who "gather proxy data from natural recorders of climate variability such as tree rings, ice cores, fossil pollen, ocean sediments and corals  and historical data."
I'm adjusting nicely to the notion of Earth being in a rather rapid warm-up phase. I might even sarcastically go REM by saying "It's the end of the world as we know it … and I feel fine."
Geological periods and the accompanying atmospheric tendencies usually play out in multi thousand-year increments – at the shortest. This is not to reject the possibility that mankind has jump-started the warmth through a slew of atmosphere-impacting activities, possibly in a way never seen in many millions of years. Just as possible, the planet – having taken a seeming liking to mankind -- might have some compensatory tricks up its sleeve. Already there have been unanticipated natural forces working against the doomsday timeframes first set by the original global warmists.
Just to throw a bizarre and frightening climate curve, after 9/11, the skies over America were cleared of all aircraft. The simple disappearance of jet contrails from the sky heated areas of our nation by as much as two degrees. A case can be made that purely purifying our skies, removing all of mankind's sky grime, could burn us to a crisp, though we'd be a healthier crisp. I bring that up only to muse at the possibility that the planet is warming for natural reasons, meaning an absolutely immaculate atmosphere might be the worst of all possible worlds – temperature-wise. Weird but very real variables like that are viable considerations as we move forward toward fresher skies.  
I'm still for cleaning our air until it's squeaks with joy. Even if a warmup is coming regardless of cleanups, we'd all feel far more motivated to make life changes beneath a lazurite blue sky and within an envelope of air able to instantly purify the body and soul.
I used to visit the top of Maui's 10,000-foot Haleakalā Crater. The air there is as pure as anywhere in the world – at least anywhere easily reached without mountain climbing gear. To this much-later day, I have never breathed in air like that -- or seen skies so pristine. There is an amazing instant energy from pure air infusions. Sadly, many folks can only get that through the likes of nasal oxygen cannulas.
Again, this isn't saying a hard rain won't fall. It's merely acknowledging that predicting in-our-lifetime climate change is not steeped in exact science. Lessons must be learned – and sometimes flood in. Such is how all life is lived. The savvy will survive.
BASS OR BLUES: I guess I shouldn't be surprised that I'm hearing far more gripes about the new bluefish regs than the striped bass regs. That showed at the marine fisheries meeting when even the council members were surprised over how long it took to get through public comment prior to its final vote. "Screw that three-fish bag limit crap" came my way a few times.
For-hire captains, whose fares can keep five blues, can't be quite as rebellious since they know they're always under close scrutiny. Civil disobedience is out of the question for them.
This comely haul of bluefish is well within the range of even new regs:
I'll surely jinx the entire state by saying this warm winter could usher in spring blues far sooner than usual. March is only 10 days off. That could also mean – optimism alert – they will stay longer, since the waters just to the north will remain a tad too cold. Getting way ahead of myself and the season, please keep an eye on the stomach contents – if any – within spring blues, especially with early arrivers. It might give some insights into the entire bluefish situation. In years/decades past, spring blues arrived stone-cold empty, stomach-wise. How can that not suggest they're coming in right off the deeper water of the ocean. If they had hugged the coastline, as some theorize, they would not only arrive fatter but, on occasion, bearing stomach contents of bayside forage.
My most common spring bluefish stomach findings, going back as far as 40 years, have been bayside grass shrimp and, much rarer, inlet mantis shrimp and nearshore sand eels.
Below: If you think bluefish are cyclical, you oughta see the annual comings an goings of grass shrimp. 
Below: I've seen mantis shrimp to nearly a foot long. Ate a smaller one once and it was exceptional. Oddly it tasted like neither lobster nor shrimp, fishier. 
The grass shrimps' clarity (tails) prove they had been downed quite recently. Even those shrimps clouded over by digestive juices had likely been eaten within the previous 36 hours.
I refuse to give up the theory that bluefish have often arrived here from faraway places -- and not so much from the scientifically suggested "offshore overwintering holes" – most of those within a simple day's swim from shore. As to the blues I used to catch down Port Canaveral way, I'm not sure where they go come summer. Those might very well drift into cold-water holes out a good ways.
Below: I was duly lectured that charts like this are totally bogus. Bluefish have been fished unsustainably for decades; never coming close to maintaining sustainability levels.
As to the reaction to he finalized striper regs, I'll use the word anticlimactic to portray the feedback I'm getting. Seemingly, most everyone already sensed it would be in the range of one fish at 28 inches to <35 or <38 inches. In fact, I didn't see much interest in the fact NJ has applied for the slightly larger high-end inch length.
Admittedly, the overall enthrallment with bass fishing is way down after last fall, realizing I chat most often with surfcasters, who had the striper rug pulled out from under them.
At best, there was a passing interest shown in the tasty 24- to < 28-inch slot fish, despite the pullback to a May 15 starting date -- from Sept. 1 in 2019.
In my small way, I hope to foster interest in that bonus fish. There's 27,000 permits available and I'd like to see bank and surf fishermen get a slew of those, considering the likelihood that it'll remain harder to catch keeper stripers from shore.  
You can soon begin the SBBP application process at:  https://www.nj.gov/dep/fgw/bonusbas.htm
| | |
| --- | --- |
| The Striped Bass Bonus Program |   |
The 2019 Striped Bass Bonus Program (SBBP) closed at 12:00 a.m. Wednesday, January 1, 2020.
Permits issued for 2019 are not valid in 2020.
Applications for the 2020 SBBP are not currently being accepted. A new application must be submitted for 2020 when available. The NJ Marine Fisheries Council will make decisions early in 2020 regarding the future of the 2020 SBBP. The Division will provide information regarding 2020 applications for individual anglers and party/charter boat owners once a decision is announced.
Updated and new information about the SBBP is posted on this webpage and sent to Marine Fisheries e-mail list subscribers and media outlets when available.
**************************************************************************
CPO Sean McManus assisted Howell PD regarding an individual who illegally snared a deer. The individual confessed that he set the snare at a height and in a manner to trap deer by way of snaring the deer around the neck. One deer was caught and inhumanely dispatched by the illegal trapper. The unlicensed trapper was issued eight summonses by CPO McManus. The Monmouth County SPCA is also investigating.
William with his first pickerel of the season!
**********************************************************************
Forum at Batsto This Saturday
Trout Meeting on Feb. 29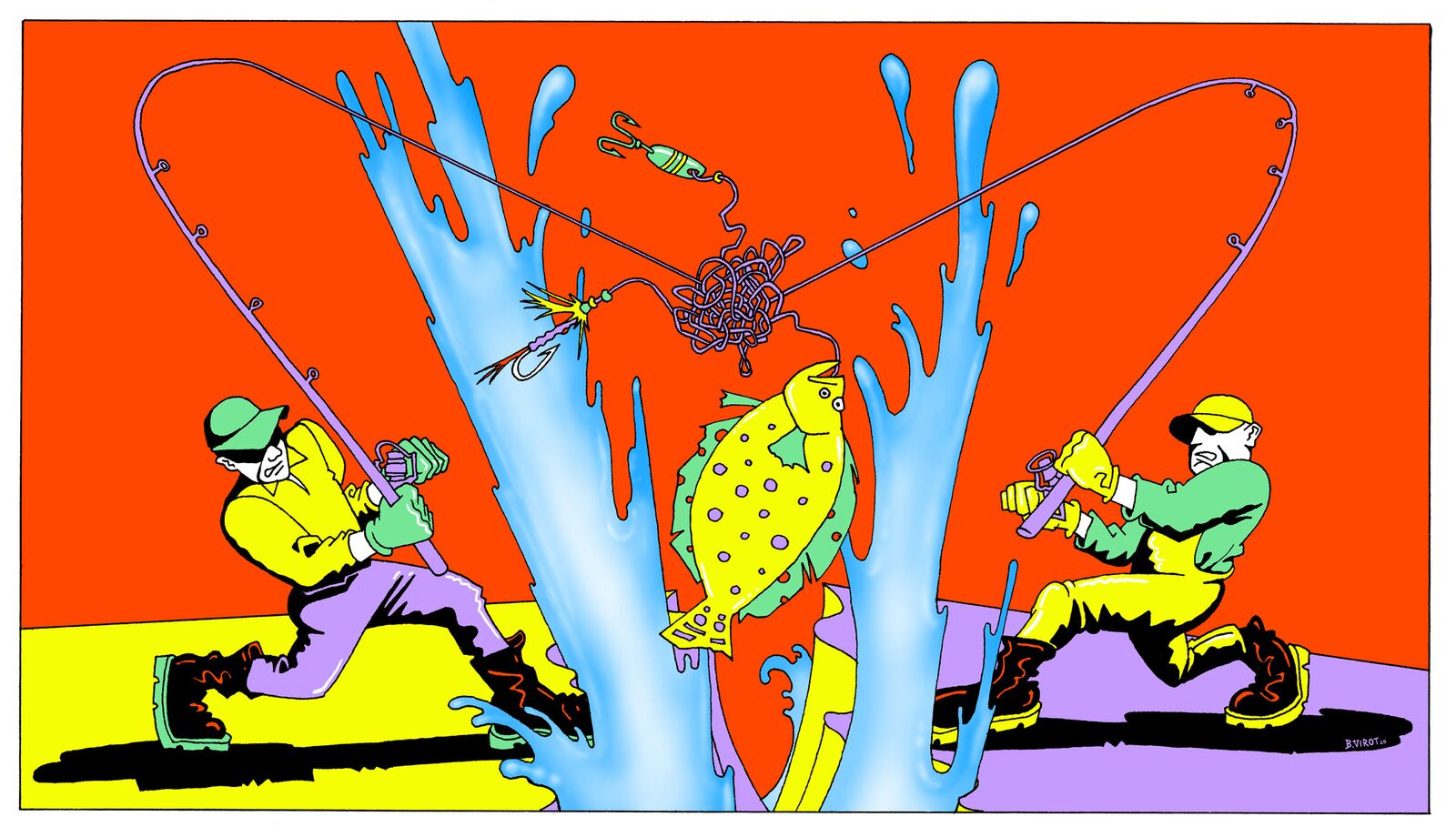 Don't miss the Philadelphia Fishing Show Feb 21-23 at the Greater Philadelphia Expo Center in Oaks, PA.
Over 300 booths of pure fishing! Round the clock FREE seminars, you can see the schedule on our website. Check out the 5,000 gallon Hawg Trough, a freshwater gamefish aquarium. Learn how to fly cast or improve your ability at the Fly Casting Pond with Mike Corblies. Wonder at the 3,000 pound Great White Shark replica and then try your best in the Fighting Chair Challenge. Catch a fish at the show! There's a fully stocked trout pond to test your skills.
Guides and charter boats from all over. The best deals on rods, reels, lures and tackle. 
Free parking for everyone. Food and refreshments available in the expo hall. 
$10 admission, kids 6-12 $5, kids 5 and under FREE.
Dave DeGennaro
Back Bay Adventures
732.330.5674 cell
**********************************************************