Above: Whale disposal 101 ... 
________________________________
Below: When Mount Etna blew yesterday, I related to the guy in this photo. That would surely be just my luck also. 
_________________________________
Tuesday, December 29, 2020: Whale stuff further below.
There has been quite the swarm of vehicles heading onto LBI today. Just might be the Christmas rush was a pittance compared to the masses coming down here to celebrate the new year, possibly with a hearty helping of friends in tow. While I'm not sure that buddy-buddying is the best move to greet surely contagious 2021, far be it from me to discourage folks from entering into the new year as they see fit. Of course, time and quarantines might prove me wrong.  
Next week, The SandPaper gets its hard copy version back on its well-rested feet. Our on-line edition has been keeping up on major news things that have popped up during this short holiday hiatus. To catch-up on on the paper's cyber realm, give things a quick look-see at thesandpaper.net.
Small stripers, below keeper size -- or are they? -- still being caught. Anglers helped by near waveless ocean. Odd sighting along Holgate beach of dead large bunker. So many that even the gulls have lost interest. 
WHALE APPEAL: Well, the Great 2020 Whale Washup Event has ended with pretty much an on-the-site burial of the poor thing. Facetious talk of blowin' it up real good, i.e. in a traditional LBI manner, was quickly extinguished, replaced by the Barnegat Light borough assigning heavy digging equipment to help the state bury it in close proximity to where the battle-scarred baleen whale came to rest.
(That "battle-scarred" part will become clearer a bit further down, tucked within a Brigantine Marine Mammal Stranding Center statement on the washup.)
The young 30-foot DOA humpback whale first appeared off Loveladies before being windblown northward by gale-force south winds. Those howling southerlies were a bit unusual for this time of year, when winds are far more inclined to gust in from the west and north. Had the usual winter littoral drift been in play, the carcass would have likely washed ashore somewhere between Harvey Cedars and Ship Bottom … where we woulda blown it up real good. Not serious! Or am I?
The necropsy by marine mammal expert Bob Schoelkopf and the fine crew from the Stranding Center couldn't determine cause of death, though from the bits and pieces I'm getting – no pun intended -- it seemingly was not a prop strike from a ship. Wounds on the outside of the whale, which many folks took as evidence of such a prop strike, were far more consistent with the carcass being wave raked over the nearby New South Jetty. However, that does not rule out the possibility of the whale having been impacted by the bow or bottom of a vessel, leading to internal injuries. Such blunt-force trauma is hard to determine even in a speedy necropsy. The internal decay of the BL whale made such tricky reads impossible.
As to how long the whale will remain in its given grave, erosion will have the final say. Odds makers are taking bets. Interestingly, the deep sand beach area where the whale is buried was theoretically expected to be underwater upon the completion of the New South Jetty. Instead, that area has nicely accrued sand.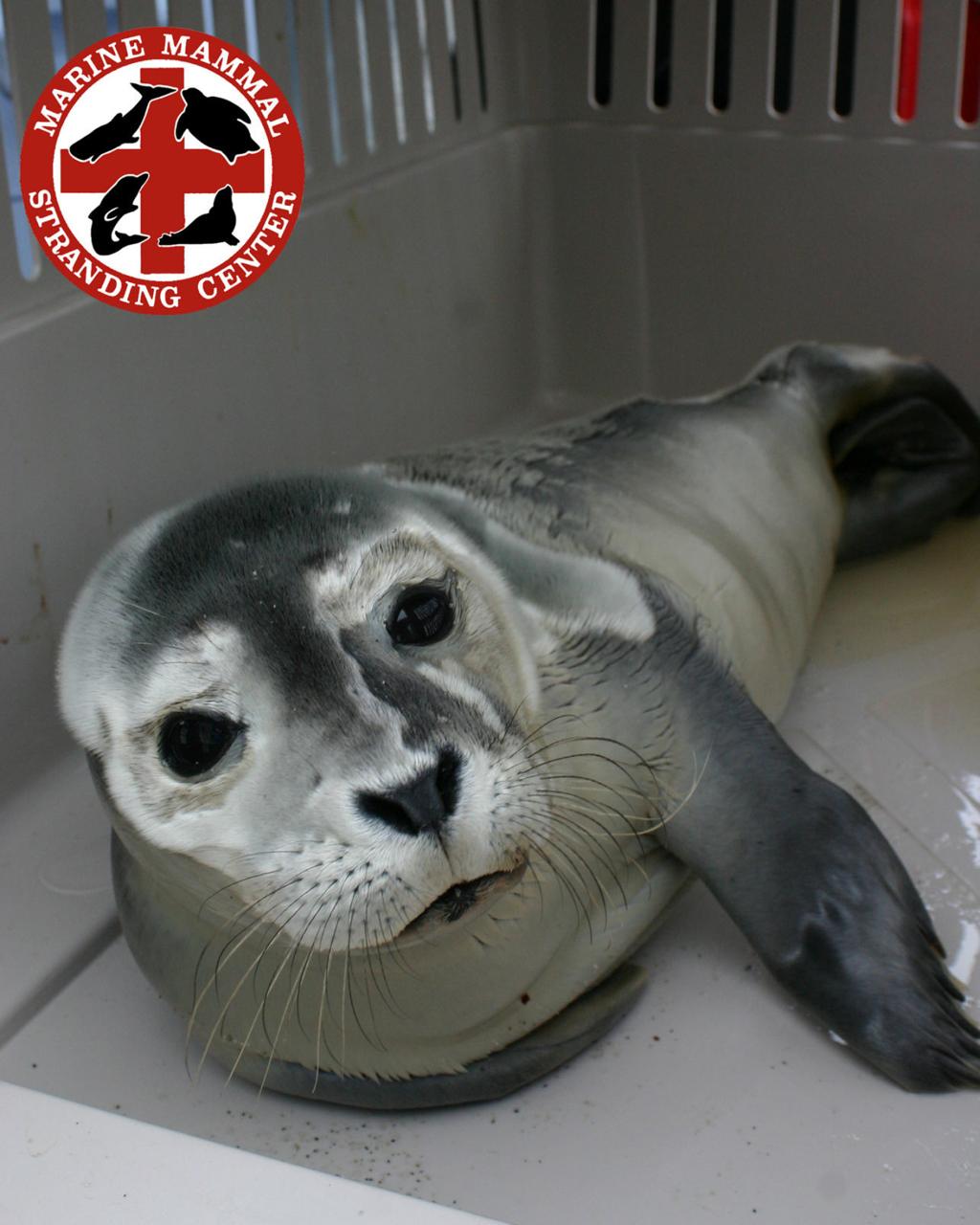 Here's the Marine Mammal Stranding Center report:
Yesterday our team went up to examine the humpback whale at Barnegat Light. This is the same carcass that had previously washed up dead in the surf in Loveladies on 12/24, however, the tide pulled the carcass back out, the carcass later coming to rest at Barnegat Light on Christmas Day.
Samples and measurements were taken, and only a partial necropsy was able to be performed due to the advanced decomposition of the partially frozen carcass. The male humpback whale was 32 feet in length and estimated to be approximately 2-3 years old. Marks along part of the body were determined to be from the wave action dragging the carcass across the submerged portion of the jetty, and occurred post-mortem.
Examination of the stomach contents did not reveal the presence of any recently-eaten food, or fish bones from prior feeding activity. A definitive cause of death could not be determined.
One interesting finding was noted, as shown in the second and third photos. Evidence of a prior failed attempt by a young orca to take this whale was found on the tail fluke. The healed scar shows the imprints of all of the teeth on both sides of the orca's jaws raking across the humpback whale's tail. It is likely the failed attack occurred during the humpback whale's spring migration returning north from the Caribbean, and the whale's mother was able to defend it against the inexperienced young orca. We have seen healed orca teeth rake marks during necropsies of other humpback whales in the past, but this is the most distinct example we have documented to date.
While it always saddens us to see a deceased whale, there is always something to be learned about the fascinating lives of these animals during a necropsy.
(Please donate to the Stranding Center. They serve LBI to the hilt.)
((((((((((((((((((((((((((((((((((((((((((((((((((((((((((((())))))))))))))))))))))))))))))))))))))))))))))))
MISSED OPPORTUNITY, DUDE!: I wish they had consulted with me before plowing the humpback whale down under. 
I had already contacted a crack team of taxidermists who volunteered to professionally stuff and preserve it, thereafter to be kept in situ as a helluva tourist attraction. "Mommy, mommy, can we go see the Dead Whale of Barnegat Light?!"
Hey, north end folks couldn't believe the insane number of gawkers flocking for a dead whale look-see. I'm told they came by the thousands. Quickly printed "Dead B.L. Whale" tees sold out.  
A stuffed humpback whale, nicknamed Buster the Jetty-Hoppin' Baleen, would surely have sold like Mustache Bill pancakes. Buster would be the biggest vertebrate attraction since Lucy the Margate elephant -- which, if you think about it, has never made much coastal sense, species-wise.
Below: Move over Lucy ...
... There's a new king of the beach. (OK, so I couldn't quite find a stuffed humpback whale pic, but you get the idea. 
When hoards began swarming to see the duo draw of Old Barney and his "Bestest Buddy" Buster, competing towns like Beach Haven would go sea green with envy, so much so that I'd need to advise the proper authorities to closely monitor any email exchanges between the Queen City and the likes of Yamamoto's Whale Hunting and Stuffing Services, Tokyo.
Below: "OK, this fills the order. Now, where is this place called Beach Haven New Jersey?" 
((((((((((((((((((((((((((((((((((((((((((((((((((((((((((((((())))))))))))))))))))))))))))))))))))))))))))))))))
CRUISIN' CANIDS: Not much of a coyotesque nature worth updating, short of typical thought-I-saw reports and "My cat has been killed by coyotes! … Oh, wait, here she is now. Fluffy, where have you been … and what's in your mouth?"
Actually, it's suddenly foxes showing up on my look-about channel. Three separate photos of what were thought to be coyotes were foxes, a canid that has merrily and quite discreetly lived on the Island for at least the slew of decades I've been prowling here.
Admittedly, the ID'ing of canids based on photos from trail cams and outside security systems can get tricky. Despite being color cams, the night images present in black and white. Also, there is often no tell-tale size perspective. Hosting its winter fur, a larger male fox – and the Island has some of the larger foxes around – can easily look coyote size.
To get a positive critter ID on video clips, I grab a single frame, enlarge it and do some enhancing. Once the fox ID is out of the bag, I show the photo-sending folks the revealing fox features.
My photo forensics have led me to think there might be a gray fox on the Island. Mostly, they're of the red clan. And, no, a fox's fur does not change color with the seasons, though it can get more mottled with age.
Below: https://www.phipps.conservatory.org/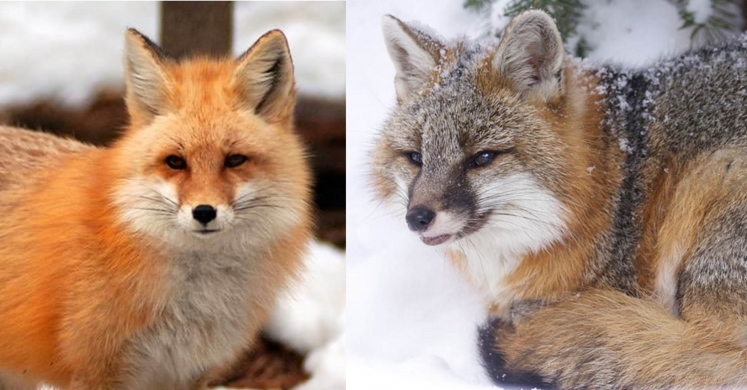 All this is not to suggest most coyote sightings are likely foxes, the latter having maintained a steady population hereabouts for quite some time. The 'yotes remain a whole new wildlife ballgame.
And what do they think of one another? New research indicates they don't overly conflict with one another, as in coyotes dining on LBI's fat and tasty foxes. In fact, in urban settings, which LBI is – based on percentage of built-upon land – both canids have been spotted foraging remarkably close to each other, with neither party giving the other much never-mind.
In a smithsonianmag.com article, "Foxes and Coyotes are Natural Enemies. Or Are They?," Lorraine Boissoneault explains how the available food supply plays into a theory called predation paradox. "Humans leave compost piles, garbage cans and pet food outside, a veritable buffet to omnivorous animals. Instead of foxes and coyotes fighting for scarce resources, this theory goes, they coexist more peacefully thanks to the human-created abundance."
That theory is ripped asunder if vittles get scarce or should one canid population get a little too bushy-tailed, as might be the coyote case on LBI. It's a tad morbid to recall, but upon the return of evacuated folks after Hurricane Katrina, a huge, abandoned dog population was unmagically reduced to only larger dogs. Hmmmm, right?
(((((((((((((((((((((((((((((((((((((()))))))))))))))))))))))))))))0
U.S Coast Guard Cutter Polar Star Reaches Record-Breaking Winter Arctic Latitude
December 29, 2020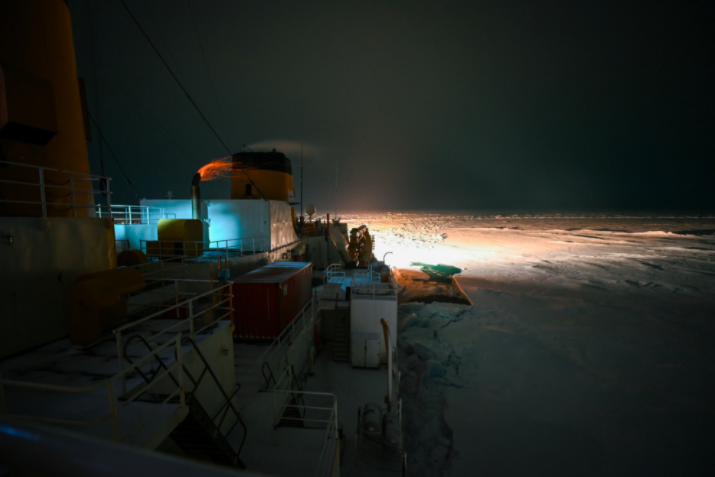 CHUKCHI SEA -- On Christmas Day, the nation's only heavy icebreaker reached a historic winter latitude  in the ice-bound waters of the Chukchi Sea north of the Bering Sea. The crew of the U.S. Coast Guard Cutter Polar Star navigated beyond 72 degrees latitude shortly before noon last Friday before changing course and heading south to continue their Arctic deployment.
The Polar Star's record-breaking winter Arctic latitude is 72° 11' N. That is north of the northernmost reach of Alaska's Cape Barrow at 68 degrees north. 
"Our ice pilots expertly navigated the Polar Star through sea ice up to four-feet thick and, in doing so, serve as pioneers to the country's future of Arctic explorations," said Capt. Bill Woitrya, the cutter's commanding officer. This time of year the sea is in complete darkness and temperatures are well below zero. The cutter's crew went "farther into the harsh, dark winter Arctic environment than any cutter crew in our service's history," said Woitrya.
With frigid Arctic winds and freezing spray, Polar Star's engineers work around-the-clock to keep frozen machinery equipment running and the ship's interior spaces warm enough for the crew.
The 44-year-old icebreaker is underway to project power and support national security objectives throughout Alaskan waters and into the Arctic, including along the Maritime Boundary Line between the United States and Russia.
The Polar Star crew is also working to detect and deter illegal fishing by foreign vessels in the U.S. Exclusive Economic Zone and conduct Arctic training essential for developing future icebreaker operators.