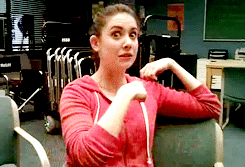 "FUN!!!!!!!!!!!!!!!!!!!"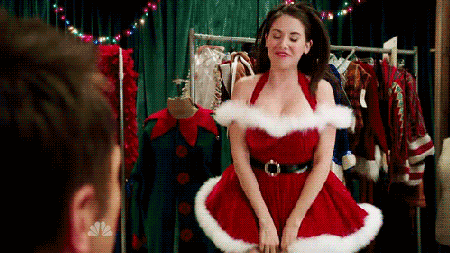 Tuesday, December 18, 2018: Ocean is getting smoothed by west winds. Blowout tides should allow some clamming by tomorrow, as my vacation commences ... knee-deep in mud. Works for me.   
For buggyists, virtually all entry points onto the beach were impossibly sanded over during Sunday's blow, some have four-foot sand drift across the entire ramps. Towns will slowly be clearing the buggy accesses, more for public safety reasons than fishing. Heaven forbid something serious happens on the beach and emergency vehicles can't get on.
I'll sticking with my premise that finer granularity of replenishment sands is playing havoc with beach entrances, for both vehicles and pedestrians. Yes, sand has always blown in the winter wind, but it seems obvious this is a whole new-age sand. Obviously, it plays havoc far more in the windblown off-season.
The first of what could be a series of mild air masses/passage will show this week; air temps into the 50s. Then, for Christmas, 40s will prevail, followed by 50s again. I'll be winning my bets on a milder Christmas than Thanksgiving, when the high temp was 29 degrees. That will leave me $20 richer, via two $10 bets.
Further below, you'll see a photo of the mongo "rocks" (rockfish, aka stripers) are being caught in the Chesapeake zone. That catchfest will be going on for many a day, likely many a week to come. Releases are not all that common down that-away, though I did get an email from a Virginia boat fisherman saying that many anglers thereabouts release even large rockfish. I guess I just see more photo-scenes of kept bass stacked on docks than photoed and released at sea.  
(It can likely be safely assumed they call them rockfish – "rocks" for short -- just to snub northerners. You might say that's how they get their "rocks" off.)
The boys down In Virginia are smoking them Rocks!!!!!!!
Capt Zach Hoffman Salt Treated Slaying Them Big Ol Rocks in Virginia !!!!
SIDEWALKS OF THE FUTURE: (Highly localized language alert) I got an email asking when the Causeway public sidewalk will be completed along and across all the north spans. The walkway is included as part of the restoration of all the original bridges, including the olden "Big Bridge."  
The project has been stopping pedestrian and biking traffic from crossing between the Island and mainland. That's a profound pain for many folks unable to drive.
NJDOT Data: In the final configuration, there will be a sidewalk on the north side of Route 72 (westbound direction) connecting Stafford Township and the Borough of Ship Bottom, with connections to communities and points of interest along the way on the south side of Route 72 (eastbound direction). The 13-foot outside shoulders on the twin Manahawkin Bay Bridges and six-foot shoulders on the trestle bridges will allow for bicycle access to and from Long Beach Island from the mainland.
I've been closely following the Causeway sidewalk's progress. The most I can get from the NJDOT, to date, is the sidewalk MIGHT be open by "early next year" (2019). I have calls in as we speak, and I should have further info in here – and only in here since The SandPaper is taking its annual Christmas hiatus.
Note: Even when the Causeway is completed, there will be absolutely NO pedestrian usages allowed on the south side (eastbound lanes) of the new spans. That means anyone from Beach Haven West wanting to use the walkway will have to somehow cross Route 72, most likely using Marsha Drive or by going under the Hilliard (West) Trestle bridge to the north sidewalked side of the Causeway.
That in mind, the Marsha Blvd. phase of the Causeway project is coming up fast, as is the rebuild of the Morris Avenue bridge. If those two happen concurrently, BHW folks will only have Mill Creek Road as their out-to-72 (and over the LBI) corridor. That's just my read, though. There are likely some local roads and outlets that can come into play.
The eventual opening of the sidewalk does not mark the Causeway's finish, which is still a couple years away (2021).
For those who might not know, the final phase of the Causeway project will impact LBI. Central Avenue and the Long Beach Boulevard at the (former) Circle in Ship Bottom will be reconfigured to host traffic in both a northbound and southbound direction. Currently, Central Avenue is southbound, and the Boulevard is northbound in that chief traffic corridor. Put in larger terms, all north/south roads intersecting the Causeway (technically 8th and 9th street) in Ship Bottom, will have traffic flow in both north and south directions.
******************************************
Here's a hunting update from the FWS: 
Special Chukar Stocking To Close Out Pheasant Season
Due to a shortfall in available pheasants the Division will be stocking 3,000 chukars for the last day of the stocking season (December 29). The chukars will be stocked in the same areas as pheasants (see the Pheasant Stocking Maps), and an additional 750 birds (3,000 total vs. the published 2,250) will be stocked.
Hunters should note that the daily bag limit for chukars is seven (7) birds per day, as compared to two (2) pheasants. The Division hopes upland bird hunters enjoy this new experience in the field and welcomes feedback at njfishandwildlife@dep.nj.gov.
End of Year Stocking Schedule (pdf, 110kb)
Pheasant Stocking Maps
(Locally: The chukars are being stocked off the Road-to-Nowhere, Stafford Forge and a small portion of Greenwood forest, off Rte. 539; north end of Howardville Road (big potholes and bumps). Here are the exact maps: 
https://www.njfishandwildlife.com/pdf/pheasmaps/manahawkin.pdf
https://www.njfishandwildlife.com/pdf/pheasmaps/stafford.pdf
https://www.njfishandwildlife.com/pdf/pheasmaps/greenwood.pdf)
****************************************************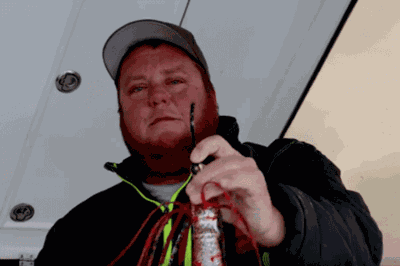 'Wicked Tuna' Star William 'Willbilly' Hathaway Dead at 36
© 2018 FOX News Network, LLC
By Jessica Sager and Sasha Savitsky 
December 18, 2018
"Wicked Tuna" star William "Willbilly" Hathaway died in a car crash Saturday, Fox News has learned. He was 36 years old.
Maryland State Police's Salisbury Barrack confirmed the reality star's death on Monday.
According to authorities, they responded to a call from a concerned citizen who saw a truck in a ditch.
Police said that Hathaway allegedly called his wife and said someone turned in front of him, forcing him to swerve into a ditch.
His wife told authorities she overheard him telling concerned passersby that he was OK. However, authorities found Williams not breathing and slumped over the center console when EMS services arrived. He was later pronounced dead at Peninsula Regional Medical Center.
His airbags reportedly never deployed, according to local outlet WBOC16.
The Ocean City Fishing community shared a statement on Facebook regarding Hathaway's passing seeking donations to help support Hathaway's wife, Mary Malone Hathaway, and their daughter, Molly Jean.
"He was an exceptional human being whose passion was the sea. He always brightened the day of anyone he met," the statement read. "His wife and new born [sic] baby girl he was most proud of. Due to his untimely death we are asking for donations to help them stay on their feet while trying to survive this tragedy. Thank you in advance."
Hathaway's co-star, Nicholas "Duffy" Fudge, also died earlier this year. Fudge died "unexpectedly" at age 28 in July.
*************************************************
It looks like the recovery of the striped bass is IN OUR HANDS. Practice catch and release.
*******************************************************
******************************************************
Fish Age Determination
How Are Fish Aged?
The scales, otoliths (earbones), and other bony parts of fish often contain a record of seasonal growth patterns. This is because fish grow faster in the summer than in winter, due to higher temperatures and increased food consumption. Patterns in the scales and otoliths reflect this change: summer zones are wide, and winter zones are narrow. Fish age, in years, can therefore be determined by counting the number of paired summer/winter growth zones. One pair of such zones is called an annulus (plural, annuli). Thus, the process of ageing fish is similar to finding the age of a tree by counting rings in the wood.
For different species of fish, different structures are used to determine ages. In general, annuli from these various structures are visible under a low-power microscope. Scales are used for some species. On these structures, winter zones appear as regions where the ridges on the scale are closer together. Scales are easy to sample and can be impressed in plastic for long-term storage. If scales can't be used, otoliths (located inside the skull) may be used instead. In otoliths, the color of the zones differs, resulting in alternating opaque and translucent bands. Some otoliths are clear enough for these zones to be seen from the surface of the otolith and may be aged whole; otherwise, the otolith must be thinly sliced in order to see the zones. Other structures used for ageing include vertebrae or fin rays.
In 1988, the Fishery Biology Program developed and published a manual with detailed descriptions of the age determination methods we routinely use (Penttila & Dery 1988). Some of these methods have changed over the years, and current descriptions of all of our methods (with high-quality images) are reprinted in our Ageing Manual. These descriptions are written for use by fishery biologists and professional age readers and students, but they may be of general interest as well. See also this list of the species we age, along with which structures and preparation methods are used.
The choice of age structure for a species depends on which structure most accurately reflects the true age of the fish, has the clearest zones, and has the most cost-effective preparation method. For each species, a validation study is conducted to demonstrate that the chosen structure yields accurate ages. This entails determining the position of the first annulus and proving that the zones are laid down exactly once per year. Common validation techniques include tag/recapture studies, including marking with oxytetracycline or other chemicals, back-calculation, marginal increment analysis, and radiometric/isotope analysis.
A final aspect of fish ageing is the need to maintain consistency. Within the Fishery Biology Program, each age reader's level of precision (that is, how often they will assign the same age twice for a given fish) is regularly tested. A reader will be assigned about 100 fish to re-examine, and the test ages will be compared against the original ages. Accuracy (an age reader's frequency of assigning a fish its true age) is tested for the species for which we have samples for which the ages are reliably known. Regular exchanges with other ageing laboratories also ensure that our ages remain consistent from year to year. The results of all these tests for each species are posted, as well as explanations of the statistics used.
Why Age Fish?
Once the ages are known for a sample of fish, scientists can measure the rates of various processes affecting these fish. For instance, data on fish size can be combined with age information to provide growth rates. Also, the decrease in abundance from one year (age) to the next gives a measure of mortality rates (due to the combination of fishing and natural causes). Finally, age data can be used to determine how long it takes individuals of a species to mature. Any of these vital rates may change over time, so it is important to examine age samples regularly.
Knowledge of fish age also allows scientists to learn more from capturing and measuring fewer fish. It is impossible to catch all the fish in the ocean. However, if a small portion of the fish are captured and aged, the relative abundance of fish at each age can be determined. These age data, with data from other sources, can then be expanded to estimate the total number of fish in the wild. Population models, using such data, enable scientists to monitor trends in the size of fish populations and to predict potential effects of fishing on those populations. The most detailed models include age-specific estimates of weight, mortality, and growth; this requires that larger numbers of fish be aged.
How Are the Data Used?
Our data are used in modeling the populations of various marine species off the northeast coast of the United States. These models estimate the biomass and numbers at each age, and allow assessment scientists to examine the potential effects of continuing removals from those populations. Within the NEFSC, the Resource Evaluation and Assessment Division conducts these population models for many fish species, incorporating data from the Fishery Biology Program. Results of these stock assessemnts can be found on NOAA's FishWatch website.
(Below: I can assure this problem mislabeling is near-rampant in NJ. I've gotten decent at visually ID'ing the type fillets sitting on ice. I have spotted many a dubious ID, though never went any further than saying to the weigh-it guy, "You're sure that's upper-end mako, eh?" Never said: Try low-shelf blacktip, son. Flatfish fillets have also had me hemming and hawing. "That's mighty white for winter flounder," which has high translucence and almost always has slight telltale black tones in the flesh. Many a cheaper flatfish can be passed off as whatever ID a seller wants. As I've written before, during one of my cooking stints, we began turning down fillets, accepting only whole/gutted fish. 
Report finds seafood mislabeling "rampant" in New York
The New York Attorney General's office may take enforcement action against some supermarket chains after it found "rampant" seafood mislabeling at grocers across the state, according to a recent report.
The report, from New York Attorney General Barbara D. Underwood, found that around a quarter of the seafood sampled at New York grocery retailers was mislabeled. These findings are the result of the first major U.S. government investigation of seafood fraud at supermarket chains.
The incidence of mislabeling popular species was "rampant" among New York retailers, the Underwood's office said in statement. For example, 27.6 percent of species sold as "wild" salmon were mislabeled, oftentimes being substituted for farmed salmon. 
A significant 67 percent of red snapper samples were mislabeled, the report found. Approximately 87.5 percent of lemon sole was also discovered to be mislabeled. 
"The substitutes were often cheaper, less desirable, and less environmentally sustainable species," the AG office statement said. "This includes farm-raised salmon sold as wild salmon, lane snapper sold as red snapper, and swai sold as lemon sole."
Ray Hilborn, a professor of marine science at the University of Washington and a member of the International Fisheries Innovation Network steering committee, said the report showed the mislabeling was at times intentional and at times accidental.
"It would certainly seem that for salmon, [mislabeing] is intentional,"Hilborn told SeafoodSource. "For snapper and grouper, it would depend on whether another species of snapper and grouper were substituted. However, if it is farmed catfish or tilapia that is being substituted, that is almost certainly intentional."
However, similar to past Oceana studies, "a scientist would need to know what was tested to really be able to say how big a problem it is overall," Hilborn said. 
The problem seems to be with a few specific species, and "not a general problem throughout the fish marketplace," Hilborn added.
"Of the species tested, only salmon is widely consumed," he said.
Another university researcher, Demian Willette, who serves as assistant professor of biology at Loyola Marymount University and who is part of a collaborative project to reduce seafood fraud in Los Angeles, believes that a majority of seafood vendors have the "best intentions." 
"The majority of mislabeling cases are accidental, a consequence of the highly complex seafood sourcing supply chain," Willette told SeafoodSource.
"There may be 'bad actors' out there gaming the system, but in my experiences, vendors are labeling their products according to the available information they receive and in accordance with sometimes conflicting local, state and federal labeling guidelines," Willette said. "The example of six different species of seriola that all can only legally called 'amberjack' comes to mind."
The report makes it clear that seafood fraud "isn't just a fluke; it's rampant across New York," Underwood said in the statement. 
"Supermarkets are the last line of defense before a phony fish ends up as family dinner, and they have a duty to do more. Yet our report makes clear that New Yorkers may too often be the victim of mislabeling," she explained.
A small subset of supermarket brands – Food Bazaar, Foodtown, Stew Leonard's, Uncle Giuseppe's, and Western Beef – were responsible for a "vastly disproportionate share of suspected mislabeling," the AG's office said. 
The AG sent the five retailers letters requesting information on their seafood quality control practices, and said they "could face financial penalties."
Around two-thirds of the supermarket brands reviewed had at least one instance of suspected mislabeling.
While the mislabeling affected nearly all species tested, it was rampant among certain species. "The results suggest that consumers who buy lemon sole, red snapper, and grouper are more likely to receive an entirely different fish," the AG's office said. "Similarly, consumers who bought 'wild' salmon often got the farm-raised seafood they had paid on average 34 percent more to avoid."
From late 2017 through 2018, the attorney general's office purchased seafood (based on availability) at 155 locations across 29 supermarket brands. 
Investigators targeted seafood from nine categories, including red snapper, snapper (varieties other than red), grouper, cod, wild salmon (including chum, coho, sockeye, and king), halibut, lemon sole, sole (varieties other than lemon), striped bass, and white tuna. The AG's office then sent the samples for DNA testing by the Ocean Genome Legacy Center, an academic laboratory at Northeastern University. 
There are some limitations to the study, the AG's office said. 
"For example, because seafood selection and availability vary substantially, no two chains had the same variety and number samples collected. The results are therefore illustrative, but not representative," it said.
The report warns consumers to be on alert for seafood pricing that seems too good to be true, "as it may signal problems," the AG's office said. "The report also encourages consumers to demand that their supermarkets provide precise labeling of the seafood they sell and describe their seafood quality and sustainability practices."
************************************************************
Per Capita Seafood Consumption Highest Since 2008, with Gains in Shrimp, Salmon, Cod
By John Sackton
Publisher, SeafoodNews
December 13, 2018
NFI has released their annual compilation of the top ten seafoods consumed in the US on the day that NOAA is finally releasing its Fisheries of the United States for 2017.
Overall, Americans ate 16.0 pounds of edible seafood per person in 2017, a big jump from 14.9 pounds in 2016. The percentage gain is 7.4%. NOAA uses a disappearance model, so it does not account for seafood inventory holdings that carry over from year to year.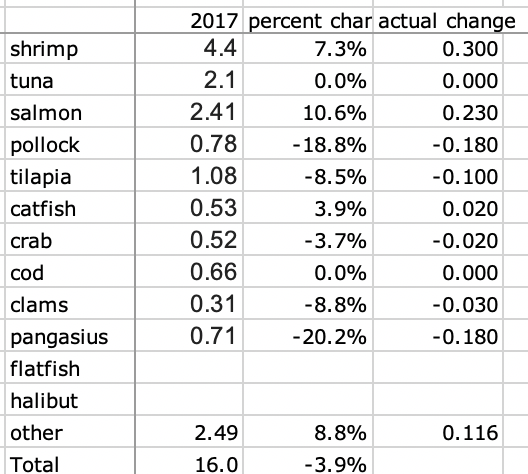 Chart: John Sackton, Seafood Datasearch
This is the highest per capita number since 2008, when Americans also ate 16 pounds of seafood.  At that time, the US population was 304.1 million, vs. 325.7 million in 2017.  This represents an increase of 21.6 mllion over the 2008 volume.
The big winners in terms of increased purchases in 2017 were shrimp, salmon, and cod.
Once again, the real growth in consumption came from aquaculture species, which increased 2.6%, while wild caught species declined by 4.7%.
Shrimp consumption was up 3/10ths of a pound, from 4.1 lbs to 4.4 lbs (+7.3%).  This is just short of the 4.5 lbs that ourselves and others had predicted.
Salmon consumption was also up from 2.18 to 2.41 lbs, an increase of  10.5%.
Americans are also sticking with cod.  Although cod consumption remained flat at 0.66 lbs, cod as a share of whitefish rose 16% to 18%.
Consumption of tilapia, Alaska pollock, and pangasius declined, in some cases significantly.  Alaska pollock declined by nearly 19%, from .96 lbs per capita to .78 lbs.  The problem for Alaska pollock is even more severe if you compare it with the 2006 and 2007, where consumption was more than double this year's figures.    
It is likely that some of the falloff in Alaska pollock came more from the twice-frozen import side of the business than from the single frozen Alaskan product.  However, 2017 was a much more favorable export year for pollock than 2016, and that could have meant a larger portion of pollock going out of the US.  According to customs data, 43 million pounds more pollock were exported in 2017 than 2016, which would equate to a change of .13 lbs per capita on pollock.
Consumption of both tilapia and pangasius fell as well.  In general, this suggests more availability of cod instead of other whitefish.
Comparing 2017 with the 2008, the last year with 16 lbs. of consumption, there are some striking differences as illustrated in our chart.
Chart: John Sackton, Seafood Datasearch
For example, shrimp consumption is up, salmon consumption is way up, and so is cod consumption.  But other species have all declined.
Canned tuna, though unchanged in  2017, is down 25% from 2008.  Catfish is down 42%, tilapia is down 9.2%, and crab is down 14.8%, and pollock 41.8%.
What this suggests is that within the top ten list, seafood choices are narrowing, and a greater percentage of all consumption is represented by shrimp and salmon.  In 2017, these species represented 42.6% of all seafood purchased in the US, while in 2008 shrimp and salmon represented 37.1%.
However, NFI pointed out that other species, ie halibut, flatfish, scallops, lobster, fresh tuna, rockfish, and haddock for example, made up a larger share of the increase in consumption.  Last year the top ten species represented 90% of total consumption.  This year it was only 84%.  But these gains did not come at the expense of shrimp and salmon, but at the expense of some of the other top ten species.
Seafood remains a popular retail item and menu choice at restaurants.  An increasing amount of seafood is being sold through large scale retailers, foodservice distributors, and national chains.  That is what is driving the increase in consumption, in my opinion, as these programs latch on to the seafood whose supply is reliable, and where the distribution system can accommodate year over year growth.
John Sackton
SeafoodNews.com
1-781-861-1441
jsackton@seafood.com