When cool turns against the coolee ...
++++++++++++++++++++++++++++++++++++++++++++++++++
++++++++++++++++++++++++++++++++++++++++++++++++++++++++++++++++++++++++++++++++++++++++++++++
+++++++++++++++++++++++++++++++++++++++++++++++++++++++++++++++++++++++++++++++++++++
Readying its whelky Christmas tree; always cool.
Tuesday, December 12, 2017: Got some wicked west winds kicking in for the next couple days. In fact, west winds will blow offshore from now until the weekend. ; quite frustrating since the fish are still out there for the taking.
DOULBE CREEK DREDGING CARRIES ON … AND ON: Great Lakes Dredging is now deepening the channel west of the Barnegat Light boat ramp, technically the Barnegat Light Stake Channel.
The work on the heavily-used, albeit narrow, waterway extends from the Coast Guard station bulkheading to just south of the boat launch area.
The dredging will include the deepening of the channel's heavily-shoaled far south end. In recent years, vessels launching southward from the borough's public ramp have almost immediately been bottoming out in the very shallow water off the end of the sedge located just west of the channel.
The sucked-up channel bottom material, which is 90 percent sand, is being piped underwater, over to the south side of Barnegat Inlet, and into the Barnegat Lighthouse State Park. (See video)
The pipe emerges just northeast of the Lighthouse, passing over the concrete decking atop the South Jetty. The pipe's outflow material is bound for a recently-built retention basin. It's huge by my thinking.
Through the basin, the material will move eastward, filling in eroded areas near the South Jetty. A total of 10,000 cubic yards will go into the basin. I'm not sure if the retained materials will eventually be mechanically plowed flush to the jetty, i.e. the worst erosion zones. I need to have that confirmed. As it sits now, the dredge material is doing little to repair the undermining of the South Jetty by wave action.
As I suspected, there is a goodly load of blackened material being pumped into the basin. That bad-smelling sand has simply been stained by decades of decaying organic material. The black is the staining action of hydrogen sulfide, a naturally occurring gas that forms from the breakdown of organic matter in an anaerobic environment, in the bay's case it's often buried subaquatic vegetation, like eel grass. The black color should quickly leach away. The stained sand will be sun-bleached white by next summer.
While the state park remains open, the concrete deck is closed where the pipe crosses over it. This minor inconvenience for stoppers-by should be gone in a couple weeks.
After the BL Stake Channel is deepened, the Great Lakes equipment will head over to work the eastern end of the Double Creek Inlet Channel. That bottom material will also be pumped into the park basin.
As to the deepening of the main Double Creek channel, that work is still ongoing. Once done, that equipment will head over to the High Bar Harbor Channel. Dredge material from there will likely go to a mainland site, though I have to double check that.
While the Double Creek deepening seems a slow-go to me, the company has until the end of this month to get it done, per contract. In those time terms, it seems quite doable.
Obviously, aids to navigation won't show until the regularly scheduled/annual state and federal placement of buoys and markers this spring.
Repeating myself: The spreading of dredge material along the South Jetty will act as an absolute piping plover magnet. Already, Holgate's washover zones, and its fully inviting raw-sand look, has intercepted numerous plover pairs heading further north to nest. This new north end sand layout will grab even more northbound plover, if not this spring surely by next.
Here's a vid look at the work zone ... I had to overlay music there was so much wind noise out there today.
http://www.youtube.com/watch?v=BbXONiwDGOg&feature=youtu.be
+++++++++++++++++++++++++++++++++++++++++++++++++++++++++++++++++++++++++++++++++++++++++++++
For summer LBI'er -- and even daytime LBI visitors -- I've talked about the loss of year-rounders in these here parts ... and this sorta proves it. I drove from the north end of Surf City to Brant Beach at about 9 p.m. -- and didn't see another motorist, either direction. Still, the Christmas lights didn't seemed turned off by the lack of admirers:
http://www.youtube.com/watch?v=enKwLR69VOA&feature=youtu.be
++++++++++++++++++++++++++++++++++++++++++++++++++++++++++++++++++++++++++++++++++++++++++
+++++++++++++++++++++++++++++++++++++++++++++++++++++++++++++++++++++++++++++++++++++++++++++
Two new species for the boys today. Jack Crevalle and Sheepshead this morning. Followed it up with Snook at our new favorite spot this afternoon.
+++++++++++++++++++++++++++++++++++++++++++++++++++++++++++++++++++++++++++++++++++++++++++++

Walmart Offering Shelf-Stable Crab in New Delivery Meal Kit
SEAFOODNEWS.COM [Seafood News] by Amanda Buckle - December 12, 2017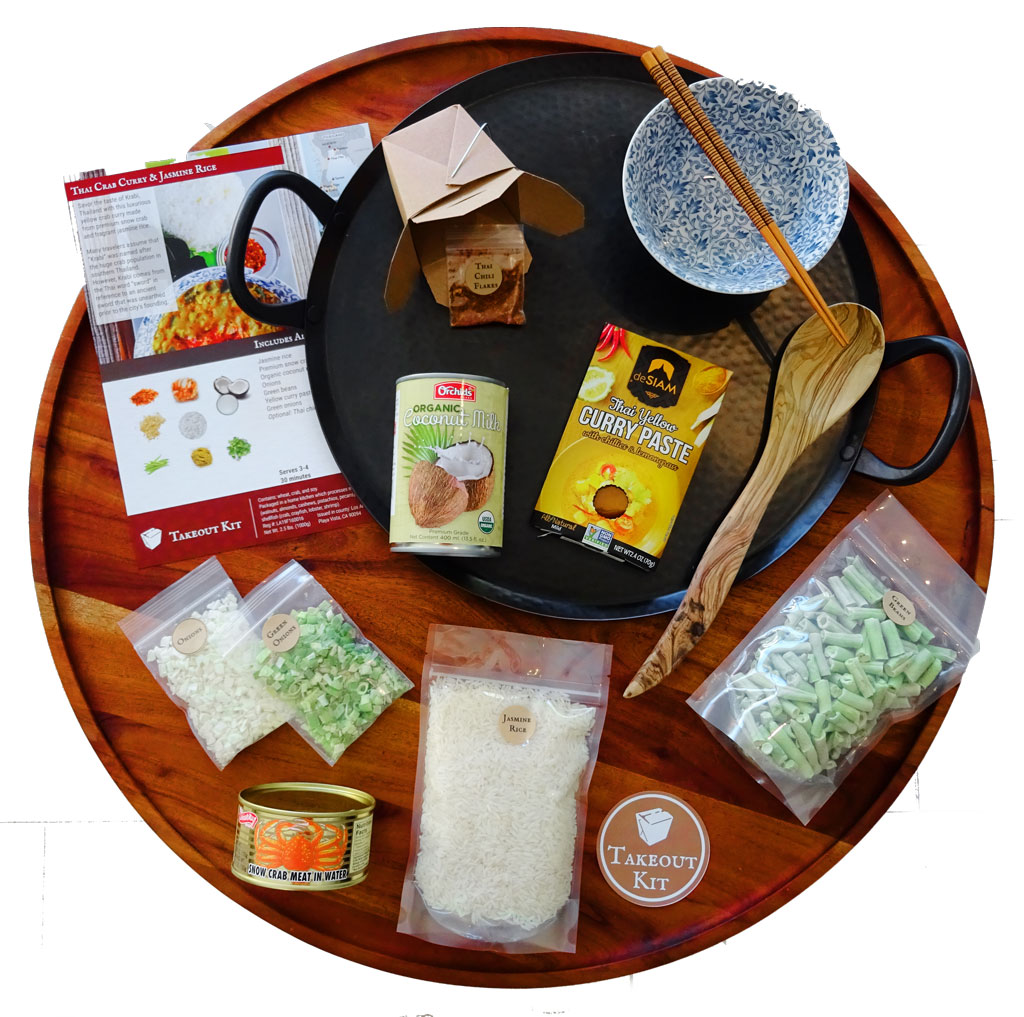 Walmart is jumping on the delivery meal kit bandwagon thanks to Takeout Kit, the first shelf-stable global meal kit.
Takeout Kit, which has a shelf life of two-months, was founded by "busy professional and perpetual student" Rachael Lake in 2016. Lake came up with the concept after realizing that other meal kits added "an unnecessary level of stress" by requiring consumers to cook the food within 3-5 days of delivery. She and her team created a series of meal kits that can stay in the pantry until the buyer is ready to cook it – including a dish with crab!
One of the company's signature meals is a Thai Crab Curry & Jasmine Rice kit. The kit contains premium snow crab imported from Japan, and the site boasts that it's the same brand used by Michelin chefs. Other kits include: Indian Chana Masala, German Beer Garden Spätzle, Spanish paella with Chorizo and Artichokes, and Korean Kimchi Tofu Stew and Sticky Rice.
Like other meal kits, Takeout Kit includes all the ingredients necessary to put together a restaurant-quality meal. Walmart shoppers can order the meal kit directly off the Walmart website, although it's sold and shipped by Takeout Kit. Currently Walmart is only offering the option for individual kits. The Takeout Kit website also offers a subscription option.
+++++++++++++++++++++++++++++++++++++++++++++++++++++++++++++++++++++++++++++++++++++++++++++
Nova Scotia Lobstermen Help with Research to Prepare for Warming Waters
SEAFOODNEWS.COM [CBC News] By Nina Corfu - December 11, 2017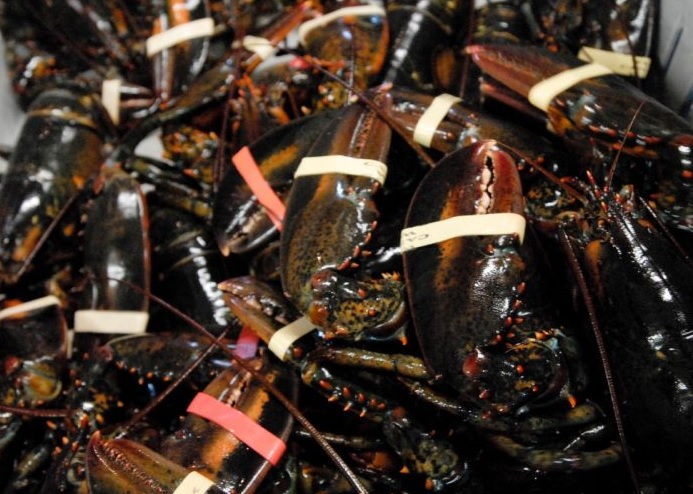 t's been almost 20 years since Nova Scotia fishermen first started helping scientists by attaching temperature gauges to traps. And although ocean temperatures in lobster fishing areas fluctuate each year, they haven't skyrocketed — yet.
If that happens, it could have a serious impact on lobster stocks, said Elizabeth Baker, the project manager for the Fishermen and Scientists Research Society (FSRS).
That's why it's important to monitor the changes, Baker said.
Lobster are "greatly impacted" by water temperature, she said. Warmer ocean temperatures could affect the prevalence of disease and how quickly the lobster grow. It could also impact the ecosystem as a whole, Baker said, and that could lead to a "downward spiral" for the species.
That's why Baker and her team have outfitted a number of lobster traps with computerized temperature recorders, and recruited fishermen all along the Atlantic coast from Cape Breton to the Bay of Fundy to voluntarily count, measure and note the sex of the lobsters they catch in those special traps.
Approximately 150 fishermen are participating in the project, and each participant is in charge of between two and five project traps per season. About 60 of the temperature gauges are currently in the water in lobster fishing areas 33 and 34 on the South Shore and in the southwestern part of the province.
Officially called the Lobster Recruitment Index Project, the goal is to study the health of the juvenile lobsters that will eventually become part of the commercial lobster fishery.
The hope is that with enough data, scientists will eventually be able to predict when the stocks will increase or decline.
A partnership is born
Baker's father, Randy Baker, used to fish for groundfish out of West Jeddore on Nova Scotia's Eastern Shore. After the cod fishery collapsed, he was recruited to help launch the FSRS in 1994.
The idea was to heal the sometimes toxic relationship between fishermen and scientists that Baker said existed at the time — and it appears to have worked. After 23 years, the non-profit is still going strong.
"We're all in this together," said Shannon Scott Tibbetts, director of operations for the FSRS.
In fact, the idea for the Lobster Recruitment Index Project came directly from a fisherman who was "concerned about not seeing enough of the smaller lobsters," Scott Tibbetts said.
That project launched in the spring of 1999, and the team continues to get contracts from both fishermen organizations and Fisheries and Oceans Canada.
Scott Tibbetts, who started as a volunteer with the society 19 years ago, said their research shows there is no consistent upwards trend in temperature so far in lobster fishing areas.
But there is evidence of warming oceans elsewhere in the world due to climate change, she said, and it pays to be prepared.
++++++++++++++++++++++++++++++++++++++++++++++++++++++++++++++++++++++++++++++++++++++++++
After 17 Deaths Right Whales May be on Path to Extinction Unless More Measures Taken
SEAFOODNEWS.COM [Boston Globe] By Patrick Whittle - December 11, 2017
Officials with the federal government say it's time to consider the possibility that endangered right whales could become extinct unless new steps are taken to protect them.
North Atlantic right whales are among the rarest marine mammals in the world, and they have endured a deadly year. The National Oceanic and Atmospheric Administration has said there are only about 450 of the whales left and 17 of them have died so far in 2017.
The situation is so dire that American and Canadian regulators need to consider the possibility that the population won't recover without action soon, said John Bullard, the Northeast Regional Administrator for NOAA Fisheries. The high year of mortality is coinciding with a year of poor reproduction, and there are only about 100 breeding female North Atlantic right whales left.
''You do have to use the extinction word, because that's where the trend lines say they are,'' Bullard said. ''That's something we can't let happen.''
Bullard and other NOAA officials made the comments during a Tuesday meeting of the regulatory New England Fishery Management Council. Mark Murray-Brown, an Endangered Species Act consultant for NOAA, said right whales have been declining in abundance since 2010, with females hit harder than males.
The U.S. and Canada must work to reduce the human-caused deaths of the whales, Murray-Brown said. Vessel-strikes and entanglement in fishing gear are two frequently cited causes of the whales' deaths.
''The current status of the right whales is a critical situation, and using our available resources to recover right whales is of high importance and high urgency,'' he said.
The animals give birth in temperate southern waters and then head to New England and Canada every spring and summer to feed. All of this year's deaths were off of New England and Canada
Some recent scientific studies have shed some light on why whale deaths have ticked up. One, published in the journal Nature Scientific Reports, stated that the whales move around much more than previously thought. Some scientists have posited that whales might be venturing outside of protected areas in search of food, putting themselves in harm's way.
In another study, published last month in the journal Endangered Species Research, scientists examined right whale feces and found whales that suffer long entanglements in fishing gear produce hormone levels that indicate high stress. The stress negatively impacts their ability to reproduce even when they survive entanglement, scientists said.
''My colleagues are trying to find solutions so we can find out how they can continue to fish, but not entangle whales,'' said a study co-author, Elizabeth Burgess, an associate scientist with the Anderson Cabot Center for Ocean Life at the New England Aquarium in Boston.
A five-year NOAA review of right whales that was released in October said the animals should remain on the endangered list. It also included recommendations to protect the species. They included developing a long-term plan for monitoring the population trends and habitat use, and studying the impact of commercial fishing on right whales.
++++++++++++++++++++++++++++++++++++++++++++++++++++++++++++++++++++++++++++++++++++++++++
Domestic Shrimpers Lobby Against Imports
SEAFOODNEWS.COM [Houma Today] By Holly Duchmann - December 12, 2017
Members of the Louisiana Shrimp Task Force will be traveling to Washington, D.C., in late January to lobby against seafood imports.
"We've got to try and deter some of these imports," said Acy Cooper, task force chairman. "Imports are some of the main reason we're in the shape we're in now."
Cooper and Rodney Olander, a member of the Shrimp Task Force, said because imported shrimp has been flooding the market, it's been driving down the local price of shrimp and causing shrimpers to lose money.
Cooper said they will meet with legislators from Louisiana and other coastal states to discuss possible tariffs or restrictions on imports. He added that he's hoping they can band together with shrimp industry people in other Gulf states.
"We need all the coastal states," Olander said. "We need to pull on their ear."
Last year, $19.5 billion worth of seafood was imported into the United States, a 3.5 percent increase from the previous year, according to the National Oceanic and Atmospheric Administration. More than 603,000 tons of shrimp were imported, an 18,510-ton increase from 2015.

"With the amount of imports coming in, there will always be more supply than demand," Olander said.
Louisiana is the nation's No. 1 supplier of shrimp, blue crab, crawfish and oysters, according to the state Department of Wildlife and Fisheries.
One out of every 70 jobs in Louisiana is related to the seafood industry, which has an economic impact of more than $2.4 billion annually statewide, according to the Louisiana Seafood Promotion and Marketing Board.
++++++++++++++++++++++++++++++++++++++++++++++++++++++++++++++++++++++++++++++++++++++++++++++
Lessons from a record storm season
As a record-setting hurricane season retreats from memory, what lessons do coastal communities need to hold on to as they prepare for future years?
Building higher, stronger and further back always pays off.
While there's not much you can do in the face of a landfalling Category 4 hurricane, your best chances for coastal survival otherwise still improve when your structures are built back from the active wave zone, built to the highest standards available and raised up enough to minimize flooding.

You have as much to fear flooding as a result of rainfall as you do from flooding from storm surge.
While forecasters rightly focus on the dangers of storm surge due to its threat of imminent danger, they often overlook flooding from rainfall and runoff with its threat of long-term disaster. And that is not just with a rainfall-intensive storm such as Harvey, where the bulk of the damage occurred sometimes days after hurricane landfall as flooding from intensive rainfall continued to rise. In any storm with any significant precipitation, all that water needs to find its way to the coastline… and that, too often, is when coastal residents and businesses face the truly greatest threat.

We need to re think many parts of our storm preparedness protocol.
Let's pick just three areas: threat description, storm surge prediction and flood risk. The term "100-year storm" rings hollow once you endure three such storms over a five-year period. So we may need to remind residents that this level of catastrophic calamity has a 1% chance of happening every year (saying the same thing in a different way) – or work to find a new way of naming threats altogether.

Predicting storm surge incorporates a lot of moving parts, with the eventual surge level dependent on a number of factors that can change in an instant. That means predictions needs to err on the side of caution… but forecasters also need to educate the coastal public to understand that variability, so that unduly dire predictions don't inspire a "cry wolf" response from the public in future storms.

And, as mentioned above, storm flooding spreads far beyond the wave zone and low-lying barrier islands. Flood waters seek their own way, and can decimate anything in their path… so a better understanding of flooding pathways from excessive rainfall and who might really be at risk needs to be better understood before the rains start to fall.

Resilient design is crucial to community survival and recovery.
Coastal resilience focuses on a community's ability not just to survive a disaster such as a hurricane, but how fast it can recover from that disaster – either by effective designs to minimize damages or quick-response plans to mitigate them. And after this storm season, every coastal community should be looking at the status of its resilience… from infrastructure to planning to shoreline protection to flood preparation, and much more.

There are a variety of resources available to help communities begin their own assessment (and understand their own issues), as well as to help coastal residents, businesses and property owners educate themselves on the issues and options. Each coastal community is unique and, thus faces its own unique resiliency issues. Many of the steps to identify how to increase resiliency will be shared between communities but the solution on how to increase resiliency will be different from community to community. So, there is no "one size fits all" solution, but rather an assessment array and tools to help those communities identify issues, weaknesses, strength and solutions. There simply is no good reason not to begin the process.

You still can't beat wide beaches and high dunes for storm protection.
Ultimately, the best solution for storm protection (besides being prepared, of course) is wide beaches, high dunes and well-built and sited structures, at least for coastal communities.

Wide beaches keep storm waves at bay from upland structures and infrastructure; high dunes help lessen storm surge and the potential for coastal flooding and damage; and well-built and sited structures are more likely to be standing (and, hopefully, dry) after the storm passes.

There may be myriad other storm-related issues that a community must grapple with – aging infrastructure, a vulnerable power grid, disappearing flood flow-ways, even how to handle vegetation debris effectively. But wide beaches, high dunes and proper construction is simply a great place to begin your community's storm preparations and pace of recovery.

# # #
ABOUT ASBPA: Founded in 1926, the ASBPA is a 501(c)3 nonprofit that advocates for healthy coastlines by promoting the integration of science, policies and actions that maintain, protect and enhance the coasts of America. For more information on ASBPA, go to www.asbpa.org, Facebook or www.twitter.com/asbpa. This information is provided by the American Shore & Beach Preservation Association. For information, to change your email address or to unsubscribe from this list, contact us at managing@asbpa.org. A complete collection of Beach News Service articles is available for media access online at http://www.asbpa.org/news/newsroom_beachnews.htm.