Well-Mannered Giant Sea Lion Waddles Around Fish Market To Asks For Snacks

Below: After following all the signs reading "Coastal Evacuation Route" I found myself ... 
Track reading 101 ... Why is this valuable fly rod simply lying on the creek bank, unattended?

Please check out my weekly column piece (thesandpaper.net) about lab-grown cellular salmon -- chunks of pure salmon meat for sashimi and sushi. It begin its quasi-life as just a few seed cells taken from top-notch examples of king salmon and such. DNA-wise, the final product is not only utterly identical to the donor fish but purer by a riverine mile, having none of the heavy metals and contaminants common to fish in the polluted wild.
Do not snub this effort by a San Fran company known as Wildtype. If ever there is a look into the future, it comes through its laboratories. The growing of everything from meats to lobster tails is the only way the world will survive should we keep growing like madpeople. "Sushi-grade salmon" will be served in Callie by the end of this month.
Initial taste tests have the test-tube salmon running neck-in-neck with wild-caught salmon in flavor, while running roughshod over farmed salmon. In fact, a major claim by Wildtype is the possibility that cellular seafood will lessen the need to farm fish, while reducing the pressure on dying fish stocks.
I didn't mention it in my weekly write-up, but this whole thing is mindbogglingly close to Soylent Green, a sci-fi tale about humans surviving on a foodstuff made of human flesh. Not only can human flesh now be harmlessly made from just a few Homo sapiens cells but it is already being tried as a way to make skin and flesh for medical purposes.
Just when you think life can't get any weirder, say hello to cellular salmon – and pass the wasabi.
Tuesday, August 10, 2021: Wow have we had downpours or what?! There have been four wham-bam rain events during which two inches or more – sometimes much more as is the case in my easily flooded backyard – have fallen in pretty much under an hour.
The summer rains surely account for deciduous-based woodlands being as thick and green as they can get. Even the leafy undergrowth in the Pinelands has gone emerald.
It's gorgeous in the outback -- at least when temperature dip below 100. My infra-red thermometer readily proves how much hotter the Pines get than more populated zones. The sand easily tops 120 degrees. Only urban heat bubbles, like Newark, get higher readings in the summer.
While thick growth is a fine thing in natural and aesthetic terms, there could be hell to pay when it dies off in the fall, leaving behind enough tinder to hike wildfires to new heights. For you mainlanders residing in wooded areas, be doubly sure to clear a fuel-free buffer zone around anything you don't want to burn – say, for instance, your homes.
Back on LBI, the surf zone is holding water temps in the 70s, with cold spots when south winds blow. I saw one report of a 78-degree water temp.
More fishing news further below ... 
WHO ARE YOU?: This is one of those worth-repeating life-hereabouts suggestions.
Based on incidents where bikers and joggers have been struck by vehicles or suffered medical emergencies, there is a tantamount need to always have ID on your person, even when stripped down to the most basic exercising attire.
I'll extend that ID advice to anglers, many of whom forego carrying a wallet when going surfcasting – or even out boat fishing – for fear of a soaking. It is a matter of life or that other thing.
Without getting into details, a recent case on the north end of the Island had first responders and on-scene Good Samaritans hurting for info after an unconscious biking victim had no ID. The situation was dire.
The ability to quickly contact family members is vital when it comes to backchecking a victim's medical history, recent medications, or primary care physician.
While never the comeliest of bodily accoutrements, stainless steel medical alert bracelets and dog tags can be worth their weight in gold.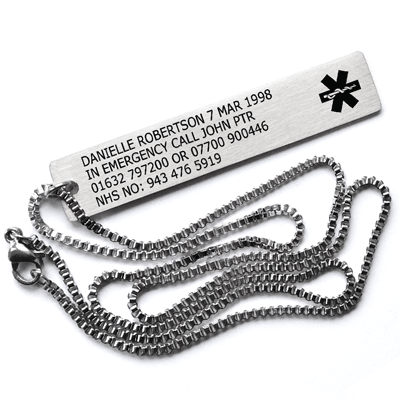 Problematically, here at the shore, even IDs often carry back-home info. It is still of immediate value. To their great and underappreciated credit, police dispatchers are amazing at tracking down info through intense phone calling.
RUNDOWN: Weirdly, the blowfish are back in town, mainly the far west side of Barnegat Bay -- where they had been, then left, only to be replaced by a ton of all new puffers moving in from waters to our north. It is once again possible to best a 100 or more per chumming session.
There are also small weaks and kingfish entering the chum slick.  
Weirdest chum related hookup was a massive black drum estimated by Paul P at 50 pounds. It was almost landed, net hovering above, before the tiny hook gave way. That is pretty far north for Barnegat Bay black drum.
Speaking of drum, it's about time for red drum to make beachline passes. The state record remains at 55 pounds, a fish taken in Great Bay by Daniel Yanino, 1985.   
This is an amazing time of year to chum with grass shrimp in places like Myers Hole – and surely some deeper waters toward Little Egg Inlet. Such panfishing often offers as great a variety of fish species as you'll ever hook during one Jersey sitting.
Considering most of the fish drawn to a shrimp chum will be juveniles, you must use circle hooks –and unhook undersized fish as quickly and gently as possible. Best bet is to not even bring them aboard. A nice series of photos can be taken without fish having to pass over the gunnel.
Surfside fluking is fair. It's best when waters are at least a bit roiled. Calm crystal-clear water periods seem to knock down the flattie action. Every now and again there is a sudsy doormat taken.
Stingrays have glided a bit north, though a few are still quite obvious along the clear-water shoreline. I've gotten two emails regarding ways to cook ray wings. I'll give them a try. If my taste buds salute, I'll pass them on.
Triggerfish are making their typical late-summer presence known. Some nice sized ones mixed in way larger than they usually show down south, re-begging the question of whether these fish go back to the deep south or move off shore for the winter. The average sheepshead size up here dwarfs the typical sheepsheads in places like the Indian and Banana reviews in Fla.  
Please do not try to fillet triggers. Too much meat is utterly wasted. After gutting, simply cook them whole. Once done –and they bake very quickly with skin still on -- pull off the now easily removed skin and dine on the delicate white meat within. Of note, there are some filefish being labeled triggerfish. They are different to a degree but are surprisingly similar I taste.  
Hi,
            Enclosed is this week's fishing report for the Beach Haven Charter Fishing Association. If you have any questions, my cell phone number is 609-290-5942.
Jim Hutchinson Sr.
The captains of the Beach Haven Charter Fishing Association are enjoying typical summer fishing on fluke, sea bass, and bluefish with an assortment of non-typical species thrown in. Besides good tuna fishing, there are sharks, Spanish mackerel, cobia, and king mackerel around.
 Captain John Lewis of the "Insatiable" reports he has been catching more and bigger fish on every trip. Catching 30-40 fish per a 4-hour trip is not uncommon. He terms August as usually the best fishing of the summer and is looking forward to the Beach Haven White Marlin Invitational Tournament this week. BHCFA Junior Mates will once again be on hand volunteering their services to help things rolling smoothly.     
Captain Gary Dugan of the "Irish Jig" has been finding topnotch fluke action fishing his usual locations. Every day has been producing good action topped by the "Earley Boys" who limited out on a total of 12-fluke. 
Captain Brett Taylor of Real Reaction Sportfishing has been busy on trips, often two in one day. He had Jesse Blake, wife Melissa, 6-year-old daughter Brianna, and father-in-law Walter on a quick 4-hour bay fluke trip. The family caught close to thirty fluke with two nice keepers at 20 and 22 inches. Brianna ended up catching the biggest of the day. 
Captain Alex Majewski announced he has officially retired from working his jobs in science and education and is now "living my childhood dream of being a fulltime professional saltwater fishing guide." In addition to his bay and ocean fishing trips, he conducts environmental and sightseeing trips in both his boat and kayaks. 
The BHCFA captains and Junior Mates are continuing their efforts to build up the area artificial reefs. Captain John Lewis has announced the state boat that deploys reef balls is available in August and September as well as January and February. Captain John says it might be
advisable to buy 30 existing reef balls which could be shipped to NJ in about two weeks and deploy them from the State boat at no cost. The pre made balls will cost about $11,000 including delivery to the boat in Forked River. 
The BHCFA also has plans to make a number of reef balls with volunteer help to greatly reduce the cost. It is estimated that more than 100 balls per year could be added to the four reefs off LBI, the most underdeveloped reefs in New Jersey. Once again, donations of financial help are gratefully accepted for the reef replenishment. Contributions are tax deductible.
Maine Eel Farm Wants to Raise at Least 2 Million Eels a Year for American Tables
Ground has been broken on Maine's first land-based eel aquaculture operation in Waldoboro.
Sara Rademaker, founder and president of American Unagi, said when it's complete, the 27,000-square-foot facility will be able to grow and process at least 2 million eels and perhaps take back a tiny portion of an industry that's been dominated by Asian markets.
"Right now, we have this really valuable glass eel fishery. The entirety of that fishery is being exported mostly to China, they're grown on farms there, and then we're importing them back into the US," Rademaker said.
While mostly seen on Asian menus these days, eels have a long culinary and cultural history in Maine as well, which Rademaker is hoping folks will remember. She said cultural ties can be an important step in conservation.
"You know we have this valuable resource,it's trying to use the resources that we have in a better way, and connecting people through food, I think it's better for not only our Maine community and the fishery, but ultimately the species, because it makes people understand and connect to that fish," Rademaker said.
But eels remain a species of conservation concern, due to their unique catadromous life cycle, and dependence on the Sargasso Sea for spawning habitat. Consequently, all eels are collected from the wild as juvenile elvers or glass eels.
American eel is listed as a "good alternative" to other eels by Monterey Bay Seafood Watch, but with some "concerns" due to uncertainty over whether a wild elver harvest is sustainable. Concerns also exist over some operations' harvesting and processing methods.
Rademaker said conservation of the species is important and Maine's quota-based harvest was a consideration in deciding to build the facility.
The aquafarm will open in the spring in time to take in about 600 pounds of locally caught elvers.
The company estimates the facility will be able to produce about 500 thousand pounds of eel each year, supplying about 5 percent of the U.S. market.
Herring Fishing Off Maine to Shut Down for About 2 Months
Copyright © 2021 The Associated Press
August 9, 2021
Commercial fishing for herring will all but shut down in the inshore Gulf of Maine for about two months to help conserve the species.
Atlantic herring are an important bait fish that are harvested extensively off New England. The fishery has been limited by new restrictions in recent years because of concerns about the health of the fish's population.
Interstate regulators said herring fishing will essentially be shut down in inshore areas off Maine, Massachusetts and New Hampshire until Sept. 30. They said that's because fishermen are approaching their limits for the quota of the fish.
Herring are especially important as lobster bait. Fishermen sometimes caught more than 100 million pounds of the fish annually in recent history, but the fishery fell to less than 12 million pounds last year.
The fishing shutdown took effect on Aug. 3.
((((((((((((((((((((((((((((((((((((((((((((((((()))))))))))))))))))))))))))))))))))))))))))
Public Service Announcement on Behalf of Hummingbirds:
This hummingbird is unable to retract her tongue due to fungal spores that have germinated on her tongue or in her gullet caused by folks mixing honey or anything other than plain white sugar with water. She will die because she can no longer feed.
If you have feeders, PLEASE USE ONLY PLAIN WHITE SUGAR in your mixture of 1 part sugar to 4 parts water. No organic or raw or brown sugar, no powdered sugar, no honey, no artificial sugar. Use plain white sugar/water mixture which is most similar to actual flower nectar. And no toxic red color liquids!
Change the sugar water mixture every couple of days, especially during high temperatures, as it will start to ferment if it sits out for days on end. If you can't or won't do this, please do not put out a feeder at all.
Honey is the nectar of flowers fanned by bees in their beeswax to get to a certain low water content. During this time, it can be exposed to fungal spores which is why you are not to feed honey to infants either.