I'm suddenly off pepper eating ... 
*******************************************************
And now what, dude!? 
************************************************
 Tuesday, August 06, 2019: We have an interesting wind pattern moving in with a rare protracted stretch of offshore and light/variable winds, though nothing scalding hot in those usually furnaced westerlies. This points to an ideal fishing stint, from bay to canyons. I likely just jinxed it, though I'm not sure I can influence the entire cosmos the way I had in the past.
Beachgoers, look for steady mid-70s water. Not much along the line of swells through the period, short of a possible medium-period groundswell sneaking in late weekend.  Kingfishing will likely pick up again.
While I haven't gotten or gleaned many reports from assorted sources, a buddy I bumped into told of the best fluke fishing in the surf he has ever had. He is kinda young to say that, though. He first noticed the flattie presence when kingfishing, bycatching a few while losing others to the tiny hooks he had on. We chatted about getting ready for surfcasting – with the decent variety of hookables now out there. It led to the entry-level blog-let below.
Finally heard from a shark stalker and he said there has been next to nothing for him. "I haven't had my heart in it, though," he noted, very pissed at what he called the state "scare tactics." He gets freaked when he sees the approaching headlights from beach patrolling cops.  
The numbers of bunker showing from miles out to in close – even amid swimmers over the weekend -- are astonishing, both in school size and acreage. It now borders on an epic modern showing from Sandy Hook down to Cape May, with water off Island Beach State Park being epicenter. Is there such a thing as too many bunker? Nope. There were far greater numbers way back when, as in times when the ocean was churning with life. These filter feeders surely mark a sound ecology. The current bunker showing admired, there's no guessing what it means in terms of fall fishing. Here's hoping.
Walter P. report: "Netted a spotfin butterflyfish and two seahorses today. Fished the last of the outgoing coming off the bar at the corner of the walkway. Three fluke one keeper, one 14" kingfish on my gulp 4" yellow tail. Once the tide change I fished the north jetty and had non stop blackfish action until the tide got too strong. Mostly all in the 14" range but one 19" that is dinner tonight.
Tried the inside of the rocks for bass but nothing happening. It was a little nasty on both sides of the rocks with the NE wind blowing."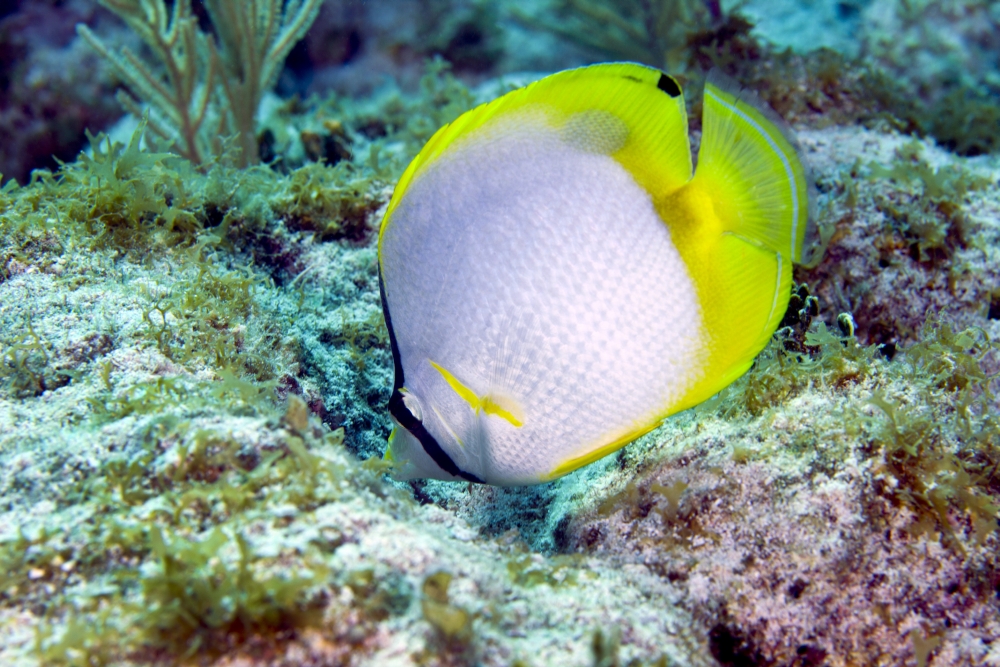 GEAR UP OR RIG UP: I need to respectfully borrow the Coast Guard motto Semper Paratus in describing the best way to cash in on what has been dang decent surfcasting action.  
Semper Paratus means always ready in a figurative sense but closer to always prepared in a more technical Latin vein. It's the always prepared angle that applies to this summer's beachfront angling.
When hitting the sands, you must be either geared or rigged for what might be biting that day. Those are two different approaches.
Geared means rods, reels and line. The most accepted way to cover those bases is with two or even three rods, each slightly different in sturdiness. Easy to see why. If kingfish are happening, just about the lightest saltwater gear is the most fun. When it's fluke time, a light/moderate to moderately sturdy rod is needed to solidly set a hook after feeling that dead-weight fluke pickup. For bluefish, even cocktails, a moderate weight rod/reel with heavier line is in order. The bluefish set-up is also fine for small summer stripers.
The other approach to the varied bites out there begins by settling on a single light/moderate rod and reel, with line to 20 pounds, though lighter line is more fun. It then all comes down to rigs, which can be changed quickly, going from light kingfish rigs to slightly more robust fluke rigs to heavier bluefish rigs, possibly pompano setups. Sinkers up to 2 ounces, though getting by with rolling one-ouncers adds to both the fluke and kingfish catching potential.  
When running with the rig approach, there's always a bit of a compromise. However, not having to lug around two or three rods has its distinct beachgoing advantages. Conversely, using multiple rods and being able to throw out two or three separate presentations at once makes it far easier to find the fish – or fishes -- of the day.
As to bait, I have to grudgingly admit that many of the fake-o baits, like GULP!, can catch 'em all. For a cheap "real" bait, fresh squid rocks; not so much the frozen stuff. Bunker attracts blues and bass, though not so much fluke or kingfish. Bloodworms are magical on kingfish … and even fluke, as folks targeting kingfish are finding out – providing those little kingfish hooks find the hard part of fluke's mouth.
As for artificials – never leave home without jigs and plugs. With Spanish mackerel in the system, throwing metals out might attract who-knows-what. I must admit I have three different plugging rods, demonstrating my dedication to artificializing fishing.
Yes, mobile anglers can be seen with four or more rods at the ready, each distinct in purpose. Some might say it's the epitome of  Semper Paratus.
Below: This fishing setup at Barnegat Light was before my time. Talk about a lot of change: 
********************************************
Good action again today. A little rain this morning didn't effect the fishing. Lots fun had by all.
*********************************************************
Down OBX way
While down Pensacola way ... 
*************************************************
Making lemonade. ... tattoo-style. 
*****************************************************
A nice morning trip today with a lot of action with short fluke and a nice showing of keepers! Boston Bob of Barnegat Light NJ won the pool with a nice 6 lber. The afternoon trip was a lot slower, but the fish are there!! Hope to see you there!
Today's haul! Check out the Spanish mackerel. I'll have to google recipes....
**************************************************
Caught 80 blow fish today with The Fisherman Magazine crew John and Rich
8/6/19 UPDATED 4:48 AM Great report from the Miracle Mile yesterday as our buddy Harry nailed 6 Spanish mackerel and a dozen 1 to 2 pound blues, all on Deadly Dicks. It's great to see the Spanish are still around and plentiful. There was also a ton of bait in the water the in the form of rainfish and "thumb-sized" peanut bunker. Should be another good fishing day today with the low pressure.
************************************************
When you can't catch any pompano ... 
***************************************************************
Over the weekend I was happy to land an Atlantic Wolffish. These toothy critters are in serious trouble thanks to loss of habitat and bycatch from trawlers. I'm told they are delicious, but now they have to be tossed back like all the cod we caught. Thanks to Captain Leo Croisetiere (pictured below) of Sophie Sea Charters and Captain Andy Mazzitelli. The good new was we caught a ton of haddock.
*******************************************************
Felt good to finally get out for a few last night, the striped ones didn't disappoint either...