**********************************************************
When doing fish-slap salutes, it's good being a senior officer ...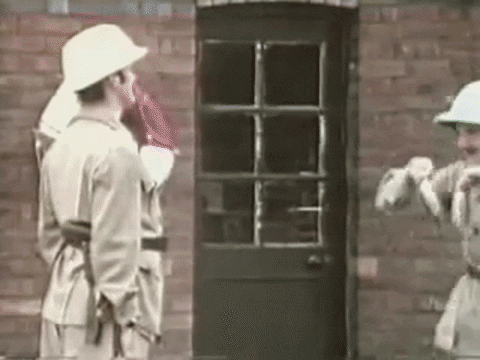 Then, there's the related revenge of the snakehead slap ...
There's an odd pecking order in the domestic animal realm ...
"Let me guess: You have a very good reason to be poking me, correct?"
************************************************
(Technical problem: I'm not sure why but some of my GIFs disappear after publication herein. I'm working on a cure. If you see sentences standing along, seemingly having no context, that's the problem -- and not my brain, per se.)
Thursday, November 01, 2018: The surf has come up … again. It's merely a modest three to four feet but very consistent. I continue with my professional opinion that we now have more surf, more regularly, than any time in my now lengthy life.
Along with the swell, the water has become moderately turbid, a light tan color. This matters when deciding plug or bait-rig float color, though bright red seems to always suffice for the latter. The water is cleaner the further south you get.
Just a bummer reminder that we fall on back on the clocks this weekend, in the wee hours of Sunday morning. I recall my party days when that meant the bars closed an hour early on Saturday, the day we usually got an extra hour to dance the night away. Being a nondrinker, I became quite the rug-cutter. The up side is how much quicker it is to fish after dark. I think that makes sense.
I'm still hearing some of bursts of false albies not far offshore, though that came over the weekend and that bite can end on a dime – which is the same speed a bass bite can begin … in a perfect world.
I'll warn right now that my next weekly column in The Sandpaper will address, obviously subjectively, the horrific decline in surf stripering on LBI. We were once a bass fishing mecca. Hell, folks from around the state would come down here hauling aerated tank with herring swimming within. Harvey Cedars jetties were fought over, literally and physically.
I'll keynote here that Sandy is an unsound overall excuse for beachside basslessness. The precipitous decline began well before she hit, though the likes of the 1990s Halloween Storm and December Storm were in the midst of the disappearance. This is not to say Sandy might not have been the coupe de grace but something surfcasting evil was already this way coming. I'll also remind, with jealousy, that I've been told by some boat bassers that their fall striper fishing off LBI hasn't diminished one jot. One of recent worst-ever falls saw best-ever boat bassing.
But back to my ingrained optimism.
I'm told the schoolie bass – up to just over 30 inches – are almost in-system, just off the beach. I think there's a far greater chance of schoolies moving not the swash before trophy stripers. Nonetheless, that rouge Bubbina (a female Bubba) is more likely amid this surf stir than during flat conditions.
If you're going Classic, maybe go with at least one mega-bait soaking on a pegged circle-hooked rod. Think in terms of half a bunker. It doesn't need to be cast out that far. It gives off lots of oily fragrance and might coax an otherwise shy/cautious mega bass, i.e. how do you think it got to be so large?
I haven't heard of a big bluefish anywhere in the state. If you have heard of one – or maybe you've got a slammer or two – please drop me a quick line at jmann99@hotmail.com.
Just a friendly motoring reminder that all LBI PDs are on the look for speeders and such. Keep close in mind that Ship Bottom is 40 mph. That can sneak up after coming north out of LBT. Also, since Ship Bottom is my town (of 60 years) please be as vigilant as possible for folks trying to cross the Boulevard. I can't confess to this but I'm pretty sure you can still get ticketed in the off-season for not stopping for pedestrians obvious about to cross. Bevel me, I don't want to see a single ticket handed out anybody! Just be vigilant.
In Long Beach Township, they're once again waiting on east/west side roads for over-accelerated drivers. It's too late by the time you catch them out of the side of your eye -- or when you glance up and see them as you're merrily gabbing on a cellphone or, worst of all, when your maniacally texting.
Warning to motoring texters (and maybe cellphoners): I've decided to put together a dashcam video of folks I shoot celling to high heaven when driving. I ordered two side-facing vid-cams, which go nonstop. Once a celler is snagged by the lenses, I just unplug it for a later download. I'm still deciding what soundtrack I'll use.
One of the stickiest aspects of properly driving much of Long Beach Township south of Ship Bottom is trying to obey the statute requiring the left lane be for passing only. I almost always stick to the righteous right lane – and pay for it with enough road bumpiness to wear down my front teeth.
I sorta see the vertebrae saving thinking point of left-laners. Therefore, all I humbly ask of the way-many folks opting to drive the slightly less bumpy left lane is a considerate and momentary pull into the "slow lane" if someone is behind you wanting to drive a higher speed than you're doing. I here ya: "But, I'm turning left up ahead." Yes, you are -- two miles up ahead!
Enough of that seemingly incurable road rant stuff. Just drive semi-nice.
They're here!!!!!!!!!!!!!!!!!!!!! Great Christmas gift for any car or buggy owner. They can be bought at many locales. Just Google "Wheel Pressure Gauge Wireless Solar External Tester." Price range wildly. I'm never sure if higher price means better quality. I'm opting for the solar powered since I use my cigarette lighter jacks for cameras. Important: Bangood and other such Asian discount companies often ship via a slow boat from China. I'm getting mine via Amazon Prime, which backs everything astoundingly well ... should you get a lemon.
***************************************************************
I'm not into politics but when Martin asks me to pass something along for the public to ponder -- I drive the extra mile ...
**********************************************
Dave DeGennaro
Back Bay Adventures
The stripers are finally within striking distance. 20 to 30 miles north of our inlet today the boats caught really well on 15 to 30 pound fish from the shoreline out to the three mile line. Casting, trolling, and bunker snagging are all putting fish in the boat. They could be closer by the time we set sail this weekend but even if they're not, we're headed to wherever the bite is.
Sailing Open Boat or Charter Sat, Sun, and Mon, Nov 3, 4, and 5, 7AM to 3PM on Sat, Nov 3 and 6AM to 2PM on Sun, Nov 4 and Mon, Nov 5. (Careful, the end of Daylight Savings Time will turn the clocks back one hour at midnight Saturday night, that's why our sailing time is different from Sat to Sun).
$200 person, 4 people max, all fish are shared.
The only dates other than these that I have left in November are: 10, 11, 20. December is wide open and should have awesome striper fishing.
732.330.5674 cell
phillyfishingshow.com
*****************************************************
Walked outside my house in Ship Bottom to find this very little guy busily eating seed tips off my grass. Inclined to talk to animals, I waved and said "Hey" -- and I got this reply for the camera. I'm sure it was just a natural wing-move thing but I still took it as a friendly sign.