Below: I'm sure there's a very good reason ...
+++++++++++++++++++++++++++++++++++++++++++++++++++++++++
"Dear, I'm off to the club ... you know, just a bunch of us guys working out ..."
(I could shout out for a "spot" and nary a helping hand shows ... As she has ten guys waiting around for her to even think "spot!")
+++++++++++++++++++++++++++++++++++++++++++++++++++++++++
Thursday, March 09, 2017: Weather plays by the law of averages. At least that's how it plays out with the meteorological data that has been collected over the past couple hundred years. Those averages are referenced every time you hear, "It's going to be 15 degrees below average" – which we'll again be this weekend, after last weekend's 20 degrees below normal. Flakes could fly at a couple points.
Long-term weather averages are highly dynamic. They're being microscopically tweaked daily. However, it would take a nuclear winter to create a quantum shift in the overall two-century averages. A couple/few highly mild winters is water off the back of those big-time averages.
Then, there's what we're seeing now: A hitherto mildish winter that will end up "normal" with the factoring in of these oddly cold, late-winter days.
Again, I'll mention that many weather services run slightly different "seasonal" timeframes, with spring having already begun, March 1. Nonetheless, the winter will play out as nothing out of the ordinary, despite very few freezes or snows.
Below: Just what norm looks like ...
Something that has never been kept in great detail are wind averages, despite being hugely important and impactful, from both a wind-damage direction and also via the feels-like wind-chill factoring. In recent decades, computerized weather-keeping could allow a concerted gathering of wind data -- in an after-the-fact manner.
Why should we begin caring about wind in such an intensive statistical way? If I'm any judge of a warming planet, winds are sure to intensify, as rapidly rising air sparks related winds; not just now-and-again winds but daily blowhard winds.
Out-there insight: If I had to guess which renewable energy source has a better future, it would be wind-power. While you'd think that solar power would be a perfect marriage with a heating planet, don't bank on it. A beating down sun will lead to enhanced evaporation, causing an extreme clouding effect – and, likely, enhanced storm production. The energy from a single hurricane can power the world, providing the world has perfected an ability to store that short-term excess energy from wind power.
There's no guessing what increased overall worldly winds will do to areas like Mount Washington, NH, which long held the planet's highest, officially-accepted wind speed of 231 mph. For a great read about that April 12, 1934 record, check out www.mountwashington.org/about-us/history/world-record-wind.aspx. You'll relate to the nor'easter angle in this acccount. Interestingly, the winds were accompanied by ferocious cold. I wonder what the wind-chill might have been.
By the by, that Mount Washington record was broken in 1996 during Typhoon Olivia when an unmanned anemometer located Barrow Island, Australia, recorded a 253-mph gust. Other gusts were nearly as hard. Barrow Island is off the coast of Northwest Australia.
... Sometime I think my theories go right over her head ...
++++++++++++++++++++++++++++++++++++++++++++++++++++++++++++++++++++++++++++++++++++++++++++
Below you'll see the enhanced NJDEP effort to dredge a Little Egg Inlet channel ... and use sand for beach-building.
I had this nagging suspicion that the USCG announcement about buoy removal in LEI might have had underlying intent. This is not a given since the USCG announcement might have simply spurred the DEP to readily respond.
This state announcement is far from a guarantee that all the federal and state permits can be acquired. I'm pretty sure it is as much a show of support for NJ mariners by the state as an actual game plan.
I'm making calls before reading too much into this release.
Barnegat Bay Action Update - Special Announcement
DEP PREPARING PLANS TO DREDGE BOAT CHANNEL FOR LITTLE EGG INLET
NJ Department of Environmental Protection (DEP)
March 2017
DEP PREPARING PLANS TO DREDGE BOAT CHANNEL FOR LITTLE EGG INLET
Project will Address Serious Shoaling that Jeopardizes Safe Boating
The Department of Environmental Protection's Division of Coastal Engineering is expediting a project that will clear dangerous shoals from Little Egg Inlet, a major thoroughfare for boat traffic between southern Long Beach Island and Brigantine to the south. The sand will be used to replenish beaches on portions of southern Long Beach Island lost to storms over the past several months.
At the direction of Commissioner Bob Martin, the Division of Coastal Engineering is developing permit applications, design plans and contract specifications with the expectation of going out to bid for the multimillion-dollar project next month.
The U.S. Coast Guard this week pulled buoys marking the channel due to concerns that buildup of sand in the channel has gotten too severe for safe passage of boats. The Coast Guard warned boaters that if they use the inlet they would be doing so at their own risk.
"This situation has become critical so we are moving forward, using state money, to dredge the channel and make it safe again for everyone who needs this vital access for fishing and recreation," Commissioner Martin said. "We need to take action to get this channel dredged for the safety and enjoyment of the public this summer season."
One of the widest ocean inlets in New Jersey, Little Egg Harbor Inlet is extremely dynamic, with shoals constantly shifting with the seasons. A federally marked waterway, the inlet has never been dredged. Instead, the Coast Guard every year would use buoys to mark the deepest and safest natural route through the inlet, which provides connections to the Little Egg Harbor portion of Barnegat Bay, Great Bay and the vital Intracoastal Waterway.
The project that the Division of Coastal of Engineering is designing will focus on shoaling of sand that has taken place on the ocean side of the inlet. The Coast Guard-marked channel in this area has at times extended as far as a mile into the ocean.
An estimated 1million to 1.5 million cubic yards of sand will be dredged to create a channel that is 25 feet below mean sea level. In many places, the channel had become less than six feet below mean sea level, making navigation very difficult, especially when factoring in the rolling of waves in the ocean.
The project, which will require U.S. Army Corps of Engineers permits, will be designed to have negligible to no impact on the nearby Forsythe National Wildlife Refuge or migrations of fish. The sand will be used on beaches on southern Long Beach Island that sustained erosion as the result of storms since the completion last year of a major beach fill and dune project.
((((((((((((((((((((((((((((((((((((((((((((((((((((((((((((((((((((((((((((((((()))))))))))))))))))))))))))))))))))))))))))))))))))))))))))))
California Lawmaker Proposes to Ban All Shark Fin Sales in US Market
SEAFOODNEWS.COM [Los Angeles Times] by Louis Sahagun - March 9, 2017
It's been four years since California's ban on the purchase and possession of shark fins went into effect. And yet, more than 60 tons of shark fins arrive at the Port of Los Angeles each year, bound for chefs and grocers in states where sales of the Asian delicacy remain unfettered.
Rep. Ed Royce (R-Fullerton) hopes to change that. On Thursday, he plans to introduce a bill in Congress that would prohibit the buying, selling and possession of shark fins throughout the United States. If all goes according to plan, the measure would discourage the practice around the world.
The Shark Fin Sales Elimination Act "is needed to eradicate shark finning for good," Royce, chairman of the House Foreign Affairs Committee, said in a statement Tuesday.
"While California led the way with a statewide ban, there are still almost 40 states where the purchase of shark fins is legal," he said. "The United States can set an example for the rest of the world by shutting down its market for shark fins, which are often harvested by leaving these animals to die a slow and painful death at the bottom of the ocean."
Experts estimate that as many as 73 million sharks become victims of the shark-fin trade each year. The fins sold for as much as $2,000 a pound in California before the ban took effect in 2013.
So far, 11 states including New York, Washington and Hawaii have joined California in banning the sale of shark fins. So have the Pacific territories of Guam, American Samoa and the Commonwealth of the Northern Mariana Islands.
Nineteen shipping companies and 36 airlines around the world have stopped carrying shark fins as cargo.
Despite the California ban, federal customs authorities do not restrict the import and export of shark fins through Los Angeles or other ports in the state, according to a spokesman for Royce. The congressman's bill would change that by prohibiting the sale or possession of shark fins or any product containing shark fin.
The bill was originally introduced by Royce last June, but it didn't make it out of committee before the 114th Congress came to a close. Supporters of the bill, including Oceana, a nonprofit organization dedicated to protecting the world's ocean environment, believe it has a better chance this time because the 115th Congress has two years to act on it.
"By allowing the sale of shark fins from foreign fisheries that have little to no regulations, we're indirectly incentivizing the cruel and wasteful practice of shark finning that is putting the survival of many shark populations in jeopardy," said Oceana spokeswoman Lora Snyder.
She added that "more than 92% of the shark fins coming into the United States — dried, frozen and canned — enter through Los Angeles."
Shark fin soup is a delicacy that dates back hundreds of years to China's Ming Dynasty, where it was a symbol of status and power reserved for emperors.
Its chief culinary merit is a gelatinous texture, achieved through careful drying, precise trimming and a complex preparation method that takes several days. To enhance its bland flavor, cooks often add chicken or ham to the broth.
As China's middle class has grown, so has demand for the delicacy.
The Chinese government has announced that it is phasing out shark fins from official functions.
++++++++++++++++++++++++++++++++++++++++++++++++++++++++++++++++++++++++++++++++++++++++++++++
NGO's Back Feds In NFI's Lawsuit Against Obama's Fish Labeling Rules
SEAFOODNEWS.COM [The Washington Times] by Ben Wolfgang - March 9, 2017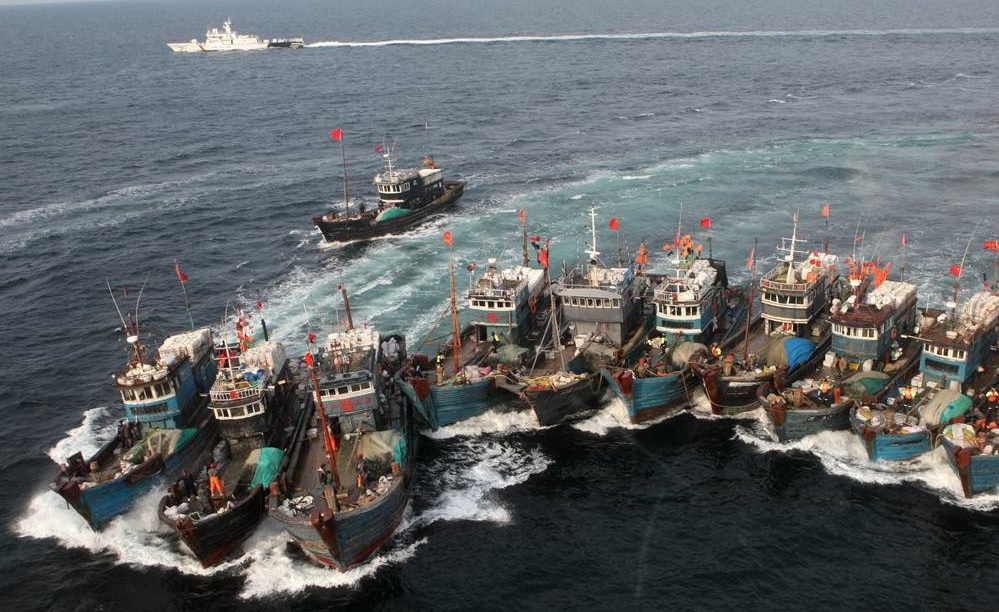 Worried that the Trump administration won't mount an effective defense of former President Barack Obama's environmental policies, green groups rushed to court this week begging to intervene in a looming lawsuit, saying they will make the case on their own. It's one of the key ways environmentalists are ramping up their resistance to President Trump.
Three of the nation's leading environmental organizations petitioned a federal court to allow them to intervene in a case revolving around a fishing rule issued in the waning days of the Obama administration.
If the court grants their request, they will be defendants alongside the federal government, even though the initial lawsuit did not directly involve them.
At issue is the Obama-era Seafood Traceability Rule, which does not go into effect until next year and would require all seafood importers to track and report where all fish were caught and provide authorities with a host of other information.
Fearing the Trump administration will abandon the rule — which is facing a legal challenge from the National Fisheries Institute and other groups that say the regulations will drive up prices for consumers — the Natural Resources Defense Council, Oceana and the Center for Biological Diversity want to do federal attorneys' work for them.
They argue that the rule is vital to help curb illegal and unreported fishing and that it should be upheld even if the administration wants to scrap it.
"I think the American public really can and should expect that good policies put in place by one administration stay in place for another administration, and we do think this is good policy," said Sarah Uhlemann, a senior lawyer with the Center for Biological Diversity who filed a motion to join the case late Tuesday.
There have been other high-profile instances in which groups have gone to court to defend laws or regulations that an administration had abandoned.
House Republicans, for example, went to court several years ago to defend the Defense of Marriage Act after the Obama administration wouldn't mount its own defense of the law.
"Motions like this are a normal part of court cases where there are people or organizations who are potentially affected by a case brought by someone else and would like to participate," said Eric Bilsky, assistant general counsel with Oceana.
Ms. Uhlemann said the seafood rule is good public policy and that the environmental coalition wants to prevent a "sweetheart settlement" between the Trump administration and the plaintiffs.
Such a sweetheart deal would mirror the "sue and settle" tactics frequently employed during the Obama administration. In that practice, an outside group would sue a federal agency and make specific policy or regulatory demands, and the agency would often settle the case by giving the plaintiff much, if not all, of what it wanted.
Republicans criticized the practice as backdoor lawmaking and a way to circumvent normal legislative procedures.
Now environmentalists fear the tables will be turned and the Trump administration will scrap Mr. Obama's rules through court settlements.
The National Fisheries Institute, the lead plaintiff in the fishing rule lawsuit, argues that enough regulations are on the books already to ensure that the seafood supply is safe.
The organization — which filed its lawsuit challenging the rule before Mr. Obama left office — also says the environmental groups are overstepping their bounds and raised the question of whether they helped craft the plan in the first place.
"We find it curious that these groups have so little faith in Department of Justice attorneys that they feel the need to come in and do the work of defending the government for them," said Gavin Gibbons, a spokesman for the National Fisheries Institute.
"We are specifically suing the government because it improperly and illegally crafted a costly and duplicative rule. In inserting themselves in this lawsuit, it would appear that these outside groups are suggesting they were somehow involved in crafting that rule, a dynamic that raises a whole different set of questions," Mr. Gibbons said.
The Justice Department declined to comment on whether the administration will defend the seafood rule.
The government could choose not to defend the regulation and allow the environmental groups to take over as the sole defendants.
Before that can happen, the U.S. Court of Appeals for the District of Columbia Circuit must allow them to intervene.
In their court filing, the environmental groups tried to prove that they have legal standing in the case — in other words, that voiding the seafood regulations would have a direct, adverse impact on them.
"Removing these protections, as Plaintiffs seek to do in this case, would erase the Seafood Traceability Rule's benefits to Applicants' members and harm their interests in consuming healthy and sustainable food, making informed choices about what they are eating, and reducing the harms caused by [illegal] fishing," they wrote. "These harms to Applicants' members' legally protected aesthetic, consumer, scientific, and recreational interests from the relief Plaintiffs seek in this case satisfy" the question of legal standing.
Such cases could become increasingly common.
A coalition of New England fishermen's groups filed a lawsuit this week challenging a 5,000-mile offshore monument that Mr. Obama designated in September.
The groups claim the monument — a prime example of the former president's expansion of executive authority under the century-old Antiquities Act — will hamper the fishing industry and crush coastal economies.
It's not clear whether the Trump administration will defend that monument in court, or if outside groups will seek to intervene, or if a judge revokes the monument because the administration does nothing.
The White House said Wednesday that the Justice Department is reviewing its options in the case.