Nice motoring weekend coming up ...
===========================================================================================
Below: This is a man you might like to party with ... or not so much.
==========================================================
Look closely, all you birds of a feather. And don't rest or nest in diesel engine exhaust pipes.
Thursday, June 08, 2017: A tad dingy out there today, much to the dislikement (dislikement?) of MTV which is in full swing preparing for a late-afternoon party across the street from town hall in Long Beach Township. It will likely be a bit of a madhouse in that vicinity so take that into account if your coming onto LBI south for a long weekend or a quick fishing session. The MTV emphasis then shifts to LBI north, where Loveladies will host another segment of its "Beach House" special – actually close to a "Beach House" resurrection. I doubt very much of the north-end MTV action will overly interfere with the many folks heading to the South Jetty or BL Boat Launch.
You'll see word below that another bluefish spurt, with slammers involved, may be happening. I'm kinda consumed with this MTV thing so I can't take a hoped for hop up to the South Jetty.
The lowered winds early today made fishing highly doable, though the SE'erlies have been getting a tad gusty as the day goes on. Then, the west winds blow in, offering a stint of sky perfection for the weekend. I'm ready. I'm a weekender at heart.
Not unexpectedly, NJ Fish and Wildlife are on fluke-size watch, both on-water and dockside.
As happens annually this time of year, I'm getting told of suspected keeping on undersized fluke. I only offer the state call-in number, should anyone care to go official with what they think they see. I have above-average vision and I've been fully fooled thinking a kept fluke in the distance is undersized, mainly when surf fishing. Then, when I get a closer look, turns out I was way off. Dang thing had the minimum beaten by a solid couple inches.
=================================================================
Nice first day out front fluking on the sand in the blow Greg DeMello made the trip down before he goes north for the summer well over 30 fluke between the three of us biggest being 21" lots of shorts which is a very good sign for the coming weeks and capped it off with bluefish out the wazoo. Senior awards tonight then back at it hopefully by Friday.
==============================================
Snooki is cruisin' Beach Haven. Woo-hoo, we've made the big time.
=============================================================================================
I'm compelled out of guilt, as in guilty pleasure, to herein make a telling FB confession ... with all this MTV hubbub. I was a closet MTV'er when it first came out. I was mesmerized by even the worst videos, watching the commercial-free, looped sets of music videos far too far into the night. Then, upon rising, after having dreamed MTV video-oriented dreams, it was back to the TV. I might note that, back then, many a fellow waverider's house also had MTV pinned on. We'd be potatoed out around the TV, awaiting waves, and watching some videos for the umpteenth time -- departing MTV only for sessions with the then- commercial-free Weather Channel, which also offered some of the coolest music this side of, well, MTV. Please forgive me. I was younger and needed ... Hell, I'm not sure what I needed -- but MTV filled the bill.
+++++++++++++++++++++++++++++++++++++++++++++++++++++++++++++++++++++++++++++++++++++++++++++

ALERT: High Point Volunteer Fire Company's photo — at Beachshabby Garage.
A Striper being born for the auction. Always support your locals!!!

==============================================================================================
Jim Hutchinson Sr.

The striped bass action for the boats of the Beach Haven Charter Fishing Association has been hit or miss lately, the black sea bass action has been nothing short of outstanding. Both inshore artificial reefs and some wreck sites have been producing "drop and reel" fishing.

Captain Carl Sheppard of the "Star Fish" reports that there is a good number of keeper sea bass available for drift fishermen. Captain Carl was out with Wade and two friends of his friends, and they managed to catch over 50 fish in about two hours. He has been using the North Cut to travel through the inlet and has found sufficient water to navigate with comfort.

Captain Gary Dugan fished Great Bay last Friday and had several summer flounder to 17.5-inches and one keeper at 19-inches. Saturday was more of the same as he had several fluke again to 17.5-inches along with 3 keepers in the cooler. On Sunday Captain Gary changed direction and went wreck fishing, He reported non-stop drop and reel action with sea bass and big blackfish that had to be returned. His party brought home a cooler of sea bass for the table. Captain Gary feels the fishing is starting to hear up.
Captain Fran Verdi made two trips last weekend on the "Francesca Marie". On Friday he and his wife did a half-day trip and for a nice mix of sea bass and blackfish on a wreck in 60-feet of water. On Sunday Captain Fran had his whole family join him for their first sea bass trip to wrecks in 70-90 feet of water. His son got the first keeper and the boat's namesake, Francesca Marie, decided to show why the boat was named after her landing the most keepers. They had a mix of sea bass, blackfish and ling. On the trip in, Francesca turned to her dad and said "sea bass and wreck fishing blows away fluke fishing." Next up for the Verdi family is a tuna trip.
BHCFA Captains Ray Lopez of the "Miss Liane" and Jimmy Zavacky of the "Reel Determined" donated their time and boats last Saturday to take out groups of wounded veterans. They were participating in the Project Healing Waters in Waretown sponsored by the Holiday Beach Club.
Additional information on the Beach Haven Charter Fishing Association can be found at www.BHCFA.net.
==============================================================================================
Big boy blues still bangin away in the Jersey Surf! What a spring so far...
The true crown of the surf warrior- the Skate Helmet ! Bestowed upon beach royalty ...
=============================================================================================
This is spooky weird ...
Bill to Allow Secret Tracking Devices on Lobster Boats Gets Maine Senate Approval
SEAFOODNEWS.COM [WCSH6.com] by Chris Rose - June 8, 2017
AUGUSTA, Maine (NEWS CENTER) — A compromise has been reached over a controversial bill that would allow the Department of Marine Resources to secretly place tracking devices on lobster boats.
The measure is aimed at cracking down on violators of lobstering laws.
The Maine Lobstermen's Union had been strongly opposed to the bill, saying it gave the commissioner too much authority by allowing him to covertly track boats. But after a discussion with the commissioner this morning the union now backs the bill.
"After having a meeting with the commissioner on this issue he has agreed to go to a judge prior to putting a surveillance tracking device on someone's boat," said Rocky Alley, president of the union.
Even with a judge's permission investigators can still secretly place the device on the boat without the owner's knowledge.
"I don't have to notify the boat owner that we're going to track them and again, it's all based on probable cause," said DMR Commissioner Patrick Keliher.
The bill aims to get tough on violators in the richest fishing industry in Maine.
"Add in processing and everything, this is more than a billion dollar industry to the state of Maine," Keliher said, "and we have to take these violations very seriously to protect that."
As lobstermen fish further offshore it's getting easier for them to cheat.
"So we have a lot more people fishing offshore, much more difficult to catch violators offshore," said Patrice McCarron of the Maine Lobstermen's Association.
McCarron said if allowing investigators to covertly place tracking devices on boats of suspected cheaters leads to more arrests, the industry will be better off.
"If you cheat, if you run extra traps, there's a lot of money to be made and all the guys who are playing by the rules, quite frankly, they're sick of it," she said.
The bill won approval of the Maine Senate. It now goes to the House for a vote.
=============================================================================================
Widespread and effective monitoring of bees could lead to better management of rapidly declining populations; however, tracking bees is tricky and costly. Now, a research team led by the University of Missouri has developed an inexpensive acoustic listening system using data from small microphones in the field to monitor bees in flight. The study, published today in PLOS ONE, shows how farmers could use the technology to monitor pollination and increase food production for a growing world population.
Simple microphones attached to smart tablets could be the key to allowing "citizen scientists" to monitor bees in their respective communities. More can be found at our website story here.
"Causes of pollinator decline are complex and include diminishing flower resources, habitat loss, climate change, increased disease incidence and exposure to pesticides, so pinpointing the driving forces remains a challenge," said Candace Galen, professor of biological science in the MU College of Arts and Science. "For more than 100 years, scientists have used sonic vibrations to monitor birds, bats, frogs and insects. We wanted to test the potential for remote monitoring programs that use acoustics to track bee flight activities."
Using the data, they developed algorithms that identified and quantified the number of bee buzzes in each location and compared that data to visual surveys the team made in the field. In almost every instance, the acoustic surveys were more sensitive, picking up more buzzing bees.
I thought you might like to share this with your audience. I can arrange interviews with Dr. Galen and the other researchers should you wish.
Please let me know what I can do and thank you for your thoughtful consideration,
Jeff Sossamon
Research News Strategist
MU News Bureau
Division of Marketing & Communications
University of Missouri
==============================================================================================
New York sets a good example ...
NY OKs $2M Grant for Long Island Shellfish Seeding
SEAFOODNEWS.COM [Long Island Press] by Benedict Carrizzo - June 8, 2017
New York State is allocating more than $2 million to a program that will grow and seed clams and oysters in the bays off eastern Long Island, Gov. Andrew Cuomo announced Friday.
The money was earmarked for Sea Grant, which will also use the funding to support research into improving water quality by working to reverse decades of pollution.
"We don't even know what we don't know about the water," Cuomo said. "We're now finding contaminants that are dangerous to our health, that wasn't even on the scale before."
The support for Sea Grant came as the President Donald Trump's proposed budget includes cuts to the environmental program.
The short-term goal is to produce about 30 million clams in Shinnecock Bay to reduce pollution. At appropriate levels, these shellfish can filter nitrogen to reduce brown tide, which has been a problem across Long Island since the 1980s.
Brown tides are caused by nitrogen pollution that create an overabundance of algae, making the water appear brown. Though it is not toxic to the environment, it can deplete the ecosystem by blocking the amount of sunlight that penetrates the water. Shellfish naturally help clean the water, combatting brown tides.
The long-term goal is to seed hundreds of millions of shellfish to further reduce pollution and assist Long Island's economy, which relies on the health of local fisheries and waterways. When other facilities are created to breed shellfish, the state government will provide funding to them as well.
The effort is several efforts aimed at improving water quality on LI, including initiatives designed to replace antiquated residential septic systems that leach nitrogen into the groundwater, feeding the brown tides.
=============================================================================================
Battle Against Ghost Gear Strongly Supported by Young's Seafood
SEAFOODNEWS.COM [Grimsby Evening Telegraph] - June 7, 2017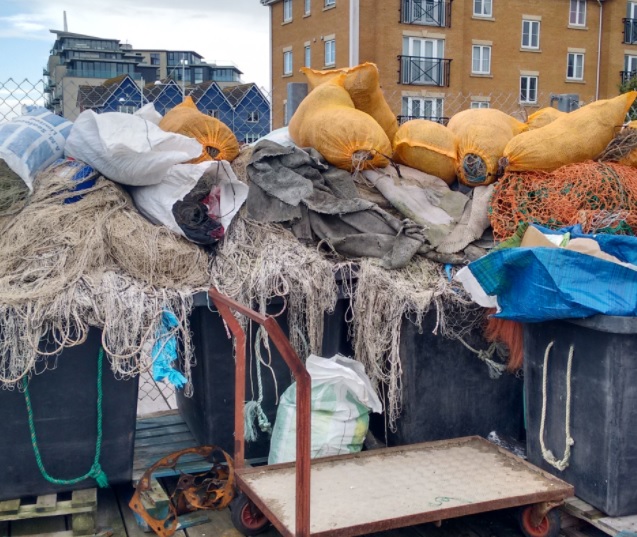 Crucial action to tackle marine pollution has been applauded by Young's Seafood today – World Oceans Day.
The Global Ghost Gear Initiative (GGGI) is a cross-sectoral alliance committed to driving solutions to the problem of lost and abandoned fishing gear worldwide.
Grimsby's UK leader in seafood plays a leading role in tackling this problem through its close involvement with the group, but, with lost and abandoned fishing gear a major source of ocean pollution and one of the biggest threats to marine animals, the Ross House team is calling for more to be done.
David Parker, marine biologist and head of corporate social responsibility at Young's, said: "We believe that a fish loving nation is a happier nation, now and for generations to come. Plastic pollution in our seas is a big issue. It poses a significant yet hidden threat to both the seafood industry and the wider marine environment; affecting fishermen, other marine users and wildlife.
"We would absolutely like to see more of the seafood sector get involved in a meaningful way in any viable initiatives to clean up our oceans. A clean and healthy marine environment is imperative to great quality and sustainable seafood. What's good for our oceans is inherently good for our industry."
Owing to a range of factors including extreme weather events, accidental loss or deliberate disposal, ghost gear accumulates at an estimated 640,000 tonnes per year. That's one tonne of ghost gear per 125 tonnes of fish caught. Mostly made of plastic with a life expectancy of up to 600 years, it causes huge devastation to marine habitats. It continues to catch and kill hundreds of species including seals, turtles, dolphins and whales.
The call comes as Young's marks a decade as the leader in seafood sustainability as part of its award-winning Fish for Life corporate social responsibility programme. "We've been supplying fish for more than 200 years," added Mr Parker. "We believe that sustainable practice is the only way to safeguard the future of fish for generations to come. We are delighted to be celebrating over 10 years of responsible sourcing and look forward to the next decade!"
+++++++++++++++++++++++++++++++++++++++++++++++++++++++++++++++++++++++++++++++++++++++++++++
Support the IGFA

AND

get great deals in our Annual eBay Auction- place your bids now!
Today is World Oceans Day- a global day of ocean celebration and collaboration for a better future. This year's theme is "Our Oceans, Our Future." You can support our IGFA programs that help ensure a brighter future for our shared passion of fishing by bidding in our eBay Fundraising Auction. The IGFA online auction offers great fishing trips, tackle, artwork, clothing and more. Every dollar you spend helps support the future of sport fishing and most deals end at 5 pm EST on Monday, June 12th- so be sure to get your bids in soon!
Enjoy our oceans with these great deals, including: