SEAFOODNEWS.COM [SeafoodNews] by Peggy Parker - July 19, 2017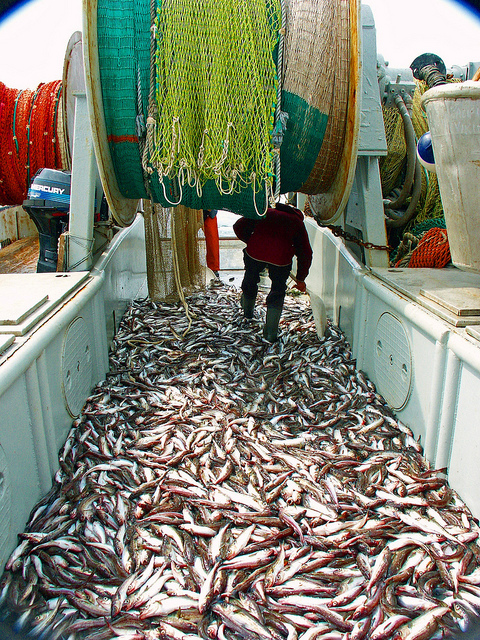 In a new study, an international group of scientists found that comparing four types of fishing gear that touches the seafloor, otter trawls are the most benign and usually result in the best recovery times for animal life at the bottom.
"We found that otter trawls penetrated the seabed 2.4 cm on average and caused the least amount of depletion of marine organisms, removing 6% of biota per trawl pass on the seabed," said lead author Professor Jan Hiddink from Bangor University (UK).
"In contrast, we found that hydraulic dredges penetrated the seabed 16.1 cm on average and caused the greatest depletion, removing 41% of the biota per fishing pass."
Depending on the type of fishing gear, penetration depth, and environmental variables such as water depth and sediment composition, recovery times for seabed biota ranged between 1.9 and 6.4 years.
Professor Ray Hilborn of the University of Washington, Seattle who led the collaboration with Professors Michel Kaiser (Bangor University) and Simon Jennings (The International Council for the Exploration of the Seas, Denmark), noted the importance of the study.
"These findings fill an essential science gap that will inform policy and management strategies for sustainable fishing practices by enabling us to evaluate the trade-off between fish production for food and the environmental cost of different harvesting techniques," Hillborn said.
"We need to view these results in light of the footprint of each of these activities; while otter trawling has the least impact per trawl pass, it is the most widely used of all the bottom fishing gear types and hence its effects are more wide-spread than are those of more specialised fishing gears such as hydraulic dredges," Hillborn added.
"Retailers and seafood processors are particularly concerned about the public perception of bottom trawling, hence this research has made a crucial advance in enabling us to understand what might be considered acceptable amounts of trawling activity in different seabed habitats, and to adjust these to sustainable levels when necessary," noted Prof Michel Kaiser of Bangor University's School of Ocean Sciences.
The study quantifies the impacts of bottom trawling and recovery of seabed biota by synthesizing data from 70 previous studies of bottom trawling, most in the Eastern U.S. and Western Europe. It analyzed those studies to compare the effects on the seabed of four techniques: otter trawling, a common method that uses two "doors" towed vertically in the water or along the bottom to hold the net open; beam trawls, which hold the net open with a heavy metal beam; towed dredges, which drag a flat or toothed metal bar directly along the seafloor; and hydraulic dredges, which use water to loosen the seabed and collect animals that live in the sediment.
"We developed a method to derive the recovery rates of benthic macrofaunal invertebrate communities from trawling by combining results from experimental and comparative studies and provide estimates of depletion and recovery, including a quantification of uncertainty based on all available data," wrote the authors.
The method for estimating the recovery rate from comparative studies is unique. With this, the authors believe that "estimates are likely applicable to trawled shelf seas in general (at least in temperate waters where most of the studies were carried out)."
The study's estimates of depletion and recovery make predictive models of the impact and recovery from trawling more accurate. Coupled with large-scale estimates of trawling frequency, made possible now with satellite-based vessel monitoring systems that provide a high-resolution look at fishing activities, these models will support assessments of trawling impacts on unprecedented spatial scales.
"These results have global policy relevance for conservation and food security policy development, because they enable an objective analysis of the efficacy of different methods of harvesting food from the ocean to be considered in the light of the wider ecosystem effects of such activities on the marine environment. The results enable managers to understand the variable resilience of benthic systems to trawl fisheries and set limits of fishing accordingly," the authors wrote.
In an article in UW News, Hannah Hickey reports that this study is one part of a larger effort to catalogue the effects of different types of bottom trawling worldwide, known as the Trawling Best Practices Project, which Hilborn leads with co-authors Michel Kaiser of Bangor University and Simon Jennings of the International Council for the Exploration of the Seas in Denmark. The group is doing other work to estimate how much bottom trawling takes place globally and thus determine the overall effect of bottom disturbance on the seafloor ecosystem.
Ultimately, the team aims to publish a set of fishing-industry "best practices" for the methods, equipment, density and frequency of bottom trawling.
"This research has significantly advanced our understanding of how to measure the impact of trawl fisheries on the seafloor," said David Agnew, Science and Standards Director at the Marine Stewardship Council.
"I look forward to these results being used in our future research project with Bangor University and more broadly to assist fisheries as they work to meet the Marine Stewardship Council's standard for sustainable fishing."
=============================================================================================
Japanese Seaweed is Welcome Invader on US Coasts: Study
SEAFOODNEWS.COM [Mediacorp Press] - July 19, 2017
MIAMI — A kind of Japanese seaweed that is considered an invasive species in the United States is actually serving an important role in restoring barren and vulnerable coastlines, US researchers said on Monday (July 17).
In many lagoons and estuaries of the North Atlantic, native seagrasses and oyster beds have been "severely reduced", due to global warming, pollution, disease and overharvesting, said the report in the Proceedings of the National Academy of Sciences.

In North Carolina, where the study took place, some 97 per cent of seagrasses, 90 per cent of oyster reefs and 12 per cent of salt marshes have been lost relative to their historical extent.
In these mudflats, invasive Gracilaria vermiculophylla has been spreading, so researchers decided to analyse how it was affecting the ecosystem.
The Japanese seaweed is believed to have made it into North Carolina via the export of a kind of oyster — known as the Pacific Oyster (Crassostrea gigas) — from Japan.
Over a 10-month span, 48 large plots with different densities of Gracilaria were studied for changes in vital services to the environment, including soil stabilisation and erosion control, storm surge and flood protection, biodiversity, food production, and habitat for economically important seafood species.
They found the invasive plants helped biodiversity in many ways, particularly by boosting habitat for young shrimp, crab and fish.
"We did not find a significant relationship between Gracilaria cover and sediment stabilization, a process that underpins erosion control," said the report.
Overall, the picture was positive, and suggests invasive underwater weeds may help, not harm native species and ecosystems, said co-author Brian Silliman, associate professor of Marine Conservation Biology at Duke University's Nicholas School of the Environment.
"Our experimental study shows for the first time that this can be the case," he said.
Still, millions of dollars are spent annually to eradicate or contain a host of invasive species all over the world in the name of conservation.
"Conservation and restoration practitioners must now begin the hard conversation about changing their black-and-white picture of invasive species impacts," Mr Silliman said.
The problem is not unique to North Carolina, but extends globally.
Recent studies have found that as many as 20 per cent of coral reefs, 30 per cent of seagrasses, 45 per cent of salt marshes and 90 per cent of oyster reefs have been lost worldwide, according to background information in the article.
"With the progressive decline of coastal habitats worldwide, our findings suggest it's better to have a non-native habitat than no habitat at all," said lead author Aaron Ramus, a post-doctoral student at University of North Caroline, Wilmington.
"There's a good chance that many invaders don't have the negative effects that we often think they do." AFP
-------------------------------------------------------------------------------------------------------------------------------------------------------------
James Beard Foundation Launches Seafood Sustainability Programme
SEAFOODNEWS.COM [FCSI.ORG] by Tina Nielsen - July 18, 2017
Leading restaurants across the US have signed up to a pilot seafood sustainability programme, launched by the James Beard Foundation
The culinary institution announced the Smart Catch programme at this summer's SeaWeb Seafood Summit. Created by chefs for chefs the programme aims to increase the sustainability of the seafood supply chain. According to the Foundation, currently 90% of the world's fisheries are either fully fished or overfished, meaning the challenge to preserve marine life is very real.
Many previous James Beard award nominees and winners are among the chefs who have already signed up. They include: Mario Batali's B&B Hospitality Grup, Michael Cimarusti's Providence in Los Angeles and Bil Telepan and Oceana in New York City.
In all over 60 chefs representing in excess of 100 restaurants have committed.
Environmental heroes
The programme is designed to benefit operators and consumers equally: chefs will receive training enabling them to serve seafood fished or farmed in environmentally friendly ways. Customers, in turn, can take confidence from the Smart Catch emblem restaurants that commit to serving more than 80% sustainable seafood will earn.
"Chefs have the influence to educate our palates and our views," says Susan Ungaro, president of the James Beard Foundation. "Through Smart Catch, they are becoming new environmental heroes, as they use their influence to lead industry efforts to maintain healthy, sustainable food sources both now and for future generations."
All Smart Catch restaurants are provided with menu consultations, staff training materials, up-to-date online sustainability assessments powered by FishChoice.com, marketing support, and guidance in working with their suppliers so they can make smart, environmentally responsible seafood choices.
The Smart Catch programme was developed by Microsoft co-founder and philanthropist Paul G. Allen to make change on the water and piloted in Seattle in 2015.
"The future of the world's oceans depends on all of us choosing sustainable seafood," said James Deutsch, conservation director for Paul Allen. "James Beard Foundation's announcement of their national rollout of Smart Catch represents a giant step in that direction. We couldn't be more proud of the continued growth of this pioneering program we piloted in Seattle."
=============================================================================================
'Pier to Plate' Aims to Boost Demand for Dogfish, Skate
SEAFOODNEWS.COM [Wicked Local Brewster] By Laurie Higgins - July 18, 2017
A new initiative by the Cape Cod Commercial Fishermen's Alliance hopes to create a more robust local demand for dogfish and skate, both abundant in the waters off Cape Cod -- but mostly shipped overseas.
The Pier to Plate program, funded by a NOAA Saltonstall-Kennedy grant, is making both types of fish (dogfish is also known as Cape shark) to local restaurants and fish markets for free so they can try them out without having to invest in an unknown commodity.
When the ground fish fishery of cod and haddock collapsed, local fishermen adapted by catching what is available locally, noted Lisa Cavanaugh, special projects coordinator for the Cape Cod Commercial Fishermen's Alliance.
Dogfish are abundant summer through fall and skate are available year-round.
Today, she added, "A lot of fishermen are telling us they are counting on dogfish and skate for their bottom line."
"Restaurant chefs are coming up with some really terrific dogfish and skate menu items to offer customers this summer," she said, adding that nearly 30 local restaurants are already on board and the chefs are enthusiastic about the opportunity to offer a sustainable local fish.
Chef Michael Ceraldi, at Ceraldi's in Wellfleet, is one of them. He said the program is directly in line with what his restaurant does every day.
"At our restaurant we do a seven-course prix fixe menu that is based on whatever we can get that day from local sources," he said. "The Pier to Plate program is about promoting local and sustainable food and it fits right in like it was meant to be."
Ceraldi has served the fish in a variety of ways. Since dogfish is a stronger tasting fish, he likes to cure it with salt and sugar overnight and then smoke it with salt hay from the marsh to give it a nice bed of sweet smoke.
Once the dogfish is smoked, he makes pate for crostini. He has also used the pate as a filling for ravioli served with a spring onion puree and a little lemon zest.
For the skate, he said he likes to dredge it in chickpea flour and sauté it to serve it hot. He also roasts it, chills it and uses it in a cold application like a salad.
"The response has been great," he said. "We do two seatings and at the beginning of the dinner I explain where the food for the meal comes from. So I get to talk a little bit about the Pier to Plate program and tell diners about skate and dogfish and why we're serving them. I also burst people's bubble and tell them that all the cod is from Iceland. There is no locally caught cod on Cape Cod."
Chef Christian Schultz, at L'Alouette in Harwich Port, said he likes to sell local fish because it's fresh and it supports the fishermen. He has been creating a wide variety of dishes with skate. He has blackened it, cooked it Provençal style and made skate cakes.
"It's really good," he said. "It makes a really nice cold salad too, because it's similar to crab consistency and it's sweet like scallops. Everybody who has ordered it has loved it."
Steve DeLeonardis, who owns the Corner Store in Chatham and Orleans, has been serving dogfish for years and has enjoyed putting skate on his menu this year. A lot of his customers work in the fishing industry, so he is very familiar with what they are catching.
"It feels like the right thing to do," he said. "It's also the way I personally like to eat. We like to use local sources as often as we can."
His favorite way to cook skate is to coat it in a light lemon pepper breading and then pan fry it and roll it in a tortilla with baby arugula, long grain brown rice, Pico de Gallo, homemade Caesar dressing and a squeeze of fresh lemon. It is also nice on top of a salad.
DeLeonardis said he also enhances the flavor of dogfish with things like a Moroccan style spice rub with cumin and cinnamon or a citrus Dijon marinade.
"I love to do whatever I can to support the fishermen," he said. "It's such a small community and we all have to look out for each other and shop local and eat local."