Kids nowadays ... can't even walk into a saloon ... 
While a choir, somewhere in Asia, misreads the conductor's baton indicator for a low note ... 
While baby Chantelle suddenly realizes she's being stalked ... 
(Dredge Update: Things are a bit behind in the BH/Holgate beach replen and the accompanying channel dredge. The Great Lakes folks say it'll take until late March to reach the  final lick at Wooden Jetty.
I have heard no further word on the partially-planned mega-groin to be placed where the current wooden jetty now resides -- until covered again, with dredged sand, by end of next month. That large groin remains in the offing. 
As to the channel dredging, I'm told it is "going smoothly." 
The upcoming replenishment of Harvey Cedars, parts of Surf City and Brant Beach is soon to begin, ending in June. 
Below is a pilot program being forwarded by the Army Corps. It's asking for non federal entities to request consideration to receive dredge material.  
Non-Federal Sponsor Nomination of Pilot Projects
In accordance with the provisions of Section 1122(a)-(h) of the Water Resources Development Act of 2016, and as described in the Federal Register notice published on February 9, 2018, non-Federal sponsors are invited to nominate projects for the beneficial use of dredged material pilot program.
Instructions: Proposals must address the following questions to the fullest extent possible. Please include a Point of Contact for proposals.
Proposals may be submitted in any format, although for ease of processing, submitting your proposal in electronic format as an attachment to the email link below is preferred.

Beneficial Use of Dredged Material Pilot Program Proposal Information Requirements:
Name and location of the proposed project.

Purpose of the proposed project (see paragraph 5 of the Implementation Guidance).

Description of the proposed project, including more detail on how material will be used beneficially to meet project purposes identified in 2 above.

The name of all non-federal interests planning to act as the sponsor, including any non-federal interest that has contributed to or is expected to contribute toward the non-federal share of the proposed beneficial use project.

List the authorized U.S Army Corps of Engineers (Corps) water resources development project(s) that the proposed beneficial use project is associated with.

Provide an estimate, to the extent practicable, of the total beneficial use project cost,· and the federal and non-federal share of those costs.

Describe, to the extent practicable, an estimate of the anticipated monetary and non-monetary benefits of the proposed beneficial use project with regard to the environmental, economic, and social benefits of the project.

Describe if local support exists for the proposal.

Statement of the non-federal interest's financial ability to provide a. share of the project costs.
Questions, comments, and completed proposals can be emailed to the Corps HERE.
Proposals must be received by 12 March 2018.
If you wish to mail a proposal to the Corps, it must be postmarked no later than 12 March 2018.
We respectfully request that you contact the Corps prior to mailing it to insure expedient delivery and consideration.
Headquarters, U.S. Army Corps of Engineers
Directorate of Civil Works
Operations and Regulatory Community of Practice
Attention: CECW-CO-OD
441 G Street, NW, Washington, DC 20314
FOR FURTHER INFORMATION CONTACT:
Mr. Joseph Wilson, Environmental Dredging Program Manager, at 202-761-7697, or email: joseph.r.wilson@usace.army.mil.
SUPPLEMENTARY INFORMATION:
Section 1122 of WRDA 2016 requires the USACE establish a pilot program to carry out 10 projects for the beneficial use of dredged material, including projects for the purposes of—
(1) Reducing storm damage to property and infrastructure;
(2) promoting public safety;
(3) protecting, restoring, and creating aquatic ecosystem habitats;
(4) stabilizing stream systems and enhancing shorelines;
(5) promoting recreation;
(6) supporting risk management adaptation strategies; and
(7) reducing the costs of dredging and dredged material placement or disposal, such as projects that use dredged material for—
(A) construction or fill material;
(B) civic improvement objectives; and
(C) other innovative uses and placement alternatives that produce public economic or environmental benefits.
The USACE has developed implementation
=============================================================================================
Thursday, February 22, 2018: I sweated out yesterday, literally. I was out in the woods most of the day and not only was the ambient temperature in the upper 70s but in among the trees it was into the 80s. My body was not used to the heat. As I dug a new "old" site down New Gretna way, I was drained in nothing flat, sweating off winter.
I did find a couple very interesting items with embossed American eagles on them, likely dating back to the Federal Period (circa 1790-1830). I'll show those finds in here, once cleaned up.
I have been taking note of vernal ponds, which will come into play very soon, hosting mating and egg-laying reptiles (turtles) and amphibians. Though there is over a month before the first wood frogs will spring forth, the vernal pond showing is exceptional this year. Not only are these temporary, spring-time ponds filled to the brim, but the subterranean water column which keeps them full is quite high. That water column is a holder-on, often taking a long time to sink to where the vernal ponds empty. Here's hoping there are enough heptiles left to take advantage of a swampy spring -- one highly conducive to plentifully reproducing.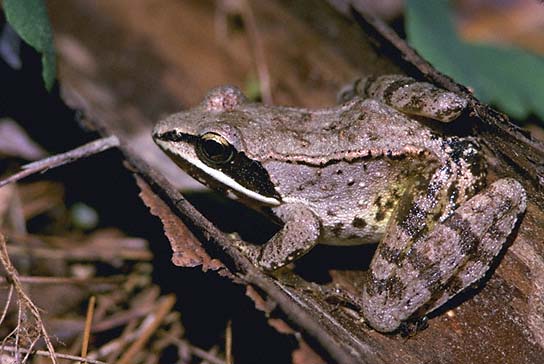 As expected, ticks instantly responded to the warmth. I don't think I'm the only one who feels we've had some seriously tick-populated years of late.  Of course, there's a viable correlation between clear-cutting  and tree-thinning land for human occupation and the proliferation of ticks, especially within areas where the vegetation has been laid asunder and left to decay.
The highly noticeable explosion in white tail deer in and around budding communities surely adds to an increased presence of deer tick in the public sector. I can make a strong case that 75 percent of the burgeoning deer biomass now resides within a mile of people zone. They are often flush to – or among --  houses that offer them protection against hunters. It's a match made in tick heaven.
THE HIDDEN MEANING OF MORE DEER: I've read numerous articles on how female deer respond to culling (hunting) pressure by having more young, i.e. twin offspring/fawns. This offers an implication that some cosmic message is sent to female deer warning of a problem in the entire biomass – and to pop out more young. Not so. No creature responds to heightened environmental stressors by having more young, which causes even greater stresses, along with a decreased possibility of survival.  
A whole other far-less-cosmic factor comes into play in the case of white tail deer. When hunting impacts the biomass – or culling numbers are increased – those deer that survive the thinning out process instantly have more forage to themselves. It's good being a survivor.  
Due to greatly reduced competition, surviving deer have greater access to the finest forage. This easy-access fattening acts as a biological spark for the does, which produce more than one young.  
Simply put: An enhanced ease of life – not an enhanced overall pressure on the population – is the natural signal to make hay, so to speak.   
Yes, it's splitting hairs a bit. No matter how you cut it, the greater the hunting/culling pressure, the greater the likelihood that females will then ratchet up their number of young. This phenomenon has been the bugaboo for wildlife management in areas where deer populations have become problematic. Culling never seems to work as planned. I'll reiterate that deer that survivor the cull suddenly have things mighty fat. Time to turn up reproduction.
I'd be remiss to not also mention that the human modifying of the landscape is yet another way that deer suddenly have it fat. Fat invites twins. An area I frequent over in Nugentown has a slew of twin births among the white tails there. That is highly reflective of the ultra-ideal forage offered when mankind grass-ifies a once-wooded zone.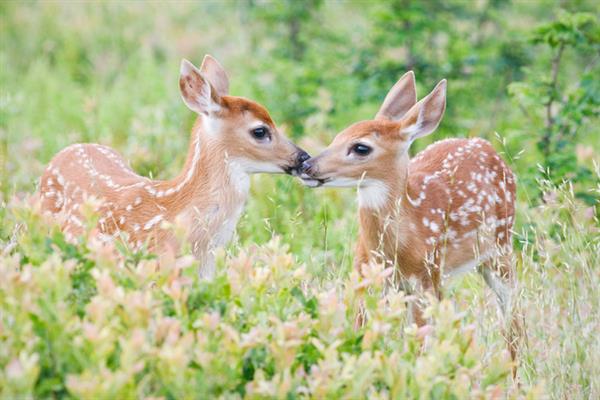 PEACEFUL PROTEST: A sincere well-done to the students of Southern Regional High School who gracefully -- and with permission – held a vigil outside the school yesterday. About 500 students walked out of both the middle school and the high school to memorialize students gunned down last week at Marjory Stoneman Douglas High School in Parkland, Fla.
Forward-thinking school superintendent Craig Henry was among the students, bemoaning the tragedy.
I hale from a generation which literally drove to school armed with shotguns … used to hunt ducks before or after classes. Imagine arriving at school with filled rear-window gun racks in this day and age.  ...
Southern Regional Students Show Unity in Support of Parkland School
As hundreds of Southern Regional High School students strode out from under the covered walkway right outside Principal Eric Wilhelm's office window at the entrance to the 11/12 building just before noon on Wednesday, each one walked with a purpose.
"For us, what happened in Florida was such a big deal because those students, pretty much, were us," said Sarah Camp, who joined the mass gathering in the field in front of the school as part of "17 Minutes of Silence," a brief memorial time to honor the recent victims of a shooting at Marjory Stoneman Douglas High School in Parkland, Fla.
"We're lucky it didn't happen here. A lot of us saw the videos of what happened on Twitter, and in the past I don't think it was that real to us. But it was this time. And it kind of took over the school, that everyone wanted to see change."
Seniors Kyra Zdep and Laura Esposito were the two who led the way at the rallying point. After Madison Morehouse noticed a list of different rallies and marches scheduled to take place throughout the country, she suggested to Esposito that Southern do something as well.
Esposito developed the idea for the brief memorial time and started a group chat early on Tuesday, which quickly gained steam among the student body. By that afternoon, Zdep and Esposito had approached Superintendent Craig Henry about the idea for a mass gathering in support of the Parkland school.
"The student voice is extremely important to hear, and the discussion regarding the issues we're hearing about seems to have been not occurring frequently enough by the people who have the opportunity to make change and affect policy," Henry said afterward. "So when I heard our students were organizing this, I let them know that we weren't going to be levying consequences."
And with the administration behind the effort, word got around school in a hurry.
"There's a responsibility in leadership, and I understood what they wanted to accomplish today and I'm proud of them," Henry said. "Kyra and Laura are extremely invested, passionate young ladies, and by no means am I surprised or shocked they've taken the lead on this."
Morehouse said the demonstration was as much about one student body standing up with others across the nation in unity as it was about a rallying cry for better gun control.
"I'm not taking a political standpoint on this," she said. "The way I see it is we all need to get to a point where we come together and we all make a change together, as a nation."
During the short memorial session, Zdep and Esposito took turns reading short biographies about each victim, followed by a moment of silence for each one. Standing beside the superintendent was Stafford Township Police Chief Tom Dellane, with a half-dozen or more officers present in some way – either at the site of the gathering or spread out on the grounds. Across the road at Southern Regional Middle School, hundreds more students could be seen gathered as well.
"It was amazing to see so many people out there," said Zdep, the student council president. "We all seem to think Manahawkin's a small town and nothing will ever happen here. But it just happened in Florida, to another small town, and then we realized ... yeah ... it can happen here. So this needed to happen today.
"We're the future, and it starts with us. If we want to see change, it's not going to happen without us."
For Esposito, the demonstration had multiple purposes – to speak up about a greater need for better gun control, as well as a rallying cry to be more compassionate and understanding when dealing with others.
"It's absolute insanity that you can walk into a place in Florida and get an AR-15 within the hour, whereas here it takes months just to get a handgun," said the senior class treasurer. "Gun control should be federally regulated. It shouldn't be state by state because it's just too dangerous. We stand with the people in Florida. Political party doesn't matter. We want change.
"And, yes, we need gun control, but we also need to be better humans. That starts by stopping the exclusion and the cliques, coming together and realizing that, in the end, all we have is each other. We all need to work on that. This stuff has to end now. We can't wait until crisis happens to come together."
Zdep said Tuesday's show of unity likely won't be the last at Southern.
"This is a big thing that shouldn't have to be a big thing," she said. "We shouldn't have to be taught where to hide if someone's shooting at us. This should be a once-in-a-million thing, not a once-a-week thing.
"But, of course, you never know what can happen. You never know what the next day can bring, even in school. Getting the issue out there and creating an awareness is important. We may live in a small town, and you may think it won't happen here, but you never know. This doesn't end with today."
— David Biggy
biggy@thesandpaper.net
================================================================================
Maine Men Charged in East Coast Baby Eel Trafficking Scheme
SEAFOODNEWS.COM [Bangor Daily News] By Beth Brogan - February 22, 2018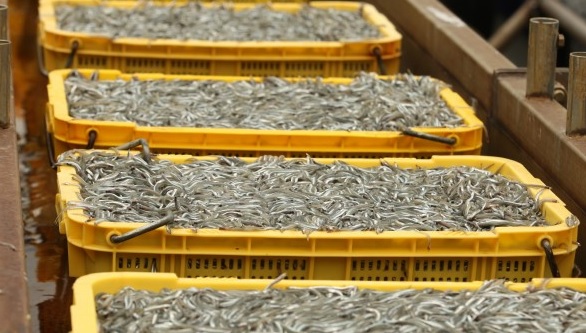 Two men from midcoast Maine have been indicted in New Jersey as part of an East Coast baby eel trafficking scheme that so far has netted 19 guilty pleas.
Joseph Kelley of Woolwich and James Lewis of West Bath are charged in U.S. District Court in New Jersey with conspiracy to violate the Lacey Act, two counts of violation of the Lacey Act and smuggling.
Prosecutors allege that during 2013 and 2014, the two men illegally harvested, transported and sold baby eels, also known as elvers.
Fishing for elvers is illegal in all states except Maine, where it is permitted along the entire coast, and South Carolina, where the practice is permitted only in the Cooper River.
Federal prosecutors charged Kelley and Lewis with conspiring with other named conspirators — including Albert Cray of Phippsburg; Mark Green of West Bath; John Pinkham of Bath; George Anestis of Boxborough, Massachusetts; Michael Bryant of West Yarmouth, Massachusetts; and Thomas Choi, who owned a seafood company in Cambridge, Maryland — who purchased, sold or exported elvers worth more than $1.5 million, according to court documents.
Choi was sentenced in December to serve six months in prison for his role in the scheme.
Woolwich resident Bill Sheldon, one of the country's major elver dealers, pleaded guilty in October to elver trafficking, but his sentencing date has not yet been set.
In all, 19 men have pleaded guilty in Maine, Virginia and South Carolina to violating the Lacey Act by poaching elvers outside Maine and then selling them live for export to East Asia, where they are raised in aquaculture ponds for the region's seafood market. Fourteen of the defendants have had their cases handled in federal court in Maine.
From 2011 through 2014, the 19 men poached, sold and transported more than $5.25 million worth of baby eels, according to prosecutors.
The maximum sentence or each count is five years in prison and a $250,000 penalty.
Lewis was arraigned Feb. 15 before Magistrate Judge Joel Schneider and released on $25,000 unsecured bail, according to court documents.
Kelley did not appear at his arraignment and was arrested Feb. 20, according to court documents.
 ============================================================================================
Study Finds 73% of Deepwater Fish in North Atlantic Ocean Have Eaten Microplastics
SEAFOODNEWS.COM [USA Today] By Doyle Rice - February 22, 2018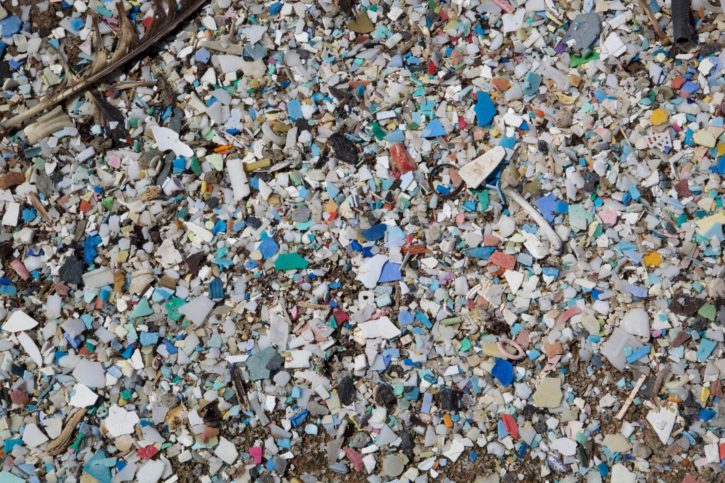 Our trash has reached the stomachs of some of the deepest fish in the ocean.
Researchers said 73% of deepwater fish in the North Atlantic Ocean had eaten particles of plastic, known as microplastics. This is among the highest percentages ever found in fish on Earth, according to a study released this week. 
Microplastics are small plastic fragments that typically come from the breakdown of larger pieces of plastic that eventually end up in our oceans. 
These fragments can cause significant issues for marine organisms that eat them, including inflammation, reduced feeding and weight loss, the study said.
"These seemingly remote fishes located thousands of kilometers (miles) from land and 600 meters (2,000 feet) down in our ocean are not isolated from our pollution," said study co-author Tom Doyle, a marine biologist at the National University of Ireland in Galway.
Using fish nets, scientists picked up over 200 fish while on a sea cruise across the North Atlantic. Upon return to Ireland, the fish were inspected for microplastics in their stomach contents.
One of the creatures, a spotted lanternfish, which was less than 2 inches long, had 13 separate pieces of microplastic extracted from its stomach contents, said study lead author Alina Wieczorek, also of the National University of Ireland.
Though the fish mostly live in deep water, Wieczorek said they migrate to the surface at night to feed on plankton, and this is likely when they eat the plastic, which floats at the top of the ocean. 
"It's worrying to think that our daily activities, such as washing our synthetic clothes in our washing machines, results in billions of microplastics entering our oceans through our wastewater stream that may eventually end up in these deep sea fishes," Doyle said. Some of the microplastic in the ocean comes from clothing fibers.
In addition to the laternfish, the fish studied include some rather ugly deep-sea species with unusual names such as rakery beaconlamps, stout sawpalates and scaly dragonfish — all quite unlike the photogenic coral reef critters in movies like Finding Nemo. 
The study was published in the international peer-reviewed journal Frontiers in Marine Science. 
===============================================================================================
Marine Fisheries Investigating Thousands of Dead Menhaden, Spanish Mackerel in North Carolina
SEAFOODNEWS.COM [The Charlotte Observer] By Mark Price - February 22, 2018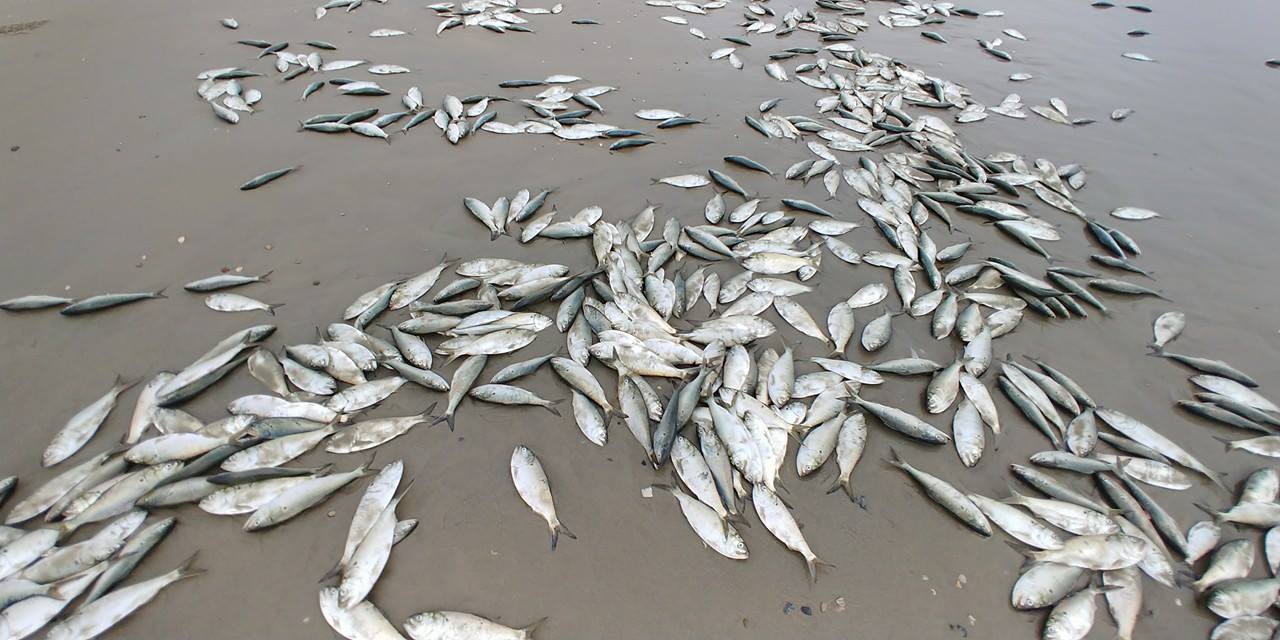 Thousands of fish washed ashore Tuesday along a two mile stretch of beach near the Outer Banks community of Corolla.
Photos of the beach littered with fish were posted on Facebook, noting the NC Division of Marine Fisheries had been called to investigate.
"In some places, the fish are piled thick," said a post on the Corolla Beach Music Facebook page.
The fish have been identified as Menhaden and Spanish Mackerel and they appeared along mile posts 13 and 17 in an area used for four-wheel drive vehicles, reported TV station WTKR. Samples were taken by Marine Fisheries, which noted there were no marks or sores on the fish, reported the WTKR.
Theories of what caused the mass death were rampant on social media Tuesday, including speculation the suddenly warm temperatures had impacted the oxygen levels in the water.
Menhaden have been known to rush ashore escaping from predators such as blue fish, reported the Virginian-Pilot.
"Fishermen could have broken a net...or maybe they could have over fished and not realized it, and dumped them in ocean," speculated one Facebook post.
Menhaden are not a popular fish for cooking, but are typically processed into fish oil or fish meal. Commercial fisherman were out later Tuesday, picking up the fish to use as crab bait, reported the Outer Banks Voice. Sea birds were also having a feast on the corpses, witnesses reported on Facebook.
"At this point, the division does not know what caused the fish kill and additional fly-overs tomorrow are pending weather," Division of Marine Fisheries spokesperson Patricia Smith told the Outer Banks Voice.
It's reported a similar fish kill happened in 2015, when hundreds of thousands of fish washed up along six miles of beach.