As you sleep ...And you were blaming the raccoons. 
BRIDGE GEESE: 
SHIP BOTTOM BUILD: WOODEN IT BE NICE. 
BELOW: Weird! They somehow seem to be multiplying. How can that eve...
(Unedited ... Forgive any typos, etc.)
Thursday, August 20, 2020: Heading into an oddly quiet stretch of winds, possibly into next week. We could see some afternoon sea breezes but far less than usual August afternoon blows.  Best of all, no scalding heat. The scald is all out west. Can you even comprehend a Death Valley temperature of 130 F. That could be a world record – yes, WORLD!
Our ocean water temps will respond to the lighter winds by staying in the high 70s. Without being overly dramatic, that's shark-sparking warmth. I bring up the men in gray suits since I've never seen so many reports of not just nearshore sharks but ID'ed bull sharks heading into nearby rivers, bulls being one of the few sharks unfazed by brackish water. No bull shark can be trusted. In the past, I've written about a young bather in Florida I saw bitten by a baby bull shark that was no more than a couple feet long. They're just born bad to the bone -- make that bad to the cartilage.
While I will echo the experts by saying the odds of being shark-bit are considerably lower than getting hit by lightning, suffice to say the seas are currently thundering with sharks, so to speak. Bathers, waveriders and paddleboarders have little to worry about, overlooking that nasty shark bite to the hand involving a waverider not long ago. Hey, shark nips happen.
That said, this is not the best or brightest time to go for a way-out swim, something highly popular with top swimmers in the recent past. The hyper shark showing is born of intense shark protection. I'm for it, as long as bull sharks aren't on the shark salvation list. We simply must adjust our overt (splashy) action when in their ocean, which sharks are seemingly willing to take back … with a vengeance.
Please be aware that fishing for sharks is regulated by the State and federal regulations. Federal regulations prohibit targeting any prohibited species and anglers must release any prohibited shark immediately, without removing it from the water and in a manner that maximizes its chances of survival. For example, Sand Tiger Sharks are a prohibited species, therefore posing for pictures on the beach with this species or any other species on the prohibited list is a violation of federal regulations. Additional information on the regulations regarding these species can be found at:
www.fisheries.noaa.gov/topic/atlantic-highly-migratory-species
Smile, Mr. Sand Tiger.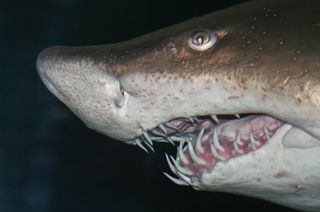 ***********************************************
Below: Roofer finally gets to the beach:
INNOCENTLY UNDERSIZED: Not sure what to do. The two bayside angling and crabbing areas along the Causeway's north side are being fished decently hard -- by obvious neophytes to fishing. From what I've seen, they often catching tiny black seabass … and keeping them. I saw three cases of this mis-keep in a short time. I even explained to a couple gals that the six-inch seabass they had laid on the concrete to, as they explained, use as bait, needed to be thrown back in. I did the honors, though it did not go over so well, glare-wise.
I absolutely enjoy my bridge walks and simply don't want even a scale's worth of negativity to mar them. I refuse to become a spontaneous "warden." That said, my conservation side – not to mention decent observational skills – knows many closed coolers next to those anglers harbor what it essentially the only fish you can catch there, nonetheless illegal to keep.
So, I sent this message to the Division of Fish and Wildlife, though they are working under COVID constraints: " A new NJDOT fishing area on the north side (westbound) of the Route 72 Causeway, Stafford Township, is attracting moderate fishing activity (especially weekends), primarily entry-level anglers. I have observed the keeping of numerous undersized gamefish, mainly black seabass. Since smaller fish is all that is catchable there -- and not wanting to see anyone cited! -- I'm wondering if a few weather-proof posters might be placed there showing fish IDs and size/bag limits. I'd be willing to purchase them if costs is a problem." 
HEADACHE RE-ALERT: Just another friendly and semi-foreboding mention that this coming year will see Ship Bottom contracting out some likely disruptive trench digging on the south side of the incoming Causeway, aka 9th Street. It's part of a drainage upgrade – and pumping system -- for the Island's vital access/egress points on 8th and 9th streets.
At first blush it would seem the incoming Causeway might seem less inclined to jam up than the outgoing, especially after the summer season has flown the coop. However, not everyone is aware of the huge influx of offseason work vehicles that combine with the customary inward bound public flow of traffic.
After decades of research, I've determined that if you live on the Island and leave it to go to work or shopping or whatever, you must in equal proportion return to the Island, explaining what might be called the indigenous flow of everyday traffic – and hinting that there will surely be delays when incoming traffic is reduced to one lane during the digging. The upside is the slowdown/detour practice we had during the Causeway project, to which this latest work is related -- under the odd title of "Contract 1" even though it's the last project phase to be done.
"Contract 1 will address safety and operational issues at the Route 72/Marsha Drive intersection in Stafford Township. This contract will also include operational and drainage improvements in Ship Bottom Borough on Long Beach Island. Two-way traffic will be restored along Central Avenue and Long Beach Boulevard. Traffic signals along 8th and 9th Streets (Route 72) will be improved. This contract is currently in the Final Design phase."
Note: Marsha Drive work should come first, possibly buying us some time, i.e. this fall. 
The above trenching work will then shift to outgoing 8th Street, which, by my thinking, has never been so problem laden. But, one driving headache at a time.
Contracts
The new Manahawkin Bay Bridge parellel to the existing high level Manahawkin Bay Bridge (Dornald J.Henderson Memorial Bridge), is now complete, along with various associated improvements to the bridge approaches and surrounding area. Contract 2 is now complete.
Construction on Contracts 3 and 5 began in February 2015 and are nearly complete. Contract 3 rehabilitated the trestle bridges over East Thorofare and West Thorofare along the Route 72 Causeway between the mainland and Long Beach Island, along with various associated improvements.
Contract 5 includes the environmental mitigations needed to comply with the environmental permit conditions for the entire project. The project includes wetland creation, mitigation for freshwater wetlands and retrofit of two existing stormwater basins within the Barnegat Bay watershed and public access improvements.

Contract 4 construction to rehabilitate the existing Manahawkin Bay Bridge and the trestle bridge over Hillard's Thorofare began in December 2016. The entire Manahawkin Bay Bridge superstructure will be removed and replaced.
Contract 1 will address safety and operational issues at the Route 72/Marsha Drive intersection in Stafford Township. This contract will also include operational and drainage improvements in Ship Bottom Borough on Long Beach Island. Two-way traffic will be restored along Central Avenue and Long Beach Boulevard. Traffic signals along 8th and 9th Streets (Route 72) will be improved. This contract is currently in the Final Design phase.
In addition a seperate contract (contract 5A) will include the implementation of Submerged Aquatic Vegetation(SAV) mitigation requirements in the Manahawkin Bay to comply with the environmental permit Conditions. The overall goal of this work is to offset losses to SAV through a combination of adaptive management and research to establish and enhance SAV beds within the BarnegatBay. this contract includes establishing and/or enhancing up to 10 acres of new or existing SAV beds to facilitate recovery efforts and promote resiliency

Project area map (pdf 2.1m)
PUMP PROGNOSIS: I've gotten a decent amount of professional input about the proposed pumps for Ship Bottom, meant to suck flood waters from the Causeway's far east end. I'm not sure what, thinking of flood depths, will activate the pumps. It must be remembered that untold tons of filthy road water are going to me directed bayward.  To have the pumps kick on too often is ecologically irresponsible, though I fear that's what will happen if – and it's a huge "if" – the pumps even work. Imagine dumping crap into the bay to no real anti-flooding ends. I'm hoping groups like ALO will be on the watch.
GOING BOTH WAYS: I have a call in to see when Central Avenue and Long Beach Boulevard will become two-way, north and south. It is going to happen – and soonish.
As we all know, it is currently one way north on the Boulevard and one way south on Central. The upcoming change will definitely change my personal comings and goings since I live very close to where the changes will take place. The new two-wayness tome two will offer myself -- and upwards of a billion others, annually -- three ways to go north/south coming on/off the Island, namely on Barnegat Avenue, Central Avenue and the Boulevard. It will also add to the utter shortcut-seeking madness perpetually performed by antsy folks leaving the Island on Sunday and such. Again, my SB street will surely see those clueless folks rushing down to Barnegat Avenue. I live twixt Central and Barnegat.
((((((((((((((((((((((((((((((((((((((())))))))))))))))))))))))))))
This is not my photo - it was taken by Laura Hesse, friend of my friend

 

Ali Fragale. There was indeed a tornado today; this was taken in Deal
((((((((((((((((((((((((((((((((((((((((((((((((((((((((((((((((((())))))))))))))))))))))))))))))))))))))))))))))))
397 yr old Greenland shark located in the Arctic, wandering the ocean since 1627, oldest living vertebrate known on the planet
((((((((((((((((((((((((((((((((((((((((((((((((((((((())))))))))))))))))))))))))))))))))))))))))))))
 ‎Alex Majewski‎ to Lbi Area Fishing Reports
Got my personal best fluke yesterday. Pulled the certified scale down to 9.25 lbs. Fifth fish in five years to hit the deck of the Debbie M over 9 lbs (3 over 10 lbs with largest @ 11.5 lbs). The only difference is this time I caught it. All were caught on large live baits and all were weighed in on a certified scale. Why use artificial when there is live bait??????
Capt Alex
Lighthouse Sportfishing
((((((((((((((((((((((((((((((((((((((((((((((((((((((((((((()))))))))))))))))))))))))))))))))))))