Shortly after being unable to decide between khaki or light brown pants, Nevis once again was haunted by his difficulty in fully committing to anything. ....
Then there's that whole over-commitment thing ...
After a decade of faking injuries, Marcella had no idea how to react in this case ...
Thursday, August 03, 2017: Just feels fine as all get-out out there. We're in the guts of summer but already I'm getting back-to-school info for the paper. Actually, many colleges require fall athletes and the likes of dorm supervisors to return by mid-August. Also, many a worker bails out of a summer job early – hoping to get a couple tanning beach weeks in before regular school openings.
Thanks for folks getting me word of what is now a huge showing on small snapper blues in and around Barnegat Inlet. The fun way to get them is on small spinners or metals. The most fun kid method remains bait and bobber.
Important: Treat kept snapper blues like you would any fresh fish – maybe more so when it comes to keeping them cool/cold. For some reason, there's a tradition of just throwing them on the ground, into a dry bucket or, maybe worst, a water-filled bucket with 90-degree bloody water inside that as much as cooks the very thin fish. Let's show some respect.
While this super showing of what I guess are one-year-old snappers is fine news for panfishermen, it's huge news for flukers – thinking in terms of the forage aspect that small snappers present.
Repeating only what others tell me, snapper blues are arguable the Number One bait for larger fluke. I suck at fluking, a hugely patience-oriented fishing style – which is not my AD/HD style.
Below, you'll see a repeat-showing of a doormat caught on a caught-and-dropped live snapper.
By the by, live snappers can be fishing off a jighead – mouth-hooking the snapper. It's best to not combine live offering with plastics, which takes away the live-line action and can also make the presentation a bit too much of a mouthful. Of course, the 10-pound doormat featured below could have scarfed down a large jig with even a live snapper and a couple plastics attached.
Jigheads work great with a dead snapper offering, when bounced a bit off the bottom. Seems that fluke like primarily white jigs, i.e. white bucktails or plastics.
Julie Ruth
Cara with a nice keeper! Not as many big ones today, but lots of fish! Fun day with the family!
— at

Barnegat Inlet

.
++++++++++++++++++++++++++++++++++++++++++++++++++++++++++++++++++++++++++++++++++++++++
Walt P report: "Took a neighbor and his grandson out fluking this AM. Fished the outgoing alon the BL jetty starting the drift at the sandbar. Lots of action, 20 fish total, two keepers, two @17" and the rest from 15 down to 9". WP"
Below is a rare fluke stomach-content read, via a fish taken by Andrew V. It shows a softshell lady crab -- often called calico crab in our parts -- in the belly of a nice flattie. Since softies (softshell crabs) have very little mobility, it might indicate the stirred-up bay and inlet currents from the recent blow have a load of edibles/forage rolling around. It could even point to a prolonged Barnegat Inlet fluke bite.
Not that I'm an expert, but during outgoing tides, I'll bet some of the inlet biomass – forage food and fish -- drifts well outside the inlet. Maybe as much as half a mile out. Since winds are now southerly, there might be a slight drift of the biomass toward the north, though not by much.
In didn't get any details, but I had a nice chunk of just-caught mahi dropped off. The dropper-offer never fishes real far out so I'm guessing that neon delight (mahi) might have been caught relatively close in. It comes down to finding floating debris and giving it a stop-and-pop cast or a slow troll-by. I know I've written about it before, but I once came upon a slew of mahi under a mere garbage bag. You could see them stacked in this one little column of shade from the bag. Caught one, maybe 15 pounds. That was the first time I ever tried mahi sashimi – and the last. Maybe it just needed some wasabi.
I can't help but repeat that areas of B-Bay have some of the best crabbing … ever (modern times). I live near a few hardcore crab-grabbers. Also, BHW (Beach Haven West) friends tell of now storing away picked crab meat for winter. It has me thinking I really should get out during the moon to do night spotlighting for sheddars. I think that's legal. If not, someone let me know, please. Sheddars just lie there motionless, usually adjacent to or even under bottom structure.
3 keepers in the bay north end ...
Below: Zach, 4, cleaning things up after highly successful north end day.
+++++++++++++++++++++++++++++++++++++++++++++++++++++++++++++++++++++++++++++++++++++++++++++
(Check this double-strike doormat -- last one was 11.5!)
(See https://outlook.live.com/owa/?id=64855&path=/mail/inbox/rp)
Last night I put Michael Petruzziello on this 30" 10 lb. 2 oz. doormat. Live snapper Barnegat Inlet. This is the second true doormat I have put a client on in the last three years. Last fish was 11.5 pounds.
Capt Alex
++++++++++++++++++++++++++++++++++++++++++++++++++++++++++++++++++++++++++++++++++++++++++++
Saltwater Fishing Report Reveals Where Saltwater Recreational Anglers Have Most Clout
SEAFOODNEWS.COM [Seafood News] by Amanda Buckle August 3, 2017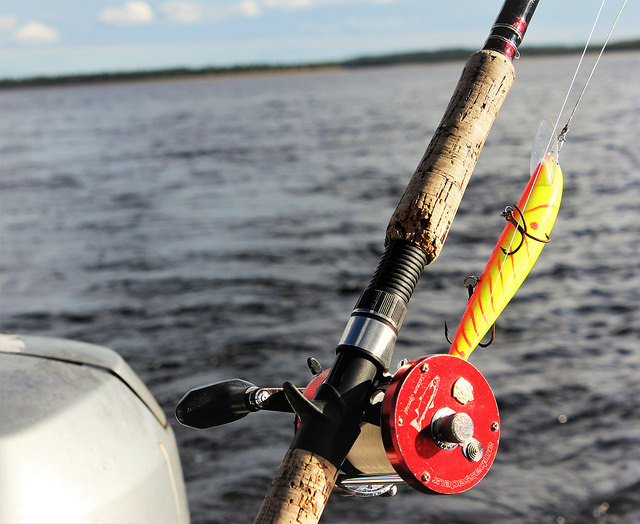 A special report from the Recreational Boating & Fishing Foundation and Outdoor Foundation, reveals that saltwater fishing is the second most popular type of fishing in the United States. The rate of participants has remained relatively steady since 2010, with 12.3 million people partaking in the sport in 2016.
The report helps identify some of the political support for recreational salt water fishing.
The South Atlantic, which encompasses eight states —including Florida, Georgia, North Carolina and Delaware — has the highest percentage of participants at 35.1%. The Pacific, which consists of three states — California, Oregon and Washington — is the area with the second highest percentage of participants at 16.2%. The Mid Atlantic — made up of Pennsylvania, New York and New Jersey — has the third highest percentage at 14.9%. West South Central — composed of Texas, Oklahoma, Arkansas and Louisiana — rounds out the fourth area with 14.3%.
According to a report from National Oceanic and Atmospheric Administration (NOAA), commercial and recreational saltwater fishing generated over $214 billion in sales for the United States in 2014.
While those numbers are steady, that doesn't mean that there aren't any issues. A fightin New Jersey is heating up over fluke fishing after the Atlantic States Marine Fisheries Commission (ASMFC) put stricter rules in place earlier this year.
ASMFC's new rules require recreational fishermen to toss back any fish that do not meet the 19-inch minimum. The organization also put a three fish limit per trip in place for the 128-day fishing season, which begins in May. New Jersey's Marine Fisheries Council argued that only 15 percent of summer flounder would meet the 19-inch requirement. In an effort not to hurt the state's $750 million recreational fishing industry, the Marine Fisheries Council attempted to compromise with a shorter fishing season and 18-inch minimum.
New Jersey was found out of compliance with ASMFC's regulations. Commercial New Jersey fisherman, who have been in compliance with the feds after ASMFC imposed lower fishing quotas, could be prohibited from summer flounder fishing.
============================================================================================
(Subscribe to http://www.philly.com)
Search on for swimmer reported missing in Atlantic City
Updated: AUGUST 2, 2017 — 1:09 PM EDT
by Joseph A. Gambardello, Staff Writer @jgambardello | jgambardello@phillynews.com
A search was underway for a man reported missing in the water near the Steel Pier in Atlantic City, the U.S. Coast Guard said.
Atlantic City police said officers responded at 9:43 p.m. Tuesday for an unconfirmed report of a missing swimmer.
"Officers spoke with a female who was under Steel Pier with a 31-year-old male who went into the ocean around 8:15 p.m." police said in a statement, "The female left the area before the male returned. It is unknown at this time if the swimmer returned to land."

Police said the Coast Guard was notified as a precaution and started a search.
The Coast Guard said it launched a 29-foot rescue boat from Station Atlantic City along with an MH-65 Dolphin helicopter from Air Station Atlantic City to conduct initial searches.
The Coast Guard Cutter Mako, an 87-foot patrol boat based out of Cape May, also was diverted to the scene and searched throughout the night.
At least seven people have drowned at the Jersey Shore since Memorial Day, including two teenagers in Atlantic City in June.
+++++++++++++++++++++++++++++++++++++++++++++++++++++++++++++++++++++++++++++++++++++++++++++