Shrimp and abalone was initially excluded from SIMP, which was created to combat seafood fraud and illegal, unreported and unregulated fishing. Informed compliance for Atlantic cod, blue crab, mahi mahi, grouper, king crab, Pacific cod, red snapper, sea cucumber, sharks, swordfish and tunas began on January 1, 2018, with enforcement by NOAA starting on April 9, 2018.
According to NOAA, the inclusion of shrimp and abalone in SIMP "nearly doubles the volume and value of imported fish and fish products subject to its requirements, further leveling the playing field for U.S. fishermen, aquaculture producers, and seafood producers around the world who play by the rules."
Shrimp and abalone importers will be required to obtain an International Fisheries Trade Permit, as well as submit harvest and landing information by December 31, 2018.
SEAFOODNEWS.COM [South Coast Today] By Jack Spillane - April 23, 2018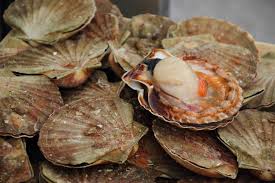 It was a miserable day on Steamship Wharf Thursday.
Another cold, rainy April morning with the wind up a bit.
But Tony Alvernaz's guys were out working on the nets of the Ligia — a scalloper worth somewhere around $6.5 million that Tony and the bank own a third of. They were working in the rain because on Saturday, they were planning to steam out to one of the closed scallop areas east of Nantucket, which is open for the first time in about 20 years. It's scallop season and they need to make money.
Tony is the guy caught with a scallop overage last week — 300 pounds over the 18,000 pound limit for a trip to another closed area off New Jersey. He admits to having about 50 pounds of scallops placed out of sight of the feds in the Luiga's shower stall and refrigerator.
The rest of the overage was because it can be tough to estimate the weight of scallops, Alvernaz told me. "It's not easy bringing in the exact weight on a product that absorbs water," he said. On one trip to the New Jersey area, the scallops were all mushy, he remembered. These ones were very firm.
Tony also remembered his last unsatisfactory trip to a closed area when he was unable to get all the scallops he was entitled to.
"They failed to mention that on my last closed area that I went, I was 700 pounds under," he said. "I shot for 300 under to play it safe so I wouldn't be persecuted and shot at the dock."
Alvernaz said he understands NOAA has to do its job and that in recent years they've been more reasonable in their enforcement. Years ago they would have confiscated his whole trip, he noted, but now they just gave him a fine and will deduct his overage from his next trip.
"They don't punish you to the max," he said.
By any measure imaginable, Antonio Alvernaz is an American success story.
Brought to this country from the Azores when he was six-years-old, he speaks English without an accent. He's married to a marine scientist and lives in Sandwich where the schools are better for his two kids.
But Alvernaz is 55 now and his body beat up from years on the ocean. His skin is weathered from the sun and his hands have a bit of arthritis and get numb from Raynaud's Disease. He's a working boat captain who's managed over the years to buy half of two boats and a third of another.
First he bought the Kathryn Marie and worked like hell to pay it down. Then he got the Hunter. Same thing.
Alvernaz, who actually worked for NOAA for six years in the '90s when the fishing was poor, acknowledged that there's big money to be made now. His crews can make as much as $200K a year, he said.
For himself, he explained that you don't take home most of the money when you're paying a boat down. But in the long run, if you keep making money, that's your retirement. There's no company-run 401Ks or pension plans on the waterfront. He's trying to put his two kids through college.
Before Alvernaz was caught with the extra scallops I didn't know him. He called the paper, he said, because he doesn't want the whole industry to be painted as thieves. "They're always trying, they're trying to make the industry look evil and corrupt," he said.
Alvernaz, unfortunately, is one of the waterfront heirs of Carlos Rafael, who by any measure, is a big-time thief who never seemed to give a whit about whether any of the fish in the sea survive beyond his own lifetime.
The feelings run high on the docks between the industry and the environmentalists. They have debated endlessly over the science of measuring what is and is not in the ocean, and the ways that fishermen devise to evade the restrictions on the fishing effort. No one, however, seems to know how to devise a system that works for both those trying to make a living and those trying to save the ocean.
One thing is clear, however. What Tony Alvernaz was doing was not a wholesale defrauding scheme like Rafael. He's a small-time fishing boat captain — he did not control both the fishing boats and seafood dealers — whereby he could fool NOAA by misreporting his catch and then verifying the misreporting at the seafood house.
What Alvernaz was doing was trying to maximize his effort within the regulations and he got his numbers wrong. By a bit. Still, his is the kind of small-time skirting that environmentalists worry is widespread and makes the government's numbers on the fishing effort wrong.
Alvernaz told me about a scalloper he met at the auction who recently told him about discarding a couple hundred pounds of scallops as he began to approach port. He had a scale on board and realized the product had gotten heavier as it absorbed water. That dumping is illegal because the scallops don't survive and it skews the efforts of regulators to know how many fish are out there. But it's understandable in a world in which fishermen are trying to balance the equation of making a living and protecting the ocean.
It's not an easy formula to come up with a system that is in the best interest of everyone. But it's one that we have to find the answer to.
===============================================
Congressman MacArthur Ranked Among Top 10% of Bipartisan Members of Congress in the House by Non-Partisan Lugar Center
WASHINGTON, D.C. – The non-partisan Lugar Center released its updated Bipartisan Index for 2017, which measures the frequency with which a Member of Congress works across the aisle.  In this latest report, The Lugar Center has ranked Congressman Tom MacArthur among the top 10% of bipartisan Members of Congress in the House of Representatives. 
"Since first coming to Washington, I've always believed that Members of Congress must work across the aisle to find real solutions to the tough problems facing our country—it's how I've worked in Congress and this non-partisan report shows exactly that," said Congressman Tom MacArthur. "Throughout my time as a Member of Congress, I have been willing to work with anyone to improve the lives of my constituents in South Jersey.  This includes working in a bipartisan way to protect Joint Base McGuire-Dix-Lakehurst, combat the opioid epidemic, improve our schools, and care for our veterans and seniors.  As always, I'll continue to work with any of my colleagues from either party to support New Jerseyans."
Just this month, Congressman MacArthur has cosponsored over 15 bipartisan bills that will help care for veterans and servicemembers, fight the opioid crisis, protect seniors, improve schools, defend domestic violence victims, and crack down on human trafficking.
On Background:
Bipartisan bills cosponsored this month include:
Safe Schools Improvement Act which requires states to direct their local educational agencies to establish policies that prevent and prohibit conduct, including bullying and harassment. Original Sponsor: Rep. Sanchez (D-CA)
IDEA Full Funding Act which require regular increases in Individuals with Disabilities Education Act (IDEA) spending to meet the federal commitment. Original Sponsor: Rep. Huffman (D-CA)
Anti-Lunch Shaming Act prohibits schools from singling out students who are unable to pay for lunch. Original Sponsor: Rep. Lujan Grisham (D-NM)
Pet Safety and Protection Act would prohibit "Class B" (random source) animal dealers from selling dogs and cats to researchers. Original Sponsor: Rep. Doyle (D-PA)
Pet and Women Safety Act which broadens the definition of stalking to include conduct that causes a person to experience a reasonable fear of death or serious bodily injury to his or her pet. Original Sponsor:  Rep. Clark (D-MA)
Human Trafficking Fraud Enforcement Act which directs Treasury to establish within the IRS an office to investigate and prosecute violations of tax laws by persons that appear to be violating laws against forced labor, trafficking of individuals, and transportation of minors or aliens for immoral purposes.  Original Sponsor: Rep. Maloney (D-NY)
Smithsonian Women's History Museum Act which establishes a comprehensive women's history museum within the Smithsonian Institution in Washington, DC. Original Sponsor: Rep. Maloney (D-NY)
Cold Case Record Collections Act which would allow citizens to request the declassification of certain documents from civil rights cold cases.  The bill was drafted by high school students from Hightstown, New Jersey. Original Sponsor: Rep. Rush (D-IL)
Transparent Summer Flounder Quotas Act which delays current reduction in Summer Flounder quota. Original Sponsor: Rep. Pallone (D-NJ)
Orca Responsibility and Care Advancement Act amends the Marine Mammal Protection Act of 1972 to prohibit taking, importing, or exporting the killer whale species, or any product that contains that species, for public display purposes. Original Sponsor: Rep. Schiff (D-CA)
Resolution recognizing the contributions of senior volunteers, including Senior Corps, Foster Grandparents, and RSVP volunteers. Original Sponsor: Rep. Peter DeFazio (D-OR)
In New Jersey, there are 5,100 Senior Corp volunteers, 1,200 young people tutored by Foster Grandparents, and 460 local organizations benefiting from RSVP volunteers. 
Senior Citizen Protection Act which requires the Department of Justice (DOJ) to establish guidelines for states to design and implement elder abuse registries. Original Sponsor: Rep. Bradley Scott Schneider (D-IL)
Examining Opioid Treatment Infrastructure Act of 2017 which requires the GAO to report on inpatient and outpatient treatment capacity, availability, and needs, including treatment programs for pregnant women or adolescents. (Original Sponsor: Rep. Bill Foster D-IL)
 Mental Health and Substance Abuse Treatment Accessibility Act of 2017 which permits the Department of Health and Human Services to make loans and loan guarantees for construction or renovation of psychiatric or substance abuse treatment facilities. (Original Sponsor: Rep. Derek Kilmer D-WA)
Prescriber Support Act of 2017 which authorize HHS to award grants to states for systems that help prescribers: (1) treat and manage patient pain; and (2) prevent, identify, and respond to patient substance misuse and substance abuse disorders. (Original Sponsor: Rep. Katherine Clark D-MA)
Servicemembers and Veterans Prescription Drug Safety Act which directs DOD and DOJ provide for a prescription drug take-back program for members of the Armed Forces and veterans. (Original Sponsor: Rep. Matt Cartwright D-PA)
Military Hunger Prevention Act which would prevent military housing allowances from being used to determine eligibility for programs such as SNAP. (Original sponsor: Rep. Davis D-CA)
Military Pay Protection Act which would ensure service members are paid during a Government shutdown. (Original sponsor: Rep. Sinema D-AZ)
Ask Veterans Act which directs the VA Secretary to survey veterans about their experiences at VA treatment facilities. (Original sponsor: Rep. O' Rourke D-TX)
Homeless Veterans Legal Services Act which directs the VA to partner with public or private entities to fund a portion of the legal services provided to homeless veterans. (Original sponsor: Rep. Beatty D-OH)
Housing Our Heroes Act which directs the VA to establish a pilot grant program to acquire and renovate abandoned homes for homeless veterans. (Original sponsor: Rep. Schneider D-IL)
Veteran Education Empowerment Act that reauthorizes grants for colleges and universities across the country to establish new Veteran Student Centers and to improve existing ones. (Original sponsor: Rep. Frankel D-FL)
Military Spouse Job Continuity Act which will allow military spouses, who move with a service member spouse, a tax credit for up to $500 for qualified professional relicensing costs. (Original sponsor: Rep. Cartwright D-PA)
Wounded Veterans Recreation Act which amends the Federal Lands Recreation Enhancement Act to require the National Parks and Federal Recreational Lands Pass be made available to any veteran with a service-connected disability. (Original sponsor: Rep. Ruiz D-CA)
Military and Veteran Caregiver Services Improvement Act which expands eligibility for the VA family caregiver program. (Original sponsor: Rep. Langevin D-RI)
Transportation for Heroes Act which ensures that a public transportation fare of no more than 50% of the peak hour fare will be charged to a U.S. veteran during non-peak hours. (Original sponsor: Rep. Green D-TX) 
=====================================