((((((((((((((((((((((((((((((((((((((((((())))))))))))))))))))))))))))))))))))))))))
Sunday, November 30, 2014: It's a dog day afternoon on LBI. No, the air temp isn't anywhere near tongue-dripping level, but even the 50s have folks hitting the beaches with pooches; must passed over 20 of man's best friends lovin' the ideal dog temps. Gets no better on a late fall day than to do a rover run and take in sun.
I drove a goodly deal looking for any hope for surf casting and found very little between the once-again bemuddied water and a hard SW wind flow, bringing current into the picture.
I'm guessing the boat potential has dropped off the table from yesterday's low-wind glassiness. Once again I got after dark reports of ocean-top fishing at killer levels. It's now gotten to the troll-and-stop point of amazing bassing. Troll-and-stop is where you use the likes of an umbrella to locate the fish then top and jig – even plug – once atop the biomass. There is also some snag-and-drop activity when bunker are found. Got word of an ecstatic kayak angler who had bass from his first jig drop (yesterday), with the action then going nearly nonstop for over an hour. His largest fish was 30 inches. He was on the ocean. I'm thinkin' I gotta get some of that paddling action in.
DRESS BRIGHTLY... OR DUCK!: We're heading into some serious shot-gunning and muzzle- loading times in our nearby outback. First thing to keep in mind: gunfire. If going into the woods, dress as if you're marching in the Mummers Parade, brightness-wise. You might want to leave the banjos behind. Did you know it's actually unlawful to make a racket in hunting zones? It's considered the intentional disruption of hunting efforts. I once saw an arrest in Stafford (if I recall, it was just off Hilliard) on that very charge, though the folks in trouble were duly and obviously trying to stop hunters.
Back to the current hunt, also be alert to deer acting erratically, almost as is if they're being, well, hunted down and shot at. As I said a few weeks back, deer may be stupid but they're not dumb. They sense trouble in the air, as much from past experience at this time of year as just having feeling something just ain't right. Being jumpy, they're way more in inclined to go bolting blindly across the road – with buddies in tow. Just yesterday, I was sitting in Norm C.'s shop on Route 9 and we watched as three does panic-bolted across 9, maybe three seconds apart. A larger model white van was heading southbound toward them, driving at 45-something-mph. Despite surely seeing the first, then the second deer bolting across the road, the driver never slowed. The third deer made it – by the skin of its teeth. That nonbraking van actually should have ended up wearing a doe as a hood ornament, all because of the dunced out driver. By the by, this was in broad daylight, proving our regional deer are already antsy and acting out in unpredictable ways. It also once gain confirms the highway reality that there's never just one deer in action. Albeit seemingly obvious, it's the deer you don't see that you end up creaming. So, be frickin' alert driving highways – even those in developed areas. Slow down when seeing a deer crossing even in the distance. Amazingly, those "Deer Crossing" signs just might be trying to tell you something. DYK they're erected on road areas that have a proven history of ugly impacts.
Allstate info:
As far as your auto insurance company is concerned, hitting a deer is typically a covered loss. Comprehensive coverage typically provides this protection and often actually stipulates that collision with a bird or animal is covered. Some states may let you choose whether you want to have these losses paid under collision or comprehensive coverage. Since this is a not at "fault" type of loss, your insurer is likely to process this through your comprehensive insurance coverage.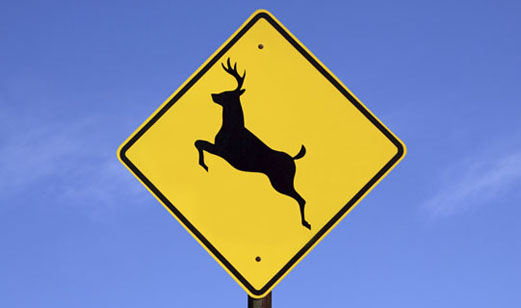 Here's a quick refresher of auto insurance coverage types:
Comprehensive Coverage—helps pay for damages on covered costs that aren't caused by a collision like storm damage, a rock hitting your windshield, or in this case, deer.
Collision Coverage—helps pay for vehicle repairs if you're involved in a collision with another object.
((((((((((((((((((((((((((((((((((((((((((((())))))))))))))))))))))))))))))))))))))))))))))))))))
The boys come to the skate rescue. Much appreciated, pros.
(((((((((((((((((((((((((((((((((((((((((((()))))))))))))))))))))))))))))))))))))))))))))))))
Here's some perfect stocking stuffers. Sweet. Uh, maybe use tiny pieces of cork over the hook when giving ...
White bucktails 1/2, 3/4, 1 oz 1.5 oz 5$ each minimum of 4 all on super strong mustad hooks. Will have eyes on them before they are sent out.