Sunday, March 12, 2017: It's raw out there, regardless of how late the sun will hang around now that it's Daylight Savings Time. I guess this frigidity will make spring feel that much springier.
All eyes have turned to the developing nor'easter … as if the more pre-hype the better the chances of predicting what it'll do. It doesn't. Back in the day, we somehow survived by letting the storm first hit … then decide how bad it is. I don't recommend that approach but you have to admit that this insane advance hype over every storm – egged on by a storm-obsessed social media – can be tiring.
That said, all I have to offer is an ongoing likelihood that it'll be mainly a rain (maybe ending as snow) affair here, east of the Parkway … maybe even east of 295. As to the winds, they could be moderate for a fast-moving nor'easter, meaning 55-ish gusts. A second storm pulse related to this storm could be what leaves the Shore with some snow to sweep away.
Likely: Precautionary School cancellations for Tuesday.
Below: Makes sense ...
OK, if you must be reminded, the Great March Storm of '62 happened on March 6–8, 1962. Lost in the historic flooding was the fact this was a snowstorm/blizzard. The arriving hauling-ass storm isn't even on the same map as the March Storm, which lasted an almost unimaginable five high tides over three days. Sandy was here and gone in two high tides.
Whaddda ya mean I just hyped the storm?! OK, so maybe I did – but in an allowable blog-ish manner.
LITTLE EGG INLET MATTERS: It's all been said before … not that many moons ago: LEI sands being used to sure-up the beaches of LBI is a seeming match made in replenishment heaven. But, the devil is in the details.
An evil detail is ironic. Where to put all that the inlet sand -- only months from now.
It's one of those sand carts in front of the horse things. I'll explain.
Usually, beaches become sand-starved and in need of being replenished. The powers that be step in, acquiring gobs of funding and ordering the Army Corps to run out and seek sand sources for shore-ish distribution.
But, what we could have, if this LEI dredging successfully runs the permitting gamut, is a reversal of the typical sand-spraying order. The sand acquisition will come first, followed by a hearty "OK, so who needs this slew of sand?"
To be sure, Long Beach Township (with Holgate in mind) and the Queen City of Beach Haven will jump in, all, "Ooh, Ooh … we'll take it!" Then both the cart and horse are off and running ... but to where? How much of a good sand thing might be too much?
Remember, the Corps has nourished LBI beaches and dunes in an orderly and exacting dimensional manner. Might a harried pumping in of large amounts of channel sand screw up the life and times of the long-term (50 year) contract twixt feds and NJ? Of course, ACE has always welcomed LBI towns to make tweak replens, via the likes of trucked in sand -- or by personally paying, out of pocket, already on-scene dredge companies, like Great Lakes Dredging. Harvey Cedars did just that. I have to think the talented minds at ACE can offer insights on how to keep contract things kosher -- even when we're talking huge amounts of sand.
Below: This is the only way to make sure sand placement is in-line with long-term parameters. It's a Coastal Research Amphibious Buggy(CRAB).
NO DAMAGE, DUDE: I refuse to think the removal of LEI sand will somehow take away from the pristine nature of the inlet. Pristine, as I'm reading it, simply means there are no jetties, seawalls, or hard structures, i.e. any manmade things to alter the natural ebb flow of tidal things. Besides, the inlet sand being targeted for removal is new to the area; hardly the stuff of a long-established pristine naturalness.
So, might this initial dredging of a reliable and repeatable LEI channel lead to repeated sand removals for years/decades to come? Absorickinlutely, which is also the case within every inlet along the entire coastline. And could LEI's lack of hard structures mean sand will move back into a new channel more rapidly than occurs in jettied inlets? No, yes and maybe.
Other jetty-enrobed inlets still gather sand in nothing flat, see Barnegat Inlet. Of course, the ongoing erosion of Holgate will maintain massive amounts of unchecked, on-the-move sand into the LEI system. Then, there's the entire who-knows angle. An unfettered inlet having a channel gnawed through it … nobody knows what might come of that.
I maintain my assertion that a prime contributor to LEI's sand is the erosion of the beachline adjacent to the Forsythe refuge. Rebuild that beach and there will then be a straight-line erosion, north to south, directing migrating sand more toward the outside shoals of LEI – which would then become a never-ending sand borrow zone for replenishing beaches on the south end of LBI.
Below: Do you see any minor indications that the refuge portion of Holgate is eroding away?
++++++++++++++++++++++++++++++++++++++++++++++++++++++++++++++++++++++++++++++++++++++++++++++
Truex make a power move in the clamming realm ...
SeaWatch Files Lawsuit to End New York's Ban on Out-of-State Boats from Harvesting Clams
SEAFOODNEWS.COM [Newsday] by Mark Harrington - March 10, 2017
A network of companies with ties to two New Jersey-based brothers in the business of harvesting, processing and selling ocean surf clams has filed a federal lawsuit against the Department of Environmental Conservation, charging that state laws intended to preserve the fishery for New York residents have unlawfully affected their business.
The suit, filed March 1 by Maryland-based SeaWatch International and the affiliates, seeks an end to laws that restrict non-New York fishing boats, and those more than 70 feet long, from the state surf clam fishery, which extends to three miles from the Atlantic shore from Rockaway to Shinnecock. The suit also seeks to nullify the expiration of a 2012 law that allowed surf-clam interests to harvest the quota of more than one permit on a single boat.
The DEC in November rejected applications from several companies named in the suit that sought to transfer their surf-clam harvest to New Jersey-based boat owners.
Newsday in 2012 reported that companies with links to New Jersey brothers Leroy and Martin Truex had bought up or controlled most of the 22 state-issued permits to harvest 30 million surf clams annually off Long Island's shore. Records showed some of the companies donated thousands of dollars to former state Sen. Lee Zeldin, who sponsored the 2012 legislation to allow consolidation of the fishery. Gov. Andrew M. Cuomo signed the legislation, which had a "sunset provision" and has since expired.
The suit claims the laws were directed at ending what state officials in documents cited in the lawsuit described as "monopolistic" practices by companies in the industry. The expiration of the 2012 law reverts state policy to one permit per boat.
"The actual purpose behind the Single Permit Rule . . . is to benefit certain 'independent vessel owners' at the expense of a 'certain sector' of the surf-clam industry - the harvesting companies, vessel-owning companies and shipping companies who are plaintiffs who have corporate and/or ownership affiliations with the out-of-state plaintiff SeaWatch International, a clearly unconstitutional intent," the suit says.
Rob Hart, one of the last remaining independent surf-clam fishermen, who operates out of West Sayville, said he disagreed with the intent of the suit and declined to join it.
"The resource is in very bad shape and I think we need more restrictions on the fishery, not less," he said.
Bellport attorney Lee Snead, who filed the suit and appears in state records variously as an agent and officer of many of the companies, didn't return a call seeking comment. A DEC spokeswoman said the agency doesn't comment on pending litigation.
In addition to SeaWatch, the suit names the following companies as plaintiffs: Aqua Harvesters, Bay Head Inc., C. Seam Seafood, Doxsee Sea Clam, Edgar Seafood Products, Fernandez & Family Inc., Freeport Sea Clam, Lady Kim Inc., Lyons Fisheries Inc., Off Shore Diving, PEK Clam Co., SMJ Products, St. Peter Dock, Verbeke and Winter Harbor Brands. Holding companies, some naming the Truexes as officers, control many of those formerly Long Island-family owned businesses.
The suit also names New Jersey-based TMT Vessels and LET Vessels, the companies whose applications to transfer permits to harvest clams were rejected by the DEC. The suit also names Oceanside Packers, the company that crates and ships surf clams; American Pride Seafood, Atlantic Capes Fisheries and Galilean Seafoods.
+++++++++++++++++++++++++++++++++++++++++++++
Another reason not to just chuck dogfish up-beach to die ...
Bar Harbor Researchers Identify Drug in Dogfish that Could Help Recovery from Heart Disease
SEAFOODNEWS.COM [Port Press Herald] by Joe Lawlors - March 10, 2017
The research into a drug derived from a molecule found in dogfish sharks could help damaged hearts regenerate healthy tissue.
Researchers at Mount Desert Island Biological Laboratory in Bar Harbor may have discovered how a drug derived from a molecule found in dogfish sharks could someday help people recover from heart attacks and heart disease.
Dr. Viravuth Yin, the lead researcher from MDI, said a series of coincidences, combined with years of research on zebrafish and mice, led to the breakthrough.
"This is a potentially game-changing discovery we believe we have," Yin said.
MDI secured a patent from the U.S. Patent Office in November and last week its research was published in a scholarly journal Regenerative Medicine.
The next step is obtaining about $2 million in funding to see if the research that has been done in zebrafish and mice can be replicated in pigs. The lab has an application pending with the National Institutes of Health for the pig research and is seeking venture capital funding, Yin said.
If all goes well, human clinical trials for the drug could begin in about five years. The drug could be on the market in 10-20 years, if research proves fruitful, Yin said.
Zebrafish share about 70 percent of the same genes as humans, and have a strong ability to regenerate.
"Any discovery we make in the zebrafish has a strong chance to being relevant to human health," Yin said.
He said an intern at MDI Biological Laboratory noticed a few years ago that MSI-1436, a drug made from a molecule found in the dogfish shark, was causing the zebrafish to regenerate much faster than normal.
A series of tests ensued, including an improvement in zebrafish appendage regeneration by 200-300 percent with MSI-1436. One of the key experiments involved injecting MSI-1436 into the bloodstream of the zebrafish to see if it would promote regenerating tissues in a damaged zebrafish heart. In every experiment, it did.
"I designed numerous experiments to prove myself wrong," Yin said. "But the results always held up."
The results also were promising when the drug was tested in mice, leading to the patent and publication in npj Regenerative Medicine.
The drug could prove beneficial to people who have had heart attacks or heart disease. When a person has a heart attack, for instance, scar tissue can build up in the damaged heart, causing it to become less efficient at distributing blood to the rest of the body. That can cause a whole host of other health problems, Yin said.
If the drug works, the scar tissue instead could be regenerated back into healthy tissue, improving outcomes for the lives of millions, Yin said. Cardiovascular disease kills 17.5 million worldwide annually, according to the World Health Organization.
A series of unusual coincidences led to Yin's discovery, said Dr. Michael Zasloff, a scientist and surgeon at MedStar Georgetown University Hospital in Washington, D.C.
Zasloff told the Press Herald he was giving a speech to MDI scientists in the early 1990s when one of them mentioned the dogfish shark.
"They said, 'You know, the dogfish shark is an amazing animal,' " Zasloff said.
That piqued his interest, he said, and led him to study dogfish sharks and to the discovery of the molecule in 1993. After many years of research, the molecule was developed into the drug MSI-1436, which was then being studied for its potential to treat diabetes. When the company that was studying the drug for diabetes research went out of business a few years ago, Zasloff said he remembered MDI and gave them a call. He suggested they might want to study MSI-1436 to see if it had any regenerative properties.
"It was nothing more than a hunch, a whim," said Zasloff, who collaborated with Yin on the research.
Zasloff said the fact that the research is beginning to bear fruit more than 20 years after his initial research is "absolutely remarkable."
"This is an extraordinary discovery by Dr. Yin," Zasloff said. "It was serendipity."
To assist with the research and to raise money for developing the drug, Yin and Dr. Kevin Strange, president of MDI Biological Laboratory, started up the Novo Biosciences company a few years ago.
Strange said the fact that MSI-1436 already has been used in human clinical trials for the diabetes drug could help speed up the process.
"The path from laboratory bench to patient bedside can be long and difficult," Strange said in a prepared statement. "But the fact that MSI-1436 has been shown to be safe for use in humans shaves years off the drug development process."
++++++++++++++++++++++++++++++++++++++++++++++++++++++++++++++++++++++++++++++++++++++++++++++
Proposed Cut to NOAA's Budget Includes Funds for Coastal Communities Impacted by Sea Level Rise
SEAFOODNEWS.COM [The Washington Post] by Chelsea Harvey & Chris Mooney - March 10, 2017
A proposed White House budget for the National Oceanic and Atmospheric Administration could put coastal communities throughout the nation at a major disadvantage as they struggle to adapt to threats from sea-level rise, severe storms and other climate-related events, scientists and other experts said.
That's because the budget, revealed by The Washington Post last week, targets a handful of programs that provide important resources to help coastal states prepare for the coming effects of climate change.
The programs in the crosshairs include NOAA's Coastal Zone Management grants and Regional Coastal Resilience grants, which come to $75 million combined, according to the document; its $10 million in Coastal Ecosystem Resiliency grants; the National Estuarine Research Reserve System, an annual investment of about $23 million; and its $73 million Sea Grant program.
At a federal advisory committee meeting in Bethesda, Md. on Tuesday, the acting administrator of NOAA, Benjamin Friedman, did not dispute the Post's reporting on the proposed budget, although he cautioned that the cuts were only proposed.
"Let me just say that this is really preliminary information that is out there, this is part of the normal kind of budget deliberations that are ongoing; nothing is final," Friedman said. "The president's budget isn't due to come out for a few weeks, and then of course it will be months until we get a final FY18 budget, and then nothing will happen till Congress votes on an appropriation bill … until then we're moving forward, and it really is business as usual at NOAA."
In the meantime, however, the proposed coastal cuts have a lot in common. These are grants and programs that lie at the intersection of oceans, the coast and a changing climate. Experts think the proposed cuts would not only disarm our coasts in the face of warming and rising seas and the growing storm threats that come with them, but that they would disadvantage coastal states, including many states that voted for Trump, in dealing with threats they're likely to face.
"Most people live near coastlines in our country and around the world, and need to be able to support their economy — and to try to prevent again the kind of devastation that we saw in Katrina and other storms," said Vicki Arroyo, executive director of the Georgetown Climate Center.
To see how the proposed NOAA cuts disadvantage coasts and coastal communities, take the proposed cuts to the Coastal Zone Management grants. These grants are part of a partnership between the federal government and coastal states, including those bordering the Great Lakes, under the federal Coastal Zone Management Act.
" In many cases it's local governments or state governments that have the responsibility, and most — especially the local governments — don't have the wealth of information that the federal government does, and they don't have immediate access to experts or resources to do a lot of the planning that they need to do," said Jane Lubchenco , an environmental scientist at Oregon State University and former NOAA administrator under President Barack Obama. "So through the Coastal Zone Management grants, a lot of that information and expertise is made available to them."
According to NOAA, all coastal and Great Lakes states participate in the Coastal Zone Management program, except Alaska. Among these are more than a dozen states that voted for Trump, including historically red states such as the Carolinas, Georgia, Alabama, Mississippi and Louisiana and swing states such as Florida.
Or consider the proposed cuts to Regional Coastal Resilience grants, which deal more specifically with bracing communities for adverse climate and weather events. These programs "build resilience of coastal communities to the negative impacts from extreme weather events, climate hazards, and changing ocean conditions," according to a recent NOAA presentation.
Much like these are the Coastal Ecosystem Resiliency Grants , which are more focused on restoring ecosystems so they can adjust to changing conditions in a way that also benefits humans. Wetlands, when healthy, can help keep pace with sea-level rise. They can also help weaken hurricane storm surges. At a time when oceans are ticking upward and getting closer to communities — yes, including Trump's Mar-a-Lago retreat — this seems like a no-brainer.
Also proposed for the chopping block are several research and education initiatives that provide valuable information to help coastal communities plan for the future. The National Estuarine Research Reserve System is a group of 29 sites throughout the coastal United States — including spots along the East and West coasts, the Gulf Coast, the Great Lakes, Hawaii and Alaska — that have been set aside specifically for the study of estuarine systems, or the areas where rivers flow into the sea. The program produces scientific data on these unique ecosystems and provides training and education for local communities and policymakers on protecting and managing them.
"It's not a basic science program," said Don Boesch , who directs the University of Maryland Center for Environmental Science. "It's pretty applied to management of those research reserves and areas they represent throughout the whole state."
This is important for the preservation of the plants and animals that call these areas home — but because wetlands are critical buffers against storm surge and sea-level rise, it's also a significant form of preparation for future climate change.
Of similar importance is the Sea Grant program, a partnership between NOAA and universities across the nation, which supports coastal research and education. The program relies on on-the-ground agents, who help establish a "real connection" between academics and coastal communities, said Jeff Carney , an architecture professor and director of the Coastal Sustainability Studio at Louisiana State University, which houses the Louisiana Sea Grant program. These programs can be vital sources of information on everything from fisheries management to storm preparation.
"They're a conduit of information from the communities to scientists and universities, and a conduit of information from universities to communities so that they can take advantage of the newest breakthroughs in science," Lubchenco added.
It's a popular program, according to Boesch, who noted that Sea Grant typically enjoys bipartisan support among lawmakers. This is just one aspect of the White House plan that may make it a hard sell in Congress. Additionally, Lubchenco noted, Sea Grant programs in individual states often rely on a system in which funding from the federal government is matched with funding from states, universities or industry partners.
"The federal dollars leverage a lot of additional financial resources," she said, adding that by cutting the federal funding, "you hurt states big-time."
For now, the budget cuts remain only a proposal — but one that could place coastal communities at a disadvantage in the face of sea-level rise, natural disasters and other impending environmental changes. In fact, well-planned adaptation efforts could make the difference in whether cities such as Miami and New Orleans survive into the next century.
But although the effects of climate change remain among the greatest risks to the U.S. shoreline, one also doesn't necessarily have to believe in anthropogenic global warming to acknowledge the services provided by these programs. In addition to climate adaptation efforts, they also support resilience against storms and other natural events, research on fisheries management, the preservation of wetlands (which have value for recreation and biodiversity as much as coastal buffering) and general community planning processes.
"Just from a dollars-and-cents perspective, avoiding human suffering, why would you do anything to pull back on support where most people live and where most of the infrastructure is built?" said Arroyo of the Georgetown Climate Center. "That's not cost effective."
++++++++++++++++++++++++++++++++++++++++++++++++++++++++++++++++
Oregon State Study Finds Higher Fish Consumption, Lower Mercury Levels Among Women of Childbearing A
SEAFOODNEWS.COM [EurekAlert] - March 10, 2017
Corvallis, Ore. - Among women of childbearing age in the U.S., fish consumption has increased in recent years while blood mercury concentrations have decreased, suggesting improved health for women and their babies, a new study shows.
The research at Oregon State University also indicates fish consumption advisories tailored to specific regions and ethnic groups would help women of childbearing age to eat in even more healthy ways, including better monitoring of mercury intake.
Food from the ocean has a unique and valuable nutritional profile. Among seafood's many benefits are the omega-3 fatty acids that promote neurodevelopment, and the nutrients in seafood are especially important for pregnant women to pass on to developing fetuses.
But the main way people are exposed to toxic methylmercury -- a mercury atom with a methyl group, CH3, attached to it -- is through eating seafood. Thus the need for precise, nuanced fish consumption advisories, said Leanne Cusack of Oregon State University, the corresponding author on the study.
Comparatively less-toxic elemental mercury enters the ocean from natural sources such as volcanic eruptions and also from human activities like the burning of fossil fuels, which accounts for about two-thirds of the mercury that goes into the water.
Once in the ocean, the mercury is methylated, diffuses into phytoplankton and passes up the food chain, accumulating along the way.
A scallop or a shrimp, for example, can have a mercury concentration of less than 0.003 parts per million. A large predator like a tuna, on the other hand, can contain roughly 10 million times as much methylmercury as the water that surrounds it and have a concentration of many parts per million.
Exactly how the mercury in the ocean becomes methylated, scientists don't know.
Fish advisories are usually aimed at women of childbearing age because a developing fetus has greater sensitivity to the neurotoxic effects of methylmercury. Jointly, the U.S. Environmental Protection Agency and the Food and Drug Administration recommend women in that group eat two meals of low-mercury fish per week.
Using data from the ongoing National Health and Nutrition Examination Survey, Cusack's research group looked at fish consumption patterns with regard to blood mercury levels in U.S. women of childbearing age from 1999 to 2010.
Findings were recently published in the journal Environmental Health.
Women in the coastal regions, particularly the Northeast, were found to have the highest blood mercury concentrations; women living away from the sea, especially in the inland Midwest, had the lowest.
Coastal residents also ate fish the most frequently, with the species consumed varying by region. The type of fish most often consumed was shellfish in every part of the U.S. except for the inland West and inland Midwest.
As women's age and household income increased, so did their fish consumption frequency and blood mercury concentrations. Among ethnic groups, Asian Americans, Pacific Islanders, Alaska Natives and Native Americans ate fish the most often and showed the most mercury, and Mexican Americans consumed fish the least often and showed the smallest concentration of mercury.
"We also found total monthly fish consumption by women of reproductive age was higher than it had been in recent years, with women consuming more marine fish and shellfish but with no appreciable difference in the mean consumption of freshwater fish, tuna, swordfish and shark," said Cusack, a postdoctoral scholar in OSU's College of Public Health and Human Sciences.
"That's encouraging because marine and shellfish are associated with smaller increases in blood mercury. And also encouragingly, an average women who'd eaten fish nine or more times in the previous month had lower blood mercury levels than women who'd had fish at the same rate in 1999-2000."
The differences in consumption and mercury levels by race and region illustrate the need for tailored fish advisories, she said.
"They need to have information about fish types and quantities you can safely eat," Cusack said. "The more detailed they can be, the better.
"The main thing is we do need to increase fish consumption in this demographic," Cusack added. "It has been increasing since 1999, but it's still not at the level where we want to see it. People need to start consuming fish, and advisories need to focus on the benefits of consumption and not just the risks by providing a broad range of fish that are low in methylmercury and high in omega-3's."
+++++++++++++++++++++++++++++++++++++++++++++++++++++++++++++++++
Mahi Coming Off Menus With 2016/17 Season a Bust, US Inventories Limited and Market at Record Highs
SEAFOODNEWS.COM by Michael Ramsingh - March 8, 2017
Mahi is starting to come off of restaurant menus in the US this year since the 2016/17 fishing season in Central and South America was a bust, which has limited inventories in the US market, pushed frozen wholesale markets to record levels and sent fresh prices to abnormally high prices for this time of the year.
Weather and Climate conditions have pushed Mahi further offshore from Ecuador, and because of all the decomp refusals by the FDA, Ecuador boats have been reluctant to spend the time and money required to fish farther offshore as they are not confident they can maintain their product.

Mahi imports finished 2016 down 10 million pounds from the previous year. But the Central and South American fishing season generally runs from October to around March depending on lunar cycles.

And a look at imports between these months shows mahi shipments from October to December down over 15 percent in 2016 compared 2015.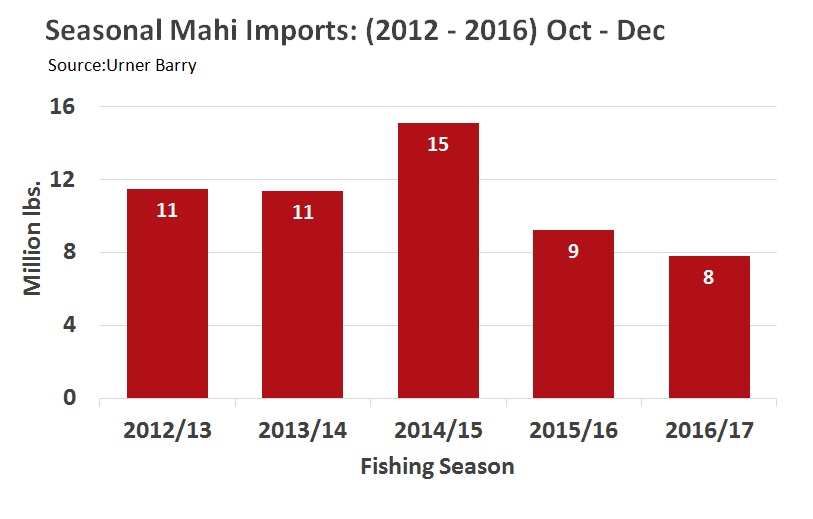 Source: Urner Barry

This confirms reports from traders that reported all last fall and winter that mahi were not showing up. Shifting water temperatures from El Nino and La Nina were mostly blamed for the absent fish and lack of production.

A hike in FDA mahi inspections for histamine in 2016 also compounded the risk for US importers to source mahi that was caught farther offshore. The FDA rejected more Mahi than any other single seafood item by line item in 2016 because of filth.

These two issues limited mahi availability in the US market, which caused frozen product to reach an all time record in March. Prices for whole fresh mahi are also climbing and are already nearing price points normally seen in the summer months.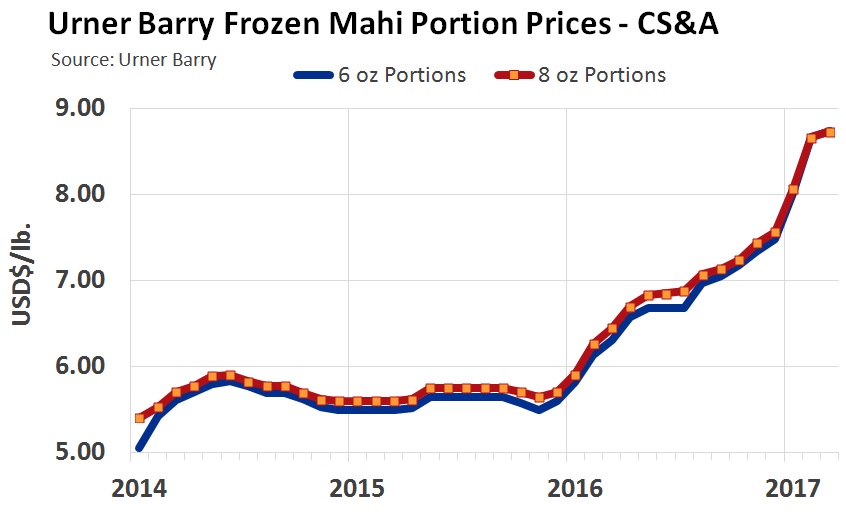 Source: Urner Barry

Prices for 6 and 8 oz frozen mahi portions are averaging nearly $8.75 per pound in March according to Urner Barry. In February, average prices were up almost $2.50 per pound, or 38 percent, compared to February 2015 prices. Some trades were at an even higher premium from current Urner Barry quotations.

Fresh whole mahi prices for fish 15 pounds and up are averaging $6.85 per pound this month; they averaged $6.11 per pound in February. These prices are well above the five-year-average for this item at this point in the year. Normally the fresh mahi market will not reach these price levels until the summer months when inventories reach a low point in then run up to the next fishing season.

The next lunar cycle is March 12 which will essentially mark the end to mahi production from Central and South American suppliers for the 2016/17 fishing season. This means the industry will have to wait another seven months before meaningful amounts of production can be expected to hit the market again this year.

So with no new production expected in the pipeline until October, frozen price points at record levels and the fresh market showing atypical strength in the first quarter, US restaurants are starting to take higher priced mahi off their menus in 2017.
++++++++++++++++++++++++++++++++++++++++++++++++++++++++++++++++
STATE PARK SERVICE LAUNCHES PILOT PROJECT TO PROTECT INTERMITTENT PONDS IN WHARTON STATE FOREST FROM OFF-ROAD VEHICLE DAMAGE
(17/P13) TRENTON - The Department of Environmental Protection's Division of Parks and Forestry has launched a pilot project to install wooden barriers to protect ecologically sensitive intermittent ponds in Wharton State Forest from damage caused by illegal use of off-road vehicles as part of a comprehensive enforcement and education effort to protect ecologically sensitive resources in the park.
The initial phase of the project targeted four ponds, using volunteer help from varied stakeholder groups. It is part of a broader effort to protect ecologically sensitive areas in the 125,000-acre state forest. Wharton, by far the largest unit of the State Park System, is located in the heart of the globally unique Pinelands National Reserve, and covers parts of Atlantic, Burlington and Camden counties.
"This effort, a collaboration of environmental groups, off-road vehicle groups that advocate for responsible use of unimproved roads in Wharton, and other stakeholders, builds upon our ongoing efforts to strike the right balance in protecting the natural resources that are unique to this region, while recognizing that Wharton has a long history of being enjoyed by varied user groups," said State Park Service Director Mark Texel.
Intermittent ponds are shallow depressions found throughout the Pinelands that periodically dry out as the region's shallow ground water table fluctuates. They are ecologically important because they provide breeding habitat for many of the region's unique amphibian and plant species. Fish that would otherwise eat the eggs and larvae of the Pinelands unique amphibian species cannot populate these ponds due to their fluctuations. Some of the species, such as the Pine Barrens tree frog, are found in few places outside the Pinelands.
Park Service and State Forest Fire Service personnel worked with volunteers to place timber barriers around access points to the selected ponds. Small gaps were left to allow pedestrian access. The New Jersey Pinelands Commission science staff provided guidance on areas suited for the project.
"The Commission is pleased with the outcome of this collaboration with the DEP," said Nancy Wittenberg, Executive Director of the Pinelands Commission. "The Pinelands Commission has been consulting with the DEP on a range of issues regarding the protection of Wharton and looks forward to future initiatives."
Frogs could be seen and heard while the workers were erecting the barriers. Large egg mass clusters were also present in the ponds.
Some off-road vehicle enthusiasts run their vehicles through these ponds both during their wet and dry periods. In the process, their tires leave deep tracks in the ponds and destroy plants that fringe them.
Organizations involved in the effort were the Pinelands Preservation Alliance, Iron in the Pines, Open Trails NJ, NJPineBarrens.com, the South Jersey Botany Group, the New Jersey Trail Riders Association, South Jersey Geocachers, the Gossamer Hunting Club and the Whitesbog Historic Trust. The barriers were erected Feb. 25.
"The barriers are made of wood posts and rails that blend in with the forest environment," Texel said. "Now that these barriers are in place at pilot locations, Park Service personnel and State Park Police will monitor these areas. Our goal is to expand to other sensitive areas."
The project complements a comprehensive education and enforcement effort designed to reduce environmental damage in Wharton, which has become popular for off-road vehicles because of its vast network of sand roads and many access points. The effort, which includes a special Park Police unit dedicated to enforcement, is designed to make sure that only street-legal vehicles use the forest roads and that they remain only on clearly established unimproved roads.
As part of this effort, ecologically sensitive areas have been posted with signs warning vehicle users to keep out. Park Police have focused patrols on these areas. Some 60 entrances to the state forest have also been marked with signs reminding the public that motor vehicle and environmental laws are being enforced.
For news releases on the State Park Service enforcement efforts in Wharton, visit: www.nj.gov/dep/newsrel/2016/16_0014.htm ; and www.nj.gov/dep/newsrel/2016/16_0030.htm
+++++++++++++++++++++++++++++++++++++++++++++++++++++++++++++++++
REGISTER TODAY FOR SUMMER CLASSES AT OCEAN COUNTY COLLEGE
Choose from 3-Week, 5-Week, 6-Week, 7-Week, 8-Week, and 10-Week Classes!
TOMS RIVER – Register today for summer classes at Ocean County College! If you've been thinking about attending college, now's the time to get started. Choose from a variety of schedules including 3-Week, 5-Week, 6-Week, 7-Week, 8-Week, and 10-Week Summer Terms! Apply today and take that first step to getting a college education.
First 5-Week Summer Term: Register now thru May 21. (Classes run 5/22-6/27.)
8-Week Accelerated Term: Register now thru May 21. (Classes run 5/22-7/13.)
10-Week Summer Term: Register now thru May 21. (Classes run 5/22-8/2.)
Second 5-Week Term: Register now thru June 27. (Classes run 6/28-8/2.)
6-Week Summer Term: Register now thru June 27. (Classes run 6/28-8/9.)
7-Week Accelerated Term: Register now thru July 13. (Classes run 7/14-9/3.)
3-Week Post Session: Register now thru August 6. (Classes run 8/7-8/30.)
Evening and weekend classes are held on the OCC Main Campus in Toms River, at the OCC Southern Education Center in Manahawkin, and at off-campus locations throughout Ocean County. Online classes are also available.
Register early for the best selection of classes! Applications are being accepted. Course schedules can be viewed online at www.ocean.edu. New students must register in person. For some courses, students may be required to take the College Placement Test. New full-time students must complete orientation prior to registering.
Registration & Records Office: Administration Building, (Bldg. #1), Main Campus, College Drive, Toms River, NJ. Stop by Mon-Thurs, 8am-8pm, Fri until 5pm or call 732-255-0304. (Note: Hours subject to change for holidays.)
Southern Education Center: 195 Cedar Bridge Road, Manahawkin, NJ. Stop by Mon-Thurs, 8am-8pm, Fri until 4pm or call 609-978-2077. (Note: Hours subject to change for holidays and semester breaks.)
Visit our website at www.ocean.edu.
+++++++++++++++++++++++++++++++++++++++++++++++++++++++++++++++++++++++++++++++++++++++++++
Recreational Fishing Alliance

Spring 2017 Making Waves Newsletter

Spring 2017


Volume 6, Issue 1


---




I Fish, I Vote



The RFA mission is "to safeguard the rights of saltwater anglers, protect marine, boat and tackle industry jobs, and ensure the long-term sustainability of our Nation's saltwater fisheries."




---

Newsletter Links

Volume 5, Issue 4
Volume 5, Issue 3


(Fall, 2016)





(Summer, 2016)


Volume 5, Issue 1


(Spring, 2016)


Volume 4, Issue 4


(Winter 2015)


(Fall 2015)





(Summer 2015)


(Spring 2015)


---

Greetings!


With a new Administration, a new Secretary of Commerce and talk of a Magnuson reauthorization moving through Congress, 2017 is shaping up to be a very interesting year for fishermen. In its first addition of Making Waves of the year, RFA gives a solid overview of the challenges we face and our outlook for the coming months.


RFA Spring 2017 SPOTLIGHT


The latest edition of

RFA's Making Waves

offers plenty for anglers and business owners to digest.

Read about the latest political and regulatory developments that are keeping fishermen on their toes.

Jim Donofrio outlines the political climate in DC and how the recreational fishing industry will be pushing hard for Magnuson reform.

Read about Secretary of Commerce Wilbur Ross and what his tenure at the Commerce Department will mean for fishermen.

Set aside some time to digest a comprehensive assessment of the on going summer flounder issue and what efforts are being made on the regulatory and science fronts.

Read fiery commentary from Capt. Tred Barta on marine monuments and sanctuaries and the risk they pose to anglers.

RFA's MA Chairman gives an update on proposed windfarms that could be built on prime fishing grounds.

Read about the latest assessment of MRIP conducted by the National Academy of Science.

Click here

to read the latest RFA newsletter, and be sure to learn what's new with RFA newsletter supporters like Viking Yachts, Contender Boats, Yamaha Outboards, Regulator, Interlux Paints, Bimini Bay Outfitters, Electra-Mate Fishing Reels & Electric Fishing Reel Systems, Salt Life Sport Optics, Hi-Seas and AFW fishing lines, HMY Yachts, Yo-Zuri, Floscan, Ocean Max, Maxel reels, and Amera Trailers.




NAVIGATION INSTRUCTIONS


When you click in the link and the initial page opens on your monitor click on the two arrow icon in the tool bar in the lower right hand corner of the screen. This will size the magazine image to your monitor. A navigation bar will appear above the magazine that you can use to enlarge or reduce the image, switch from two pages to a single page and advanced through the pages.





Quick navigation features work even faster. If you want to enlarge what you're reading put your cursor on the page and right click the mouse and it will enlarge. You can now move the page around the screen as you read by moving the mouse in whatever direction you want to move the page. You will also notice that when you put your cursor over a page of copy or an advertisement the hyperlinks will either be highlighted or appear as a window next to the cursor. You can click on a hyperlink and a new window will open in your browser for that document or website while the magazine remains in the original window.





Also in the top navigation bar you'll see a box with an arrow, the "Share" button. Clicking that opens a dropdown menu that will lets you to share a page, story or the entire magazine with friends using email; Twitter; Facebook; etc. We encourage you to share the RFA E-News and help us get the word out.