Litter trying to blend in. Nice try ... but you're outta here.  
Below: Of course, you get to stay, Mr. Whelk.
I believe this to be a northern harrier. Any experts? 
Baymen's badge from back-when ... 
Below: This is the backcut at Holgate. It was little more than a creek with this low tide, though it's highly unlikely the new sedge island north of cut will soon hook up with Holgate. 
Sunday, December 06, 2020: The weekend felt yet another one and done storm. In fact, the wind (46 mph) and rain (two inches) were closer to half-and-done, as the northeast winds barely lasted 12 hours before sincerely chilly westerlies took over, smoothing the ocean surface for waveriding some aftereffect waves.
I'll go broken record by pointing out how we've gone many years in succession with storms hauling pasting in in the fast lane, even larger low-pressure systems that used to hang around for days on end. Obviously, such a quick exiting trend greatly helps our flooding and erosion cause.
As to any big picture whys behind this storm speed-up, I'll forward a theory that a warming Atlantic Ocean is essentially enticing storm systems to move off shore, where warm surface temps leads to rising air which instantly nourishes storms to the point of instant detonation, now being dubbed the "bomb" effect. (See more on "Bomb" below.)
Below: Even warmer for 2020. 
Obviously, it's more complicated than just a storm's overriding attraction to ideal spawn conditions out at sea. Pitching in to storm speediness are the impacts of   always busy west-to-east jet streams as they hurry along continental storms. Then there's the largest oceanic players of all, el Nino and La Nina. Those famed weather influencers demonstrate the effects sea surface temperatures can have on worldwide weather.
Sticking with Atlantic stormage, rising sea surface temperatures are all but guaranteed to add dangerous oomph to tropical cyclones, leading hurricanes to reach Cat-5 status with an heretofore unseen regularity.
As we exit hurricane season -- though virtually every month on the calendar has seen cyclones -- it is premature to fully align 2020's record-breaking hurricane numbers with unnatural oceanic and atmospheric warmings. However, hurricane gurus see a definable trend toward cyclones – and oceanic storms in general -- increasingly going gonzo over the next decade. Such a trend, along with its surely terrible toll on the makings of mankind, might show within the next few hurricane seasons.  
As to predicting the future on NJ's winter storms, which have historically been worse to us than any tropical systems, it's a cosmic crap shoot. The fast-moving storm syndrome could have its own hazards. Taking the drama route, odds are we will soon see some surprising, if not inexplicable, weather events. It comes with the climate change territory. Trying to see a sliver of silver lining, unprecedented weather events might be good or bad, just keep in mind: If there's a 50-50 chance of something being good or bad, there's then a 90 percent chance of it being bad. It's called reality math.
SKY BOMBS AWAY: The storm "bomb" phenomenon can occur when low-pressure systems hit the highly energized ocean air and explode in size and fury. With a tendency for these to occur over open water, they can cause killer headaches for vessels using transatlantic shipping lanes. Of a more immediate impact, mega sea storms can send huge waves toward coastal regions, which is great for surfers but hell on erosional wheels for beaches.
Over the past 30 some years, LBI has been seeing more and more groundswells generated from distant oceanic storms. All indications are the Island's wave magnet propensities will only increase with ocean temps. 
Below: Typical nor'easter setup, more of a wave generator than a wind and rain maker.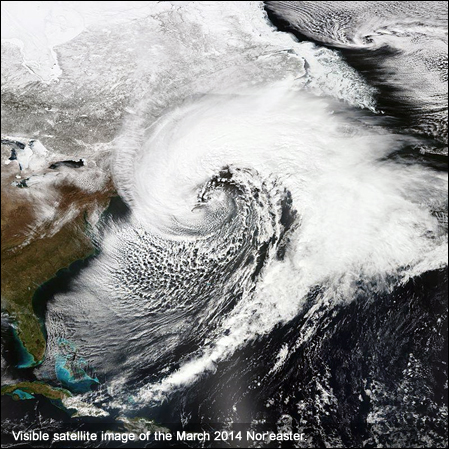 Then, there's the most diabolical potential from nearshore bomb storms, something called retrograding, whereby a storm detonates off the coast, enlarging so dramatically that its fury enlarges back onto coastal areas. While that would be an unprecedented storm, it's now creeping onto the meteorological possibility table during these equally unprecedented atmospheric times.
We actually had a retrograde close call during the epic Halloween/October Storm (1991), better known as The Perfect Storm. At its height, it displayed signs of building back toward land. That would have been catastrophic since waves from that complex storm system had already begun smashing areas of Coastal NJ. It stunned towns like Harvey Cedars, and publications like The SandPaper, when calls began pouring in about ocean water inexplicably pouring down the streets and onto the Boulevard -- on an otherwise uneventful weather day.
Had the Perfect Storm kept retrograding westward, adding storm fury to the surf, it would have caused lights out ocean overwash of the Island, quickly followed by bay flooding above and beyond the Great March Storm of 1960. Theoretically, it could have made the future SS Sandy look like a mere splashing event.
Sure, the above is alarmist thinking, though backed with a growing potential if something isn't done about a superheated atmosphere that will surely present as hitherto unseen storm madness well before oceans rise.  
SKY WATCH: Ocean water temps are in the low to mid-50s, but will be heading south this week in a winter chill manner. This early-week punch of windchill unpleasantness will knock water temps down to seasonable size, as in the 40s. It will also have our un-winter-acclimated skin goose bumping as we jump into cold-seated vehicles. However, no sooner will the car heating kick in than some mildness will make welcome moves on the region, possibly extending through Christmas.  And odds of a white one? Well under five percent, unless some inexplicably odd weather event enters stage left, getting blizzardy wid it. Better bet: A Jersey Shore sunburn on New Year's Day.
******************************************************
WHAT THE HULL, DUDE!: As we hear the annual shotgun booms of duck hunters working Barnegat Bay waters, it's a perfect time to take any littering shooters to task for the unsightly scat they leave in their wakes, namely, expended hulls, commonly called shotgun shells. Any outdoors person can attest to the all too pervasive showing of this plastic trash. Locally, the showing is pretty pathetic.
Over the weekend, I collected loads of spent shotgun shells. The plastic tubes had been carried across the bay to LBI via winds and tides. Virtually all the spent hulls were little more than trash from careless hunters shooting from sedge blinds and camouflaged duck boats.
Considering I de-littered only a small bayside area, the total number of shells I nabbed was nastily indicative of a preventable form of plastic pollution, made flagrant by the fact they could have been collected by the shooters. Leaving spent shells where they fall is environmentally unconscionable, even if there is a touch of tradition involved, dating back to when shells were made of paper. Those olden-times biodegradable hulls would quickly decay away. Today's shell litter is utterly inconsistent with the sense most hunters have that they're one with nature. It's a trashy way to commune with the great outdoors.
Making shooting litter even more invasive is the fact most modern shotgun shells manufactured after 1970 are composed of a particularly tough and decay-resistant plastic. Based on studies of plastic objects like six-pack rings, shotgun shell plastics could take well over 400 years to decay away. This means the legacy of alleged one-with-nature hunters is the long-lived trash that remains long after them.
On a wider area scale, one can travel to the deepest thought-unspoiled areas of the Pinelands only to come across hunter shell scat, where the hulls could have easily been picked up. There's often the ill-advised outdoorsman delusion that shells left in the deepest natural areas won't even be noticed. That's grossly underrating the exploratory powers of outdoors folks of a hike-about nature. Uncaringly leaving the plastic trash in the deeper recesses of nature, where it hurts the environment most, constitutes piss-poor outdoorsmanship.
The bags of spent shells I collected in Holgate carry an even more intense tale of littering. They're weathered, proving how left-to-nature shells don't stay put. They can be transported great distances from their points of origin, defying the notion that expended shells just become one with nature where they fall.
As I aim blame for the littering of some hunters, I know full well that the firearms community generally responds aggressively to anything even remotely critical of their activities. That's BS in this case. I'm talking of needlessly leaving trash in the wild. That has nothing whatsoever to do with clean and lawful hunting – or the American right to bear arms.
WAD WOES: For the sake of those shooters who keep things environmentally clean by picking up after themselves, I'll temporarily concede that there's little that can currently be done to cure the problem of free-flying plastic shotgun shell wads. Wads are a hard-plastic part of a loaded shotgun shell, maybe half the size of the shell, that fly forward with the shot, traveling out as far as 50 yards when a round is fired. They cannot be readily recovered by even an environmentally inclined shooter.
Wads also wash up by the bagload. It then becomes the job of us cleanup folks to collect them for proper disposal. Considering the amount of open space hunters save through licenses and involvement with hunting organizations, I'll gladly do my wad pick-up part as a trade-off for protected lands. Long live Ducks Unlimited.
The wayward wad problem is now being targeted through the development of biodegradable wads. But, even then, how large a plastic problem is it, really?
In an article in the Northcoast Environmental Center titled "The Plastic Problem of Shotgun Wads," writer Martin Swett points to a Virginia Institute of Marine Science report indicating billions of shotgun wads are produced in the U.S. every year. When taken to worldwide extremes, 10 to 15 billion wads have been made annually for the last 50 years. That's a lot of wadage.
"Because the wad is discharged with the shot and travels quite a distance before separating, and (they) are typically shot over water, hunters do not consider wads retrievable – which creates a huge plastic problem," writes Swett.
Doing my own computing, I rightfully figure every wad represents a shell. That brings the shell total to billions atop billions, nearly all of them retrievable.
"Shotgun wads are particularly troubling because of where they're used – in and around waterways, estuaries and other places we've chosen to preserve for their natural qualities and ecological importance. Since so many wads wind up in waterways, they naturally drift into bays, rivers, and the ocean."
For now, the tradeoff of plastic wads for preserved land is a bargain. However, such a wad tradeoff should compel hunters to essentially do their parts by picking up their reachable spent shells, thusly preventing the doubling of shotgun shell-based plastic pollution.
*****************************************************
Dave DeGennaro

Hi Flier Sportfishing

732.330.5674 cell

hi flier.com
Forget what's going on outside your window Friday and Saturday. It's going to be very wet and windy. Southerly, then northeast. Then, Saturday afternoon, it swings to NW........the best wind for fishing and sea conditions. And it's staying NW forever! Ok, maybe not forever but it's forecasted through Wednesday at least.

Striper fishing is excellent right now. We have been connecting with 10 to 30 lb fish on the troll and most recently casting soft plastics. Sandeel imitations are doing the best. You do have to endure quite a few dogfish but there is just as many bass. Also, a few very fat, gorged bluefish in the mix.

We are going to be sailing Open Boat and Charter Sunday, December 6

through Wednesday, December 9.

6AM to 2PM each day. $225 person, 4 people max, all fish are shared.

It's also possible to run for the near shore bluefin, 15 to 20 mile range. Three man charters at $1,200 for the boat. 6AM to 4PM. It is possible to combine striper fishing with this trip, as well. If you haven't tried this fall tuna fishing before, it's a lot of work. A lot of casting for maybe only a few or no hook ups. I'm not trying to tell you not to try it, hooking a tuna on a surface lure is one of the coolest things you will ever see. Throw in some whales, porpoise, and 50 to 100 pound bluefin crashing bait right in front of you and that alone is worth the price of admission. I just want to be candid about your chances of hooking up.

See you on board!
((((((((((((((((((((((((((((((((((((((())))))))))))))))))))))))))))))))
The few, the proud, organization
***************************************************************
Hunter Chervony has more passion and drive than most double/triple his age. He goes hard and long even in the cold rough conditions. It pays off! 
*****************************************************
China Refutes U.S. Allegations on Fishing Practices
December 4, 2020
The U.S. accusations regarding China's fishery practices are completely baseless and have bent international law and relevant multilateral fisheries agreements, Chinese Foreign Ministry spokesperson Hua Chunying said Thursday.
At a daily press briefing, Hua responded to a query on U.S. accusations of China engaging in illegal, unreported and unregulated (IUU) fishing in the Pacific Ocean.
She said as a responsible fishing country, China adheres to the path of green and sustainable development, the science-based conservation and sustainable use of fishery resources, and the sustainable development of global fishing industries.
China has "zero tolerance" for violations of relevant laws and regulations committed by distant fishing vessels, and has long been in close communication and cooperation with countries in the region, and is committed to preserving the production order of marine fisheries and marine ecological environment, she said.
China strictly implements the United Nations Convention on the Law of the Sea and multilateral fishing agreements to which it is a party, Hua said.
"China's practice of fishery management is fully consistent with the requirements of international law," she said.
The U.S. baseless accusations deliberately bent international law and relevant multilateral fisheries agreements, Hua said. "Its politicization of the IUU issue disrupts the global efforts to crack down on IUU practices and undermines international cooperation to protect the marine environment and promote sustainable fisheries."
"We urge the U.S. side to stop spreading rumors on these issues, quit its political manipulation, and stop trying to drive a wedge between countries," she said.
***********************************************
Ropeless Fishing Traps to Save Whales Show Promise in Spring Fishery
Copyright © 2020 CBC/Radio-Canada 
By Kevin Yarr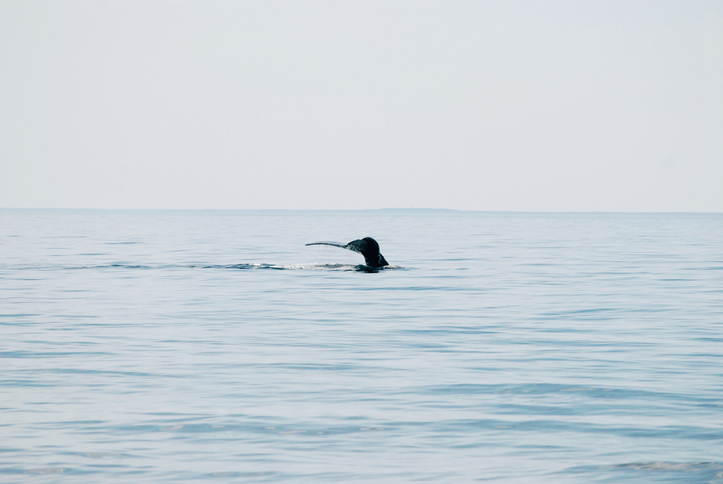 Ten fishermen out of Shippagan, N.B., were testing ropeless trap technology during the spring crab fishery that is designed to protect endangered North Atlantic right whales.
A recent report from the Woods Hole Oceanographic Institute in Massachusetts found that fishing gear entanglements were the leading cause of right whale deaths from 2010 to 2015. There are only about 360 right whales remaining in the world.
The report recommended ropeless gear as a solution. Standard gear connects traps on the bottom to a buoy on the surface. With ropeless gear, the ropes lie on the bottom until they are released by an acoustic signal from the fisherman, then float to the surface so the traps can be hauled.
Robert Hache, director general of the Acadian Crabbers Association, said previous experiments with ropeless gear did not go well.
"The main issue was the reliability and user-friendly aspect of the acoustic release mechanism," said Hache.
This most recent technology is working better, he said, but there are still issues. In particular, the system relies on cellular networks for locating the underwater traps, and the signals are not that strong out on the fishing grounds.
Eventually, a system would also need to be set up so the Department of Fisheries and Oceans can keep track of all the traps in the water.
"Fishermen that have been involved with the testing and have used these devices have found it sufficiently interesting to do further experimentation," said Hache.
Interest in the devices is growing, Hache said.
Five of the 10 fishermen this year invested their own money to buy the devices.
"That was a very good sign for us, because when you get these people interested in an equipment, that are willing to invest, then it means they are looking at this issue seriously," said Hache.
New methods need to be found. Currently, conservation means just shutting down the fishery when whales are spotted.
Ropeless traps can stay in the water, because they pose no danger to the whales.
Photo Credit: korinoxe/iStock/Getty Images Plus
********************************************************
Healing Fish Skins Get Third Grant for U.S. Military Usages
Source: Alaska Fish Radio
By Laine Welch
December 2, 2020
Fish skins that help regenerate human tissue have garnered a $600,000 grant from the U.S. Defense Department to make them available to wounded soldiers.
It's the third grant the Icelandic company Kerecis has received from the Defense Department's Combat Casualty Care Research Program (JPC-6).
Kerecis has pioneered and patented the omega 3 fish skins that need minimal processing. The intact skins provide an infection barrier and enable the body to regrow its own tissues. They already are used around the world in hospitals, by health care workers and consumers. Now, Kerecis will create field kits for use by the U.S. military.
The miraculous cure stems from harnessing nature's own remedies, in this case the omega-3 fatty acids and collagen found in fish skins. And because no disease-transfer risk exists between cold-water fish and humans, the fish skins are ideal for treating soldiers in the field. 
Kerecis is also developing products for oral surgery, plastic surgery, complicated soft-tissue injuries and neurological applications.
Collagen is the most abundant protein in the human body and supports everything from our skin and bones to our toenails.  The marine collagen in fish skins is the same kind.
And while that market is pegged to reach nearly $1 billion by 2023, Alaska's skins are still dumped as wastes.
Kerecis uses mostly Icelandic cod for its skins. Pacific cod from Alaska could produce nearly 1.4 million pounds of skins, assuming a five percent yield, according to economist Dan Lesh of McKinley Research Group, formerly McDowell Group. 
The skin yield is in the 8 to 10 percent range for salmon.
And they are loaded with healing goods:  Studies show cod skins produce about 11 percent collagen and nearly 20 percent has been extracted from salmon skins.  
Below: Hell, we'll make it fit.