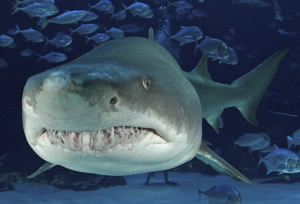 Posted on Readings From The Northside http://exit63.wordpress.com/:
"HUGE SHARK SIGHTED AT THE SEA SHELL AREA OF LBI- 10 WITNESSES SEEN THIS




HUGE SHARK- 10FT OR BIGGER WITH BRIGHT WHITE LOWER HALF AND HUGE TEETH-





NOT A BROWN, DUSKY OR THRESHER MAYBE TIGER SHARK BUT JUST GUESSING."




It is neigh impossible to even remotely ID a shark anecdotally. I accept the size interpretation of this blog. Size guesses, especially when averaged out, are sometimes sorta accurate, minus a foot or two. But, but who was close enough to see the teeth?
The sand tiger shark -- not related to the man-eating tiger shark -- is very mellow yet displays quite possibly the most ferocious-looking teeth in the entire shark realm. Hell, a mature one has viciously jagged teeth stickin' out all over the place, some even outside it lips, pointing upwards and sideways. If I had been an in-water witness to a Beach Haven sand tiger, the ER folks would just now be pondering removing the IVs from my arm after my heart stoppage.
We do have huge sand tiger sharks right flush to the beach but they simply present no danger, short of knocking people clean out with just a smile. Of course, you toy with it in a "Messin' With Sasquatch" manner and it won't hesitate to make squid meat out of you, squid being one it favorite meals.
You might recall a fairly large one being caught by an angler in Atlantic City a couple years back. Sand tigers often swim around in a group, very aptly called a shiver.
The sand tiger is one bizarre-ass shark. And I say that in all due respect, mind you. I picture a copy of this column getting blown into the water and a shiver of sand tigers commence to reading it. "Yo, Gasher, check out what this numbnuts Jay Mann wrote about us. Yeah, that's the same guy we see kickin' around in the water off Ship Bottom. Hey, I'm as mellow as the next shark but this pisses me off!"   
Closer to actuality, sand tigers are the only shark that comes to the surface to gulp air, which it swallows, allowing it to hang suspended within the water column, where it forages right where the food action is hangin'.
But the bizarreness turns pitiless when it comes to sand tigers bearing young. 
What a sand tiger lacks in viciousness on the outside, it makes up for in the world's most ferocious womb. This is almost too hard to fathom. A pregnant sand tiger holds her live young inside -- within, essentially, a swim-about holding-tank. The little ones, called pups, cruise around having a good old time -- until they get hungry. Within the uterine playground, pups vie for power. We're not talking roly-poly wrestling matches, like playful dog pups and such. They begin dining upon each other. Gospel truth. It's called intrauterine cannibalism. "I think I'll have me a sibling for supper." What come out in the birthing end is a couple/few well-fed alpha pups – either feeling very good about themselves or in need of immediate psychotherapy. Or is it: What happens in the womb stays in the womb?
"Were you and your sister the only pups your mom had."
"Uh, you might say that, using the term 'had' loosely." 
But, if you think about this internal sorting out process, it shows why sharks like this have been around longer than commercials. Say the pups were popped out early, before the insider pre-sorting takes place. The odds are at least 80 percent will be fast food for predators. Allowing the pups to self-prey, the same 20 percent survive but they're kick-ass qualified to board the survival train.
Note: Rays are everywhere -- and are a favorite of sand tigers. 
(((((((((((((((((((((((((((((((((())))))))))))))))))))))))))))))))))))
Fluking is phenomenal for many. If you got skunked, sorry to rub it in but I have way too many glowing reports to overlook what is a damn decent run of flatties. The ocean has the edge but a few south end folks have found the hot spots (and tides). Photos don;t lie. Check out some of the tackle shop photo galleries. 
((((((((((((((((((((((((((((((((((((((((())))))))))))))))))))))))))))))))))
In the "Don't Ask" category: 
((((((((((((((((((((((((((((((((((((())))))))))))))))))))))))))))))))))
Hello All,

The bay and inlet continued to produce some fine fishing this past week, and all signs point toward this continuing to be the case for the next couple of weeks. The bay and ocean waters cooled down a bit this week and while that's not good news for swimmers, it will help slow down the fluke exodus from the bay a bit. Weakfish have started to appear in decent numbers to join the fluke, sea bass, spot, kingfish, snappers and blowfish that have been keeping rods bent for the past few weeks.

This was a quiet week for me with two unexpected charter cancellations, but we did make it out twice and had pretty decent fishing both times. On Monday's trip I had the Hoffman brothers (Mike, Steve and David) out on their annual vacation fluke expedition, with the guys landing three dozen or so from Oyster Creek and boxing four of the largest for their evening fish fry. Friday I had a hankering for some tasty blowfish morsels, boxing a couple dozen larger specimens for our dinner table in two hours. Several dozen spot and a couple fat kingfish spiced up the catch. I may have to do that again this week.

Between charters and family commitments I'm pretty well booked up for the next few weeks, but I do still have August 24th (Saturday) and 28th (Wednesday) available before the summer draws to a close.

Until next week,
((((((((((((((((((((((((((((((((((((((()))))))))))))))))))))))))))))))))))))))))))))