"Land-ho ... and not a minute too soon."
***********************************************
Star and stripes and, uh, stripes.
Sunday, August 25, 2019: OK, so yesterday was a gorgeous day for many a sun-seeking soul. Today, not so soulful, as winds have really hit the honk zone; 33 mph in a gust.
My weekend beach volleyball was blown away, as were a slew of ocean fishing trips. Overall it still wasn't quite the loser weekend predicted. Ocean temps between 75 and 78 degrees along the beach with slightly cooler temps further out.
Today, even the bay will be ani-fluking in nature with those steady winds. They won't be backing off all that quickly with northerly and easterly onshores persisting into mid-week. By Thursday, things finally heat up with more of a southerly flow.
I picked up a few after-the-fact (from last week) fishing reports in church, telling of Barnegat bay blowfishing remaining super stellar. Final take for one ardent angler – heading back home for the year today – at 330. "I have a freezer full, which we'll (family) enjoy all winter," he told me.  
If all those blowfish being caught have successfully spawned, we could see upcoming summers again offering this fine fill-in for forbidden weakfishing, which are not showing well at all, despite not being targeted with shrimp chum and such. A few weakie sparklers have been taken as bycatch amid blowfish.
It is a cloudy morning in Beach Haven. The surf is rough with 3 to 4 foot waves. The wind is heavy and out of the NNE. The ocean temp is 71°. You will need 8 to 10 ounces to hold bottom. The air temp is currently 69° and heading to 74°. There is a no swimming alert from the BHBP and a small craft advisory from the USCG.
The bay is rough and a cool 71°.
Had another frustrated soul who had one "measly" keeper among too-many-to-count bayside fluke. He fully agreed that the fluke fishery is in no way hurting, numbers-wise. Inlet fluke are also running small for rock anglers. 
But not in this case ...
Not sure what happened to the huge kingfish biomass we had last month. They might have moved to the north a bit which should have them doing a migratory return throughout September, traditionally  a hot kingfish month.
A loan croaker was taken near Little Egg Inlet. After that hyper push of croakers we had not that many years back, their numbers have been pretty much neutralized by Atlantic shrimpers. When we had that amazing showing of croakers, the shrimping industry was in deep decline, since reversed.
A couple trigger fish here taken in the surf. That's a tad unusual, though it might me because folks rarely fish small hooks and baits in the suds, as they're doing this year when seeking kingfish.
I've been doing some nest net throws bayside, north end, and haven't netted a single spot or sailor's choice where I usually get a goodly showing of them. At the same time, there seems to be a strong showing of spotted butterfly fish, a southern stray species I once collected and sold to pet shops in Camden County.
Overall, the bay seems quite healthy. I know about the bay swimming beach closings in Barnegat Light but that is very localized and due to dog crap owners aren't picking up. That information came down from the county health department, which is analyzing the closed water and finding germs common to dog feces. The beach is open now but as you can see in this photo, it hasn't got many customers, reputation and all.
Cobia are still kicking it. Not sure why but state records are falling left and right up and down the coast. 
Douglas Taylor Len Andalis of Philadelphia reeled in the new state record Cobia on August 9, 2019. The fish weighed 90 pounds, 6 ounces, eclipsing the 20 year old previous state record by 3 pounds, 6 ounces. The fish measured 66" in length and had a girth of 30". Len was fishing off his boat, the Francesca Rose, on the McCrie Shoal when the fish hit while he was casting. Len was using a Conley rod and a Shimano 8000 reel with 17-pound line. A white bucktail with Sluggo served as the lure.
Nice Fish!!!!! Nice Money fish too$$$$$$$
*******************************************************
I did a bayside stop by yesterday and saw folks taking in the sunniness:
Replacing bible studies with some devotion to paddleboarding. 
Below: The red beard sponge vies for the bay's most colorful growth. This one was quickly placed back in the water after its paparazzi moment. 
(These two cassocked Christians were an oddish sight at Sunset Park,. HC)
Today in Harvey Cedars, these folks were looking for a pickup up game ... but everybody knew they didn't stand a prayer against them. (Actually, they're just waiting for their brother buddies to arrive.)
*****************************************************************
Today's catch! First trigger fish of the year.
********************************************************
Not sure why I find this quite humorous ... 
((((((((((((((((((((((((((((((((((((((((((((((((((((((((((Part of insightful editorial )))))))))))))))))))))))))))))))))))
... Blocking offshore wind farms along the East Coast, by contrast, would cost many thousands of jobs as Rhode Island and New Bedford scramble to become industrial staging areas for offshore wind.  Within the decade the number of jobs created in the wind energy sector would be many times greater than employment in the seafood sector.  In fact, it is the huge boost in employment and domestic energy production that gives the wind farms political clout, not their beneficial environmental impact.
But more than that, the East Coast fishing industry won't survive without offshore wind.  The big picture is that unless carbon-based energy is dramatically reduced within a ten-year span, the North Atlantic, along with other parts of the globe, may reach a tipping point where warming generates catastrophic and irreversible decline.
Here are a few of the real threats to the survival of the seafood industry:
-destruction of salt marshes and estuaries by sea-level rise, resulting in lower production of many species.
-loss of zooplankton at the base of the food chain which rely on stable water temperatures and non-toxic levels of ocean acidity to survive.
-changes in fish spawning and migration patterns that leave historical fishing communities stranded and depleted.
In New England, steamer clams have been largely wiped out by invasive green crabs, and their mudflat habitat will be significantly reduced. 
The problems that lobstermen are having with right whales and new gear restrictions are directly related to the whales migrating due to loss of traditional feeding grounds due to warming.  That is why they are migrating to the Gulf of St. Lawrence, and why more of them are dying, leading NOAA and the Canadians to push for much harsher restrictions on lobster and crabbing.
New England cod has been depleted largely because of temperature, rather than overfishing.  The fact that temperature warmed so that cod were more vulnerable in the southern end of their range has inhibited their recovery, no matter how severely NOAA cuts the quota.
The entire lobster fishery south of Cape Cod has lost 90% of its harvest due to warming.
All these costs are going to increase exponentially and apply across more species.  There may be some winners, but in that case, the fishing communities that in the past depended on these fisheries will largely lose out.  The expectation is that within a generation, much of the Maine lobster stock will have migrated further north to Canada.
Until last year, Federal regulations required 25% of all summer flounder to be landed in North Carolina.  Wanchese used to be the center of the industry.  Now the species is centered south of Martha's Vineyard, and it is not profitable for most boats to make the trek north and bring the fish back to North Carolina.
In their fall 2018 Ocean Shock series  Reuters said that  "85 percent of the nearly 70 federally tracked species had shifted north or deeper, or both, when compared to the norm over the past half-century, according to the Reuters analysis of U.S. fisheries data."

"But this great migration is not just off the coast of America. Pushed out of their traditional habitats by the dramatically rising ocean temperatures and other fallout from climate change, summer flounder are part of a global disruption of marine species that threatens livelihoods, cultures and the delicate balance of the oceans themselves."
The basic fact is the East Coast seafood industry has already lost hundreds of millions of dollars due to warming and the uncompensated external cost of fossil fuels.
Offshore wind energy is not the only solution to reducing carbon emissions, but it is one of the concrete steps needed to prevent total coastal catastrophe.
So unlike Pebble, where not having the mine has no significant public or social impacts, blocking the development of East Coast offshore wind will actively worsen the harm already occurring in the seafood industry, and may contribute to the elimination of the industry altogether.
The starting point for any seafood industry discussion of offshore wind has to be that it is a necessary step to move away from the warming catastrophe, and the faster it comes online over the next decade, the better chance we have to preserve all the things we hold dear in our traditional fisheries.
Secondly, the fishing industry has a right to coexist with the commercial offshore power industry, and there are multiple ways this can happen.
One of the major issues involved in Vineyard wind is the distance between the towers, which fishing advocates want to see as 1 nautical mile both North and South, and East and West.  The plan already incorporates this separation East and West but squeezes it to .8 nautical miles in some areas North to South.
The UK, which has a very active fishing industry, is one of the largest sites of wind farms in Europe.  They have different specifications for the construction and operation phase.  During construction, indeed there are impacts on fishing grounds including loss of opportunity and habitat changes.
These are things the fishing industry should be compensated for, and all the current US plans acknowledge the need for such compensation.
Once the sites are built, the UK requires a safety zone of only 50 meters from the towers, which should be sufficient for some types of fishing activities within the offshore farm area.  The UK has also seen some increases in fish biomass in the wind farm areas.
The industry is also correct in asking for some kind of standard for the offshore developments, as many more are planned after Vineyard wind.
Studies that recommend minimum clearances between towers, for example, could help standardize the different lease areas so that there would not be differences transiting one zone to another.
So far there has been little education from leading fishery advocates about the need for these wind farms to come online.  Speaking out about the need to slow or reverse ocean warming at the same time as laying out the needs of the fishing industry to co-exist could lead to a much better outcome, both in terms of political support for mitigation, and in terms of generic regulation of offshore energy companies so that they all meet the minimum standards for interacting with the fishing industry.
Crying wolf and saying that the offshore farms are a mortal threat to fishing communities is not true and opens up the industry to the risk of having its concerns cast aside once the juggernaut of offshore development gets going.
The Pebble Mine risk to the seafood industry cannot be reduced, because the mine requires acid waste storage in perpetuity in an earthquake-prone area.  The EPA determined that there was no solution to protect water quality if the mine was built.  This decision has been politically reversed, but will likely be reinstated with the next change in administrations.  If the storage dam is breached, the copper and heavy metal waste destroys the salmon fishery.
The Wind Farms in the northeast not only contribute to slowing global warming but have impacts that can be mitigated with planning and compensation.  Focusing on these areas is a reasonable approach that often gets kicked to the gutter by those who are trying to crank up opposition.
The seafood industry can co-exist with offshore wind and should welcome the vitality it may bring to fishing ports that have seen declines in jobs and should welcome the contribution it may make to slowing the impacts of warming on our oceans.
NOAA must also recognize that its goal of preserving and maintaining US fisheries cannot be accomplished without integrating wind energy into our national resource capacity and act expeditiously to find solutions where regulations are in conflict.
Photo Credit: it's all about the shot/ iStock/ Getty Images Plus
John Sackton
SeafoodNews.com
1-781-861-1441
jsackton@urnerbarry.com
***************************************************************
*************************************************
(And here I thought it was global warming ...) 
University Study Shows Longline Fishing Hampers Shark Migration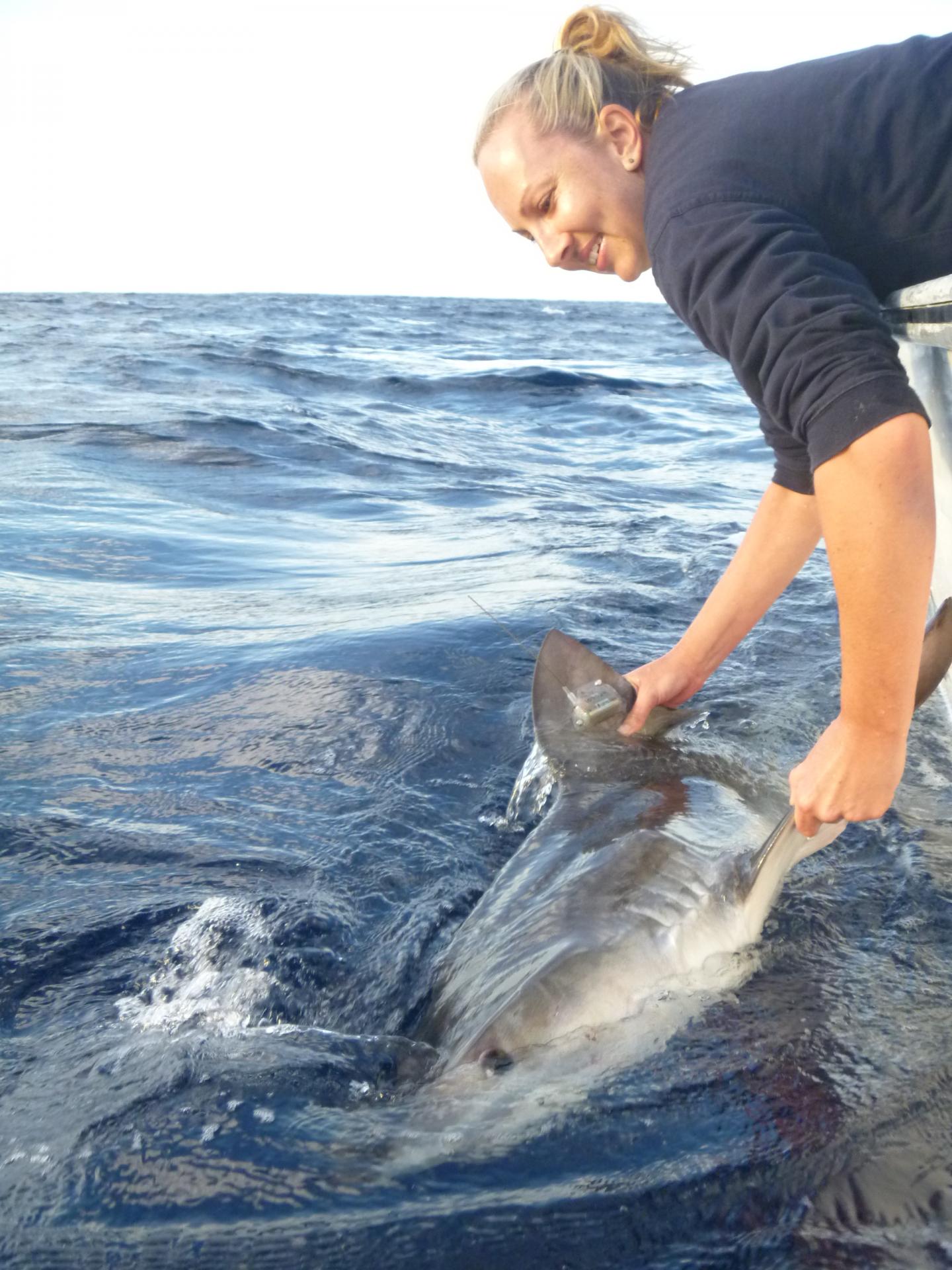 Longline fisheries around the world are significantly affecting migrating shark populations, according to an international study featuring a University of Queensland researcher.
The study found that approximately a quarter of the studied sharks' migratory paths fell under the footprint of longline fisheries, directly killing sharks and also affecting their food supply, according to a university press release. Pelagic longline operations typically target tunas and swordfish.
Dr. Bonnie Holmes, from UQ's School of Biological Sciences, wanted to find out why shark numbers have been declining significantly over the past 20 years.
"We're losing these incredible creatures, and we know so little about shark movements and what drives them," she said in the statement. "I joined an international research effort, using new technologies - like satellite tracking and big data analysis - to help answer some critical questions."
The team, comprising more than 150 scientists from 25 countries, collated the migratory tracks of more than 1,600 sharks from a range of species, examining shark movements on a global scale.
"This allowed us to, for the first time, to see how different species overlap in habitats, both in time and space, and understand how these species are interacting with global fishing fleets," Holmes said in the release.
Preliminary results showed sharks are exposed to longline fishing pressure about 25 percent of the time.
"This doesn't even include localized pressures from near-shore operations, like game fishing, shark control or subsistence fishing," Holmes said.
"These sharks are amazing animals that can travel vast distances, but it's clear that they have limited refuge from both high-seas and coastal fishing operations."
Holmes said sharks can travel vast distances but have limited refuge from both high seas and coastal fishing operations. She said tiger sharks in the Oceania region are at moderate to high risk from longline operations for at least six months of the year.
Still, collaboration international collaboration is key, she said. International cooperation can help protect and foster shark species while also producing more 
study results from the data.
"Our international team now has more projects in mind for our collective data, which will hopefully result in some significant action, helping prioritize management improvements across jurisdictions," Holmes said in the release. " … This is how we'll create real action on issues like sustainable fishing, and further understand how contemporary, complex issues like climate change are impacting the wildlife around us."
***********************************************
Here's the updated rules for the upcoming 2019 Long Beach Island Surf Fishing Classic ... Registration begins this coming Friday. 
RULES: 2019 LBI SURF FISHING CLASSIC
1. BOUNDARIES: Fish must be caught from the shores of
Long Beach Island only: ocean, inlet, bay, and jetties. Boat fishing
is not permitted.
2. WITNESSES: If you catch a fish that may be a grand prize
contender, the tournament committee urges you to secure a witness (or witnesses) while the fish is alive, or as soon as possible
after the catch. The name and contact info of the witness(es)
should be given to the weighmaster at the time of weigh in.
3. REGISTRATION: Contestants must register with the tournament before fishing and weighing in fish. Registrations are sold
at the weigh-in stations (See item 9. WEIGHING). Entry fee is $30
for adults; 17 and younger $15.
4. Contestants may not use more than two bait rods at any time.
One additional plugging rod is allowed. No assisted delivery systems (kites, drones, kayaks, paddleboards, cannons) permitted.
5. From the time that a fish strikes or takes a bait or lure, only the
angler may handle the rod, reel and/or line
6. Minimum length for bluefish is 28 inches. Each angler may
enter two bluefish each tournament day.
7. Minimum length for striped bass is 28 inches. Each angler may
enter only one striped bass each tournament day.
8. Red drum legal length is between minimum 18 inches and
maximum 27 inches (slot).
All fish entered must comply with NJ and Federal regulations
9. WEIGHING
A. Fish must be weighed at an official weigh-in station:
Surf City Bait &Tackle, 317 Long Beach Blvd., Surf City,
494-2333; Fisherman's Headquarters, 280 W. 9th St., Ship
Bottom, 494-5739; Jingles' Bait & Tackle, 1214 Long Beach
Blvd., Beach Haven, 492-2795.
Check with the weigh-in stations for open hours.
ANGLER MUST PRESENT OFFICIAL LBI CLASSIC
REGISTRATION WHEN WEIGHING IN A FISH
B. Fish must be weighed within 24 hours of being caught.
Each tournament day ends at 6 p.m. Weigh-in data counts for
the day of weigh-in, which may not always be the day of catch.
Once the tournament starts, weigh-ins are recorded as
received at the weigh-in stations based on a period beginning
at 6:00:01 p.m. and then 24 hours later ending at 6:00:00 p.m.
However, fish may only be weighed during the posted hours of
each weigh-in station. NOTE: On the last day of the tournament, Dec. 8 the weigh-in ends at 6 p.m. Anglers must leave
the surf in time to weigh their entries before 6 p.m. deadline.
C. Anglers are responsible for weighing in their own fish.
D. At the weigh-in station, contestants must certify the time
and town of their catch. Vague references like (but not limited
to) North End, South End, etc. are not accepted.
Incomplete or incorrect information on weigh slip may
result in disqualification of the fish listed on slip. Be sure
all the information is complete and correct before signing.
E. The official weigher certifies the species, weight, length
and girth of each fish entered and clips the fish's tail after it has
been weighed.
F. The official weigher gives the contestant a duplicate
copy of the weigh-in slip and a souvenir button.
G. Buttons are awarded for released fish if the fish is of
tournament size. Released fish are not eligible for any prize
unless they are entered into the tournament via being
weighed in at an official weigh-in station and then released.
10. SEGMENTS The nine-week tournament begins at 5 a.m.
on Saturday, Oct. 5 and ends Sunday, Dec. 8, at 6 p.m.
A. The tournament is divided into weeks and
three-week segments.
B. The first week of the tournament ends at 6 p.m. Sunday, Oct. 13. Each of the subsequent weeks of the competition ends at 6 p.m. on Sunday.
C. The three three-week segments also end on Sunday
evenings.
The 1ST SEGMENT begins on Saturday, Oct. 5, at 5
a.m. and ends Sunday, Oct. 27, at 6 p.m.
The 2ND SEGMENT begins Sunday evening, Oct. 27,
immediately after the close of the 1st segment. It ends
on Sunday, Nov. 17, at 6 p.m.
The 3RD SEGMENT begins Sunday evening, Nov. 17,
immediately after the close of the 2nd segment. It ends
Sunday, Dec. 8 at 6 p.m.
11. PRIZE DISTRIBUTION: In case of tied weights, winner
determined by first weighed in. .
A. A contestant is only eligible for One First Daily Prize
per species, per week
B. A contestant is eligible for one Weekly or one Segment prize per species; species Grand Prize winners are
not eligible to win segment nor weekly prizes for that same
species.
C. Daily Prizes will be awarded within 15 working days;
to be picked up at Surf City Bait & Tackle. Weekly, Segment, Grand and Special Prizes are awarded at close of
the tournament and will be mailed.
D. Contestants age 17 and younger at registration are
eligible for Junior Prizes. Proof of age may be required.
Juniors may win only one $100 Junior Prize for bass, and
one $100 Junior Prize for bluefish. Weekly, Segment, or
Grand prize winning fish entered by a junior angler are not
eligible for the Junior Weekly Prize.
E. Contestants age 62 and older at registration are
eligible for Senior Citizens' Prizes.
F. Ladies age 18 and older at registration are eligible
for Ladies' Prizes.
G. Prizes presented by businesses, fishing clubs,
and tournament participants and supporters are not
guaranteed by the Long Beach Island Surf Fishing
Tournament. Check tournament Facebook page
(LBISurfFishingClassic) or at www.lbisfc.com during the
tournament for updated listings of special prizes.
H. Any winner of $600 or more total for tournament will
be issued a 1099 and must sign W-9 form to receive prize
as per IRS requirements.
12. BY REGISTERING IN THE LBI SURF FISHING
CLASSIC YOU AGREE
A. Tournament officials have the right to:
Cut open or mark any fish after it has been weighed.
Hold a fish for inspection by an acknowledged expert and/
or committee review. (Entries deemed not compliant with
tournament regulations will be disqualified.)
Disqualify any contestant found violating these rules.
Photograph entries and use the photographs for publicity
B. To submit to a polygraph examination if requested
to do so by the LBI Surf Fishing Classic Committee. Failure
to submit to a polygraph test within 15 days will result in
disqualification of the angler, all the angler's catches, and
the withholding of all prizes.
C. All decisions of tournament officials are final.
D. The LBI Surf Fishing Classic Committee shall be the
sole interpreter of these rules.
E. Failure to abide by any/all rules as determined by
the LBI Surf Fishing Classic Committee may result in angler ineligibility to participate in present and/or future tournaments.
.
13. PROTESTS: The LBI Surf Fishing Classic Committee
will review all signed protests. Anonymous protests will not
be considered; name and contact info must be provided
along with all signed protests and delivered to participating
tournament weigh station (see Section 8 Weighing.)
Neither beach conditions nor beach access is guaranteed by
LBI Surf Fishing Classic. Please observe local ordinances.
Tournament entry fee is nonrefundable.