Friday, March 02, 2018: It's honkin' like all get-out … as expected. NW winds are pushing mid-40s mph (5 p.m.) and could be building a bit more. The snowflakes mixing in are fully expected, after all, we're getting icy NW air from western New York, which is getting up to two feet of snow. There's even a chance for a mainland area or two to get a snow "downpour" and end up with a couple inches … and a quick melt.
Better there than here ... 
Here's a look out my window at 5:50 p.m.
http://www.youtube.com/watch?v=43RBmrnNRmI&feature=youtu.be
By the by, the winds are more west than first expected. This will continue to work in our favor, reducing some bayside flooding impacts. There is still an s-load of moving water out there from the now fully intensified low pressure off North Jersey – north of which a nor'easter is on full swing.
I'm seeing computer indicators that the system could move directly out to sea a bit faster than anticipated. In fact, winds should now back off, for us, by midnight, though still crank.
Caution: Please do not try coming down the Island tonight or, likely, tomorrow.  I've had three emails and a phone call from home owners wondering about coming down to check their homes. Face it, they also want to come down just out of look-around curiosity. Hell, I don't blame them. But sounding like that cop standing in front of a multicolor exploding fireworks building, "Just keep moving. There's nothing to see here."
I'm betting tonight will see the main/worst flooding along the Boulevard, circa 9 pm to midnight. What's more, even when the winds back off tomorrow, the minor to just-moderate flood potential is there during bayside high tides periods. Remember: On LBI, even "minor" flooding renders areas of the Boulevard impassible.
Plaudits to the Weather Service for cleverly adding some new language to their flooded coastal road warnings. They're now including "Driving through water can damage your vehicle, leading to expensive repairs." Not only does that warning hold water but it hits home with outsiders, who don't always register that coastal flooding has salt within.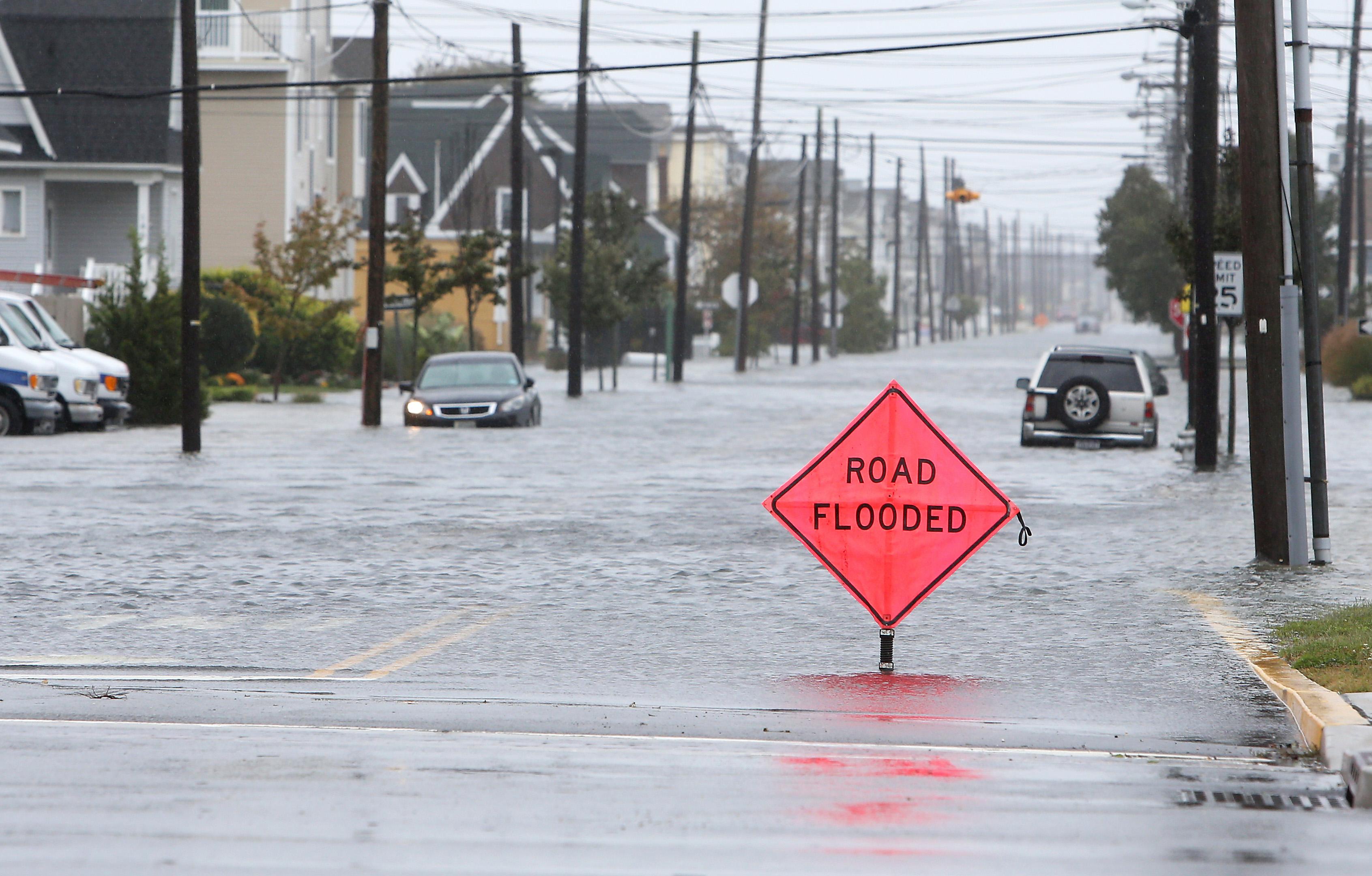 An appropriate LBI trivia tidbit: We're four days from the anniversary of the Great March Storm of '62, also called The Great Atlantic Storm of 1962 and the Ash Wednesday Storm of 1962. Back when it hit, it was also called some other unmentionable names.  
The March '62 Storm has been highlighted by U.S. Geological Survey as one of the most destructive storms of any ilk – including hurricanes – to hit the mid-Atlantic states.
While the March Storm (all you have to call it for locals to know of what you speak) was amazing, the lack of pre-storm hype and forecast buildup – it was totally unpredicted – made it more of a "Yikes! What just hit us!?" event. No sooner had the shocked headshaking stopped than it was "Well, better start clean up this mess. I'm guessing we might want to get some of those houses off the Boulevard first." Weirdly put, there was very little rending of clothing and gnashing of teeth over the storm's damages. Needless to say, things were different then.
By the by, the March Storm was also a snow event, dropping about nine inches on the mainland and creating blizzard conditions – also unforeseen – throughout much of South Jersey.  
The Great March Storm of 1962 was classified as a level 5 or "Extreme Nor'easter" by the Dolan-Davis scale for classification of Atlantic Nor'easters. While we'll have to wait until tomorrow to see what the current blow rates, here's hoping it holds a mere low-moderate. 
==============================================================================================
Press Release February 15, 2018: Friends of Forsythe National Wildlife Refuge
Friends of Edwin B. Forsythe National Wildlife Refuge has upcoming openings for several new board members. Candidates with a passion for our mission are encouraged to apply! We are particularly interested in attracting new candidates with experience in finance, membership, outreach, marketing and environmental education.
"It's an exciting time to be a board member for the Friends of Forsythe," President Bill Harclerode said in a press release. "Our 47,000 acre refuge serves almost 250,000 visitors annually, and over 25,000 of them visit the Visitors Information Center. Our mission is to support the refuge - and there are lots of opportunities for board members to make a positive impact!"
Current programs include operating the gift shop, staffing the visitors center, providing free tram tours of Wildlife Drive to see the birds, delivering environmental education programs to local school children, hosting a live osprey cam, and various events including refuge cleanups and the fishing derby.
Board members attend monthly board meetings and committee meetings. Other duties include strategic planning, fundraising, and adopting an annual budget.
Regular board meetings are held at 5 PM on the second Thursday of each month at the Forsythe Refuge Headquarters at 800 Great Creek Road in Oceanville, NJ, with teleconferencing capabilities. The public is welcome at our meetings.  Please feel free to attend, meet the refuge staff and board members, and see what we do.
To learn more about the Friends of Forsythe, please see our website at www.friendsofforsythe.org. If you are interested in contributing your time and talent as a board member, please contact Nominating Committee members Stephanie Sanchez (973-713-1468, sssanz@aol.com) or Bill Harclerode (908-894-8300, billharclerode@gmail.com).
=========================================================================================
Seafood video: https://youtu.be/YUNzPbpRRpg?t=8
=============================================================================================
Researchers Studying How Unregulated Contaminent 'GenX' Impacts Oysters
SEAFOODNEWS.COM [WECT 6] by Ben Smart - March 2, 2018
GenX is an emerging and unregulated contaminant found in non-stick cookware, laptops and cell phones.
WILMINGTON, NC (WECT) - UNC Wilmington researchers are studying oysters as a model animal to learn how GenX impacts the aquatic environment. Little is known about the impact of GenX on animal health because few research studies are available to the public.
"Oysters are great examples of canaries in the coal mine," said Aswani Volety, a marine science expert leading the GenX oyster research at UNCW. 
The oysters are being tested at the UNCW Center for Marine Science.
Oysters are ideal indicators of overall water quality because they spend almost their entire lives in one place and filter about 70 gallons of water per day, according to Volety. 
"If [oysters] there are doing well, you can attribute it to the water quality around them. If they are not doing well, you can also attribute it to the water quality around them," said Volety.
In one study already underway, Volety's research team is testing the tissue of wild oysters in the Cape Fear River to see if GenX has built up over time, called bioaccumulation. Volety said this research should be completed in the next 3-4 months. 
"Given the high filtration rate of oysters, even though the concentration might be low, they might be accumulating or they might be exposed to a high concentration just because of the filtration," said Volety.
The concern with bioaccumulation is that with each successive level of organism in the food chain, chemical concentration increases tenfold, according to Volety.
"Humans are the ultimate top of the food pyramid, so we want to make sure that there is no harm or effect to human beings whatsoever," said Volety.
Another research study, which is still being set up at the Center for Marine Science, is exposing clean oysters to different concentrations of GenX in their water tanks. They've already bought a supply of the odorless and colorless GenX chemical compound for testing. 
Researchers want to know how, if at all, GenX bioaccumulates at different concentrations. As part of this study, the research team will also observe how the concentrations impact the oyster's health and function, including respiration, reproduction, and cellular effects.
"We don't want to necessarily wait for something to happen and then realize we have a problem. So we do some kind of biomarker, or quick studies, to make sure they don't have effects even at low concentrations," said Volety.
Volety said the Gen X oyster tests will be finished in the next three to six months and studies should be published within a year.
The studies are being funded through the NC Contingency and Emergency Fund, which provided $250,000 to UNCW researchers in mid-November.
===========================================================================================