COME ON BACK TO THE CLASSIC!: And one sure way of getting the casters to come down by the loadful is the lure of the annual eight-week Long Beach Island Surf Fishing Classic, now under new management.
The 2013 "Classic" runs from Monday, October 7, thru Sunday, December 1.
Yes, that starting date is a bit unusual, since we usually begin on a Saturday. But, the expanded tournament committee wants to get the event's start closer to the Chowderfest weekend, Oct.5 and 6.
Stay updated and uploaded at http://lbift.com/.
You likely know that the originators of the fall "Derby/Classic," the Southern Ocean County Chamber Commerce, has opted to hand the reins of the long-lived tournament over to a committee comprised of shop owners, fishing clubs and those close to contest. It's what I call an eel-grass root event.
I'll be the first to admit it couldn't be a worse year for the switchover, with the Sandy factor sure to make it fiercely hard to get a read on how best to bring the prestigious event back to its former glory.
I can't recall a fall that has offered a larger question mark as to whether or not anglers will/can get down here. All I can guarantee is incredible fishing. I kid you not. Through whatever cosmic insights I get from watching the sea so closely, very good fishing things are aligning for fall. And I'll be a knock-on-wooder by banally saying, "Tropics permitting."
I'm huge on optimistically noting the potential of making the Classic into a big-dollar surfcasting event, now that polygraphs are routinely used. However, it's imperative for the new event to move forward in small steps -- the largest being the sincere inviting back of those who are -- or have ever been -- part of the derby/tourney/classic. I'm heavily inviting those who might have drifted off. We need all ya'll like never before. Participating in "Classic 2103" will help forward all the improvements being planned by the new tourney committee.
((((((((((((((((((((((((((((((((((((((((((((())))))))))))))))))))))))))))))))))))))))))))
JIGGING FOR FLUKE: While I have damn decent success jigging for fluke, it is nowhere near as effective as dragging bait – squid strips, GULP, minnies, spearing -- along the bottom. But it's fun.
I often hear folks saying they're jigging when they're actually throwing out jigheads graced with bait. That is technically bait fishing using a jighead as a weight – and a great system, to be sure; one of the best when boat drifting.
However, true jigging for fluke, especially in the surf, is actively hopping and jumping a jig off the bottom. In its truest form, there is no bait, though plastics are fully acceptable.
A fluke reflexively nails a jig due to its jumping or sinking action, unlike the slower, more tenacious taking of a bait. This difference looms large. A jig hit is purely one and done. You have a flash-fast chance to hook a hit. Second chances on the same fish rarely come.
Jigging adds a real fun and skill factor when fluking. The miss rate, short hits, is often too frustrating for the unpracticed – and even the practiced.
Tip: A fish will nail a jig at any point, be it upswing or fall. You have to be tensed at all time. It's toughest learning to detect and react to a hit on the fall, when line is slack. It can be a slight tap or, often, the line going slack before the fall is done.
One of the better ways to home in on fluke when jigging is to think smaller jigheads, half-ouncers when conditions allow. This allows the fish to inhale the artificial.
When boat fluking, it's fun to jig a large, bare or tied shad dart. It feels so light when jigged, almost like bare line, until, all of a sudden, it's as if you just snagged into a huge log. Even a smaller fish feels huge. It's hard to use darts in the surf unless they're real large.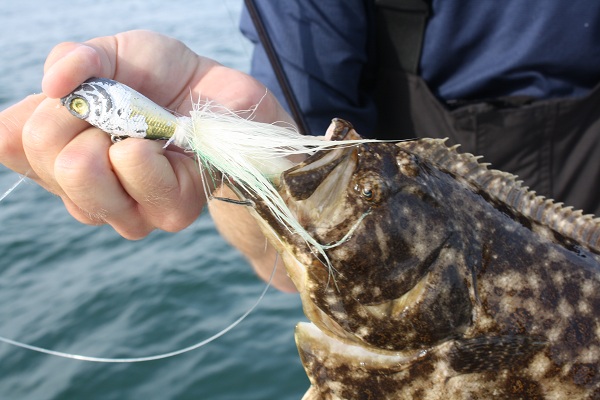 Yes, I'm psyched to get in some September surf fluking.
Saturday's hard southerly did what they usually do, drop the water temperature. I read 62 degrees today coming in the inlet at the top of the tide. The bay has been stable in the mid-70s for many days now. Even with that the bait in the marshes and lagoons is getting anxious. It has been easy to fill up my live well with peanut bunker and mullet when needed. You just need to be on them before the sun is up. My recent trips have had great success battling bluefish on light tackle to four pounds and chumming up the myriad of species (blowfish, spot, croakers, juvenile sea bass, porgies, kingfish, snappers, etc.) in Barnegat Bay right now. On one trip in which we targeted fluke we boxed 1 keeper out of the 50 plus landed. Then two days later when not targeting them we caught only 1 fluke, which was a nice keeper, go figure. Smooth dogfish have shown up in good numbers. Attached is a picture of 11 year James Hirschberg holding a doggie. Speaking of sharks below is a link to a video I shot of a shark release during the Robertson charter this week.
http://www.youtube.com/watch?v=l_La6xjtH5Q
Screaming drags,
Capt. Alex
LightHouseSportfishing.com
Barnegat, NJ
609-548-2511
((((((((((((((((((((((((((((((((((((())))))))))))))))))))))))))))))))))))