Copyright © 2019 NZME Publishing
By Jamie Morton
Scientists are learning about how broken-down plastics affect fish — by feeding it to them.
Microplastics, one of the most pervasive pollutants, have now been found in the planet's most pristine ocean waters — and even rainwater.
But scientists still have much to understand about the microscopic scourge — especially its effects on the health of humans and marine species.
In a two-part experiment, University of Auckland masters student Veronica Rotman has been feeding microplastics to snapper at Niwa's aquaculture research facility near Whangārei.
"It's critical to find out what's going on with plastic in our ecosystems," she said. "I want to see whether the plastic is egested, remains in the gut or migrates to other parts of the fish, including the flesh we eat."
Rotman was using coloured polystyrene — one of the ocean's top five plastic polluters — and a blender to generate microplastics between 50 microns and 2mm in size.
She then soaked some samples in the Waitemata Harbour for just over a month to mimic similar conditions fishes experience in the environment.
"Plastic acts a sponge for pollutants, soaking up harbour waste — industrial chemicals, pesticides, heavy metals and bacteria, so I wanted a relevant environmental treatment."
Lastly, the polystyrene was being fed in varying amounts to 160 juvenile snapper held in 20 aquaculture tanks at Niwa's Northland Marine Research Centre at Bream Bay, along with their regular diet.
After 10 weeks of treatment the snapper would be dissected to determine how much the fish had retained.
She'd also be looking for any effects on growth or condition, whether it had done any damage to their gastrointestinal tract, and whether the microplastics translocated into the liver and muscular tissue.
"What I'm really interested in is the levels of toxicity caused by microplastics accumulating in the digestive tract," she said.
"The snapper experiment should shed some light on whether microplastics can translocate into the flesh we eat and how exposure may impact their physiology, reproduction and fitness."
The second part of the experiment will see the focus shift to hoki — New Zealand's most commercially valuable finfish species.
"It will be very interesting to see whether hoki are consuming microplastics and if there are any variations between the different sample locations due to proximity to human settlement and sources of pollution."
Her work came as the World Health Organisation somewhat allayed fears around the human consumption of microplastics.
According to its recent analysis, which summarized the latest knowledge on microplastics in drinking water, microplastics larger than 150 micrometres were not likely to be absorbed in the human body and uptake of smaller particles is expected to be limited.
But further research was needed to obtain a more accurate assessment of exposure to microplastics and their potential impacts on human health.
These included developing standard methods for measuring microplastic particles in water; more studies on the sources and occurrence of microplastics in fresh water; and the efficacy of different treatment processes.
Plastics are also the focus of a renowned US scientist giving a talk at the University of Auckland next Tuesday evening. Dr Pete Myers, chief executive and chief scientist of US organisation Environmental Health Sciences, has been at the forefront of research into how human health is affected by toxic pollutants — especially those that disrupt or interfere with our endocrine system.
The National Fisheries Institute (NFI) announced its new YouTube channel, "AboutSeafood". The channel aims to educate health care professionals and curious consumers about the role of seafood in the diet. Jennifer McGuire, NFI's registered dietician is the host of the channel.
"Seafood is one of the healthiest foods on the planet, yet confusion still exists about how much to eat, what pregnant women and children's seafood diets should look like, and how fish fits into an overall eating pattern," said Jennifer McGuire, MS, RD. "Through conversations with colleagues in the nutrition space, we hope to debunk myths and provide clarity about seafood."
The new channel features 10-minute videos with expert guests. McGuire recently sat down with registered dietician and author Nancy Tringa.... They discussed eating seafood during pregnancy. These sit-down interviews are at the channel's core and drive home NFI's mission.
Alongside the expert conversations, the channel will feature shorter videos to share quick facts and insight about seafood nutrition.
"YouTube is the second largest search engine behind Google, making it an important platform to provide accurate, actionable information about eating seafood from credentialed professionals," said Lynsee Fowler, NFI's Communications Manager.
To learn more about the channel, McGuire hosts an intro video that explains her history with eating seafood during pregnancy. She explains that she received inaccurate advice about eating seafood when she was pregnant with her three boys. McGuire also dives into her background and how she gets seafood on the table in her home.
"Having a deep understanding of nutrition science is the backbone of the information my guests and I share in these conservations," said McGuire. "By pairing that science with practical tips, we help health care professionals – and the families they interact with – get more seafood on the table."
The channel will be regularly updated with new videos. McGuire is attending the Food and Nutrition Conference and Expo in Philadelphia October 26-29, where she'll be sitting down with a handful of nutrition experts to film new episodes for the channel, NFI said.
Chesapeake Bay Restoration; Researchers Hope Bacteria can Help Oysters
Copyright © 2019 Salisbury Daily Times
By  Jeremy Cox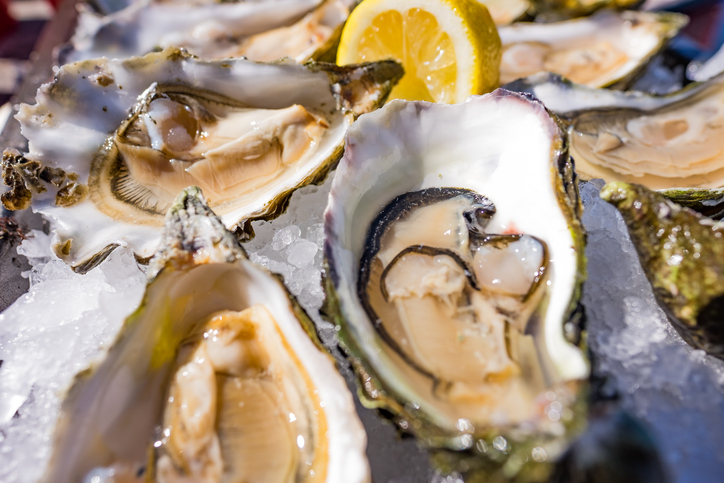 Ryan Hoover teaches sculpture making at the Maryland Institute College of Art. So, why is he developing a product that could help oysters grow in the Chesapeake Bay?
"That's a fine question," he said, laughing.
The answer is that he prefers to make art that has a function. In this case, he's using new technology to build better artificial reefs for oysters — with an assist from nature itself.
The Chesapeake's oyster population is believed to be at approximately 1% of its historic abundance. Scientists say habitat loss is partly to blame. In many places, dredging has reduced oyster beds to thin, half-buried sheets of dead shells that offer little support for new generations of bivalves.
Restoring oyster reefs is one of the top goals of the multistate and federal bay cleanup program. Oyster shells are widely believed to be the best perch for attracting and growing young oysters, but it's hard to find enough shells — dead or alive — to use for restoration.
Fishery managers have substituted other materials, such as granite, with mixed success.
Hoover is collaborating with the University Maryland Center for Environmental Science on developing a cementlike substance that, they hope, will provide growing strata for oysters and approach the productivity of natural reefs.
Well, UMCES is only one of his collaborators. The other is a common type of bacteria that doesn't cause disease and lives in the soil.
When mixed with nutrients, Sporosarcina pasteurii spits out calcium carbonate crystals, one of the main ingredients in oyster shells. Hoover and his team combine this mixture with sand. The crystals grow to fill the space between the grains, binding them together.
The result is sandstonelike material known as biocement.
The project puts the team at the front lines of a field still in its infancy. Biofabrication, as it's called, harnesses biological organisms to make new products.
Hoover describes the process this way: In manufacturing, humans start with something nature has made, cut it up into smaller pieces and reassemble it into a product. One example: sawing a tree into boards and putting them together to form a chair. Biofabrication revolutionizes that process.
"What if we could take the tree cells and assemble those into the shape of a chair?" Hoover asked.
The field has made headlines for promising advancements in medicine, such as efforts to make organs with 3D printers.
Several universities and startups across the country have been racing in recent years to develop and manufacture products with biocement on a large scale.
Possible applications, backers said, include using it to harden important historic buildings, store carbon underground and make a grout that shores up soils in earthquake-prone areas.
One of the uses closest to being realized involves a North Carolina company working with the U.S. Air Force to build aircraft runways in out-of-the-way places where traditional construction is unwieldy.
Hoover is no newcomer to biofabrication. He developed a biofabrication lab at the College of Art a few years ago, where he and students have developed a range of uses, from colorful petri dish art to vegan wool.
The lack of natural shells for restoring reefs has been an ongoing challenge in the Chesapeake.
In Maryland, efforts to dredge buried shell have been greeted by criticism from anglers and environmentalists, who say the practice destroys valuable fish habitat.
Restaurants and seafood businesses have partnered to conserve and reuse shells. But the total returned to the bay hasn't been nearly enough to offset the shells lost to harvest and ensure a ready supply for restoration sites.
Fishery managers have turned to shell alternatives, such as concrete, granite and even porcelain toilets. But young oysters, known as spat or larvae, generally have had greater trouble latching onto the artificial materials. They also tend to grow at a slower rate.
Because biocement consists of some of the same ingredients as natural shell, Matthew Gray, Hoover's partner at UMCES, thinks spat will be more apt to settle on it and grow compared with other artificial alternatives.
"Larvae are particular about what they want to settle on," said Gray, an oyster researcher at the center's Horn Point Laboratory near Cambridge.
Since biocement eventually dissolves when exposed to water, Gray and Hoover hope it proves more palatable to watermen and boaters, who have voiced concerns for years that concrete and other types of artificial reefs posing permanent navigational hazards.
"Nobody is really excited about dumping a bunch of concrete in the bay," Hoover said. "It's essentially there forever."
It's also important to consider the environmental impacts of concrete production, he said. Worldwide, manufacturing concrete generates about 8% of all carbon dioxide emissions, studies show. Biocement doesn't have that problem, Hoover added.
Hoover said his interest in biofabrication grew out of taking a class at the Baltimore Underground Science Space, a nonprofit makerspace for synthetic biology. An UMCES graduate student sat in on a biofrabrication lecture by Hoover and later introduced him to Gray.
"When I talked to Ryan he was like, 'Oh, I think I could make oyster shells, if that would be useful,'" Gray recalled.
They started working together in January 2018, at first trying to reproduce a whole oyster shell in biocement form. Hoover initially forged the proper oblong shape of an oyster with a 3D printer, but it lacked the subtle ridges and other surface details of an authentic bivalve.
So, they switched to growing the material in silicone-rubber molds. It takes anywhere from four days to 1 1/2 weeks for the bacteria-sand mixture to grow to full size, Hoover said, adding that he hopes to find efficiencies to accelerate the process.
Then, it was Gray's turn to test their creation with live larvae in a lab. The results were promising.
More baby oysters attached themselves to natural shells than on the biocement, but his work showed that biocement was significantly more successful than the third material, granite. He counted just 15 larvae on granite versus nearly 200 on biocement.
Why the difference? Gray speculates that the presence of carbonate in the biocement and natural shells may be a cue to young oysters that they've found a suitable place to settle. The carbonate also may affect the water chemistry, giving oysters a better chance at success.
Gray and Hoover aren't alone in putting bacteria to work to create oyster reefs.
Biomason, the company with the Air Force runway contract, applied last year for a patent on a technology in which the S. pasteurii bacteria transform fabric, such as burlap, into a hard strata for the bivalves.
The method allows the strata to be formed into virtually any desired shape before it hardens, according to patent documents.
As for the Maryland project, several questions remain unanswered. What is the best way to grow and shape the biocement? What factors influence the larvae attachment to the material? How does it perform in the real world? And how much will it cost to make?
Molding biocement to mimic individual oysters may not be the best method going forward, Gray said. To provide more surface area for the floating larvae to find, he envisions forming it into veneers that attach to "oyster castles," the artificial reefs typically made from individual blocks of recycle shell and concrete.
An entirely biocement oyster castle could be time-consuming to make and potentially costly.
He would like to get environmental bang for the buck by collecting the nutrients needed for the carbonate creation from sewage treatment plants.
But that's well into the future. For now, Gray and Hoover are trying to gather funding. They have applied for $140,000 from Maryland Sea Grant, which would cover two years of research. They expect to hear whether they received it this fall.
Their application included a letter of support from the Chesapeake Bay Foundation. Biocement offers a flexible design that could make it suitable for restoration at both public harvest grounds and at sanctuaries undergoing restoration, said Allison Colden, the group's Maryland fisheries scientist.
"We believe the study would provide 'proof of concept' for an approach that would address one of the biggest limiting factors to oyster recovery in Chesapeake Bay and could improve our own restoration program," she said in the letter.
In a way, biocement and other types of synthetic biology represent a shift in thinking about humanity's relationship with nature, Hoover said. Most of recorded history has seen an "extractive relationship" between the two, but it could become more symbiotic in the future.
"What if we collaborate with these bacteria to restore these oysters?" he asked. "It's sort of a multi-genus collaboration here."
Photo Credit:Larry Zhou/iStock/Getty Images Plus
Competing for Space on the Increasingly Crowded Ocean
By Wayne Parry
October 23, 2019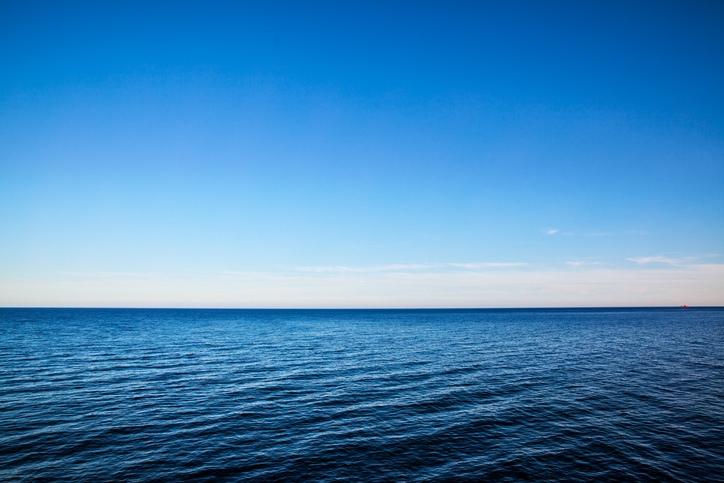 Oceans cover nearly three-quarters of the Earth, and it's getting crowded out on the water.
Energy, shipping, fishing and conservation groups all need space to operate on the world's oceans, and are bumping up against each other more frequently. All agree the competition is going to increase in coming years.
A conference Tuesday at New Jersey's Monmouth University brought together industry and environmental groups, who agreed that communication and coordination are essential to sharing the ocean.
"Ocean activity is on the rise, and it's exponential," said Timothy Gallaudet, deputy administration of the National Oceanic and Atmospheric Administration and a retired rear admiral with the Navy. "There has been 400% growth in ocean activity over the last 25 years."
Bethann Rooney, a deputy director with the Port Authority of New York and New Jersey, predicted that the combined port of New York and Newark, New Jersey, second in size only to Los Angeles, will see its cargo volume double or triple over the next 30 years.
"I cannot overstate the importance of collaboration to ensure an ocean for all," she said. "How do we coordinate and ensure everyone can operate in a confined space? Our ships are getting larger and larger every day."
She said her agency spends $2 million a year to incentivize shipping companies to sail at lower speeds and to burn less-polluting forms of fuel, in the name of helping the environment.
Paul Gaffney, Monmouth University's president emeritus, said the competition for ocean resources is likely to include a surge in salt water desalinization plants to provide clean drinking water to surging coastal populations around the world.
Clinton Plummer, an official with Orsted U.S. offshore wind, said his company had to navigate 26 government approvals to build its wind farm off the coast of Block Island in Rhode Island, currently the only functioning U.S. wind farm. As it moves forward with other projects off Massachusetts, New Jersey and Delaware, it will need dozens more, which include interacting and planning with fishing and shipping companies, marine conservationists, and onshore communities.
The Boston to Washington corridor on the U.S. East Coast holds 20% of the nation's population, and is among the most promising wind-power markets in the world; Plummer called it "the Saudi Arabia of wind."
But commercial and recreational fishing interests complain they need more of a say in advance planning as wind energy projects are considered. Fishermen insisted last month to a congressional subcommittee looking at offshore wind energy that they be consulted when crucial decisions are being made on the development of such projects, including where they are located and the level of access to the waters near them.
"To pull this off, we have to work very closely with the stakeholders," Plummer said Tuesday.
Bradley Campbell, president of the New-England-based Conservation Law Foundation, and New Jersey's former environmental protection commissioner, said shipping lanes that were altered to protect endangered North Atlantic right whales need to be changed again now that the animals are migrating, due in part to warming oceans. Only about 400 of those whales now exist, he said.
He said countries including the U.S. need to designate more protected marine areas where commercially valuable species can be permitted to breed to sustainable levels.
Scott Glenn, a Rutgers University professor who leads an ocean observation center there, said conservation groups acknowledge the value of industries like fishing and wind energy.
"The fishing industry, we need those fish and we need those jobs," he said. "The wind energy industry, we need those jobs and we need that energy. We need all of this to succeed in this increasingly tight workspace."
Massachusetts Rep. Straus Proposes State Office to Study Fisheries and Offshore Wind
Copyright © 2019 GateHouse Media
By Jennette Barnes
October 28, 2019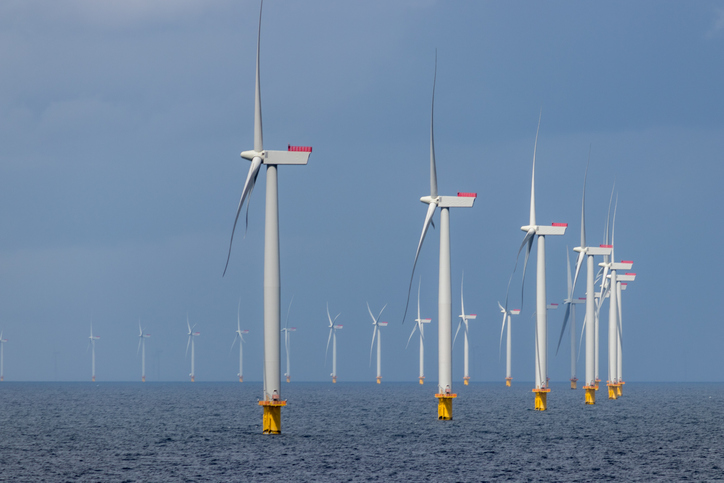 The House has passed a budget amendment that would create a new state office to study how offshore wind infrastructure affects fisheries and marine mammals.
Rep. William Straus, D-Mattapoisett, who sponsored Amendment 15, said he wants to establish a primary point of contact on the interaction between wind energy and marine life. He said he does not oppose offshore wind but believes the industry should make accommodations for fishing, such as by spacing turbines far enough apart.
"My hope is that the concerns that have been identified can be worked out," he said.
Because Straus' proposal is part of a supplemental budget, H.4127, the deadline for Senate consideration is Oct. 31. It does not need a Senate sponsor.
The amendment calls for a Renewable Energy Fishery Impacts office within the Massachusetts Department of Fish and Game.
How much the office would cost would depend on how the Baker administration chose to staff it, Straus said.
He said the office should have at least one dedicated employee. Merely assigning the job to someone who already has other duties would not fulfill the goals of the amendment, he said.
The office would research how offshore wind infrastructure affects marine fisheries and mammals, accept commentary from fishing and energy interests, and educate the public. It would also advise state and local government and serve as a liaison to the federal government, state agencies and academia.
How the Senate will handle the amendment is uncertain.
Sen. Michael Rodrigues, D-Westport, chairman of the Senate Committee on Ways and Means, was not immediately available to comment.
No one outside the House seemed to be making any commitments to the measure Monday.
Bentley Holt, Sen. Rodrigues' communications director, said he could not say whether the amendment would find Senate support until it reaches the floor.
Katie Gronendyke, a spokeswoman for Gov. Charlie Baker's Executive Office of Energy and Environmental Affairs, said the administration would review any legislation that reaches the governor's desk.
Photo Credit: BPHOTO/iStock/Getty Images Plus
*************************************************