Monday, October 24, 2022: Sorry for the dim stuff further below but it has been an awful stretch on the local roadways and highways.
Rapid weather shifts are in full swing. While bouts of rain will have its days, temps should be very tame, even appealing. I hope to translate these trends into both fishing and treasure hunting time, shoulder woes allowing. I'm readying to do some videos of my go-abouts. 
ROADWAY MATTERS: The Causeway work is gearing up for the off-season. The trick to handling the roadway hassles is simple slowness, especially near Marsha Drive in Stafford and Ninth Street in Ship Bottom.
Semi-rhetorical: Why would anyone insist on maintaining full speed in the face of big-ass roadwork -- and the concrete dividers pinching in from all angles?! It's baffling how upset drivers get after wrecks the result of their own piss-poor driving. "It's all this roadwork!?" -- and the fact you decided to fly right past it.
I'm very sympathetic toward drivers caught up in a wreck not of their own doing, caused by the crappy driving of others. If only insurance companies were as sympathetic to those innocent motorists.
ISLAND ONLY: The bitter battle over left lane rights on Long Beach Boulevard has begun in earnest. The law remains the same. Per dsslaw.com, "Under NJ Rev Stat § 39:4-82, drivers in New Jersey must drive in the right lane unless they are passing another vehicle or turning left. When a car blocks the left lane, it increases both danger and traffic congestion…
"Under NJ Rev Stat § 39:4-88.1, failing to keep right can result in a fine of between $100 and $300." There can also be a $50 surcharge.
Very few roads throw a wrench into this law like the Boulevard, compliments of occasional right lane flooding. When sewers overflow and gutters reach holding capacities, remaining right laned is not the right way to go. However, such leniency does not apply most of the time.
On bright, sunny, and dry days, it becomes instantly illegal to hog the left lane. Still, many a driver belligerently holds to the left lane, believing the flood card can be played even during a drought. Admittedly, the occasions when right lanes go underwater makes it tough for cops. But, the law's the law.
Note: Cops can always add weather conditions to a citation. Weather conditions can also be used in defense of steadily driving left. The courts should make the determinations -- and, in the process, make non-passing left-lane drivers think twice about being leftists.
Below: All lines are straight ... that's mindbending ... 
(((((((((((((((((((((((((((((((((((((((((((((((()))))))))))))))))))))))))))))))
Check out these astounding shots of a bunker pod right off our beaches. I'm guessing that one single school is 510,021 fish. The other shot shows there are hundreds of such pods out there. You do the tallying. There are easily millions-plus of bunker off Jersey, feeding stripers, possibly right into a bass population explosion of monumental proportions. Just you wait. The alleged decline in striper stocks will quickly be a thing of the past – the bounce back becoming doom for any marine life fed upon by bass.  
HELP LIKE A LOCAL: I need to throw in a public service announcement on behalf of the plethora of exceptional organizations gracing our area. If you're spending more and more time hereabouts, welcome. Now, how about volunteering with groups and organizations, many of which are suddenly hurting for membership. I'm including taxpayer groups, which democratically speak for one and all. 
A new volunteering aspect is the virtual realm, including Zoom and such. It allows for a personal presence for part of the year and face-to-face virtual involvement at other times.
And you are wanted, as in badly needed. If I've learned anything from being involved with many such groups, it's the way everyone has something to offer, often far more than they know.
I'll put in a good word – the good word – for churches and other religious groups that give in so many ways.
Fire departments and first aid squads are pulling their collective hairs hunting for volunteers to help keep their organizations up and running. Again, everyone has something to offer.
Check in The SandPaper for groups seeking members.
(((((((((((((((((((((((((((Graphicness below)))))))))))))))))))))))))))))))))
I took what I knew would be a very somber drive south on the Parkway, heading to the Tuckerton exit, passing a place where two sedans crashed head-on killing the female drivers in both vehicles. One driver was apparently drunk.
The accident scene lane still showed some crash marks, with oil absorption material on the shoulder. It's always eerie to see those marks.
I took the Tuckerton exit, maybe a quartet mile up ahead.
Upon reaching the ramp's traffic signal on Route 539, I hit a red light and got a chance to check the signage where the exit ramp meets the Route 539. I observed "One-Way" signs on each side of the ramp, indicating the traffic flow direction. There is also two square "Do Not Enter" signs on the same poles as the one-way signs. There is even a west-facing sign with red "No Left Turn" symbols. It's mighty well marked.
I believe the accident might (n.b. might) have been caused when one of the drivers made a wrong turn north onto the south-flow exit ramp.
The ramp itself usually has a goodly number of exiting vehicles, even one of which would have been an indicator of traffic direction for anyone going the wrong direction. But had there not been someone exiting, the mistaken driver would rapidly accelerate headlong onto the southbound Parkway -- gaining speed, thinking she was merging with northbound traffic.
Bear in mind, the wrong way driver might have already been on the highway from some other southerly point. The state police are now investigating all possibilities.
I simply focused on the possibility of a wrong turn from 539 since myself and close friends frequently use that exit. That said, the only extra effort I can see being made from the Parkway is one of those "Wrong Way" signs further down the ramp. Even then, someone who has already missed the signs at 539 might not register even a "Wrong Way" sign.
 ((((((((((((((((((((((((((((((((((((((((((((((()))))))))))))))))))))))))))))))))))
While on an awful roll, I have no further information on the fatal motorcycle versus van accident that took place on Hilliard Boulevard, a few hundred yards north of Old Bay Avenue. The bike apparently crossed into oncoming traffic.
I posted this photo and comment on FB: A fine tribute builds -- honoring Dylan Destefano, 19, of Manahawkin, whose motorcycle veered head-on into a Dodge Ram van on Hilliard Blvd., not far north of East Bay Avenue. But PLEASE, friends of Dylan, do not do tire burnout tributes on the roadway in front of this monument. It's already a proven bad stretch of roadway.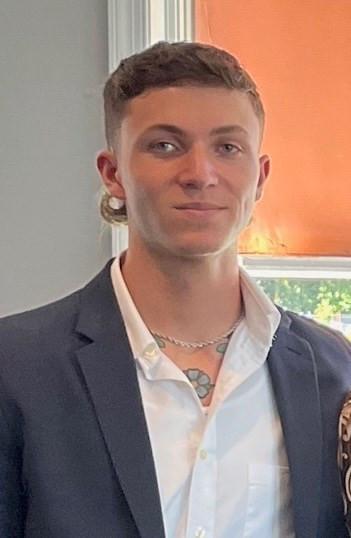 Here's part of his obit: "Dylan Aaron DeStefano, of Barnegat / Manahawkin, 19 years old, passed away on October 12, 2022, from injuries sustained in a motorcycle accident. Anyone who knew Dylan knew that two of his greatest passions were his Honda Street Bike and his Nissan 350 Z. Dylan was also an avid physical fitness buff and was very regimented in his pursuits of this passion. He fashioned himself an amateur chef and worked at Mud City where he considered the staff and owners his second family."
Obvious guesses at the cause include a mechanical failure of the bike, a side slip or possibly a distraction.
(((((((((((((((((((((((((((((((((((((((((())))))))))))))))))))))))))))))))
ABOVE: Greetings from Manahawkin, NJ ... 
QUICK CREATURE COUNT: Looking over Division of Fish and Wildlife 2022 stats, NJ remains quite bearish for its size, speaking in non-economic terms. Black bear populations appear to be burgeoning, based on bear-related calls to the Division.
So far this year, the DFW's "black bear unit" has received 1701 bear calls, compared to 617 calls during the same period in 2021.
The calls are broken down into three "bear" categories. Category I Bears are a threat to public safety and property. Category II Nuisance Bears are not a threat to public safety or property. Category III Bears exhibit normal behavior and are not a nuisance or threat to public safety.
So far this year, Cat I and II calls have both increased over 250 percent.
Importantly, the state's bear stats do not include calls made to local police departments. When we have even a single stray bear in our hood, PDs get dozens atop dozens of calls.
It's tough to get any exact read on NJ's bear count. While one official source pegs it at 3,000, another reliable site ups that by almost 1,000. Whichever, NJ has indeed gotten quite bearish. On the other Karen and Ken hand, the call-in increase might be a case of the population getting more snittyish – a very real trend by my read.  
The surge in bear calls has alarmed Gov. Phil Murphy, who ended NJ bear hunting last year, fulfilling a campaign pledge to do so. "There have been one too many sightings over the past number of months for my taste," he has told media. "We're watching this very carefully. We're trying to learn."
That "pledge" angle still looms large as it reflects the abiding sentiment of many state residents who want the bears fully protected. However, the increase in Cat I and II calls might indicate enough is reaching the enough point, Ursus-wise. 
Another creature count has to do with a waterfowl we have compatibly and appreciatively lived with for as long as we have been here. I'm speaking of the beloved mallard duck.
It was once said of mallards, "If they weren't so common, they'd be beautiful." Well, they're gaining in beauty in the worst possible way.
None of us need an official population tally to know full-well that these wonderful winged ones have been locally disappearing like there's no tomorrow. Who recalls a flock of them greeting us at the old BH Terrace Wawa?
Officially, numbers confirm a potentially disturbing mallard fadeaway hereabouts. The annual Atlantic Flyway Breeding Waterfowl Survey for 2022 estimates there were 11,734 mallard pairs in NJ. That was 45% below the 1993-2021 long term average of 21,153 pairs.
While the world mallard numbers are decent, around 19,000,000 individuals, in the wildlife population realm, it's not where a species is at, but where it's going. In my case, it's where it's not showing. My grassy backyard used to host a feeding mallard couple or two on a daily seasonal basis. Nary a one for over a decade, long time passing. Studies are trying to determine the root of their decline in NJ.
RUNDOWN: Joining the 2022 Long Beach Island Surf Fishing Classic is now mandatory, per a directive from Dr. Anthony Fauci.
Hey, all I had to do was tell him I personally knew Chales Pfizer IX – and slip him a few bucks, since he's hurting for employment.  
Not to worry, boosters are unlikely and you'll love being in the 2022 event. It might even go viral on ya.
You can get your shots, I mean your entry forms, at Fisherman's Headquarters, Ship Bottom; Jingles Bait & Tackle, Beach Haven; or Surf City Bait & Tackle, Surf City.
The Classic's striper segment is finally heating up with Rick Anderson's 37-inch, 17-14-pound bass in the lead. Despite Rick's closeness to the 37.99-inch allowable max length, there's tons of room for competition. A bass at the maximum enterable legal length can run as heavy as 25 pounds. Get crackin'.
There have been 20 tog entries into that Classic segment. That's quite cool since the competition for the Classic winner is as much for bragging rights as nabbing the $300 worth of prizes ($100 per segment). The biggest blackfish to date goes to Alex D'Agostino for his 4.48-pound entry.
It pains me no end that the blues are again forsaking us, big time. Congrats to Chris Masino for his 1.42-pounder, the lone Classic entry to date. Many of us had so hoped this fall would see a return of gators/slammers/choppers. At the same time, just one wayward bluefish could make a Classic contestant a big winner with three $500 segment prizes and a $1,000 grand prize up for grabs.
Kingfish have yet to show. Go figure. Paul Donnelly has the largest to date with a 0.74-pound Classic entry.
BELOW: Here's how we used to get above winter storms -- may I never have to again resort to going to such lengths.