Monday, November 26, 2018: More downpours – and once again of a squally nature, meaning the rain is coming down in bursts, a tad tropics-like. While the wind is tame for the moment (late-day), gale warnings are once again being flown, though exclusively for west winds after the latest storm system moves offshore. Has a slight shift to more northerly intensification begun?
There is yet another coastal flood advisory out there. It's based as much on already high bay waters as a couple/few inches of rapid rain.
Driving-wise, a mix of marine saltwater and rainwater freshwater makes standing water highly corrosive for all vehicles. Hitting Boulevard ponds at higher speeds will deleteriously power rusting water into a vehicle's most secluded spots.
Per usual, this current batch of bad weather will be gone, poste-haste. Nicely, there is some mildish weather on tap, especially when compared to that frigid 29-degree high temperature late last week. I've gotten reports of many frozen pipe problems on LBI despite warnings to keep water flowing overnight. For LBI year'rounders, keep an eye open for signs of water issuing from unoccupied buildings. This can sometimes be seen via water running down the street. Broken pipes, if not caught early, can mean total destruction for even a newer home.
I'll go out on a weather limb by betting it will be warmer on Christmas day than it was on Thanksgiving. It just seems we're going to have one of those weird-like-that winters. I wouldn't mind seeing the "warming" side of global warming for a pleasant change.  Hey, you snow-lovers can just drive on up to the mountains. Maine is nice, I hear.   
JUST SAYIN': This time of year, I bust on overly fanatic global warmists by mockingly saying, "The days keep getting shorter and shorter out there … must be that dad-burn global warming."
As nonsensical as that sounds, can you imagine if climate change really did begin to steadily take away the planet's beloved daylight hours? Just watch how instantaneously the world would rise up in unholy anger over our ravaging of the atmosphere. It would prove, in a heartbeat and New York minute, just how utterly attainable sky fixes can be implemented.
SPARE/SPEAR ME: Below, you'll see a new winter flounder record set in NJ's "spearfishing" category.
I'm always shocked by fishing folks who somehow feel that such a fishing technique is unfair. Having been a diver almost all my life, I can assure that the work effort needed to score the modest few fish taken by spearfishermen puts them in an energy-exertion league of their own. I won't speak of the girths of those anglers often accusing spearfishermen of raping of the resource.
I'll do some numerical guessing and safely suggest that 50,000 fish are taken by anglers for every ONE fish speared. It could be 500,000. Yet, here are many anglers who feel divers are a bane. Nonsense. In fact -- and here's where I can be a tad mean-spirited -- the same many-an-angler could profit by getting just a fraction of the exercise and calorie burning that accompanies diving and spearing. In fact, I'm growingly becoming one of those that could use just such a worthy workout ethic when it comes to fishing.  
************************************************
Jim Oriscak of Toms River has made his way onto the state record spearfish list recently by shooting a winter flounder. Jim was free diving off the shore of the Shark River "back bay" when he spotted the 3 pound, 7 ounce fish.
The new spearfish record winter measured 18.75 inches and had a 16.5 inch girth. It weighed 2 ounce more than the previous record.
The reigning rod-and-reel blackback record is a five-pound, 11-ounce flounder taken by Jimmy Swanson fishing of Off Barnegat Light in 1993.
For more information on the Record Fish Program, visit www.njfishandwildlife.com/recfish.htm
TRIVIA: The largest fish in the NJ record books: A blue marlin  weighing 1,046 pounds, taken in 1986 by Phil Infantolino while fishing in the Hudson Canyon. 
The smallest fish on the NJ books: a spot weighing in at 13 ounces, caught in 2003 at Little Sheepshead Creek by Robert Belsky, Jr. 
*********************************************************
Not exactly sure how I get myself into this kinda stuff......
..... but apparently I've volunteered to help take 20-25 kids from Gateway Regional HS surf fishing on Friday. I'm putting out the fish signal (aka bat signal) to my Fishing friends for a couple more sets of hands to help out.
Kids are getting bused from the school to Island Beach State Park and will park in bathing beach lot and walk out from there. Plan is to arrive around 930am and fish for 2.5-3hrs. John and Tammy at BnN's have agreed to hook them up with some Bait assuming their able to get it. Weather looks decent at this point.
Kids are bringing some combos but from my understanding there's not much surf fishing experience (like zero) here so I'm planning to bring some of my stuff. Ideally we"ll get some bait rods in the water and then let the kids take turns tossing some storm shads, Ava's, and SPs, which I'll bring. Catching something will be bonus with the focus being on teaching them the sport/activity we love.
Shoot me a message if you can help out on Friday.
***********************************
Activist threw a fisherman's catch back into the lake. Now, he has to pay.
CLEARWATER — A dying fish was flopping on a hot deck. An animal activist called throwing it back in the water an act of kindness. The state called it theft.
The value of St. Petersburg's most internet famous flying fish? About $6.
Now, Michael Leaming will have to pay a $500 fine and court costs after a judge found him guilty of depriving Robert Hope of his dinner by launching a tilapia into Crescent Lake in July 2017.
A video of the exchange in Crescent Lake Park went viral and was reposted to various social media platforms around the world, racking up millions of views.
The Florida Fish and Wildlife Conservation Commission referred the case to the State Attorney's Office. At first, the state charged Leaming with "interference with taking of fish."
But late Thursday, a day before the non-jury trial in Pinellas-Pasco Circuit Court, the state changed its charge to petit theft.
Prosecutors discovered the interference charge is only for state waters, not a city-owned property like Crescent Lake, said State Attorney spokesman Frank Piazza. The other two charges the commission had recommended were battery, for taking the fish from under the foot of Hope's wife, and petit theft. The theft charge seemed more appropriate, Piazza said.
Hope planned to cook the fish for dinner that night. A fish and wildlife investigator testified that, by the size of the fish and the price per pound of tilapia, the fish was worth about $6.
The incident happened on a chaotic day in Pinellas County when animal activists, including the Leaming family, caused a scene inside a Pinellas Park Chick-fil-A. Their goal was to spread the message that "it's not food, it's violence."
After that fracas, the Leamings said they headed to Crescent Lake Park and were discussing other matters. Then, they said, Landon Leaming, now 10, saw Hope and his son fishing from a concrete platform at the lake.
Hope caught a tilapia and realized he had forgotten the bucket he normally uses to hold his catch, he testified, so he asked his son Christopher to go back to the car and fetch it. Landon Leaming saw the fish flopping on the concrete deck and asked his father if he could say something to them.
"I told him not to worry about it, let them be," Leaming testified Friday. But his son was upset so he let him approach the men and say, "Did you know that fish feel pain?"
Michael Leaming followed up, asking, what if it was a dog, or a human child on the concrete? The fisherman kept trying to shrug him off. But Hope's wife, Brenda Hope, stepped in. She stood over the fish as she tried to unravel a fish stringer, used to submerge fish in the water. Leaming bent over and grabbed the fish and threw it back into the water, shouting, "Call the police! I just saved a fish's life, how about that? How about that?"
Prosecutors played the video in the courtroom and Landon Leaming watched intently, at one point leaning forward on his elbows as his father said, "You guys just going to let this fish die like this?"
In his closing argument, prosecutor Joshua Foutz noted that many fishermen simply leave their fish on the deck until they are done for the day and that "this was nothing more than a show for (Leaming's) political beliefs."
But defense attorney Peri Sedigh said, "This wasn't theft, this was a rescue."
Judge Robert Dittmer acknowledged that people get passionate about issues, but said the state has granted fishermen the right to fish the waters. He noted that commercial fisherman often put their catch on ice immediately, where the fish are left to die. He feared letting the door open on this could lead to sabotage of fishing vessels.
Dittmer withheld adjudication so Leaming's record is clear. He also didn't impose probation as the state had requested. Leaming could have been sentenced to 60 days in jail, six months probation and mandatory counseling.
After the trial, Leaming said he was happy he won't have a guilty verdict but felt it was unfair to suddenly have to face a theft charge when they had prepared for the interference claim. He was sure he would have won that.
"I'm glad that my dad's not guilty," Landon Leaming said. "I felt sad that it was happening to this fish and I wanted to help the fish."
Several vegan and animal rights supporters came to the trial. Though they weren't involved in the protest that day, PETA has supported the Leamings.
"Any kind person would stop to help a dog who was gasping for air on hot pavement, and when it comes to the ability to feel pain and fear, a fish is no different from a dog, a cat, or a human being," PETA executive vice president Tracy Reiman said in a statement.
Times staff writer Christopher Spata contributed to this report. Contact Sharon Kennedy Wynne at swynne@tampabay.com. Follow @SharonKWn.
*********************************************
Cannabis And Boating
By Charles Fort
Impairment is impairment no matter the substance. But with marijuana, there is even more at stake — regardless of legality in your state.
Cannabis leaf and gavelPhoto: Getty Images/Jirkaejc
For many years, BoatUS has warned against the dangers of boating while under the influence of alcohol, which, according to the U.S. Coast Guard's 2017 Recreational Boating Statistics Report, continues to be the leading known contributing factor in fatal boating accidents. Now that the recreational use of marijuana is legal in nine states (including all of the West Coast of the U.S.), it's time to take a look at how cannabis can affect boaters — and their wallets.
Nine states (plus the District of Columbia) allow some level of legal marijuana possession, and 30 states permit the medical use of cannabis. And 13 more states have decriminalized cannabis possession (people who possess small amounts of the drug don't face criminal prosecution, but only civil penalties similar to a traffic fine). These laws are changing quickly, so check with your state to make sure you know the legal status of cannabis possession and use. The fact is that, in some places, cannabis is becoming as mainstream as say, wine. But there are important distinctions.
Water, Water Everywhere
Even if cannabis is legal in your state, the federal government still considers it a Schedule I drug, which the feds say has the potential for abuse and has no accepted medical use. This is very important, because on any water (or land) under federal jurisdiction, it's illegal to possess cannabis even though a state may have legalized it.
And waters under federal jurisdiction are enormous. Consider that the entire coastline of the U.S. is under federal jurisdiction. That means that on coastal waters of California, Oregon, and Washington — states that have legalized cannabis — it is a federal crime to possess it. The U.S. Coast Guard says that "all waters including, but not limited to, the navigable waters of the United States" are under their authority. It's the "but not limited to" part that could be trouble for some boaters because, while it includes some bodies of water that seem obvious, such as the Great Lakes, Mississippi River, and Chesapeake Bay, it's also pretty much any waters that the federal government deems navigable, such as freshwater lakes, including Lake Tahoe, Salt Lake, Lake Champlain, and Lake of the Ozarks.
If you're subject to federal boating laws that require such things as life jackets, navigation lights, and sound signals, it's a good bet you're in federal jurisdiction waters. This jurisdiction issue also sets up some potentially uncomfortable situations. If you sailed your boat from say, Portland, Maine, to the nearby islands in Maine, or from Seattle to a Washington state island in Puget Sound, you'd be breaking federal law if you were in possession of cannabis. If you're not sure if the waters you boat in are under federal jurisdiction, contact the nearest Coast Guard office and ask.
Keep in mind that the Coast Guard doesn't need to have a warrant or even reasonable suspicion to board your boat. If they do, and you're in possession of marijuana (or any other illegal drug) or are under the influence of cannabis (or alcohol or any other intoxicant), you may be arrested. If you happen to have a U.S. Coast Guard license, it will likely be suspended for at least a year.
Price To Pay
Now that you know about the issues of possessing cannabis, how about its effects while you're under way? According to the National Institute on Drug Abuse, marijuana significantly impairs judgment, motor coordination, and reaction time, and studies have found a direct relationship between blood THC (tetrahydrocannabinol, the chemical compound in cannabis responsible for the "high") concentration and impaired driving ability.
In all states, boating under the influence (BUI) laws are the same whether it's alcohol, cannabis, or any other intoxicant. Just as with a BUI conviction for alcohol, you will likely face heavy fines, possible jail time, and you could lose your driver's license. Many states now consider BUI convictions the same as driving under the influence (DUI), which means if you have one DUI and are arrested for a BUI, it's a second offense and the consequences can be much worse. If you happen to be on waters with federal jurisdiction and are arrested for cannabis possession, you could be sentenced to up to a year in jail for any amount. Second offenses have mandatory jail time.
Our advice for cannabis users is the same for those who imbibe in alcohol: Wait until you're back before you celebrate the day. And if there's any chance you'll be in federal jurisdiction waters, make sure you and your guests have a zero-tolerance policy for cannabis onboard.
— Published: December 2018
*************************************************
NOAA's Henderschedt Says ICCAT's Lack of Progress on Conservation Measures 'Disappointing'
November 26, 2018
John Henderschedt, Director of NOAA Fisheries' Office of International Affairs and Seafood Inspection, is speaking out after the conclusion of the annual meeting of the International Commission for the Conservation of Atlantic Tuna (ICCAT).
The meeting took place in Croatia last week, and reported on the progress being made to combat IUU fishing. And while that's something worth commending, Hendershedt says that the Commission's "lack of progress on key conservation measures is disappointing."
"Earlier this year, a stock assessment confirmed that Atlantic bigeye tuna is overfish and subject to overfishing," Henderschedt wrote in a leadership message published by NOAA Fisheries. "The United States advocated strongly for the adoption of measures that would end overfishing immediately, rebuild the stock within 10 years, establish greater accountability to catch limits, and take appropriate account of the relative impact of various fisheries by reducing the catch of small bigeye tuna in purse seine fisheries. The United States is disappointed that ICCAT failed to adopt measures that will ensure the long-term sustainability of the bigeye tuna stock. The current management measures in place for tropical tunas, including bigeye tuna, were extended for one year."
*****************************************************
Wind Farm Proposal Dealt Setback By Fishermen's Council
Copyright © 2018 The Associated Press
November 26, 2018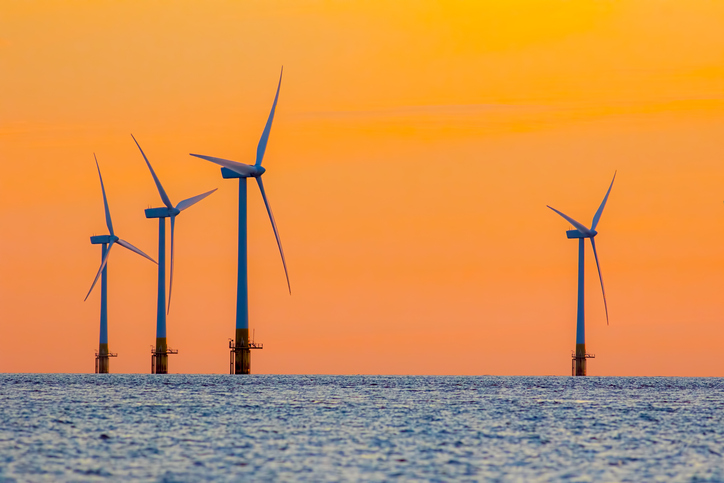 A proposal to build an 800-megawatt wind farm off Rhode Island and Massachusetts has suffered a setback with denial of support from a key fishermen's group.
The Fishermen's Advisory Board, which advises the Rhode Island Coastal Resources Management Council, voted unanimously Monday to deny its support out of fear that the layout of the project's 84 wind turbines would close valuable commercial fishing grounds.
Vineyard Wind's $2 billion proposal now goes before the council on Nov. 27.
Even though the project would supply power to Massachusetts and be located in federal waters, the state has some measure of jurisdiction.
If Rhode Island denies certification, Vineyard Wind could appeal to the National Oceanic and Atmospheric Administration.
Vineyard Wind CEO Lars Pedersen says the company thinks fishing and offshore wind can coexist.
US Offshore Wind Developers Pick Fisheries Representative
Copyright © 2018 Navingo.com
November 26, 2018
The New Bedford Port Authority has reached an agreement with all offshore wind developers operating in the Massachusetts/Rhode Island market to serve as the designated Fisheries Representative of the commercial fishing industry to each of the development companies.
Under federal guidelines issued by the Bureau of Ocean Energy Management (BOEM), offshore wind developers must establish a Fisheries Representative to be the fishing community's primary point of contact for communicating project-related concerns to the developer.
In this role, the New Bedford Port Authority will act as a central clearinghouse of information, convene stakeholders, facilitate dialogue between fishermen and respective developers, and advocate for ways to mitigate impacts of wind projects on commercial fishermen. It will also work with state and federal agencies to adopt policies and regulations needed to ensure the viability of commercial fishing operations.
Recently, the Port Authority convened a working group of East Coast fishing interests stretching from North Carolina to Maine which has provided industry comment on current and future development plans, turbine layout, and transit corridors.
Massachusetts and Rhode Island waters have attracted the most interest as the waters south of Martha's Vineyard account for roughly 25% offshore wind energy reserves nationally. Developers pursuing projects in MA/RI waters include Vineyard Wind and Ørsted. Rhode-Island based Deepwater Wind was recently acquired by Ørsted.
"The New Bedford Port Authority as one of four Fishery Representatives to Bay State Wind, allows us to effectively communicate with commercial fishermen in New Bedford, helping us understand their needs and helping them understand ours without rushing stakeholder engagement, ensuring a robust process as we build up the offshore wind industry in the U.S," said Thomas Brostrom, President of Ørsted North America.
New Bedford-based Vineyard Wind in October entered into a lease for use of the New Bedford Marine Commerce Terminal, where the company will stage construction of the nation's first commercial-scale offshore wind farm – the 800MW Vineyard Wind.
"We're well on our way to making New Bedford a national hub of offshore wind, and the New Bedford Port Authority has been a reliable advocate for fishermen as we navigate this new industry together,"said Erich Stephens, Chief Development Officer of Vineyard Wind.
"Fishing remains the anchor industry for New Bedford and the region, and as we work together to ensure that both industries thrive, the Port Authority is a natural fit to represent fishing interests to all developers."