The reality, however, has been completely different, as processors and distributors are paying record-breaking prices for crab at the dock.
"Yes, this week [and] last week, the local guys have been getting USD 160 [EUR 148] a bushel for number 1's," Greg Cain, the founder of CrabPlace.com Inc. – an online retailer of crab based in Maryland – told SeafoodSource. "I've never seen it this high. It's probably double the norm."
Even with restaurants closed down, retail sales of crab in smaller outfits are at record levels. Johnny Graham, of Graham & Rollins Inc. in Virginia, is seeing both sides of the spectrum. Graham & Rollins has both a retail store selling crab and a processing facility, and on both sides crab prices are extreme.
"We're seeing record sales in my retail store every day," Graham told SeafoodSource. "The mom-and-pop retail stores are absolutely killing it."
Graham said he's having trouble keeping stock on the shelves, even when he's charging more for crab than he ever has in the company's 78-year history.
"My retail store is approaching USD 300 [EUR 278] a bushel for jumbo crabs, and they're the first crabs to sell out every day," he said. "We're getting USD 75 [EUR 69.50] a dozen. We've never seen that price before, not here."
At the start of the season, the fear was that an overabundance of crab would drive down prices paid to watermen in the area. Recruitment data taken by the Mid-Atlantic Fishery Management Council had indicated ample crab in the water, leading to expectations that there would be plenty of catch.
The reality, however, has been the opposite. Poor weather in April stunted the early season, and the amount of crab coming to the docks is miniscule. Supply and demand has naturally driven prices up as buyers try to get what they can.
"There simply are way too many people chasing way too few crabs at the moment," Cain said.    
Graham said he's in better shape than some, with certain processors practically sitting idle for lack of product.
"The picking houses are sitting here crying," Graham said. "We're not seeing the crabs."
The restaurant closures, as well, aren't affecting demand as much as many thought it would.
"Traditionally, the restaurants that would push demand don't really open until mid-May and they'd start fairly slow," Cain said. "So the closings really haven't affected restaurant demand."
The quarantine and stay-at-home order, Cain said, seem to have actually caused demand to increase.
"On the flip side, people quarantining have created extra demand from people looking to spice up their home lives," Cain said. "They can't go out to eat, so whether it's ordering online or braving it to their local seafood market (which is probably still open), crabs have become 'night out' alternative."
Cain said he's been witnessing that demand first-hand in the online market, to the point he's had to hire more employees just to keep up.
"We went from a staff of 10 to 25 in four weeks," he said.
On Graham's end, sourcing any crab at all has meant paying a premium.
"That's for high-end crabs, that's for processing crabs, and that's everything in between," he said. "I can't find either, and I'm paying a premium."
Despite the current record prices, there's still the looming fear that all of it could come crashing back down. Better weather and warming water may result in a sudden influx of crab, which may come at a time when those restaurants would have usually been ramping up business.
"I'd expect the market to correct to more normal levels over the next month as catch levels rise and those closed restaurants are slowly re-opening at reduced capacities," Cain said.
When that will happen is anyone's guess, but it's likely a matter of when, not if, Graham said.
"It's going to change here real, real soon, it always does," Graham said.
Copyright © 2020 Gannett Co.
By Amanda Oglesby
May 18, 2020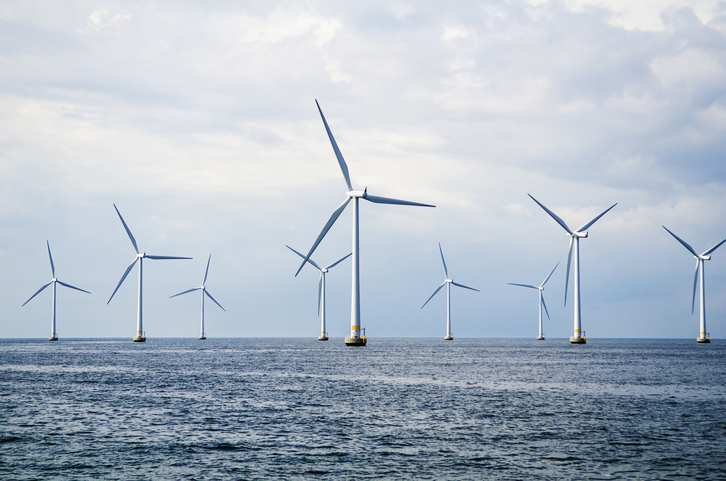 Scallops. Black sea bass. Squid. Oysters. New Jersey's coastal fisheries harvest millions of dollars worth of seafood annually from the state's bountiful coastal waters, but some in the industry fear an ill wind is blowing.
From Cape May to Sandy Hook, 313,990 acres of Atlantic Ocean have been leased to three energy companies, with plans to erect soaring wind turbines visible from the Jersey Shore. The worry from some in the New Jersey fishing industry is the green energy will limit access to fisheries, exacerbate the danger they face and hurt profits.
"It's a monster of an issue, because it touches so many different people so many different ways," said Brick Wenzel, a longtime fisherman who holds the most commercial fishing licenses in the state and is an advocate for New Jersey fishermen in discussions with offshore wind developers. He predicts millions of dollars in economic losses for large fishing companies alone.
James Gutowski, chairman of the New England Fishery Management Council's scallop advisory board, worries that the turbine sites "are basically going to be closed areas" to his industry, even if the energy companies permit fishing at the locations. Scallop boats use equipment that drags the bottom and could snag on energy equipment.
"We're going to have a large portion of our grounds locked up to offshore wind," he said. "That would be a travesty."
A spokesman for Ørsted, the Denmark-based power company preparing to build wind turbines south of Atlantic City, downplays any potential harm. "We are committed to being a good neighbor," spokesman Gabriel Martinez said in an email.
Access to fishing grounds is big business in New Jersey. The state's recreational fishing industry brought in $1.8 billion in sales in 2016 and employed 15,000 people, according to the latest data from the National Oceanic and Atmospheric Administration's fisheries census. Commercial seafood is a $6.2 billion industry.
That same year, commercial fisheries and seafood in New Jersey generated 37,000 jobs and $6.2 billion in sales, according to the fisheries census.
Favorable geography figures in the bounty.
New Jersey waters are uniquely positioned to take advantage of warm water fish in the summer and cold water fish during winter, giving the state one of the largest arrays of species along the East Coast, said Wenzel, who fishes out of Point Pleasant and runs an organization that brings unsold seafood to food banks.
He worries the wind turbines will make the already dangerous job of harvesting fish even more treacherous.
Commercial fishing has been recognized as one of the most dangerous jobs in the United States. In 2017, the fatality rate for commercial fishery workers was pegged at 100 per 100,000 workers, according to a 24/7 Wall St. review of fatal injury rates from the Bureau of Labor Statistics' Census of Fatal Occupational Injuries.
In 2018, fishing was second in employee deaths only to logging, according to the U.S. Bureau of Labor Statistics.
Wenzel said miles of wind turbines along the already busy coast will mean more boating accidents, particularly among boats adrift while fishing or broken down at sea.
"We're not going to be able to fish in these wind fields, in these industrial zones," he said. "They are industrializing our ocean."
Officials at two wind farm companies — Ørsted and Atlantic Shores Offshore Wind — have promised that fishing will be permitted in their lease sites, excluding during construction and maintenance because of safety issues.
Atlantic Shores — a partnership between Shell New Energies and EDF Renewables North America with a 183,353-acre lease site that stretches from Long Beach Island to Atlantic City — has hired a company to survey its parcel and research fish stocks and habitat there.
Doug Copeland, who heads offshore wind projects for Atlantic Shores co-owner and French utility company EDF Renewables, said the company has no plans to block fishing from its site once the wind turbines are installed and construction has ended.
Once complete, the company says its turbines will power nearly 1 million New Jersey homes.
"Once the project is operation, there's absolutely no issues from our standpoint," he said.
Martinez, the spokesman for Ørsted, said the company is working with the fishing industry to address their concerns.
"Our marine affairs team meets regularly with members of the commercial fishing industry, and recreational fishers," he said. "In New Jersey, we have had over 250 meetings with commercial and recreational fisherman."
Once complete, Ørsted expects its wind farm to power about 500,000 New Jersey homes.
Copeland, of Atlantic Shores, said the company is also committed to working with local fishing communities. The company said its project will power nearly 1 million homes in the Garden State.
"We want folks to know that we're very much invested in New Jersey," Copeland said.
Wenzel, the fishermen's advocate, remains skeptical that enough will be done to protect the state's commercial fishermen from offshore wind impacts.
"There's really no mitigation that's going to be coming back to the fishing industry," he said.
The losses will be in the "tens of millions of dollars" for some large fishing companies, Wenzel said.
"It's a huge economic impact to the state of New Jersey," he said.
Count Gov. Phil Murphy among those undeterred by the warnings.
In November, Murphy signed an executive order doubling New Jersey's commitment to offshore wind as a way to lower reliance and fossil fuels and try to curb climate change.
"There is no other renewable energy resource that provides us with either the electric-generation or economic-growth potential of offshore wind," Murphy said in a statement. "When we reach our goal of 7,500 megawatts, New Jersey's offshore wind infrastructure will generate electricity to power more than 3.2 million homes and meet 50% of our state's electric power need."
Exactly how many wind turbines will be spread along New Jersey's coast when the projects are complete is not yet clear. Copeland said Atlantic Shores' boats are currently surveying the lease area and plan to continue through the summer.
The company is awaiting results before decisions are made on turbine type and placement, Copeland said. Minimizing any potential harm to marine life and the local fishing community is a company priority, he said.
A boon from wind turbines?
Not everybody in the fishing community is worried about what's ahead.
Capt. Paul Eidman, who runs fishing tours out of Sandy Hook, supports the wind farms and efforts to reduce reliance on fossil fuels.
"The reality is that anything we can do to prevent burning fossil fuels helps our environment," Eidman said.
The angler said warming coastal waters are pushing fish species farther north.
"They're leaving New Jersey and we have to keep them here," he said. "I'm hoping by implementing renewable energy instead of fossil fuels, we can slow down (their departure)."
Eidman says he also expects the fishing to improve around the wind turbines, with fish feeding off other life that will cling to the underwater structures.
He predicts new financial opportunities will arise from ecotourism — that people will pay to board boats just to see the wind turbines up close.
The recreational angler community, "we're definitely going to benefit," Eidman said.
***********************************************************
A Massive Landslide-caused Tsunami Could Hit Prince William Sound in the Next Year, Scientists Warn
Copyright © 2020 Anchorage Daily News
By Morgan Krakow and Alex DeMarban
May 15, 2020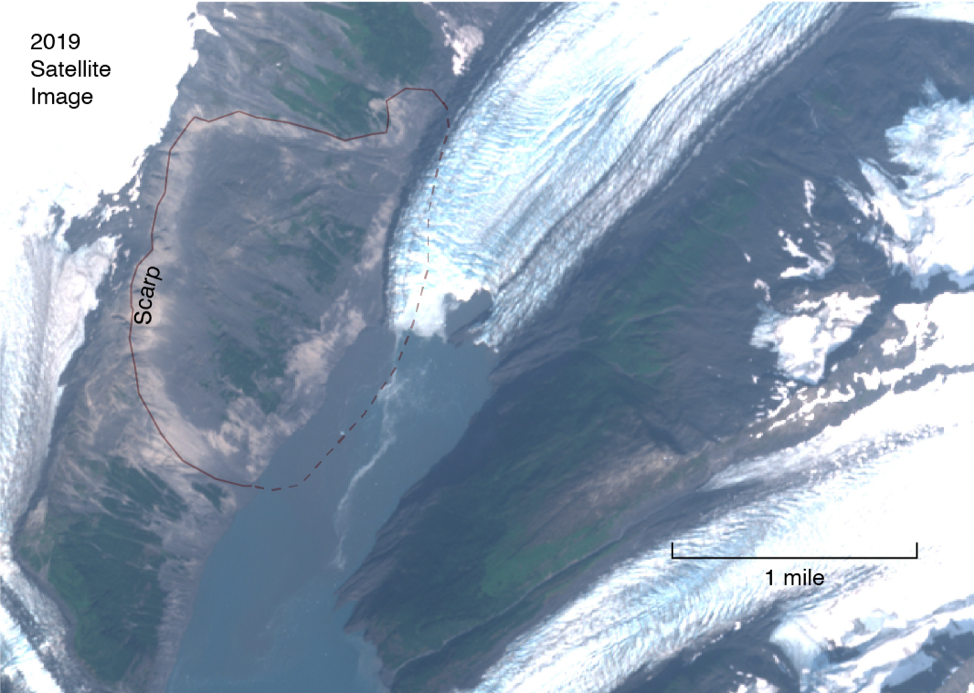 A landslide in Prince William Sound could trigger a large tsunami in an area sometimes frequented by hundreds of fishermen and recreational boaters, scientists and state officials said Thursday.
A public letter signed by several scientists warns it's possible that the landslide and tsunami could happen "within the next year, and likely within 20 years," and detailed potentially devastating effects.
The scientists say an unstable slope sitting above Barry Glacier in Barry Arm, about 60 miles east of Anchorage, could slide into the water below — impacting tourists, fishermen and hunters, and potentially leading to a 30-foot wave reaching Whittier, the letter said. The danger is heightened as the glacier recedes below.
The glacier's retreat "could release millions of tons of rock into the Harriman Fiord, triggering a tsunami at least as large as some of the largest in the state's recorded history," according to a statement from the Alaska Division of Geological and Geophysical Surveys.
After receiving the information, the Alaska Department of Natural Resources and the state Department of Fish and Game said the agencies "strongly recommend people avoid all the identified danger zones until the hazards can be adequately understood and characterized."
According to the state, in summer, "as many as 500 people may be in the area at one time, and at risk from a landslide-induced tsunami."
The newly discovered landslide is moving slowly right now, said Anna Liljedahl, an associate scientist with the Woods Hole Research Center. Liljedahl is one of the scientists who worked on the new research.
But that could change, she said. And the unstable slope could begin to move fast, so fast it might crash suddenly into the water below, forcing a massive wave nearly 1,000 feet in height.
The research has not been through the standard peer-review process, Liljedahl said, because the scientists felt they needed to get the information to the pubic swiftly. Peer review can take months, and they didn't want to wait. One of the researchers involved is writing a manuscript that they plan on submitting in about a month.
"We wanted to let the public know that there is a chance that this landslide might fail catastrophically," Liljedahl said. "There's also a chance that it might not."
The glacier is about 30 air miles from Whittier. The tsunami wouldn't have a direct line to Whittier, and its energy would dissipate somewhat before reaching the town, said Dave Dickason, Whittier's mayor.
"It's concerning, but it's not concerning enough to cause us to evacuate the city of Whittier at this time," said Dickason.
With its higher elevation, the 14-story Begich Towers building — where most Whittier residents live — should be safe, he said. Still, a 30-foot wall of water would damage the waterfront, home to a hotel and shops.
Those are the worst-case scenarios, Liljedahl said.
"This landslide could just creep on and take it easy for another couple of decades," she said.
But especially as the supportive glacier below continues to retreat amid a warming climate, scientists are concerned that heavy rainfall or rapid snowmelt and thawing permafrost could make things slide quickly — with more water in the ground acting as a lubricant. Earthquakes could also cause the slide to move quickly down into the water, she said.
People hoping to visit Whittier should be "well-advised" of the risk there, said Ronnie Daanen, a geohydrologist with the state geological division.
"This landslide has been moving for a few years, and it hasn't gone down yet," he said. "So we can't say, 'Don't go to Whittier.' But it could happen."
State officials are weighing the same concerns, he said.
"We have to go in there and measure the ground that will potentially fail," Daanen said. "We'll have a helicopter close by, so we'll be relatively safe."
The state, working with other agencies, hopes to install equipment to monitor the landslide's movement and weather conditions.
The federal tsunami system near Whittier will have to be improved to detect a tsunami coming from Barry Arm, rather than the ocean, Daanen said.
"Whittier is lucky in the sense that if it happens, they have 20 minutes" to get to higher ground, he said.
Whittier residents on Thursday were still absorbing the scientists' warning.
"Oh my God," said Kelly Bender, an owner of Lazy Otter Charters, as she learned about the news.
The Whittier-based company takes sightseers, kayakers and campers to the area, passing Barry Glacier to head up the fjord.
With COVID-19 restrictions halting most tourism, it's already been a tough season of canceled reservations, she said.
"That's all we need right now," she said.
She said she did not know how the company would respond, though there are other stunning sites in Prince William Sound to visit.
"We'll have to reevaluate where we go," she said.
She and her husband live in the company's shop at the harbor, so the personal threat is also worrisome, she said.
"The idea of a tsunami in Prince William Sound, Whittier knows that history, so that's spooky," she said.
Tsunamis generated by the 1964 Good Friday earthquake ravaged towns in Prince William Sound and beyond, killing more than 100 people including 13 in Whittier, according to historical accounts.
Jim Hunt, Whittier city manager, said Thursday evening he hadn't received any notice from the state or federal government about the potential landslide and tsunami.
"There's some hair sticking up on the back of my neck right now," he said. "I've dealt with a lot of emergencies and warnings, and to not be fully informed is a little nerve-wracking."
"We'll have to take a long hard look to see if there's a clear and present danger, and establish the threat level and see what we need to be aware of," he said.
ASMFC Finds Virginia in Compliance for Atlantic Menhaden After Lowering Cap
May 15, 2020
The Atlantic States Marine Fisheries Commission (ASMFC) announced that the Commonwealth of Virginia is now in compliance with Amendment 3 to the Interstate Fishery Management Plan for Atlantic Menhaden, after it reduced its fishing cap.
Virginia has set its 2020 cap at about 36,000 metric tons, around 15,000 mt less than the Amendment cap, to reflect overages that occurred during the 2019 season.
The Virginia Marine Resources Commission, which now has regulatory authority for menhaden management in state waters, will set the cap at 51,000 mt in 2021 as long as the catch is below the cap set in 2020, the ASMFC said in a press release.
"I would like to thank my fellow Virginia Commissioners, Governor Northam, Secretary Strickler, the Virginia General Assembly, and the Virginia Marine Resources Commission for their attention to this issue," stated Patrick Keliher, ASMFC Chair and Commissioner of the Maine Department of Marine Resources. "We are appreciative of their hard work to bring the Commonwealth back into compliance prior to the effective date of the moratorium."
Before the quota was cut, federal officials warned that menhaden would not be caught in the Chesapeake Bay next year because the state had not enacted a cut to 51,000 tons in Omega Protein's quota, which the ASMFC imposed in 2017, according to the Daily Press.
The 14,000-ton difference is equal to the difference between what Omega caught a year ago and the 51,000-ton cap, Deputy Commissioner Ellen Bolen told the publication.
Under the Atlantic Coastal Fisheries Cooperative Management Act, upon receiving notification that a state has come back into compliance with a mandatory management measure, the Secretary of Commerce determines whether the state is in compliance. If he concurs with the Commission's compliance finding, the moratorium is terminated immediately, the ASMFC explained.