Look at that 11-foot surfboard being jettisoned ... 
Monday, March 23, 2020: I hate change beyond the average soul. Therefore, these are insanely trying times. Face it: For the moment … everything in the world has changed. In fact, there are many who feel we will never get back to pre-COVID life. Most of you will be able to cope with that far better than some of us.
Despite the times changin' beyond even what Bob Dylan could have imagined, I'm learning a ton – including how little it takes to make folks virulent. If I even remotely disagree or go counter to their maxims, I'm instantly meat for slaughter. No prisoners.
Despite my lack of political persuasions, I think the current administration has loosed the hounds of insta-hatred. It couldn't come at a worse time. Even on LBI, the vitriolic response to my hoping beaches remain open -- at least to some healthy degree -- has met with retorts that I'll have a hard time forgetting.
Yes, that shows I'm also caught up in the intolerance. It's just not me. Many folks I've long known as open-minded have slammed shut the gates of tolerance. Who knows, maybe global warming has gone to our brains, though I recall a scene from the accurate documentary "Ghostbusters" that hatred can also suddenly begin flowing like rotten sewerage just below the streets of all our lives.  
This kinda brings up my ongoing effort to concurrently support the state's strict quarantine protocols, while stumping for outdoor activities, like walks in the woods (thus the "stumping") or airy walks on the beach.  Admittedly, I'm one of the few voices stumping for beachgoing as an actual means to fight COVID and its trickle-down ill-effects, like illnesses that indubitably arise when people stay homebound to the nth degree. We're inundated with the talk about the preventiveness of proper hand washing, yet that's a drop in the bucket when compared to the cleansing and sanitizing effects of an ocean walk or quick cold-water dip.
Now, I'll hopefully win back a few too-quickly opposed don't-tred-on-us LBI'ers by grudgingly accepting the concept of redacted beach usage – maybe limiting beach access to beachcombing, running, waveriding, i.e. any activity that doesn't entail laying out in-place. No lounging about on blankets, beneath umbrellas or on beach chairs. That usage can be safely done with no inordinate risk to local inhabitants.
To further show semi-solidarity with many Islanders, I'll acknowledge the effectiveness of discouraging wholesale "relocating" to our area … simply to have a better quarantine experience. Allowing the shore to become a convenient away-from-home place for otherwise seasonal residents – or even those who are regularly absentee landlords – can place an untenable burden on the local resources. Our groceries, medical facilities, police forces, first add squads and lone hospital are still in the winter mode. What's more, many of those EMT squads are already under a manpower strain even without the crisis.
That said, in fairness, I also look at the tens of thousands of nearby coastalites, in places like Stafford Township. How can those year-rounders be banned from coming beachward to simply exercise and clear their minds a bit? Again, I'm not suggesting luxurious daylong beach sessions with sunny lie-abouts or familial gathering, replete with beach chairs aligned in a snaking row. There simply should not be a blanket ban on ambulatory activities for nearby-ites.
I'll get a bit prophetic by predicting with utter certainty that it will be neigh impossible to keep everyone off the beach when days get sunny, mild and gorgeous. I'm betting it would take the enactment of Martial Law to forcibly close the populace-owned beaches. In fact, should Martial Law happen, the first super swell that begins breaking on our sandbars will have surfers running the beach gauntlet, not unlike those days when East German soldiers would suddenly try escaping to the west side. In fact, I'll even come out of surfing retirement to make the dash to waveriding freedom. Can you imagine the Coast Guard arriving with machine gun turrets at the ready to eliminate the imminent quarantine threat from waveriders?!
Below: Just Beneath The Surface
Truth be told, hell knows no fury like old folks, former Sixties protesters, deprived of their beach walks. And what about grizzled surfcasters being kept from striped bass blitzes? I don't think the National Guard is taught how to dodge eight-ounce led sinkers.
These quarantine times should not lead to open conflict when all that is need is the practicing of safe and sensible separation. I assure that within a month or so, government leaders will announce less draconian means of trying to keep COVID-19 in check.
THE WORLD GOES ON: I got an interesting mail from yet another coyote spotter. Sara B. writes: "We live up on W Holly Drive, the northern most street in Loveladies just before Bay Avenue.  Between us and Bay is a marshy piece of preserved land.  We are on the south side of this marsh and yesterday morning after trying to get my two dogs to stop barking, I went to see what the hullabaloo was about.  Calmly trotting alongside the tree line on the far side of the marsh was what I first thought must be a wolf because it was what appeared to be a wild dog but it had strange coloring and a strange gait.  Its coloring was gray and dark brown long hair.  It was quite large (my lab is about 75 pounds and it appeared to be as tall and slim but with longer hair).  It then ducked North into the tall brush and was gone.  I'm guessing it was the local Coywolf."
I responded: "Thank-you, Sara. I'm marking this down. The most telling thing you mentioned is the gait. I've been remiss in not mentioning that telltale combination slinky yet often bouncy -- some call it "nervous – stride of coywolves. That walkabout look is absolutely a nondomestic canine. I'm not writing as much about the coyote in  my weekly column since it might be for the best if cat owners don't go aggro to have it 'removed.' I'm still following it on my blog: fishlbi.com."
BASSING FOR THE BETTER: This is a telling email: "I've had more luck fishing bass in the past week than almost all of last fall. I've also gotten two keepers though I didn't keep either one. I'm not a big fan of seafood. Give me venison any day."   
Prior to this truly junk weather -- it was frickin' cold out there today – I had increasing reports of bayside bass, almost always taken after dark, though I see some photos from Greg and sons that looked like daytime bass. I also have confirmed that these spring arrivers are putting up quite the above-average fight. I take that appraisal seriously since it has come from guys who know bass inside out. At the same time, hooking had been so bad for surfcasters and bay anglers that they might have forgotten the friskiness of rowdy younger bass.
Boat bassers are having luck with small bass, often after easily getting a bag limit of winter flounder -- then changing gear and methodology. Shallows are hot stripering spots toward inlets.
Bridge anglers are having a very hit-or-miss time of it beneath the spans. Ditto for bulkheads and piers.
Over-the-side bridge angling at night just ain't what it used to be with the new bridge walkway designs. I swear someone is going to go over the edge trying to look straight down.  
Fishy flashback: Many of us recall when you could see shallow-swimming bass aplenty, hiding in the shadows of the bridges. They would refuse everything cast their ways … until some sort of signal rang out, sending them into an attack mode. I once went as far as dangling a whole $2 shedder crab in front of their ignoring noses. No reaction whatsoever. When not eating, the truly don't eat. That makes one wonder how many bass are idly sitting out there when we're plugging our arms off on the beach.
Environmental Groups Urge Americans to Eat More Fish While Hunkering Down Against Virus
Copyright © 2020 Los Angeles Times Communication
By Rosanna Xia
March 23, 2020
Environmental groups have long fought for animal rights, rallied against pollution and pushed back on overfishing, but a new message this week urged the nation to eat more seafood as it hunkers down during the coronavirus pandemic.
Specifically, many are asking you to please buy American-caught seafood.
"Over the past 20 years, American fisheries have become some of the best managed and most sustainable in the world thanks to policy reforms and the hard work of fishermen," said Eric Schwaab, senior vice president for the Environmental Defense Fund's oceans program. "But now fishermen need our help. By incorporating more seafood into our diets, we can support fishermen and coastal communities that depend on seafood harvesting as a way of life."
The global spread of COVID-19 has triggered widespread economic chaos, and American fisheries are suffering due to restaurant closures and the collapse of export markets, advocates say.
Although U.S. fishing operations and environmentalists have spent decades butting heads, they have also worked together to develop smarter and more sustainable fishing practices — turning many fisheries from federal disasters into thriving comeback stories and promoting healthier oceans.
"The U.S. has some of the healthiest and most sustainable seafood in the world," Schwaab said. "By seeking out domestically caught fish, Americans can support fishermen and the ocean during this difficult time."
Recent days have seen numerous public announcements in support of restaurants, independent bookstores and other local businesses struggling to stay afloat as orders to shelter at home increase across the country and all "non-essential" aspects of public life are shut down.
In California, fisheries make up a significant portion of the coastal economy. Dungeness crab alone — the most valuable seafood in the state — was a $63.5 million industry in 2018, according to the latest numbers by the California Department of Fish and Wildlife. Squid that year was the second-largest, at more than $35.5 million.
Seafood harvesters across California were grateful for this week's support from environmental groups. Exports have already been hurting — especially exports to China, where California's Dungeness crab is usually a huge market. Other foreign markets and supply chains have all but disappeared as well.
Now, with dine-in restaurants shut down in California and elsewhere due to shelter-in place-orders, the crisis looms even larger. About 80% of U.S. consumption of domestic seafood takes place at restaurants — not at home.
"We're already feeling market impacts because of the overnight evaporation of the restaurant industry — that and our export market, which is also gone," said Noah Oppenheim, executive director of Pacific Coast Federation of Fishermen's Associations. "Even in times of shelter-in-place and coronapocalypse, we need to remind people that they have a local, sustainable source of protein right in their backyard."
Fishing itself has not been affected in California, said Oppenheim, who noted that some shelter-in-place orders in Northern California have specifically carved out fishing as an essential sector. Seafood remains a safe option at the grocery store and local markets and for takeout, he said.
Many fishing operations have started to turn to social media, delivery apps and selling directly to consumers from boats at landing docks. They're spreading the word that fish such as halibut, when stored properly in a freezer, can last for months. Salmon season is ramping up as well — the Sacramento fall-run king salmon is expected to be abundant this year — but many worry whether there will be a market for this catch.
So how do you know you're buying domestic seafood?
"Most supermarkets now are embracing best practices like traceability and can tell you whether the seafood was farmed or wild, and whether it was domestic or import," Oppenheim said. "So folks should simply ask. If it's not there on the sign, chances are pretty good that the person selling the fish will know the answer."
He also suggested looking into community fishing associations, or CFAs — similar to CSAs, the community-supported agriculture programs that deliver produce from local farms.
The Monterey Bay Aquarium has put together consumer guides, broken down by region, to help people find ocean-friendly fish near where they live. Websites like localcatch.org also point people to places to buy fresh seafood straight from the source. The Environmental Defense Fund has a Seafood Selector that advises people on what kind of seafood to buy at stores or order as takeout.
Fishing communities have been proud of their work over the decades — with scientists and wildlife officials and environmental groups — to develop rules that balance fishing and help preserve the ecosystem.
"We've sacrificed lots, and we've learned a lot over the years that in order to ensure that we have access to this resource in perpetuity, we need to embrace sustainability practices," Oppenheim said. "When you buy an American wild-capture seafood product, you know it was caught in a manner that is protective of habitat and good for the environment and ensures that we'll be able to fish forever."
Coronavirus Outbreak Leads to Rise in Concerns Among Consumers
March 20, 2020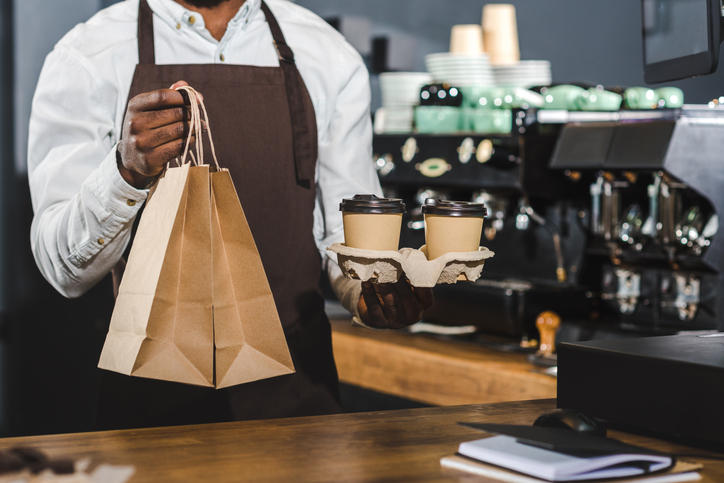 Datassential has released its latest wave of coronavirus research, and as the virus continues to dominate headlines, consumers' concerns have grown. Retail shelves have been wiped clean of food and supplies, gatherings have been discouraged or cancelled, and restaurants are facing mandatory closures.
In just the past four days, concerns have risen significantly among consumers. With the acceleration of the coronavirus news cycle, about 71% of Americans now consider themselves "very familiar" with the situation, which is a jump of 13 points in half a week. Americans' personal concern for exposure is up by 8 points. As of this past weekend, 49% of consumers are "very concerned" about the risk and expressed huge concern for their own wellbeing.
The majority of Americans now have a fear of eating in restaurants, and 27% will now definitely avoid eating out entirely, an increase of 8% in just four days. The increase in fear persists mostly among Boomers and Gen X, at 12% and 9% respectively. Also, the concern has now expanded beyond just parents, with restaurant avoidance spiking aggressively among single adults and those without children.
When it comes to restaurants, consumers are most concerned about touching shared objects such as countertops, napkin dispensers, and chairs. This concern also comes from the fact that when dining out these surfaces and shared objects are unavoidable. About 38% of consumers expressed the most concern with touching items others have touched, followed by being near other people at 28%, and staff preparing or handling the food at 15%.
As these concerns grow, consumers are already preparing to hunker down. In response to the spread of the virus, 47% of consumers had already stocked up on supplies for their household by March 14th. However, that means 53% of consumers have not. Among consumers that have stocked up, 68% of households have a high-income, followed by family households at 62%.
Shoppers are stocking up on just about everything, with dry foods leading the pack at 63%. Paper goods is tied with canned foods at a close 62%. About 55% of shoppers stocked up on frozen foods, and 41% bought fresh meat and seafood.
Consumers are also perceiving risk in all manners of acquiring food, including the methods that result in the food being brought into the home. Meal kits are generally thought to be the safest solution, but even they are deemed too risky by 19% of consumers, with about 38% believing meal kits present no risk. Regardless of how food is offered, consumers want additional reassurances to mitigate the perceived risk. Whether it is visibly cleaning or posting safety measures, businesses will have to prove to guests that they offer a safe environment to earn their trust.
Ships Fail to Follow Speed Limit Set to Protect Whales
Copyright © 2020 Cape Cod Times
By Doug Fraser
March 23, 2020
A newly released study shows that more than 40% of vessels, mostly large container, cargo and tanker ships, were not complying with a voluntary speed limit set for an area south of Nantucket where a group of approximately 60 highly endangered right whales has been congregating for months this winter.
The marine environmental group Oceana took data from the Automatic Identification System, which broadcasts vessel speed and location and is required on ships larger than 65 feet in length. They superimposed that data on National Oceanic and Atmospheric Administration sightings of North Atlantic Right Whales within a box of ocean just south of Nantucket that extends south into the international shipping lanes leading into New York City.
Research shows that when it comes to whales speed kills. A 2007 study showed that 45% to 60% of whales being hit by large ships traveling at 12 knots are killed. At speeds greater than 19 knots, 100% of collisions are lethal.
Researchers also found that slowing vessels down to 10 knots or less reduced the risk of collision with right whales by 86%.
Scientists have determined that less than one North Atlantic right whale a year can be killed by humans if the species is to avoid extinction. Two died from presumed ship strikes in Canada in 2019.
"We see every ship as a risk to these whales, especially when they are as concentrated as they are (south of Nantucket)," said Oceana Fishery Campaign Manager Gib Brogan. "They need to be fully compliant. There shouldn't be any ships moving faster than the threshold speed (10 knots) when there are only 400 right whales left."
Ship strikes remain one the major killers of right whales and whales in general. Larger vessels are especially lethal, and NOAA implemented a ship strike reduction rule in 2008 that is currently being updated.
Since Jan. 22, NOAA has been warning all mariners that that patch of ocean is a Dynamic Management Area with a voluntary speed limit of 10 knots or less. But Oceana found that 183, or 41%, of the 446 ships they tracked between Jan. 22 and March 6 exceeded the speed limit.
For instance, on Jan, 22, a 705-foot-long French-flagged cargo ship sped through the area at 20.3 knots, twice the speed limit. A month later, the restriction was still being ignored with a 650-foot Panama-flagged cargo vessel traveling at nearly 21 knots.
Eight vessels were tracked at speeds higher than 20 knots, including one Panama-flagged vessel at over 22 knots, the highest recorded speed. Only 4% of the speeding vessels were American flagged.
Dynamic Management Areas are considered a temporary measure, a way to draw a protective box around right whales when they unexpectedly group together. NOAA also has a series of Seasonal Management Areas all along the Atlantic Coast migration route where these whales are found every year that come with mandatory speed reductions to 10 knots.
Oceana also examined travel data in the Seasonal Management Area off Block Island and found that only 60 out of 516 vessels, or 11.6%, violated the mandatory speed limit. Most were just barely over, but one, a US-flagged passenger vessel around 125 feet in length, was clocked at nearly 21 knots.
"We found pretty much what we expected," Brogan said about compliance with a voluntary speed restriction. "It's like on the Mass Pike when you know there's no troopers out there, you behave differently when they are."
Seasonal Management Areas have much stricter speed regulations requiring that a ship's master note every speed deviation in his logbook and explain why it was necessary. Ship safety is the only allowable reason cited by NOAA.
Brogan said Oceana is advocating that in updating the ship strike reduction rule they make the speed limit mandatory in the Dynamic Management Areas, and offered the tracking methodology they'd developed to NOAA as a compliance monitoring tool.
"We need to absolutely verify," Brogan said. "We can't assume that compliance is going to be high when what we came out with today shows that compliance is low and this isn't working."
NOAA did not return a request for comment by the Times deadline, nor did the International Chamber of Shipping, which represents a majority of the international shippers.