Today: Not sure why this tree reminded me of having braces ...
While this one reminded me of ... hmmmm.
Monday, July 23, 2018: Some updating info.
Unfinished: The West Thorofare trestle cross-under -- to connect Ship Bottom with the Forsythe refuge's Cedar Bonnet Island Nature Trail via sidewalk – is still very much under construction. When done (soon, I'm told), the walkway beneath the bridge will allow pedestrian and bike traffic to access the new Forsythe facility from LBI. Currently, the only way to get to the trail is by vehicle -- pulling onto the overlook parking lot, off eastbound Causeway.
Here's a photo look-about going from the walkway under the East Thorofare trestle bridge (Hochstrasser's; Ship Bottom). Note: You can still pass under the East Thorofare trestle bridge in Ship Bottom, just north of the boat launch.
--------------------------------------------------------------------------------------------
Passage under the bridge at Hochstrasser's ...
Proceeding Over the West Thorofare walkway ...
... And finally reaching the "Sidewalk Closed" area ...
The reason it's closed: The walk-under the trestle bridge is still very much unfinished ...
By the by, here's the look of what the renovated Dutchman's will look like ...
Since I'm on a bit of a Causeway roll. I saw, firsthand, why neither the East Thorofare (Hochstrasser) and West Thorofare (Dutchman's) trestle bridges are pretty much unfishable, even though the NJDOT said they would be angler-friendly. The aluminum barriers facing the water are simply too high to comfortably fish over -- or under. What's more, the water is way too far down when fishing over the railing.
I see by a couple plugs hung up in nearby high-tension wires that folks have given the once-popular fishing spans a go. I positioned myself in every way possible and short of bringing in five-gallon buckets to stand on -- DO NOT try that! -- there's no way, Jose.
Once the building is done, there will still be "troll" areas to fish beneath the bridges. A few guys were under there today. But, up-top (and over) fishing has gone the way of too many LBI traditions.
Below: A long way down ...
And railings way too high. Bummer.
How weird is this??????????????????????? Note the mullet:
https://www.facebook.com/InTheKnowInnovationAOL/videos/193223848040...
=========================================================
Never saw a Right and Left Fluke together
---
========================================
Stockton to Host Discussion on Potential Impact of Marijuana Legalization
For immediate release
July 23, 2018
Galloway, N.J. – Former U.S. Congressman and Brigantine resident, Patrick J. Kennedy, and Kevin A. Sabet, founder and president of Smart Approaches to Marijuana, (SAM) will discuss the potential impact of the legalization of marijuana from 1-3 p.m. Thursday, August 2 in the Campus Center Theater.
The topic of the talk is "Marijuana Legalization in N.J.: Are We Sure?" Both Kennedy and Sabet question current state efforts to legalize marijuana.
Kennedy is the author of "A Common Struggle," in which he discusses his own battles with mental health and addiction and links them to national mental health care policy. The former Democratic representative from Rhode Island and mental health advocate serves on President Donald Trump's opioid epidemic commission.
SAM's mission is to educate citizens on the science of marijuana and to promote health-first, smart policies and attitudes that decrease marijuana use and its consequences. Its goal is to seek a middle road between incarceration and legalization.lic health and safety.
Among the topics to be discussed are: Lessons learned in legalized states, the mental health effects of marijuana use, marijuana potency and price trends in the legal and illegal markets, emergency room and hospital admissions related to marijuana, the cost of implementing legalization from law enforcement to regulators, the cost to employers and impact on productivity, usage among youth and school incidents related to marijuana, drugged driving, and societal costs.
This event is free and open to the public. There will be a question and answer period.
# # #
Contact:
Diane D'Amico
Director of News and Media Relations
Galloway, N.J. 08205
609-652-4593
Wednesday, July 25th, 2018
6:00 PM – 8:00 PM – Registration in Person – Beach Haven Marlin & Tuna Club (BHMTC)
8:00 PM – Captain's Meeting and Dinner – Beach Haven Marlin & Tuna Club
Thursday, July 26th, 2018
Fish Day Option 1
Scales open at BHMTC & Hoffman's Marina from 4:30 PM – 8:30PM
Food Truck and drinks - BHMTC
Friday, July 27th, 2018
Fish Day Option 2
Scales open at BHMTC & Hoffman's Marina from 4:30 PM – 8:30PM
Food Truck and drinks – BHMTC
Live music – Franklin Turnpike Band (7-11pm)
Saturday, July 28th, 2018
Fish Day Option 3
Scales open at BHMTC & Hoffman's Marina from 4:30 PM – 8:30PM
Tournament Dinner 6PM start – BHMTC
Live Music
Sunday, July 29th, 2018
Fish Day Option 4
Scales open at BHMTC & Hoffman's Marina from 4:30 PM – 8:30PM
Awards Ceremony – Approximately 9 PM
Food and drinks at BHMTC
==================================================
FAO 2018 World Fisheries & Aquaculture Report Highlights Record Fish Consumption
SEAFOODNEWS.COM [SeafoodNews] by John Sackton – July 19, 2018
The FAO released their annual State of the World's Fisheries and Aquaculture Report this month.
The FAO said that total fish production in 2016 reached an all-time high of 171 million tons, of which 88% was for direct human consumption.
This also represented a global high in per capita consumption, of 20.3 Kg. (live weight).
"Since 1961 the annual global growth in fish consumption has been twice as high as population growth, demonstrating that the fisheries sector is crucial in meeting FAO's goal of a world without hunger and malnutrition," said the FAO.
Aquaculture represented 53% of all directly consumed seafood.
In 2016 Alaska pollock was the top species, temporarily displacing Peruvian Anchovies, but in 2017 a recovery in anchovies should put them back on top.
All the most valuable species groups with significant production – lobster, crabs, shrimp, and mollusks, marked new catch records in 2016.
The FAO has revised its terminology around the sustainability status of various fisheries. Their new term, Maximally Sustainably Fished Stocks, represented 59.9% of commercial harvests. 33.1% of the stocks were classified as being fished at biologically unstainable levels.
The problem regions, according to the FAO, were the Mediterranean, the Southeast Pacific, and the Southwest Atlantic. These areas had 58 to 62% of their stocks overfished.
By contrast, the Northeast Pacific, Northwest Pacific, and Central and Southwest Pacific had the lowest levels of overfishing, with between 13% and 17% of stocks overfished.
Since 1961, global food fish consumption has grown at an average rate of 3.2%, while population growth has averaged 1.6%.
The expansion in consumption has been driven not only by increased production but also by a combination of many other factors, including reduced wastage, better utilization, improved distribution channels and growing demand, linked with population growth, rising incomes and urbanization, says the FAO.
A link to the full report is here.
NDP Fisheries Critic Proposes Removing Fish Farms From Oceans
SEAFOODNEWS.COM [CBC News] by Joel Ballard - July 23, 2018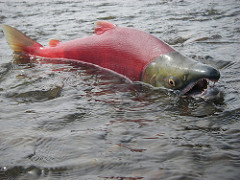 The federal NDP critic for Fisheries and Oceans is proposing legislation that would overhaul fish farming by moving open-net fish farms from the ocean to land in an effort to stabilize and grow dwindling wild sockeye salmon numbers.
"The impact to wild salmon has been a huge concern," MP Fin Donnelly said to All Points West host Jason D'Souza.
"I want to see healthy watersheds, healthy fish populations."
Reports have shown that wild sockeye salmon that come into contact with fish farms are more likely to be introduced to a number of problems, including parasitic sea lice — which attach themselves to the fish, weakening and sometimes killing them — and the piscine reovirus (PRV).
PRV affects salmon's ability to swim upstream, which makes it harder for them to return to their spawning grounds.
"There's got to be a better way to raise these fish and to protect our wild salmon," Donnelly said.
"The most plausible solution I've heard is to adopt a new technology called RAS [recirculating aquatic systems], which has been developed out of the United States and implemented here in Canada."
The idea is to build large tanks that are filled with circulating water to recreate the ocean's environment.
Donnelly recognizes that open-net fish farmers have made improvements over the past 15 years, but that "essentially, they are still using the ocean as a toilet" to dilute some of the problems involved with sea farming, like pesticides and sea lice.
"With farming in general, it's always disease management. When you put farms in water, it gets even harder to control diseases," Donnelly said.
He believes that on-land facilities offer farmers the opportunity to better control their environment and mitigate the risks to wild sea life, specifically sockeye salmon.
"You'd put thousands of people out of work"
Open-net fish farms are a large industry on Vancouver Island and Shawn Hall, spokesperson for the B.C. Salmon Farmers Association, says that mandating on-land closed-containment farms would, effectively, be legislating the industry out of business.
"You'd put thousands of people out of work. These are real people … supporting their families," said Hall.
Hall says that moving the farms onto land also comes with environmental consequences, such as clearing and paving land for the tanks, as well as the use of electricity to circulate water.
Donnelly is aware that closed-containment farms come with some concerns.
"With all industry, we're going to have an environmental impact … That's a legitimate concern and one that's going to be looked at," said Donnelly.
Industry not ready for large scale
Hall admits that on-land fish farms are potentially the future of the industry, but doesn't believe the industry is ready for large scale operations.

"Make no mistake about it, there's a lot of work going on for the potential for on-land aquaculture being part of the solution. And our members are actually world-leading experts … but mandating that as a wholesale move right now would shut the industry down," said Hall.
Hall agrees that open-net fish farms have had challenges with parasites and diseases, including toxic algae outbreaks, but says his industry has evolved over the past 30 years and believes open-net fish farms can operate in an environmentally friendly and responsible way.
"There just aren't enough wild fish out there to feed a hungry human race. If we are going to eat fish, we need to farm it. And we farm it responsibly here," Hall said.
Photo Credit: EPA
============================================
Landlocked Salmon Farms Cropping Up In U.S.
SEAFOODNEWS.COM [Fish Radio with Laine Welch] - July 19, 2018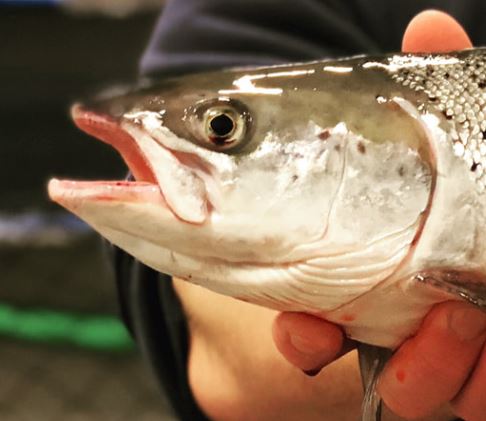 This is Fish Radio. I'm Laine Welch – The first landlocked salmon farms are cropping up in the U.S. More after this --
An AMSEA trained fisherman is more likely to survive an emergency at sea. The Alaska Marine Safety Education Association provides Coast Guard accepted training for fishermen across Alaska. Learn more at www.amsea.org
Grundens new Deck Boss boots give you better grip, better comfort and happier feet. Made in the USA. At gear shops now! Visit www.Grundens.com
Salmon is now being grown in the nation's first landlocked fish farm in rural Wisconsin.
Earlier this month a company called Superior Fresh sent its first batch of 2,000 pounds of fresh 10 pounders to Festival Food stores across the state. Plans call for an annual output of about 72 tons of Atlantic salmon and steelhead trout from the so called fish house which adjoins a large greenhouse - making it the largest aquaponics facility in the world.
In the growing system, which uses no pesticides or antibiotics, water that is drawn from two deep wells feeds into a hydroponic set up that produces 20,000 heads of lettuce every day. That water then recirculates back to the fish tanks; the less than one percent of waste water is used to irrigate alfalfa for hay production.
Wisconsinites hail the dual output as the future of environmental-controlled agriculture.
Superior Fresh says it is "priming the pump" for fresh greens and fish to be sold year round in places where it wouldn't otherwise be possible.
The east coast has even bigger plans for the world's largest land-based salmon growing business, minus the greenhouse.
Nordic Aquafarms of Norway hopes to soon break ground on 40 acres in Belfast, Maine and eventually produce nearly 70 million pounds of Atlantic salmon each year.
The salmon will be grown in tanks holding up to 2 million gallons of recycling water, sourced from a reservoir no longer used for the city's water supply.
Nordic Aquafarm president Erik Heim said that the U.S. currently imports more than 80 percent of its seafood. Raising the salmon in Maine cuts shipping time and costs and delivers a fresher product to American customers.
=======================================================
Interior Department Proposes Most Sweeping Set of Changes in Decades to Endangered Species Act
SEAFOODNEWS.COM [The New York Times] by Lisa Friedman, Kendra Pierre-Louis and Livia Albeck-Ripka
The Interior Department on Thursday proposed the most sweeping set of changes in decades to the Endangered Species Act, the law that brought the bald eagle and the Yellowstone grizzly bear back from the edge of extinction but which Republicans say is cumbersome and restricts economic development.
The proposed revisions have far-reaching implications, potentially making it easier for roads, pipelines and other construction projects to gain approvals than under current rules. One change, for instance, would eliminate longstanding language that prohibits considering economic factors when deciding whether or not a species should be protected.
The agency also intends to make it more difficult to shield species like the Atlantic sturgeon that are considered ''threatened,'' which is the category one level beneath the most serious one, ''endangered.''
Battles over endangered species have consumed vast swaths of the West for decades, and confrontations over protections for the spotted owl, the sage grouse and the gray wolf have shaped politics and public debate. While the changes proposed Thursday by the Fish and Wildlife Service and the National Marine Fisheries Service wouldn't be retroactive, they could set the stage for new clashes over offshore drilling and also could help smooth the path for projects like oil and gas drilling in the Arctic National Wildlife Refuge.
David L. Bernhardt, the deputy secretary of the Interior Department, said that the 1973 law had not seen major changes in 30 years and described the proposals as streamlining and improving the regulatory process. He rejected a suggestion that the moves would help the oil and gas businesses, although leaders in those industries have long sought similar changes to the ones outlined Thursday.
''Together these rules will be very protective and enhance the conservation of the species,'' Mr. Bernhardt said. ''At the same time we hope that they ameliorate some of the unnecessary burden, conflict and uncertainty that is within our current regulatory structure.''
Environmental activists criticized the proposed changes, saying they would put species at risk of extinction. ''These proposals would slam a wrecking ball into the most crucial protections for our most endangered wildlife,'' said Brett Hartl, government affairs director at the Center for Biological Diversity.
The changes are in keeping with a broader pattern of regulatory moves in the Trump administration aimed at reducing cost and other burdens for businesses, particularly the energy business. Last month the Trump administration also started the process of rolling back the National Environmental Policy Act, an obscure law that is considered the cornerstone of environmental policy, laying out the process federal agencies must follow when considering major infrastructure projects.
Republicans in Western states have long sought changes to both laws, arguing they are more focused on preventing development than protecting the environment. Oil and gas companies, the timber industry, farmers, rangers and some private landowners have echoed the message. The Endangered Species Act in particular, many have argued, is outdated, costly and allows for too many lawsuits from environmentalists.
Separately, this week Republicans in Congress sought an ambitious overhaul of the law, arguing that only 3 percent of species listed as threatened or endangered have been successfully removed over the life of the act.
Robert Gordon, executive director of the National Wilderness Institute of the Competitive Enterprise Institute, a free-market think tank that opposes the Endangered Species Act, said the law is often a burden to property owners and pointed to the legal case of an amphibian called the dusky gopher frog.
The Supreme Court has agreed to consider whether the federal government's designation of private land in Louisiana as ''critical habitat'' for the frog limited the owners' ability to develop it. Mr. Gordon said if the proposed rules had been in place, the property would have been less likely to be designated as such.
Kathleen Sgamma, president of the Western Energy Alliance, which represents the oil and gas industry, praised the Trump administration proposal, saying that ''for too long the E.S.A. has been used as a means of controlling lands in the West rather than actually focusing on species recovery.'' She said she hoped the changes, which she described as a ''tightening'' of procedures, would help lift restrictions on ''responsible economic activities on private and public lands.''
Environmentalists expressed concern the changes will gut protections for the country's most threatened species and weaken the agency's ability to address climate change. The changes, they contended, are part of a broader effort by the Trump administration to dismantle ecosystem protections and disregard science when making decisions about the environment.
In its 40-year existence, the act ''has successfully kept 99 percent of listed species from going extinct,'' said Christy Goldfuss, senior vice president for energy and environment policy at the liberal Center for American Progress, in a statement. ''Instead of continuing the hard work needed to conserve a healthy and vibrant environment for our kids and grandkids, this administration is working to further imperil the more than 1,600 threatened and endangered species.''
The Interior Department and the Department of Commerce will give the public 60 days to comment on the changes before finalizing them. Typically, proposals don't change significantly as a result of the public comment period.
Thursday's proposals also include a change that, while technical, could give the government greater leeway to play down climate change in judging whether a plant or animal is at risk of extinction. Environmentalists criticized the change -- which involves writing a new definition for the term ''foreseeable future'' -- as giving the government greater leeway to discount future effects of global warming.
Currently, the law defines a threatened species as one ''likely to become an endangered species within the foreseeable future throughout all or a significant portion of its range,'' with the words ''foreseeable future'' left to interpretation. According to the Interior Department, the new definition will ''make it clear that it extends only as far as they can reasonably determine that both the future threats and the species' response to those threats are probable.''
Bob Dreher, senior vice president for conservation programs at Defenders of Wildlife, an environmental group, said that could put climate change in the cross hairs. ''If they define it narrowly, then they'll close their eyes to the fact that 30 years down the road polar bears will be endangered due to sea-level rise,'' he said.
Another significant proposed change, which has been rumored since April when a proposal was posted to the White House's Office of Management and Budget, would alter how the Endangered Species Act deals with animals that are categorized as ''threatened,'' or one level below ''endangered.''
Current rules require agencies to automatically extend protections to threatened species that mirror those of endangered species. Changing the rule could roll back some of those protections.
Richard B. Stewart, a professor of environmental law at New York University, said the logic for the current rule was that ''if you wait until the species' numbers are actually small enough that it's going to become extinct, it may be difficult or too late'' to save it. The threatened list, he said, is designed ''to anticipate a species is sort of going downhill sufficiently in advance, and protect it.''
Mr. Bernhardt on Wednesday also said that a section of the law that provides for consultations among federal agencies when considering permit applications would be streamlined. He described it as ''where the rubber meets the road of the Endangered Species Act,'' and said he expected the process to be improved.
''Our general intention is to maintain the scope of consultation, but that's always in the eye of the beholder,'' he said.