I wasn't sure if I should fish or go to work. I stepped out side, looked up ... and rushed back in for my rod. 
Below: Post extraction ... Had that gone in toward the front of the throat ... sayonara.  
Monday, January 20, 2020: I need to update/revise some comments I made in my last blog regarding intensive roadwork coming to Ship Bottom, part of the final/final phases of Causeway rebuilding project.
I had written that the Ship Bottom phase would come about sooner than the tricky Marsha Drive roadway widening and lane-building work in Manahawkin … and it very likely will. However, that initial Island work will be focused on the fairly complex building of draining system along 8th and 9th streets. It will NOT include the changing of the traffic pattern at the circle, which now seems scheduled for as many as three years down the line.
Of import, the drainage digging will entail the "relocating" of existing utility wires, including electrical, cable and telephone lines. In researching, I'm unclear if that relocating would include the removing/relocating of the current utility poles or simply the redirecting of the wires during digging activities. I'm a pinch concerned that new poles, if warranted, might be those ugly steel monstrosities, like those mounted along Route 72 in Stafford.
There's a load of confusion over what is to be done over Marsha drive way. I read the project plans as creating an extra lane from Old Bay Avenue all the way to Rte. 72. However, another read has just an added southbound lane at the Rte. 72 intersection. How would that improve anything, short of offering three lanes turning westward onto Rte. 72?
Complicating matters, there is a short-distance lane being proposed for westbound Rte. 72 at the Marsha Drive intersection. It's meant to accommodate an increased traffic flow turning off Marsha. Spookily, traffic using that added lane will have to quickly merge back into the existing two lanes of westbound traffic. That might not be so bad when westbound traffic is stopped at the light. But, alack and alas, during summer backups, there might not be opening to merge back onto the main two lanes … without the kindness of strangers. And how do you think that might go?
THE RIGHT LANE AND ME: When driving between Brant Beach and Beach Haven, I have adopted a whole new Boulevarding attitude. Where I had long griped and moaned about left-land lollygaggers, they have become so pervasive I'm now blissfully realizing I have my very own seemingly secret lane, since I'm one of the scant few who faithfully and legally drive to the right. I find myself looking forward to zipping carefreely along in an unpopulated right lane -- for miles on end, unencumbered by lane sharers. The bumps are all part of the privledge.
This lane exclusivity has truly enhanced my frequent Boulevard drives. Where I had been endlessly bitching and moaning that left-lane lollygaggers are the bane of Boulevard driving, I now fully encourage all y'all to stay unlawfully pinned to the left lane. It's happy trails to me, as in full steam ahead.
MAKE LIVES MATTTER: The truly fine and honorable folks of the Beach Haven First Aid squad are seeking members. I know of no better way to give back to the community -- if not mankind itself -- than selflessly saving peoples' lives; being there at what is often the worst moments of their lives. Beach Haven Volunteer First Aid Squad, Beach Haven, (609) 492-4222.
I'll must also mention that many a first aid squad in our region is hurting for help. That should worry every last one of us.
If uncertain about your ability to commit enough time, at least check out what all is needed by these squads. In some cases, a willingness to even contribute time to their programs greatly helps the overall cause.
Last Saturday all roads led to Long Beach, anybody will tell you that and Long Beach was officially put on the map – to stay put. There can be no mistake about it. I can prove it to you by several thousand people, everyone of whom was there, everyone of whom had a part in the doings, and all of whom are willing to swear that they never saw a celebration pulled off in any nicer way and with more credit to the men in charge, than was the opening of the Long Beach bridge and road from Mannahawkin to Beach Haven. From the Governor to the last driver of a car who ended the procession across the bridge and down the beach, everyone was impressed with the great possibilities of Long Beach as a summer resort and even more impressed with the ability, push and grit of the men who are now pushing Long Beach to the fore.
The celebration, lasting practically two days, for most of the guests stayed over till Sunday night, was without an accident or even an incident to mar its success. There was a smile on every face and peace and contentment was writ large on every countenance.
The big day, of course, was Saturday, and that day included the automobile parade from Mannahawkin to Beach Haven; a speech by Governor Fielder in front of the Engleside at the close of the parade; luncheon at the Engleside; a ball game between Tuckerton and Beach Haven in which the beach boys were beaten; an exhibit of fancy flying in a Curtiss hydro-aeroplane by E. K. Jaquith, who flew up from Atlantic City; and a banquet at the Baldwin in the evening, at which former Governor Stokes and Congressman Johnson of the State of Washington were the chief speakers; and the day ended promptly at midnight to the minute, when the last spark dropped from the words "Goodnight" at the end of the fireworks on the beach front.
Saturday morning saw automobiles heading toward Mannahawkin from all directions. The trains too were filled with people bound Hawkinward. The town of Mannahawkin was dressed in gala attire, and the flags were flying in front of nearly every home. The auto parade formed east of the railroad on the broad avenue, swung round through the town, and down the bay road to the bridge, where it opened out on the meadow road and bridge. There were something over a hundred autos in line, some said 102, some said 137.
Many of the autos - most of them in fact - were decorated. All Mannahawkin was out on its front porch, or else its front fence, if they were young enough, and the houses along the route were all flags and bunting. In the van of the parade was Senator Mathis, with Governor James P. Fielder, and the line covered nearly two miles in length. The draw on the bridge was decorated with yellow and blue and stars and stripes. The road from the edge of the meadow to the bridge was not graveled and raised clouds of dust, forming the most unpleasant feature of the day, but it was something that could not be avoided, and the contractors on this road had been putting in hard licks to get it as far as it was.
Across the bridge, Long Beach township had built a stretch of as fine road as could be found anywhere from the end of the bridge to Bay avenue, and the upper section of Bay avenue was also in fine shape. The second section had a mile or so of uncompleted road, where the gravel had been flung on half the road only, and here it was necessary to take a little care, but there were no accidents in all the line, though motorcycles and bicycles darted here and there through the procession. (Entire article not included)******************************************
Winding Glass: Major New Hilborn Study Shows How Well Global Fisheries Management is Working
By John Sackton
Founder, SeafoodNews
January 14, 2020
[The Winding Glass is a commentary/opinion column written by SeafoodNews Founder John Sackton.]
Dr. Ray Hilborn (University of Washington) and his 21 co- authors have just published a major study on fisheries management in the Proceedings of the National Academy of Sciences.  For decades Hilborn and others have worked on the global problem of whether the oceans are being fished out.  Their work began as a research collaborative after respected scientists claimed that overfishing would lead to stock collapse, and most famously, by 2048 we would all be eating jellyfish.
This idea was scientifically preposterous, but it took a huge amount of work to construct the actual data on global fisheries that would allow for a real analysis.  Meanwhile NGO's found it profitable to sound the alarm that destructive fishing was destroying life in the oceans, and that only certified fisheries that passed the MSC tests, or were approved by Monterey Bay Aquarium, were fisheries that could be ethically consumed.
For an industry that is vital to food production for many of the poorest people on the planet, and an industry which represents the most internationally traded food commodity, this created permanent doubt in the minds of consumers that fisheries were sustainable.
The industry has strongly countered this by spending money on certifications, by traceability, by adopting the Global Seafood Sustainability Initiative to normalize sustainability certifications.
In 2009, the group of collaborators published a major review of global fisheries using the Ram Legacy database which had been established by the collaborative to provide the best possible data on global fish stocks.  This paper, ten years later, is a scorecard.
Hilborn has a simple scientific message:  Fisheries management works.  Nearly half of global fish stocks are scientifically monitored, and some type of management regime is in place.  These stocks are increasing, not declining.  According to the new analysis, management is the primary reason these stocks are at sustainable levels or are successfully rebuilding.
"There is a narrative that fish stocks are declining around the world, that fisheries management is failing and we need new solutions — and it's totally wrong," said lead author Ray Hilborn, a professor in the University of Washington School of Aquatic and Fishery Sciences. "Fish stocks are increasing in many places, and we already know how to solve problems through effective fisheries management."
The project builds on a decade-long effort to build a global network of collaborators and assemble estimates of the status of fish stocks — or distinct populations of fish — around the world, from Peru to the Mediterranean, and to Japan. This information helps scientists and managers know where overfishing is occurring or where some areas could support even more fishing.
The team's database includes information on nearly half of the world's fish catch, or about 880 fish stocks, providing perhaps the most comprehensive picture worldwide of the health and status of fish populations.
"The key is we want to know how well we are doing, where we need to improve, and what the problems are," Hilborn said.
By pairing information about fish stocks with recently published data on fisheries management activities in about 30 countries, the researchers found that more intense management led to healthy or improving fish stocks, while little to no management led to overfishing and poor stock status.
To be successful, management should be tailored to fit the characteristics of the different fisheries and the needs of specific countries and regions. The main goal should be to reduce the total fishing pressure when it is too high, and find ways to incentivize fishing fleets to value healthy fish stocks.
"There isn't really a one-size-fits-all management approach," said co-author Christopher Costello, a professor of environmental and resource economics at University of California, Santa Barbara and a board member with Environmental Defense Fund. "We need to design the way we manage fisheries so that fishermen around the world have a long-term stake in the health of the ocean."
Those regions with less-developed fisheries management have, on average, 3-fold greater harvest rates and half the abundance as assessed stocks. Available evidence suggests that the regions without assessments of abundance have little fisheries management, and stocks are in poor shape. Increased application of area-appropriate fisheries science recommendations and management tools are still needed for sustaining fisheries in places where they are lacking.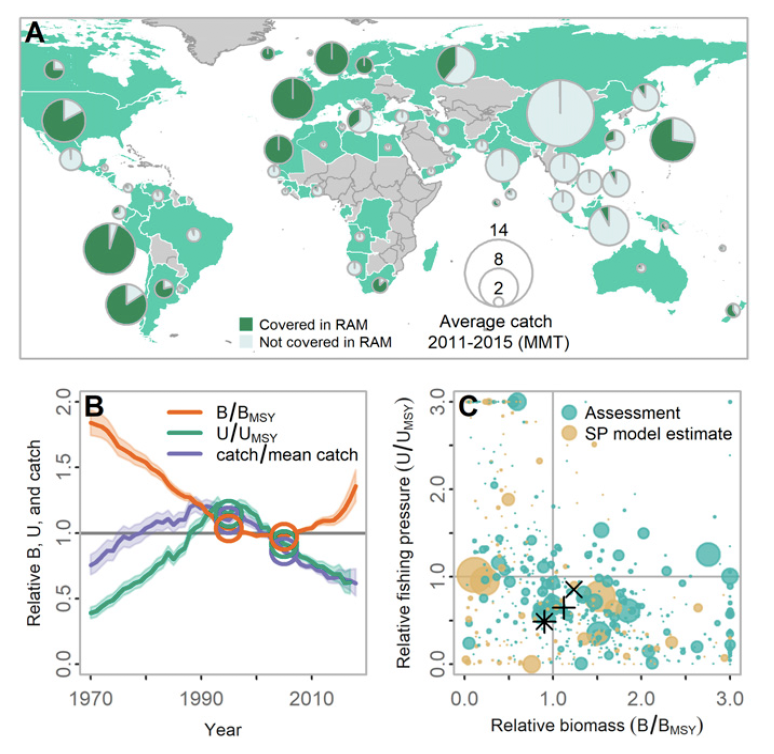 This graphic from the paper illustrates the change in global stock behavior between 1995 and 2005, represented by the 2 circles in section B.  In 1995 fisheries were on a downward trajectory suggesting increasing overfishing.  Ten years later, by 2005, the situation had reversed with fisheries as a whole indicating a halt in overfishing, and in subsequent years the overall health of managed stocks has continued to improve.
Section A shows where the data for this study comes from.  Green countries, and the catch circles, show how much a a given area's fisheries are in management programs that control fishing mortality.  Obviously the big gap is in China and Southeast Asia.  In these area fisheries are important to the local food systems, and often contribute the majority of protein in the diet.

According to the paper, fisheries in data-limited regions are an important part of food security for many of the poorest people in the world and constitute something of an enigma. Costello et al. used methods relying on reported catches as the primary indicator of stock status, which have often increased in these regions, suggesting that the stocks are reasonably healthy; for example, the average B/BMSY was reported as 1.16 in China, 1.08 in Indonesia, 0.90 in the Republic of Korea, and 1.94 in Bangladesh.

Local experts, in contrast, have widespread concerns about the poor status of stocks in these countries and believe that methods that rely primarily on trends in catches fail to capture these concerns.
This paper is focused on the traditional management of fisheries by single species stocks, and this method is dependent on historical data.  The authors recognize that climate change is impacting all fisheries, and that there are other indicators of ecosystem health than stock status that may have importance.
However, outcomes in climate stressed fisheries appear to be improved where traditional fisheries management measures are in place.  They set the stage for adjustments to catch limits and seasons, and actually promote the maximum productivity given the changes in the ecosystem.
But for unassessed fisheries in tropical and subtropical regions dominated by highly diverse mixed fisheries, the single stock assessment and management practices used in temperate countries are impractical. Regulating the overall fishing pressure so that the ecosystem-wide benefits are optimized and moving to cooperative rather than competitive fisheries seem most likely to provide for biological, social, and economic sustainability, say the authors.
The authors credit the efforts of thousands of fisheries managers, scientists, fishers, and NGO workers with improving the status of fisheries in the developed world.
For progress to continue in the less developed fisheries, it is vital that seafood users, especially buyers who support the certification schemes, don't get locked in to expecting the same certifications that work with a northern single stock management to also cover a tropical multi-species, multi-trophic fishery where the health of individual stocks is simply not known.
To the extent that both industry and the NGO's, as well as governments, can focus on practical efforts that lead to stock improvements, perhaps at the next ten year anniversary of this report the prognosis of tropical fisheries will have improved, despite the challenges of warming oceans.
The paper, titled "Effective fisheries management instrumental in improving fish stoc... is available on the website of the Proceedings of the National Academy of Sciences.
Chart Credit: Ray Hilborn/ PNAS
Copyright © 2020 Salisbury Daily Times
By Matthew Prensky
January 20, 2020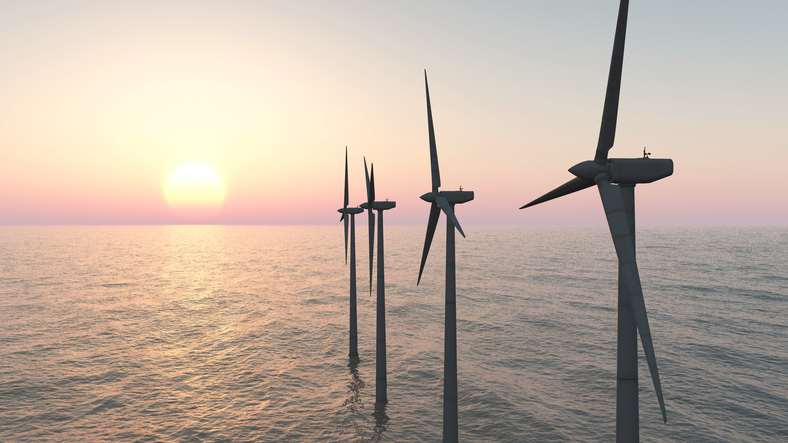 For Wes Townsend, there's no better place to be in the world than steaming out into the Atlantic Ocean before sunrise, Christian music jamming on the radio. His favorite part is the freedom of it all. Townsend has been a commercial fisherman in the waters off Maryland and Delaware for more than 40 years. He grew up fishing in the Indian River Bay in Sussex County. Fishing is in Townsend's blood. His grandparents fished, as did his parents and brother. Some nights Townsend says he's too excited about fishing to go to sleep. Family, too, was the reason Sonny Gwin got into fishing. Gwin, who's originally from Virginia Beach, Virginia, said his grandfather was an avid recreational fisherman. Being together with his grandfather made him fall in love with the water.
"I like feeding people; that's been my biggest ambition," said Gwin, a commercial fisherman. "I get satisfied catching fresh fish and seeing people's face and how much they enjoy getting a fresh product and being able to eat something good."
Gwin has been fishing for more than 40 years as well. He says he doesn't plan on stopping until he's over the age of 100 or can't get on the boat anymore or "the windmills put me out of business."
Gwin and Townsend are just two of a nationwide community of fishermen who are concerned that offshore wind energy may threaten their livelihoods.
Nationwide, fishermen are concerned that there isn't enough known about what offshore wind will do to the ocean, and by extension, the commercial fishing industry, says Annie Hawkins, executive director of the Responsible Offshore Development Alliance.
RODA is a trade association that represents businesses and communities with an interest in commercial fishing, Hawkins said. The organization formed as a way to give fisherman a unified voice in decisions about offshore wind.
Hawkins described the problem like this: "A little bit is known, and a lot is unknown."
"Fisherman are very interested in having a robust scientific record and a good understanding of what the effects are going to be so that we can mitigate those effects through good planning," Hawkins said. "Right now, the scientific record is not particularly robust."
Fishermen also worry about being displaced from fishing grounds, safety concerns about navigating through wind farms and if the wind turbines will mess with their instruments, Hawkins said.
Wind Developers Have a Different Opinion.
Wind developers like Ørsted have constructed offshore wind farms across the world for more than 20 years, said John O'Keeffe, the head of marine affairs in the United States for Ørsted.
O'Keeffe said there's already been "a ton" of research done on offshore wind and that there's no need to stop development.
"If you're speaking to a group that may not want to see offshore wind, you're going to get answers like, 'Well we'd like to slow down.' Right now we are going very slow. It's an extremely long process just to get the permitting status on these projects," O'Keeffe said.
In between these two sides are scientists studying the impact. Scientists like Jeremy Firestone of the University of Delaware point to the many decades that offshore wind energy has operated in Europe.
Scientists, though, say more could and should be known about offshore wind, especially before projects begin construction. Without that information, it will be hard to judge the projects' long-term effects.
Fishing Livelihoods at Stake
Townsend's primary catch is lobster and black sea bass. He said those species make up about 90% of his income.
Right now, Townsend can't retire, and that's why he's worried about offshore wind. Townsend said there isn't enough known about how offshore wind will affect the ocean and his livelihood.
"The scientists at BOEM (Bureau of Ocean Energy Management) and everybody else, 10 years from now, they will still get a paycheck ... I may not," Townsend said. "That's the scary thing. They are messing with my livelihood, my family's livelihood and who knows how many other fishermen out there that rely on the ocean to make their living."
The wind farms in Europe is part of what's creating the unease for fisherman on this side of the Atlantic. Gwin, who's a member of the Mid-Atlantic Fishery Management Council, said the council invited European fishermen to talk to about the effects of offshore wind over in Europe.
Gwin said some good and bad came out of those meetings, but the most important issue is "from all indications I've seen we're not really gaining nothing."
He added fisherman are also worried about the effects from the Block Island Wind Farm, America's first offshore wind farm off Block Island, Rhode Island.
"Up north fisherman are already having problems with commercial fishing and the wind farms up there now," Gwin said. "But when you're dealing with a lot of money and a lot of big players, we're just pawns in this game, and that's one of the biggest problems."
Gwin, too, would like to see offshore wind development slow down to allow for more studies.
Joy Weber, development manager for Ørsted's Skipjack Wind Farm, said there's already a lot of information out there because of the wind farms in Europe.
"I think that there's always room for more research on these types of important issues, but there have been quite a few wind farms built in the ocean in Europe by our company as well so we are not operating in a vacuum," Weber said.
She added that during the federal review process, which is carried out by the Bureau of Ocean Energy Management, a lot of time is used to examine the impact.
When Ørsted is ready to begin construction, it must first submit a construction and operation plan to BOEM for review. Weber said the plan review can take more than a year. During that time, federal regulators are looking at effects.
Nationwide, Hawkins said fisherman have many concerns, including BOEM's process and how much input the federal government is giving to fisherman.
In an emailed statement, representatives said the agency spends millions of dollars each year on environmental studies to understand the effects of offshore wind.
"Based on information from European wind facilities and site conditions in the U.S., BOEM has sufficient information to draw sound, defensible conclusions regarding the potential impact of offshore wind facilities on the physical and biological environment of the Atlantic Outer Continental Shelf," according to the statement.
Beyond the regulatory process, Hawkins said fisherman worry about being displaced from historic fishing grounds, transiting through wind farms that could cause radar interference and how wind farms will affect fish populations.
"The uncertainty in the process and that we don't really have a very structured approach to this from the fisherman's point of view is certainly exacerbating the problem," Hawkins said.
Fish, Wind Turbines and a Growing Understanding
One issue many scientists agree on is fish and marine mammals will be affected by the construction of the wind turbines.
When wind companies build wind turbines they have to pile drive some parts into the sea floor. During that portion of construction, Arthur Popper, professor emeritus in the department of biology at the University of Maryland, said percussive waves are sent out from the construction site creating a very disturbing, noisy sound for animals.
Emerging science, some of which Popper has authored, indicates those sounds could cause physical harm to fish and potentially kill some if they swim too close.
While fish ears may not be the same as humans', Popper said the sensation of what they may feel is transferable.
"I'm a New Yorker and when I was growing up you would walk down the street and (construction workers) would be doing jackhammering for construction," Popper said. "How do you behave when you walk down the street in New York City and right in front of you is some jackhammering? Do you keep walking? No."
He continued, "What people tend to do is walk across the street and avoid it because the sound is annoying. That is a perfect analogy for one possible response of a fish."
Beyond the impact of pile driving, there are other concerns for migratory fish, said Dewayne Fox, a professor of fishery science at Delaware State University.
Fox broke down the effects in two categories: acute effects and chronic effects. Acute effects could include disruption to habitats because of pile driving and chronic effects could involve issues with fish migration.
"Fish use a variety of mechanisms to navigate and that includes celestial, topography, water temperature and water chemistry," Fox said. "One of the concerns is that when you put a lot of electrical power through an area, you can disrupt the magnetic fields; so there's some concern that it could disrupt the movement of fishes."
Currently, Fox is studying migratory fish such as the Atlantic sturgeon to better understand their migratory patterns and how it could be affected by offshore wind.
From an overall perspective, Firestone said that for migratory fish it's complicated to study them and scientists "probably don't know the impacts" for those species.
Firestone and other scientists said some science, especially at the Block Island Wind Farm, does indicate offshore wind can create artificial reefs for fish. That result can create a boom for recreational fishing but not necessarily commercial boats because of the space requirements they may need for their gear.
"Whenever you put a structure in the sea, there's likely to be some sort of artificial reef effect," Firestone said. "From a recreational fishing, charter boat and party boat standpoint wind turbines are probably quite good."
Lack of Money, Time Creating Problems
Firestone wouldn't describe research funding for fish or marine mammals as "particularly robust."
Entities such as the U.S. Department of Energy or BOEM invest much more money into technological research rather than studies on environmental or socio-economic matters.
Those funding priorities are in the wrong order, Firestone said. He described offshore wind as a "social issue that has technological components" not a "technical issue with social components."
"The companies are well-versed in how to lay cable and how to put in wind turbines, building the machines and the technology," Firestone said. "What's holding us up right now are the social issues like the spatial planning, competition over ocean space or the issues that are so animated in Ocean City over concerns with potential economic effects."
Especially with the first few offshore wind projects, Firestone said it'd be smart for scientists to study the wind farms to gather "very good baselines" on their effects.
If scientists don't capture baseline data, then researchers won't understand how wind farms really affect the ocean, according to David Secor, a professor at the University of Maryland Center for Environmental Science. In essence its hard to compare the aftereffects of a project if scientists don't have data from before the wind turbines were in place.
The problem is money and timing, Secor said. While there is some research going on, the rapid development of offshore wind energy may be too quick for science.
"We've known this is coming and it's very exciting, but it takes a while to get the gears rolling and there has been a lot of discussion among scientists and stakeholders on this issue of why don't we know more, why aren't we more active in research and why don't we have a good research plan," Secor said.
Hawkins said some wind developers are funding studies, as well as BOEM, but added there isn't a comprehensive agenda to research some of the concerns the fishing industry is worried about.
In order to address some of that, O'Keeffe said Ørsted is working with RODA to create a forum for fisherman and wind developers to have discussions.
One item from those discussions is the request for more research, O'Keeffe said. He added that wind developers are working through those requests to understand what the priorities are, find ways to fund them and complete the work.
"We want to make sure that we work as close as possible with the commercial and recreational industry to make sure that we are coexisting," O'Keeffe said. "We are all ocean users of that area and we want to make sure we're having the right conversations, making sure we're addressing concerns and we're essentially being a good neighbor."
Photo Credit: MR1805/iStock/Getty Images Plus