Teaching children to ... Who knows what the hell they're teaching these children .
+++++++++++++++++++++++++++++++++++++++++++++++++++++++++
Kiel proves the effectiveness of his new Sunken-SUV fishing method ...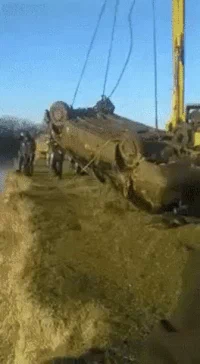 Below: Catch and release ... or what!?
Monday, April 24, 2017: The bluefish bite is often elusive – then it attacks, identical in temperament to the marauding-horde lifestyle of the species.
"Jay, We fished for hours with nothing but one small bass then the blues moved in and our arms were hurting by the time they moved out and it went dead quite again," reported an ardent weekend warrior.
I want to praise many of those week-working folks for their sheer dedication to making the most of their couple fishable days. Many of them are astoundingly talented anglers. Many of the weekend warriors I know are inching toward retirement times – with visions of everyday angling dancing in their dreams. Rock on, Boomers.
ISSUE: Most recent email related to this subject: "Jay, … Please include more details with photographs."
If you're a regular in here, you know I'm photo-happy. Be it emailed pics or social media looks, I thoroughly enjoy images … and passing them on. When it comes to adding details, I do have constraints -- unwritten but etched in granite. The most obvious is an everlasting-gobstopper taboo against offering exact locations.
I don't mess around with this "no burning" mandate. So, many images in here are simply for viewing pleasure – and maybe firing folks up to get out fishing.
When I am site-specific, it is always with permission of the anglers/photographers – and, even then, only if it doesn't open a spot to an angler overrun.
I'll note here that sites like the South Jetty are free game.
Below: My photo from last spring. It hasn't been quite this crowded yet this year ... but give it time.
No, I'm not overstating the impact of this column. It's small potatoes. However. through highly contagious word-of-mouth, all it takes is the modest number of folks in here passing on location info that is then further passed on and so-on and so on. It becomes an inverted pyramid ... with the sky the limit.
That said, I'll try to add a tad more info when I can, though time is always working against me. I do this blog just for the fun of it, meaning work takes precedent – which explains the typos or grammatical snafus that leak in here, with its one-and-done template.
In writing reality, one of the things I excel at are grammer and spellin' …
UPDATE: You can always ask for fishing info in Walmart's sporting goods. Tell me how that works out.
"Excuse me, ma'am. Do you know if there are any bluefish around?"
"Our pet department is up front and to your right, sir."
++++++++++++++++++++++++++++++++++++++++++++++++++++++++++++++++++++++++++++++++++++++++++
IMPORTANT FLUKE SURVEY


Our State is seeking evidence to show that we will suffer a severe economic loss if the 3 fluke at 19" is put into effect. We encourage everyone to answer the survey honestly. However, for us to have a chance of winning our appeal to keep the regulations the same as they were in 2016, we need to provide our DEP with the information they need. We need to indicate on the survey that we will fish for fluke less, take less overall fishing trips, spend less money, etc. It will also be beneficial to show that we will follow regulations or suggestions to reduce mortality of short fluke by using larger hooks etc. Taking steps to reduce mortality will give us a better chance of winning the appeal. Lastly, sound fisheries management is dependent on compliance with the law. It may help to let them know that many people already are not complying with the regulations and if the 3 fluke at 19" becomes law, it will make pirates out of many more of us. Please read the below release from the NJ Division of Fish and Wildlife and then take the survey.

Paul Haertel
JCAA Board Member/Past President
On February 2, 2017, the Summer Flounder, Scup and Black Sea Bass Management Board, part of the Atlantic States Marine Fisheries Commission (ASMFC), approved changes to this coming year's summer flounder quota for New Jersey. It mandated a one-inch size increase to New Jersey's current recreational summer flounder minimum size limit (raising it from 18-inches to 19-inches) and decreased the possession limit from 5 fish to 3 fish. New Jersey is appealing this change.
In reaching its decision the Board did not determine or consider the potential economic impact of the new quota on the summer flounder industry in New Jersey. This survey is designed to help estimate the extent of the economic impact of these recently approved summer flounder management regulations on recreational fishing. Your responses about recent trends in harvest size, abundance, and throwback mortality will help inform future decisions that promote conservation while minimizing adverse economic impacts.
We strongly urge you to complete the survey as thoroughly and accurately as possible within the next 5 days. The survey should only take about 15 minutes to complete. Your participation in this survey is voluntary and your identity throughout remains anonymous. Nowhere is your name or email requested or captured. Your cooperation, however, is much-needed to ensure the completeness and accuracy of the results. Please know that your answers will be kept confidential.
The link to the survey is:
https://www.surveymonkey.com/r/FNP5L3C
Thank you, New Jersey Department of Environmental Protection
+++++++++++++++++++++++++++++++++++++++++++++++++++++++++++++++++++++++++++++++++++++++++++++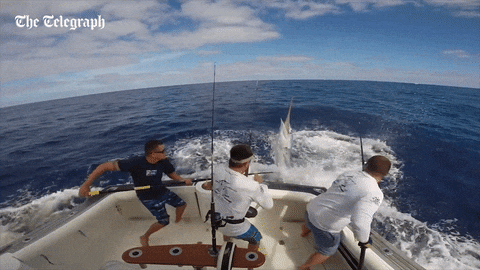 ++++++++++++++++++++++++++++++++++++++++++++++++++++++++++++++++++++++++++++++++++++++++++++++
Early Last week fishing wasn't as easy as it has been , Blue fish were found to be elusive on some trips while others seemed abundant. Both Chunking and poppers scored the blues but not witho…

FISHINGLBI.COM

++++++++++++++++++++++++++++++++++++++++++++++++++++++++++++++++++++++++++++++++++++++++++++++

+++++++++++++++++++++++++++++++++++++++++++++++++++++++++++++++++++++++++++++++++++++++++++++
---------------------------------------------------------------------------------------------------------------------------------------------------------------
Below: For anyone who thinks soccer is always boring ... You shoulda seen this match.
((((((((((((((((((((((((((((((((((((((((((((((((((((((((((((((((((((((((((((((((((((((((()))))))))))))))))))))))))))))))))))))))))))))))))))))))))))))))))))))
What is black and brown and gray all over, Black squirrel sightings are very rare The black squirrel occurs as a "melanistic" subgroup of both the eastern Graysquirrel and the fox squirrel. They are more common in Canada and in the Ohio Valley. The ratio of black squirrels to grey squirrels is 1 to 10,000. Only seven towns in Ct. have officially reported sightings.I was lucky enough to see two in the same day, 5 mi. apart, these are the first ones I have ever seen.

++++++++++++++++++++++++++++++++++++++++++++++++++++++++++++++++++++++++++++++++++++++++++++++

Getting ready for umbrella days to come ...
++++++++++++++++++++++++++++++++++++++++++++++++++++++++++++++++++++++++++++++++++++++++++++++

Robots, Chefs Hope to Bring Invasive Lion Fish from Gulf to Restaurants
SEAFOODNEWS.COM [Thomson Reuters] by Ben Gruber - April 24, 2017
Los Angeles - As it turns out, some of the best cooks in the world think lionfish, a venomous predatory fish which is breeding out of control and destroying marine ecosystems in the Atlantic Ocean and the Caribbean Sea, is delicious.
The chefs gathered in Bermuda on Wednesday for a competition dubbed the "Lionfish Throwdown" where they challenged one another to come up with the tastiest solution to the problem of invasive lionfish.
"Every chef likes to be sustainable in what they are doing," said Chris Kenny, head chef on Necker Island in the British Virgin Islands.
"Lionfish are going to keep spreading, and it's not going to stop unless people step in and do something about it."
Native to the Pacific Ocean, lionfish have no natural predators in Atlantic waters and females can spawn nearly 2 million eggs per year.
"On reefs where sport divers are actively diving with harpoons to try and control the lionfish, they actually do a pretty good job," said Colin Angle, executive chairman of iRobot Corp, a consumer robot company that builds and designs robots.
"But that's a very small percentage of the ocean ... We needed something far more flexible that could go far deeper, longer."
Angle, who recently founded Robots In Service of the Environment (RSE), a nonprofit organization set up to protect the oceans, built a machine named the Guardian specifically designed to hunt and capture lionfish.
"We basically drive the Guardian up to the fish, position it between two electrodes, apply a current and stun the fish, knocking the fish out," said Angle.
The device is still in its early stages of development. Its first prototype, which was unveiled earlier this week, can capture and hold about 10 fish before resurfacing.
Angle said he intends to make the robots affordable enough to entice fisherman to buy the machines in hopes that they will hunt the invasive species in greater numbers.
He also wants to turn lionfish hunting into an online sport.
"With advances in wireless technology, we can actually have an app where people pay to go hunt lionfish and capture the fish by remotely operating the robot," he said, adding that, if robots can catch lionfish, a new market in which chefs can turn an environmental hazard into gourmet cuisine might emerge.