Yet another reason I don't go into the city: The notorious revolving-door sandwich prank played on unsuspecting tourists.
It turns out she gets a share of all the quarters guys keep putting in the horsey ride ... One way to pay for college.
Bluefish are likely in the 'hood, based on choppers being caught for a week now in Hatteras area, with a few big blues caught a day or so ago down on Fenwick Island, Del.
Monday, April 23, 2018: Looks like the bass got here well before the blues. The bay has some serious striper pods mulling about, mainly after dark – actually, more like exclusively after dark. The schoolies are seemingly moving in, yep, schools, coming and going. Plugs, jigheads or bloods all work to call bass to hook. When in them, half a dozen or more can be the norm.
Per usual, it's areas with unnatural light sources that is drawing in stripers, some to 26 inches; most 20" and below.
Below: www.stripers247.com
Not that I chat much about my angling activities, but I came real close to hitting a bass of take-home size, using a flavored sassy.
Yes, I would have invited it home to dinner since the smallest legal bass is where I dine.
Bay bass are seemingly eating slow-moving crabs -- easy to see spot in the manmade light. They travel flush to the bay surface, obviously quite cognizant of the horrifying crab-eaters lurking in the darkness below. Grass shrimp are also on the bass menu, though the main shrimp presences is on the west side of the bay, responding to love call of the wild.
Water temps are edging toward the upper 40s off LBI, though boat anglers are seeing readings swing from the mid-40s up to the low 50s, with colder water closer to the Island. The upcoming rains will really drop bay water temps, which had been well into the 50s.
By the by, the blue claws are busting out of the mud and can be caught/trapped at a slow clip, compared to a brisker showing this time last year.
For bigger bass in phenomenal numbers, Raritan Bay is on fire for boat anglers. I'm never sure of the source of these Hudson Bay fish, though it seems they drift in from the ocean. There are also boat bass closer to home but I'll let the shops report on those.
The LBI beachfront has occasional small bass ... and skates; enough said.
The "trophy rockfish" season has kicked off in the Chesapeake area; many big-ass bass showing -- enough that some are even being thrown back. (See interesting spawn note from the Maryland DNR below.)
UPSIDE SKY: I fear even hinting that the weather has been astronomically nice ... nice for what I do this time of year, which is a little bit of everything … with some this and that thrown in. That said, I must taunt the dragon by hinting in another direction, as in, baby, the rain must fall – if we're to keep the vernal ponds full for the frogs of spring. While we had a load of sky water to date, I'm noting how quickly the vernal ponds are petering out. I'll get deeply provocative by suggesting that the ponds drain so quickly due to our increasing tapping of the aquifers. While those essential water reservoirs are located far below ground, there are indications that their reduction can, in fact, present on the surface --in a rain-drain manner.
Even if the vernal ponds are shrinking due to everyday evaporation and ground absorption, they could use a pick me up, more of a fill me up. Relief for the ponds could come as early as tomorrow, with some steady soaking rain through Wednesday.
However, I'll return to any earlier prognostication of mine that once we go dry-sky it might be a long drought-ish stretch, late spring and all of summer.
Wood frogs are at the height of their spring partying.
THE SPAWN SHOWING: The Maryland DNR reports, "The striped bass spawning in the Choptank, Nanticoke, Patuxent and Potomac rivers is behind schedule due to colder than expected water temperatures, and spawning in the upper Chesapeake Bay is most likely weeks away. This week the spawning area in the Choptank River registered 56 degrees and there is a minor amount of spawning occurring. Usually spawning begins at 60 degrees and is optimal at 64.5 degrees, so many female striped bass are still holding in the spawning reaches. Based on predicted weather forecasts, it may be another week or so for water temperatures to be correct in that area."
Below: The famed Choptank.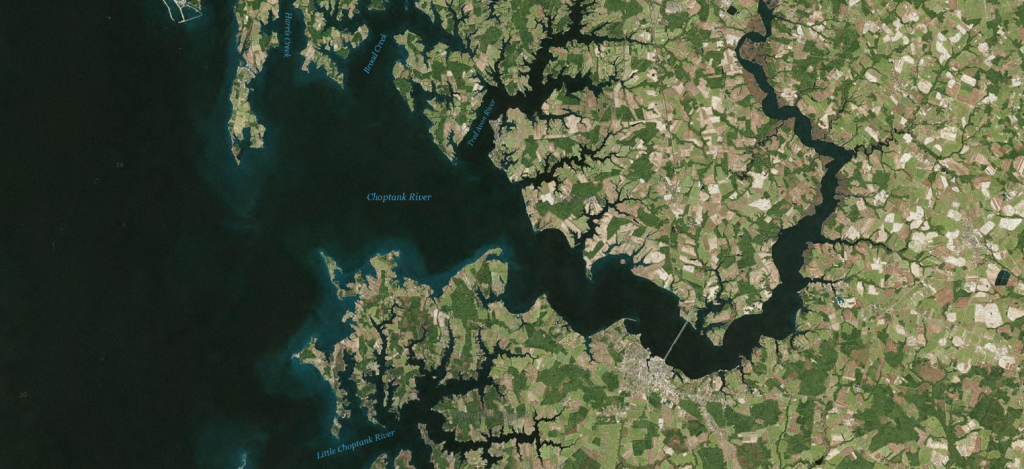 =========================================================================================
Here's a little remembrance look of the late John Sweet, a buddy of mine who we lost way too early. His fishing lectures at the library, along with his work in the Classic and other fishing events, is a fine legacy to a very fine man. Already missing our chats.
============================================================================================
Men Sentenced in Portland for Roles in Elver Poaching Ring
SEAFOODNEWS.COM [Bangor Daily News] By Jake Bleiberg - April 23, 2018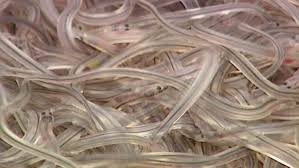 PORTLAND, Maine — The interstate baby eel poaching sting known as Operation Broken Glass has notched three more criminal sentences.
On Thursday, a federal judge in Portland sentenced three men who were together accused of poaching and selling as much as $1 million worth of baby eels, known as elvers, to a mix of probation, restitution and fines.
The sentences are part of the U.S. Fish & Wildlife Services bust of an eel poaching ring that has resulted in 21 men being prosecuted by federal officials in Maine, New Jersey, South Carolina and Virginia on charges of illegally catching, selling and transporting more than $5.25 million worth of elvers in nine East Coast states from 2011 through 2014. Twelve of the defendants are Maine residents, and nine of those live in Sagadahoc County.
Thursday's largest monetary sentence was handed down to George Anestis, of Boxborough, Massachusetts, who pleaded guilty to violating the Lacey Act, which prohibits interstate transport or transactions of any species of fish or wildlife illegally harvested or handled in any state. He was accused of illegally trafficking more than $480,000 worth of elvers poached in his home state and Rhode Island during 2013 and 2014.
U.S. District Judge Jon Levy sentenced Anestis to serve two years of probation and pay a $5,000 fine and $33,800 in restitution. He has cooperated with federal prosecutors and already turned over the restitution payment, Levy said.
"Truly I'm sorry," Anestis, who waived his right to appeal, told the court.
In recent years, the price of elvers has soared along with demand from Asia, as wild eel populations in Japan and Europe have declined. Maine and South Carolina are the only U.S. states where the baby eels can be caught legally, and the southern fishery is much smaller.

Also sentenced Thursday were Mark Green, of West Bath, and Charles Good, of Kingston, Massachusetts.
Green was accused of trafficking more than $318,000 worth of elvers poached in Connecticut, Massachusetts and New Jersey in 2013 and 2014. He reached a plea agreement with prosecutors last summer and on Thursday received a sentence of one year probation and a $10,000 restitution payment, according to a prosecutor.
Prosecutors said Good trafficked elvers in 2012 and 2014, catching, buying and selling approximately 130 pounds of baby eels — valued at more than $184,000 — in Massachusetts and Virginia. He also pleaded guilty in October and was sentenced to serve three years probation and pay a $7,000 fine, according to a prosecutor.
Still to come in the fallout from Operation Broken Glass, which refers to the "glass" nickname of the thin translucent eels, is the sentencing of the so-called "elver kingpin."
William Sheldon was given that moniker in a 2013 BuzzFeed article that reported he bought and sold $12 million worth of elvers in 2012 and described the Woolwich resident's fondness for fur coats.
Sheldon, a longtime commercial elver dealer operating as Kennebec Glass Eels, was charged with a Lacey Act violation in March 2017. He allegedly bought and sold 281 pounds of poached elvers, worth about $545,000.
===================================================================
Those elver rustlers should have stayed legal ... like this:
From Seafood to Smokables: Newfoundland Fish Plant to Be Converted to Cannabis
SEAFOODNEWS.COM [CBC News] By Alyson Samson - April 23, 2018
Cannabis could be coming to the rescue of a Newfoundland fishing community that's been without an economic centre since Hurricane Igor laid waste to the area in 2010.
Port Union's old Ocean Choice International fish plant could soon be used to plant marijuana.
The disused building is in the final stages of a sale to local businessman Daniel Porter, who is planning to turn it into a cannabis growing facility for medicinal and recreational pot.
"This means the world to me," Porter said.
"I love that I can come home and create work and have an impact on the community … it affects people's lives and children's lives, and it creates a massive employment spinoff."
Between 70 and 100 jobs are envisioned for the plant, with a business plan to produce about 10,000 kg of cannabis each year.
Porter, who grew up on the Bonavista Peninsula, is excited by the possibility to rejuvenate the local economy by using the facilities available.
"I see major opportunity here," he said. "I see a building that has a massive square footage — a fantastic old construction."
While most of the old plant is made of steel and concrete, wooden parts will need to be replaced.
"The building itself is very sound," Porter said.
Porter is planning to renovate the facility in stages so that he is able to begin production as soon as he is licensed.
"We're looking at a large ongoing renovation for the next couple years. We'll be in production hopefully before the renovation is finished," he said.
After Hurricane Igor, Ocean Choice International did some abatement to preserve the building, leaving much of the inside stripped down to studs.
The renovation will be done according to Health Canada's standards, he added.
Round-the-clock operation planned
The new business will operate 24 hours a day, 365 days a year, according to Porter.
"The opportunity to bring employment back to this community is something I'm very proud of," Porter sad.
The Port Union area has been struggling for jobs since Hurricane Igor struck in September 2010, shutting down operation at OCI's shrimp processing plant.
Shelly Blackmore, mayor of Trinity Bay North, is excited about the possibilities.
"Having a grow-op in Trinity Bay North was the furthest thing from our minds," she said.
"We were thinking about what it had been used for previously. We were thinking about seasonal employment," she said.
Blackmore said many people are embracing the idea, and have been asking questions about where to drop resumes and what a starting salary might be.
Residents, she added, are "really pleased that it's a 52-week-a-year operation."
In its day, the Port Union plant was one of the largest fish processing facilities in the province.
"We were a force to reckon with and then there were different shutdowns in the fishery and the seal industry," she said. "We were hit hard, and of course [then there was] Hurricane Igor in 2010."
​High hopes for a historic fishing town
Nearly eight years after Igor, Port Union residents have an eye on a new economic hub.
"I'm looking forward to us now being again a major player in the economy in the region," she said.
Peggy White, who works with the Sir William Ford Coaker Foundation, is hoping to see more sustainable employment in the future. Her own work comes from temporary contracts based on short-term funding.
"I really hope that it comes here," White said.
"If it doesn't come here it's going to go somewhere else, and so we need the jobs as well as other communities," said White, who worked as a casual worker for OCI before the hurricane struck.
"I really don't mind what the facility is, as long as it brings jobs."
+++++++++++++++++++++++++++++++++++++++++++++++++++++++++++++++++++++++++++++++++++
This has some sort of "future" written all over it, especially from a bad-weather-day comfort angle. Fishing? Not so much, for now ... though adaptations for anglers are already being developed -- based on topside deck. See video at www.youtube.com/watch?v=5dsuOIkG9JM ...
==========================================================================================
Gave the trout and steelhead a break today and caught my limit of blackfish to 8.5 lbs.

++++++++++++++++++++++++++++++++++++++++++++++++++++++++++++++++++++++++++++++++++++++++=
Another Study Shows How Eating Fish Supports Brain Health, Prevents Parkinson's
SEAFOODNEWS.COM [Seafood News] - April 23, 2018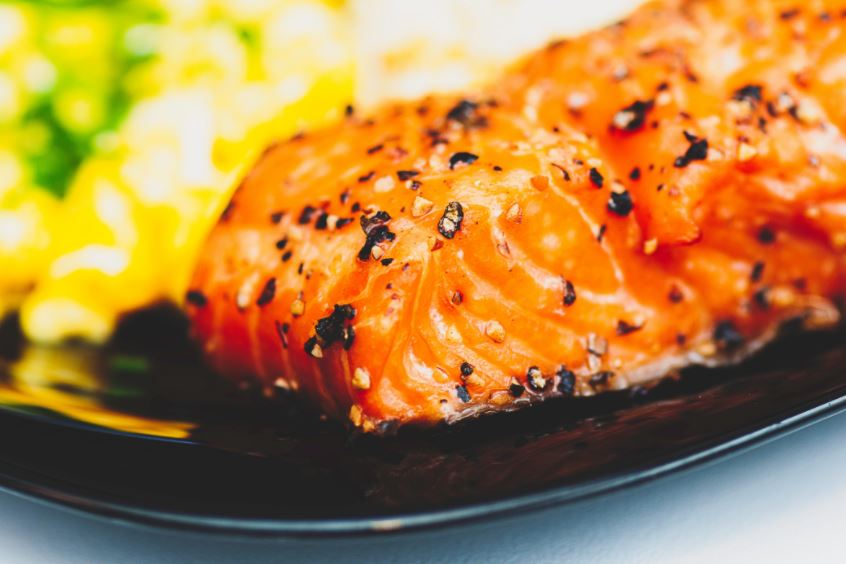 A new study from Chalmers University of Technology, Sweden, shines more light on the link between consumption of fish and better long-term neurological health.

Parvalbumin, a protein found in great quantities in several different fish species, has been shown to help prevent the formation of certain protein structures closely associated with Parkinson's disease.
Fish has long been considered a healthy food, linked to improved long-term cognitive health, but the reasons for this have been unclear. Omega-3 and -6, fatty acids commonly found in fish, are often assumed to be responsible, and are commonly marketed in this fashion. However, the scientific research regarding this topic has drawn mixed conclusions. Now, new research from Chalmers has shown that the protein parvalbumin, which is very common in many fish species, may be contributing to this effect.
One of the hallmarks of Parkinson's disease is amyloid formation of a particular human protein, called alpha-synuclein. Alpha-synuclein is even sometimes referred to as the 'Parkinson's protein'.
What the Chalmers researchers have now discovered, is that parvalbumin can form amyloid structures that bind together with the alpha-synuclein protein. Parvalbumin effectively 'scavenges' the alpha-synuclein proteins, using them for its own purposes, thus preventing them from forming their own potentially harmful amyloids later on.
"Parvalbumin collects up the 'Parkinson's protein' and actually prevents it from aggregating, simply by aggregating itself first," explains Pernilla Wittung-Stafshede, Professor and Head of the Chemical Biology division at Chalmers, and lead author on the study.
With the parvalbumin protein so highly abundant in certain fish species, increasing the amount of fish in our diet might be a simple way to fight off Parkinson's disease. Herring, cod, carp, and redfish, including sockeye salmon and red snapper, have particularly high levels of parvalbumin, but it is common in many other fish species too. The levels of parvalbumin can also vary greatly throughout the year.
"Fish is normally a lot more nutritious at the end of the summer, because of increased metabolic activity. Levels of parvalbumin are much higher in fish after they have had a lot of sun, so it could be worthwhile increasing consumption during autumn," says Nathalie Scheers, Assistant Professor in the Department of Biology and Biological Engineering, and researcher on the study. It was Nathalie who first had the inspiration to investigate parvalbumin more closely, after a previous study she did looking at biomarkers for fish consumption.
Other neurodegenerative diseases, including Alzheimer's, ALS and Huntington's disease, are also caused by certain amyloid structures interfering in the brain. The team is therefore keen to research this topic further, to see if the discovery relating to Parkinson's disease could have implications for other neurodegenerative disorders as well. Pernilla Wittung-Stafshede stresses the importance of finding ways to combat these neurological conditions in the future:
"These diseases come with age, and people are living longer and longer. There's going to be an explosion of these diseases in the future - and the scary part is that we currently have no cures. So we need to follow up on anything that looks promising."
A follow up study, looking at parvalbumin from another angle, is indeed planned for this autumn. Nathalie Scheers, together with Professor Ingrid Undeland, also of Chalmers, will investigate parvalbumin from herring, and its transport in human tissues.
"It will be very interesting to study how parvalbumin distributes within human tissues in more depth. There could be some really exciting results."
The link between higher consumption of fish and better long-term health for the brain has been long established. There is correlation between certain diets and decreased rates of Parkinson's disease - as well as other neurodegenerative conditions.
"Among those who follow a Mediterranean diet, with more fish, one sees lower rates of Parkinson's and Alzheimer's," says Tony Werner, a PhD student in the Department of Biology and Biological Engineering, and lead researcher on the study. This has also been observed in Japan, where seafood forms a central part of the diet. The team is careful to note that no definite links can be established at this point, however.
Nathalie Scheers had looked at parvalbumin before in another context.
"I was on a previous study where we looked at possible compliance markers for fish intake. Parvalbumin is a cause of fish allergies, so we knew that it passed over to the blood, and that this form of parvalbumin is specific for fish"
She joined forces with Pernilla Wittung-Stafshede, and together they took the idea forward.
"Because Nathalie had previously shown that parvalbumin passes into the body of the person eating fish, it made sense to study its interaction with human proteins. We already knew that they can meet in the gut, the blood, or the brain," explains Pernilla Wittung-Stafshede.
==============================================================================
Save the Circus Animals:
I'm far from a PETA-ite but I've thrown my support toward this effort. I've been to enough circuses to know those animals are often sad creatures, even when their owners are caring keepers. I'm also oddly moved by the frequent cases of circus animals losing it and going on fierce rampages -- after which they must be euthanized.
If I was this bear, I'd be going on a rampage sooner than later.
World Circus Day: Celebrities support US bill to ban wild animal circus acts
Ricky Gervais, Pamela Anderson, Joanna Lumley, Shelley Morrison, and Marilu Henner are among a host of international stars supporting a campaign by Animal Defenders International (ADI) to end the suffering of wild animals in traveling circuses in the United States, through the passing of H.R. 1759, the Traveling Exotic Animal and Public Safety Protection Act (TEAPSPA). Ahead of World Circus Day, April 21st, ADI is calling on the public to visit shows where the acts have a choice about performing, and ask their Representatives to support TEAPSPA, as urged by celebrity supporters.
Multi-award-winning actor and comedian, writer, producer, director, musician Ricky Gervais: "For animals in circuses, there is no escape from the merry-go-round of imprisonment, deprivation, and being forced to perform. Elephants, lions, tigers, bears, and others live a life of desperation and fear. It doesn't have to be this way. Please support the Traveling Exotic Animal and Public Safety Protection Act and help end the use of wild animal acts."
Pamela Anderson, actress, model; internationally known for Baywatch: "Circuses like to give the idea that the animals are having fun, that's an illusion. Animals in circuses suffer a life of deprivation, chained, and tied up, and a brutal culture where they are kicked, punched, whipped, and beaten. The circus is no fun for the animals, it has to stop. Support ADI's call for a federal ban on wild animals in circuses."
Actress Joanna Lumley, award-winning star of Absolutely Fabulous, said: "No animal should be caged and trained to perform in the grim circumstances of a circus life. The world has changed and grown up; compassion to all living creatures must be our watchword. No circus should keep animals in these shameful and cruel conditions, and no animals should be made to exist purely for our dubious entertainment."
Beloved actress from Will & Grace, Shelly Morrison: "It may be a dream for some to run away with the circus, but for the animals it's a nightmare. Life on the road in tiny cages, nowhere to run, takes a terrible toll, and you can see the animals literally going out of their minds. Please urge your representative to support TEAPSPA and help end their suffering."
Marilu Henner, Golden Globe nominated actress from Taxi, "These intelligent, social wild animals live sad lives on the road, confined to parking lots, deprived of everything natural… There is no place for cruelty in entertainment, and thankfully Congress has an opportunity to end this circus abuse. Please act now to support the Traveling Exotic Animal and Public Safety Protection Act. This bill will protect elephants, tigers, bears, and other wild animals from being forced to suffer in traveling performances."
Audiences have been turning away from animal circuses in droves; several, including Ringling Brothers Barnum & Bailey Circus, have closed, while others have gone animal-free and thrived. Over 80 US jurisdictions in 31 states have now taken action to restrict wild animal circus acts.
Studies and evidence has shown that the health and welfare of animals in traveling circuses is inevitably compromised due to necessarily small, barren, mobile accommodations, restriction of movement, long journeys and excessive periods of time spent in transporters and containers.
Training methods are brutal and ADI undercover investigations have documented the violence and abuse occurring in the U.S. and worldwide. The tools of the trade include stun guns and other electric prods, metal bars, whips, bullhooks (a heavy bar with a sharpened point and hook), deprivation of food and water, and intimidation.
These stressed wild animals also represent a threat to public safety. Escaped animals have maimed and killed workers and members of the public, including children, and animals escaping from temporary facilities in city centers or onto busy roads present hazards.
Supporting the reintroduction of TEAPSPA, by Representatives Ryan Costello (R-PA) and Raul Grijalva (DA-AZ)in March 2017, ADI launched 'The Reluctant Entertainers', an online video featuring Ed Asner, Danny Boyle, Brian Blessed, James Cromwell, Jorja Fox, Tonya Kay, Kim Matula, Moby, Eric Roberts, Mindy Sterling, Eric Szmanda, Alexandra Paul, and Diane Warren. Its simple message: "Leave the entertaining to the people who want to perform, they have a choice." Watch it here: http://www.youtube.com/watch?v=CnZ14krFTag
ADI President Jan Creamer said: "The circus of the future is one without animals. Animal Defenders International has repeatedly documented the suffering and abuse of circus animals, in the US and around the world. Over 40 countries have taken action to end these compromising acts, it is time now for the US to act. To help stop circus suffering, never visit a circus with animals and ask your Representatives to support TEAPSPA today."
For more information about TEAPSPA, go to http://bit.ly/SupportTEAPSPA.