Guess which one is his blond wife's dog? 
When a theory fails miserably ... 
When you suddenly realize you're not the young pup you used to be ... 
Monday, April 16, 2018: Yet another weather reverse, as the sun breaks out (mid-afternoon, LBI) after we only got a glancing dousing of rain, compared to the flash-flood downpour in both Philly and NYC. Of course, we also have storm-driven, salty tidal water mixing and mingling with the gathered freshwater puddling. It shouldn't be a protracted road-flooding event.
The dousing sure won't help warm the waters in the bay and inlets. This year is already so abnormal that we can only stand back and wait for whatever is going to be happening, fishing-wise. I have no idea if there is any correlation, but the summer birds are almost all back in town, including some laughing gulls that find my yard irresistible. The fish (bass, blues, drum and weaks) might be inching in but conditions have been so crappy there's no serious feeling around. Tomorrow night, I will be doing my first after-production stop-by at bayside spots, mid-Island, around 11 p.m. It's purely a jig-thing with the bay still so cold. I'll use flavored tails -- to offer a longer grab-and-hold hooking window.
As you might have guessed, the ocean remains wildly a-churn. It could take days to settle. Check this s*** out, taken this a.m. by Mark Temme … https://www.facebook.com/mark.temme.56/videos/10156460210159756/
Bayside and the Mullica seem the go-to venues. I haven't been to Graveling for two years. I have some digging to do in that area, so I'll likely stop by for a "Point" look-see pretty soon. I'll also be checking on perch sites along the Mill Creek. Ditto for the limited perch sites along the Road-to-Nowhere.
Fortunately, the never-ending Indian Winter – no such thing – prevented many folk from putting down spring fertilizer so this gully washer wasn't as loaded as it otherwise might have been with leached lawn and garden chemicals. By the by, I predict – based on anecdotal evidence – that once we dry toward summer, we're gonna dry to beat the bones. You greenies better get your sprinklers in working order.
++++++++++++++++++++++++++++++++++++++++++++++++++++++++++++++++++
https://exit63.wordpress.com ...
Here is an interesting fact about Red Fox: thanks to DNA analysis, we now have some evidence that the Red Fox we see around the Jersey Shore aren't necessarily the ancestors of European Fox imported by early settlers which has long been assumed (and which I repeated here, quite emphatically, yesterday). Instead, DNA suggests their great-great-great (x30) grandparents actually came from much closer to home, but still pretty far away: Canada.
Thanks to an alert, anonymous commenter, we got a link here to this fascinating, scientific look into how the sudden appearance of Red Fox might have occurred in New Jersey. Have a read (click here):
==============================================================================================
Below: make sure to re-study the tricky laws regarding gobbler hunting, especially allowable times. 
Great opportunity for young hunters ahead of regular season
Youth license holders can still obtain their "Y" permit for pre-season hunt.
Season opens next Monday, time to get ready!
Don't wait to get your permit!
Season opens Monday, April 23
===========================================================================================
Secretary Zinke pens op-ed in the Boston Globe on wind energy
BOSTON – On the heels of an address to the Business Network Offshore Wind Conference in New Jersey last week, U.S. Secretary of the Interior Ryan Zinke today wrote an op-ed in the Boston Globe on offshore wind energy development. In the Secretary's op-ed, he discussed the Department of the Interior's recent announcements on offshore wind, including a wind energy lease sale for 390,000 acres of over-the-horizon offshore areas off the coast of Massachusetts.
Check out the full op-ed below:
BOSTON GLOBE: American energy dominance means Mass. wind
Affordable, reliable, and abundant American energy drives domestic jobs and prosperity. Thanks to President Trump's policy of "energy dominance," America is now on a path to become a leading global energy exporter and free from being held hostage by foreign powers. Trump's "all-of-the-above" approach is one in which both market forces and sound national security and energy policy determine the types of energy America produces. On designated federal lands and offshore, this means an equal opportunity for all sources of responsible energy development, from fossil fuels to the full range of renewables.
As we look to the future, wind energy — particularly offshore wind — will play a greater role in sustaining American energy dominance. Offshore wind uniquely leverages the natural resources off of our East Coast, bringing jobs and meeting the region's demand for renewable energy. Ramping up wind development and building new power grid systems also coincides well with Trump's goal of enhancing and modernizing our American infrastructure. While we continue our commitment to the coal miners and other energy workers who built our nation, we also support wind as a valued component of a diverse and flexible energy policy.
As the secretary of the interior, I am proud to be the chief steward of our nation's lands and offshore holdings. When it comes to energy development on these public lands and waters, my priority is to uphold the government's stewardship responsibility in the context of a sound regulatory framework and national security. Since taking office, I have worked to make the Interior Department a better partner to the job creators who help Americans put food on the table and keep the lights on. This does not mean sacrificing environmental stewardship, but rather ensuring that our regulations promote industry innovation and reflect use of best science and best practices to increase reliability, safety, and environmental protection.
For wind developers, we have released draft guidelines on a "design envelope" approach, to allow for more flexibility in planning. Under the new guidelines, developers will be able to delay detailed decisions about aspects of design until later in the process, giving them time to incorporate cutting-edge technology and lessons learned into the permitting process. This pivot toward harnessing technology reflects a renewed focus at the Department of the Interior on American innovation to find ways to cut red tape in permitting and to spur private sector problem-solving.
As part of our America First offshore energy strategy, we are proposing a lease sale off Massachusetts for commercial wind energy, totaling nearly 390,000 acres of over-the-horizon offshore areas. Additionally, we are putting out a Call for Information and Nominations from companies interested in commercial wind leases in the New York Bight. Wind development in the bight, an area that stretches from New Jersey's Cape May to Montauk on Long Island, is an exciting American energy opportunity.
At the same time, we must pursue an energy policy that works for all Americans. For wind production, this means addressing the potential impact on fishermen and marine wildlife. Many fishermen have raised concerns that wind development will lead to burdensome restrictions, extra cost, and reduced fishing opportunities — their arguments are well-founded. Interior has sought out best practices on wind energy project design so we can make sure their concerns are heard.
The Trump administration supports an all-of-the-above American energy policy, and wind energy is an important part of the energy mix. Just like the pioneers who drilled our nation's first offshore wells in the 1890s, those men and women who construct wind turbines in American waters in the years to come will continue to set our nation toward clean energy dominance.
=========================================
U.S. Chefs Ask Congress To Pass Shark Fin Trade Elimination Act
SEAFOODNEWS.COM [Seafood News] - April 16, 2018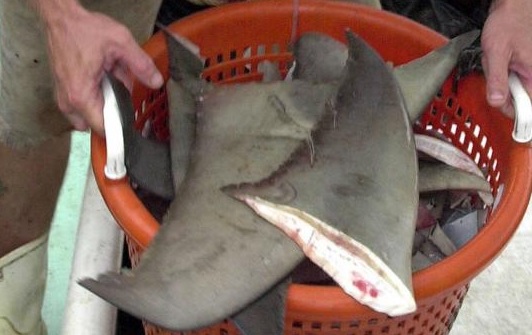 Last year Senators Cory Booker and Shelley Moore Capito, as well as Representatives Ed Royce and Gregorio Kilili Camacho Sablan, introduced the Shark Fin Trade Elimination Act of 2017, a bill that would make it illegal to "possess, buy, sell or transport shark finds or any product containing shark fins." Now, just over a year later, more than 150 chefs and restaurant owners from over 30 states have sent a letter to Congress asking that they pass the bill, which would ban the trade of shark fins nationwide.
"As chefs and restaurant owners, we are committed to ensuring the food we serve is good for the planet and for our customers," the letter begins. "This includes supporting practices that do not contribute to the demand for unsustainable food products or harvesting practices. One practice stands above others in terms of wastefulness and cruelty – shark finning."
Sharks who have their fins cut off are discarded at sea, where they can drown, bleed to death, or be eaten alive by other fish. The act of shark finning in U.S. territorial waters, as well as U.S. flagged fishing vessels in international waters, was banned by President Bill Clinton, who signed the Shark Finning Prohibition Act in 2000. In 2011, President Barack Obama signed the Shark Conservation Act, which banned vessels from holding shark fins "without the corresponding number and weight of carcasses." The Shark Conservation Act also requires those vessels to bring the sharks to port with their fins still attached in order to determine if the shark was legally caught.
Despite the Shark Finning Prohibition Act and the Shark Conservation Act, it is still legal in some states to possess, sell and distribute shark fins. Only 12 states and three U.S. territories consider selling shark fins to be a crime.  Now, chefs and restaurant owners want Congress to put a stop to the buying, selling and trading of shark fins in the U.S. once and for all.
"By allowing the trade of shark fins within our borders, the U.S. continues to contribute to this global program," the letter continues. "Simply put, there is no reason to serve shark fins in restaurants in our country."
According to the Shark Fin Trade Elimination Act of 2017, an estimated 73,0000,000 sharks end up in the global shark fin trade every year. Shark fins are popular in China, where it is used to create shark fin soup, a delicacy in Chinese culture.
==========================================================================================
Martha's Vineyard Shellfish Group, Fisherman's Preservation Trust Experiment With Kelp Farming
SEAFOODNEWS.COM [Vineyard Gazette] By Landry Harlan - April 16, 2018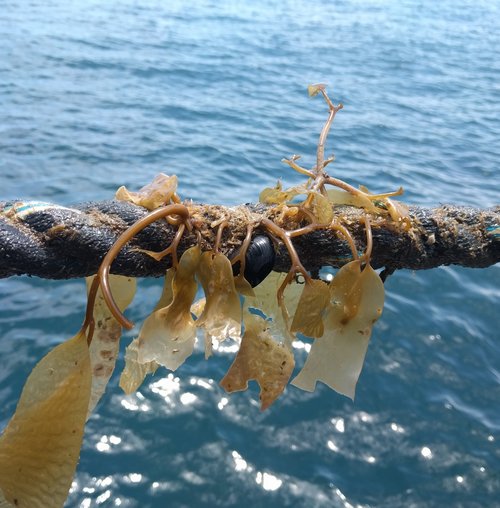 Kelp farming has the potential to become a cottage industry on Martha's Vineyard that provides a healthy, local food source, a winter experiment off Menemsha has concluded.
The Martha's Vineyard Shellfish Group and Fisherman's Preservation Trust recently presented the findings to a large crowd at the Chilmark library.
"This little experiment is the best kelp grown in the entire state," shellfish group co-director Amandine Hall said as samples of the slippery algae were passed around the room.
Kelp is a native plant that requires little training or equipment to grow. And it grows best in the winter months, Ms. Hall said.
"It can be grown when the waterfront is much quieter in off-season," she said. "It fits perfectly with the Island's rhythm."
The sugary seaweed has many culinary uses, said Otto Osmers a fisherman's trust intern who spearheaded the project. And Ms. Hall called kelp a sustainable food since it requires no land or fertilizer.
Chef John Thurgood of the Beach Plum Inn cooked a pot of kelp soup with scallops for the crowd to sample. The soup had a crunchy texture and slightly salty flavor.
"It has more calcium than milk, more iron than spinach and more fiber than brown rice," Mr. Osmers said.
"This is really exciting to me as a chef when something new comes in," added Mr. Thurgood.
The winter experiment wasn't the first for the shellfish group. In 2013 a kelp-growing experiment was conducted in Island ponds using a grant from the Edey Foundation.
Ms. Hall said the experiment found that kelp needs more circulation to thrive. Swirling saltwater currents off Menemsha made for better conditions, so the shellfish group applied for permits to conduct a second experiment there last year. The fisherman's trust joined as a partner in the venture, and last November Mr. Osmers sank a 100-foot line in the waters off Menemsha.
The pilot kelp farm took a beating from winter storms in February and March, but Mr. Osmers was able to harvest 50 feet of dark, nutrient-rich kelp in recent weeks. Ms. Hall said it was the highest quality kelp in the region.
"It's quality over quantity here," Mr. Osmers said.
"It's a microbrew," Ms. Hall said. "Actually, people can use it for brewing beer, too."
She said the financial benefits of growing kelp are questionable, since it still can only be grown in small quantities. The state Division of Marine Fisheries has not developed stand-alone kelp farming permits, so kelp farmers must already be established in another industry.
"I don't think [kelp farming] will become huge, but I think it has the potential to be a supplement for people doing other things on the water and don't want to put all of their eggs in the same basket," Ms. Hall said. She expects to prepare a final report on the kelp experiment this month.
Two Island fishermen have commercial kelp-growing permits so far: Greg and Dan Martino, who own Cottage City Oysters in Oak Bluffs, and Stanley Larsen, a Chilmark shellfisherman and fish market owner. Mr. Larsen also operates the only blue mussel farm in the state.
Dan Martino said while he and his brother only grow small quantities of kelp, they have found brisk demand in the community. He said this winter he expects to sell about 100 pounds of kelp to Island chefs for use as a superfood.
"One hundred pounds is nothing to be selling in the grand scheme of things, but we're able to provide a clean, organic, and raw product," Mr. Martino said.
======================================================================================