(((((((((((((((((((((((((((((((((((((((((((((())))))))))))))))))))))))))))))))))))))))))
Saturday, May 25, 2013: Load of surfcasting fishing action. Some fine bass coming to light. A 33/6 caught by Ben Smith has taken over the lead of the 2013 Simply Bassin'. See leaderboard further below. Ben has been on fire. Get out there and give him some competition. Make sure to me signed up with Simply Bassin' first. 
Yes, the weather was suckacious for a chunk of the day but as if apologizing, the sunset was a spectacle. 
((((((((((((((((((((((((((((((((((((((((((())))))))))))))))))))))))))))))))))))))))
            Enclosed is this week's fishing report for the Beach Haven Charter Fishing Association. It is pasted below and also attached as a file. If you have any questions, my cell phone number is 609-290-5942 and my e-mail address is jamesghutch1@aol.com
Thanks for your help,
Jim Hutchinson Sr.
            The weather reports for the Beach Haven area do not look good for Memorial Day Weekend. The captains of the Beach Haven Charter Fishing Association are looking at the weather forecasts and wondering if they will be able to get some productive fishing in. Any ocean fishing is certainly out for a day or so. There is some possibility of some bay action.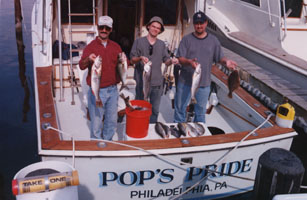 Captain John Koegler on "Pop's Pride" had a party out a few days ago, and they found great action while fishing in Great Bay. The group had a total of 45 fluke with several keepers. In addition they hooked up with a dozen feisty bluefish.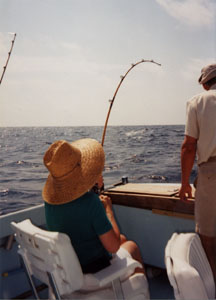 Captain Carl Sheppard on the "Star Fish" had two striped bass parties out recently. His morning group boated four keepers while the afternoon crew added another three. He battled the elements last Sunday for some bottom fishing in the ocean on the first day of the black sea bass season. Despite strong winds and currents they managed to boat several nice sea bass along with one codfish.
            The one positive about the sudden cool weather is that it should help to keep the striped bass around longer than usual.
            Additional information about the captains and boats of the Beach Haven Charter Fishing Association can be found atwww.fishbeachhaven.com
 (((((((((((((((((((((((((((((((((((((())))))))))))))))))))))))))))))))))))
(((((((((((((((((((((((((((((((((((((((((((()))))))))))))))))))))))))))))))))))))))
(((((((((((((((((((((((((((((((((((((((((())))))))))))))))))))))))))))))))))
Latest Simply Bassin' leaderboard May 25::: 
 

 

 

 

 

 

 

 

1) Ben Smith

5/25

33/6

45 ¾"

23"

BH

Bunker

5/25

2)Patrick Phillips

5/24

32/1

44 ½"

22 ½"

BH Park

Bunker

5/24

Jingles B&T

3) Nick Matteo

5/11

31/2

45.5"

23"

Ship Bottom

Bunker

5/11

Fisherman's HDQ

4) Jason DePallozo

5/18

26/11

39 ¼"

23"

BL

Bunker

5/19

Fisherman's HDQ

5) Jim Chirip

5/24

26/9

41 ¼"

21 ½'

BH

Bunker

5/24

Jingles B&T

6) Richard Steeves

5/25

22/4

39 ¾"

19 ½"

BH

Clam

5/25

Jingles B&T

7) Robert Vallone

5/5

20/3

38"

20"

HC

Bunker

5/6

8) John Parzych

5/18

19/8

39"

19.5"

BL

Bucktail

5/18

Fisherman's HDQ

Bump) Craig Kelly

5/24

16/15

36 ¼"

18"

Ship Bottom

Bunker

5/24

Fisherman's HDQ