Guess who got into the 50-pound bag of Tasty Nibbles while you were on the beach?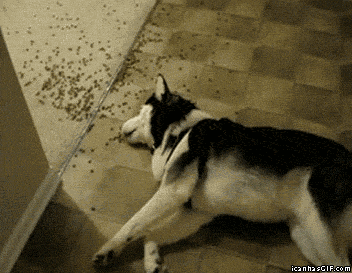 And guess who copped an attitude halfway through the walk?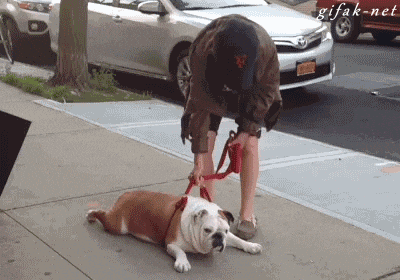 Saturday, July 08, 2017: If you worked around the hard SW winds, there were bayside fluke to be had … and a decent beach, especially after 2 p.m., when the winds came slightly off the ocean, dropping the air temps 10 degrees and cooling, somewhat, the higher up sand, which had been showing pushing 120 degrees early in the day. We played volleyball on the hot stuff -- and it was a hotfoot time.
The ocean is holding onto the warmer water pushed in by recent NE winds. Loads of folks were taking dips. The beachline waters will warm into the 70s by late tomorrow, as light NE winds preform downwelling duty, the opposite of coldwater-making upwelling.
Tomorrow should be a far more angling-friendly with lighter winds. Air temps will remain toasty, a tad too toasty now and again.
Traffic on LBI remains very thick and tricky. I'm one of many amazed at the lack of a real let-up after the holiday weekend. All this past week has seen bumper-to-bumper during prime times. It's best just to sit back and go with whatever flow is there. The closest calls I've seen have been between pedestrians and drivers trying to zip around on side streets as if there's some time-saving shortcuts – there ain't.
Pedestrian note: While it's the law to stop for pedestrians – and I do, strictly – I'm getting more and more fooled by folks on the curb waiting for the LBI shuttle buses. They are more popular than ever, especially late afternoon. Not only is it essential to watch for those shuttle-waiters but you really should slow down to a speed that allows for a sudden stop when passing them, as they pick up or drop off patrons.
I got a call from a LBI visitor who recently came up from Florida for a vacation and has a tale to tell about landing a 200-pound stingray in the bay. He's sending me the details but his hookup brings it to half a dozen tales of monster rays being fought, bayside. I've never heard of so many. Might it be the massive increase in oceanic sharks driving them in? As moronic kids, we used to jump from our boats into the back of mega-rays. We thought they were just huge skates. How we never got stung is the essence of blind luck, kid-sized.
I'm still waiting to hear if those Brigantine kingfish have reached LBI yet. Truth be told, I'm seeing very little surfcasting action. What's more, you have to be specially rigged for them. Hey, Dickie, get up there and give it an a.m. go. Let me know.
It's sorta astounding but there are still large bluefish in Barnegat Inlet. Ask those folks trying to nab inlet fluke. In this case, I wonder if the fluke are pinned over in western bay areas because of the blue marauders -- both a formidable foe when competing for forage and a horrendous danger if your're a flattie spotted by them. Blues will bottom feed in a heartbeat, as my Hopkins bottom-rolling technique proves. They'll grab those tumbling metals time and time again.
I have a few striper reports from surfcasters. High tide seems the only hope. There are small bayside bass, south end.
As for boat bassing ... Ask Paul
==============================================================================================
++++++++++++++++++++++++++++++++++++++++++++++++++++++++++++++++++++++++++++++++++++++++++++++
=============================================================================================