Friday, September 27, 2013: Work with me here. I'm talking to semi-fair weather anglers who might look on the upcoming NE windblown weekend as a bitch. Let's make that a gorgeous bitch. Yes, we'll be rollicking in northeast winds to 20 mph tomorrow -- and almost as hard out of the east on Sunday. The surf will rise and become roiled.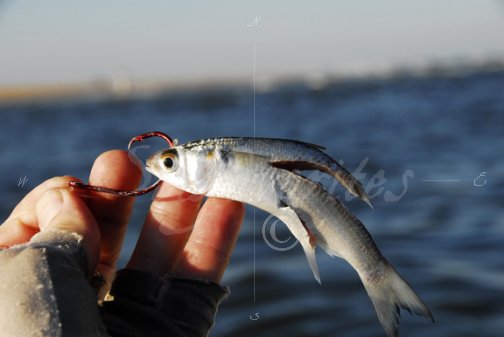 Now for the hot part. The mullet and spearing runs are in full bloom. When you mix that bait flow with a hard ocean roil, things can explode. It was identical conditions when McReynold's caught the most famous striper of all time. I don't care if it has since been bested. Five bucks says you can't name the guy that caugt the McReynolds beater. In fact, without Googeling, what is the exact weight of the current world record?
Anyway, this blow will also make for incredible plugging and popping conditions, Even jigging should shine. Admittedly, chunk baits will attract the cows but DO NOT catch one now. You might blow your luck wad before the LBI Surf Fishing Classic even begins. No, you can't keep a big bass penned up until Oct. 7. Besides, we'd catch you sure as shootin'. Ever see how red and raw the nose of a penning up fish gets?
I'd love to say that Holgate will be epicenter for big bass this weekend but it might very well be the dead wrong end. Barnegat Light through Loveladies is going to light up. If you're intent on catching a cow even before the Classic, just go there with some big-ass chunks of bunker. It's a sure thing.
Hopefully you saw the video I took of mullet trapped in the gauntlet at the Rip yesterday evening. Check out http://www.youtube.com/watch?v=pnWvnPVBfmw&feature=youtu.be.
That bait showing is what has me so hyped about this weekend.
The eagle has not landed in Holgate – since Sunday. The majestic adult raptor is being sought by more than a few birders (birdwatchers) but has seemingly flown the coop. I never saw it but Jim V's photos more than confirmed its presence. I did see a nice hawk – like the one that ate one of my backyard laughing gulls – which, upon being talon-ed remarked, "This is no laughing matter," then went down with a last chuckle. I love a good sense of humor. There's something about humor that makes me laugh.
Of further bird note, the far south end is seeing an inordinately large showing of mature pelicans. They're in anywhere from two to ten-bird formations and definitely not in a hurry to migrate south just yet. I videoed a few: http://www.youtube.com/watch?v=fJlkv05sAMs.
We are rapidly approaching the opening of the front beaches on LBI to buggies. All the usual municipalities are open, though I have word that LBT might be restrictive as to where buggies can roam. It seems that Surf City's finalization of the replenishment-related grooming of the dunes and walk-ons (drive-ons) is just about finished.
((((((((((((((((((((((((((((((((((((((((((((())))))))))))))))))))))))))))))))))))))))
The Karans out-of-court settlement is far from what the doctor ordered as a way to cure the easement holdout blues.
The Karans' willingness to simply get out of Dodge via a token $1 payment for their easement does not set a court precedent since it was NOT a court decision. Obviously, lawyers in the future can point to the settlement as an example of the direction one case took but the minuscule payment was specifically for the Karans' case and does not mean that another holdout won't carry a similar case to the bitter end.
Far larger and powerful, from a legal angle, is yesterday's announcement that the governor has had it with easement holdout crap and is limbering up the state's judicial system to play serious hardball. He signed an executive order that directs NJ's acting attorney general, Jon Hoffman, to "immediately coordinate legal action" to obtain all easements required to protect the state's coastline. Also, a special DEP office will be created specifically to go after easement holdouts.
"As we rebuild from Superstorm Sandy, we need to make sure we are stronger, more resilient and prepared for future storms, and dunes are a major component of this process," Christie said in a prepared statement. "We can no longer be held back from completing these critical projects by a small number of owners who are selfishly concerned about their view while putting large swaths of homes and businesses around them at risk."
However, even the state's likely maneuvering toward eminent domain acquisitions doesn't even remotely preclude future legal challenges by holdouts, even though they will surely find them harder and costlier to pursue. Many holdouts have both deep pockets and a burning desire to profit heavily from the sale of their easements. At the same time, the Gov has already put a couple million into a kitty to finance the state's legal wrangling against holdouts. It will get interesting.
Our local politics responded to the Gov's move with this press release:
Forked River: 9th District Legislators Senator Christopher J. Connors, Assemblyman Brian E. Rumpf and Assemblywoman DiAnne C. Gove today praised Governor Chris Christie for signing an Executive Order that will allow the state to move forward with dune construction projects to protect New Jersey's coastal communities.
The Governor's Executive Order directs the State Acting Attorney General to immediately coordinate legal action to acquire the necessary easements to build dunes. Additionally, the Executive Order creates the Office of Flood Hazard Risk Reduction Measures within the New Jersey Department of Environmental Protection (DEP) to lead and coordinate the efforts to acquire the necessary property to build dunes.
The 9th District Delegation issued the following joint-statement subsequent to the signing of the Executive Order:
"As Legislators who represent a significant portion of the state's shoreline, including Long BeachIsland, SeasidePark and IslandBeachState Park, we are elated with the Governor's decisive and comprehensive action to protect homes and businesses located in coastal communities. This issue hits close to home for many of our constituents as the dune easement case which gained national attention originated in our constituent municipality of Harvey Cedars.
"The Governor has fulfilled his commitment to coastal residents who feel as though they have been held hostage by beach front homeowners who stubbornly held out on signing easement agreements that prevented desperately needed dune replenishment projects from moving forward. Whereas before the protracted easement holdouts were once a source of annoyance, after catastrophic damage caused by Super Storm Sandy, this selfish action is rightfully seen as detrimental to public safety and the common good.
"Overall, the comprehensive provisions of the Governor's Executive Order better serve our state by reforming deeply flawed beach protection policies as New Jersey continues to rebuild and recover. Dune construction projects are absolutely critical to protecting all that remained and all we have rebuilt along the coastline in the event another Sandy hits our state."
The 9th District Delegation is currently sponsoring companion legislation, S-2618 and A-3896, with the 10th Legislative District to supplement the state's eminent domain law in order to provide that just compensation for an easement over a portion of beachfront property condemned for the purpose of dune construction or beach replenishment must include consideration of the increase in value to the entire property due to the added safety and property protection provided by the dune or replenished beach. The measures are presently awaiting action by the Environment Committees of their respective Houses of origin.