Below: This evacuee offers a persuasive reason why he should be allowed to butt into line ...
One of the less common dangers presented by coastal flooding. That's gonna cost some points ...
Friday, September 08, 2017: Regarding the American premiere of Hurricane Irma, it remains a maddening waiting game for not only Florida but much of the nation ... if not the world. There's an odd curiosity factor when waiting to see what might happen when a major high-rise city like Miami gets hit, head-on, by a monster storm. It could be an instant hit, i.e. a classic.
Even though Irma has weakened into a high-end Cat 4 – and could drop another 10 MPH or more before landing – it's the dimension of this oversized lady that could break the bank … for those betting on tall buildings easily being able to withstand sustained 140 mph winds gusts, which is the top speed I suspect will be recorded when Irma finally makes a Miami landfall.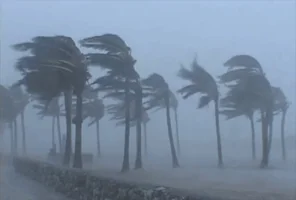 On the up side, I'm duly impressed with the amazing evacuation cooperation by the Sunshine State' citizenry, especially when considering it's such a heavily populated area. That's a lot of humanity of the hoof. To be sure, based on law of averages, a ton of folks will be staying. Nonetheless, I'm amazed upon seeing pics of entire way-high-rise buildings fully shuttered/boarded up and abandoned – abandoned in a good way.
It seems that years of educating folks on how to safely live along the coast – and when to bolt from same – has hit home. Those staying put are opting out of taking the educated route away from the coast. More than a few of those will likely pay dearly.
Below: For when it gets too loud to hear people who stayed trying to signal us about the storm:
For those of us not in the line of Irma fire, there will be vivid lessons to be learned from watching this hurricane preparatory/evacuation process, being carried out in one of the most populated states in our nation. I'll be taking notes.
FLOOD FEARS: With Houston fresh in mind, I'm fretting what might befall areas well-inland, likely receiving over a foot of rain and possibly even 100 mph wind gust -- as far north as Jacksonville. I'm hearing that many Floridian coastalites have simply fled away from the shoreline, seeking solid ground further inland. Impacts further inside the state might fulfill the adage: You can run but you can't hide.
I have a personal interest in my old visiting grounds of Merritt Island (Below). Not only does it have no elevation to speak of but it's sandwiched between the easily-aroused Banana and Indian rivers.
We have seen here (Sandy) and in Houston and in New Orleans and, hell everywhere, that it's the flooding that kills and ruins. Floridians should figure out where the high ground is ... ASAP.
Maybe rethink climbing trees during floods:
As noted, we're seeing calling cards from Hurricane Jose – yes, Hurricane Jose, which is weakling trailing Irma. He'll achieve Cat3 status in the open Atlantic before turning north and rapidly losing all steam over colder water.
Interestingly, the last 'cane named Jose went nearly the same dead-end route in 1991, though he did slap around some Caribbean islands before doing so.
HOLGATE HAPPENINGS: Finally got my Holgate wings (permit) and headed for the far south end. I'm happy to announce … it's still there. It was a breeze driving to the end.
Per my initial observations, it hasn't changed all that much since I left there last spring. And no change is a wonderful thing thereabouts.
The overwash erosion stretch -- refuge side, just past the entrance -- has stabilized. However, I figured a load of greenery would be showing in thereabouts, since some decent plant growth had begun last fall. Nope. It hasn't grown up all that much.
Further down, there is still a tight area about three/fourths of the to the Rip. It could easily become impassibly tight during storm tides.
The far end has further accrued sand is the same general layout as when it was closed for the summer.
There are some really nice sandbars just north of the Rip. They look walkable/fishable at low tide.
As expected, the beach area at the entrance to Holgate is massive from replen sand. It is 200 yards wide from Refuge signs to water's edge. While there is a trough between that wide beach and well-marked sandbars, it's not fishable until well into incoming tides -- when the sandbars deepen. Those tidal rises could also offer hot hooking, when gamefish can safely enter the troughs to feast on the baitfish in the near-beach trough.
Here's a short dashcam vid to show how wide Holgate is just past the parking lot.
http://www.youtube.com/edit?o=U&video_id=F1TuRJib1rA
Here's hoping we finally have some hot striper and bluefishing down there. We've gotten bilked out of historically hot fall fishing there, going on five years or more.
++++++++++++++++++++++++++++++++++++++++++++++++++++++++++++++++++++++++++++++++++++++++++++
BOAT REPORT: Don & I tried Holgate yesterday but it was a fish no show. Wind and grass was brutal. Saw a few shorts caught at the cut but that was it.
We headed up to BL after lunch and boated out to fish along the south jetty on the last of the outgoing. Had takes and landed about
five fish before the tide stopped and fishing came to a halt.
Took a walk out on the lighthouse walkway today and was amazed at the amount of spearing hugging the jetty working back in against the tide. Just constant for the half hour I watched with occasional attacks by snappers causing panic out of water escape attempts. WP
<+++++++++++++++++++++++++++++++++++++++++++++++++++++++++++++++++++++++++++++++++++++++++++++

EMAIL: I have caught snapper blues. As you indicated..not good eating. I have cooked all kinds of fish for my family, king fish, flounder, Spanish mackerel , monk, of course flounder and striper, tuna, Jack tuna (I think that is the name) even snapper blues. No one liked that fish, not worth cooking it. I say, release those babies.!! Virginia S.
Photo: Snapper Blue Season - On The Water
To subscribe: http://www.onthewater.com/snapper-blue-season/
+++++++++++++++++++++++++++++++++++++++++++++++++++++++++++++++++++++++++++++++++++++++++++++
Not far from here ... Easy to reach. Great Fun.
EIGHTH ANNUAL WILD OUTDOOR EXPO RETURNS SEPTEMBER 9-10 FREE FAMILY-FRIENDLY EVENT AT COLLIERS MILLS WMA HIGHIGHTS NEW JERSEY'S RANGE OF OUTDOOR RECREATIONAL ACTIVITIES (17/P86)
TRENTON - New Jersey's great outdoor locales and activities will be featured Saturday, September 9 and Sunday, September 10 during the Department of Environmental Protection's eighth annual WILD Outdoor Expo at the Colliers Mills Wildlife Management Area in Jackson Township, Commissioner Bob Martin announced today.
"This annual celebration of New Jersey's outdoor attractions and activities has become one of the Department's most popular events," said Commissioner Martin. "It provides individuals and families with a chance to connect with our state's nature by providing a unique blend of conservation information, education and hands-on opportunities to learn outdoor skills and activities."
The Expo will highlight the state's natural resources and outdoor heritage with more than 100 environmental and conservation exhibits, demonstrations and seminars. The rain-or-shine event will be held from 10 a.m. to 5 p.m. both days. Admission and parking at the Expo are free as are most activities.
One of the Expo's highlights will be a giant mobile aquarium, which will show off a variety of New Jersey's fish species. The tank will be loaded with warm water game fish from the state's fish hatchery located in Hackettstown. Casting and fishing demonstrations as well as instructional tutorials for new anglers are planned.
Expo visitors can also sharpen their camping and backpacking skills, get an introduction to archery, learn about osprey platform building, hone their bird and tree identification skills, walk through a mobile reptile zoo, and view raptors up close. Other activities will include zip lining, stand up paddle boarding, nature photography, and outdoor learning on everything from fishing to kayaking, rock climbing, shooting sports and watching wildlife. "The Expo provides a great opportunity for people of all ages to acquire new outdoor skills, while also learning about New Jersey's bountiful natural resources" said Larry Herrighty, Director of the DEP's Division of Fish and Wildlife. "It is truly a one-stop event for learning how to explore, experience and enjoy New Jersey's great outdoors."
The numerous exhibits, demonstrations and seminars scheduled during the Expo will focus on New Jersey's air, water, soil, flora, fauna and history. Experts will be on hand to discuss topics ranging from hunting to bird watching to scuba diving and forestry stewardship in the state. There also will be a living history encampment and demonstrations of crafting dating back to the 1740s. Many of the free activities and programs offered at the Expo can help fulfill Boy Scout and Girl Scout badge requirements. View a complete list of free scout badge activities as well as a complete list of Expo events at www.wildoutdoorexpo.com
The Expo will also feature an equipment flea market featuring outdoor recreation and other environmental-related products for purchase.
Food will be available from a variety of food trucks and food vendors.
The WILD Expo is sponsored by the Division of Fish and Wildlife, State Forest Service, State Forest Fire Service and the State Parks Service, as well as the Conserve Wildlife Foundation of New Jersey and L.L
For more information on New Jersey's wildlife management areas, visit:www.njfishandwildlife.com/wmas.htm To learn more about New Jersey's state parks and forests, visit: www.nj.gov/dep/parksandforests/
Directions to the New Jersey WILD Outdoor Expo
Colliers Mills Wildlife Management Area
Jackson Township, Ocean County
The following address can be used for online mapping sites (e.g. Google/Bing Maps)
and GPS navigation systems:

299 East Colliers Mill Road

New Egypt, NJ 08533


View Larger Map
DRIVING DIRECTIONS:
From the New Jersey Turnpike North or South:
Take Exit 7A to Interstate 195 East and follow directions from I-195 East below.
From Interstate 195 East:
Take Interstate 195 East to Exit 16A (537/Mt. Holly/Six Flags).
Make a right off the exit ramp onto County Route 537 West.
Continue for 3.3 miles and turn left at traffic light onto Hawkins Road.
Follow Hawkins Road for 4.4 miles (you will cross CR 528).
The main entrance to Colliers Mills Wildlife Management Area is on the left.
Follow the signs to the WILD Expo parking area.
From Interstate 195 West:
Take Interstate 195 West to Exit 16 (537/Mt. Holly/Six Flags).
Make a left off the exit ramp onto County Route 537 West, toward Mt. Holly/Six Flags.
Continue for 3.3 miles and turn left at traffic light onto Hawkins Road.
Follow Hawkins Road for 4.4 miles (you will cross CR 528).
The main entrance to Colliers Mills Wildlife Management Area is on the left.
Follow the signs to the WILD Expo parking area.
From Route 70 and County Route 539:
Take Route 70 East or West to County Route 539 North.
Follow Route 539 North for 8.5 miles and turn right onto Colliers Mills Road.
Continue straight for 0.8 miles into the main entrance of Colliers Mills Wildlife Management Area.
Follow the signs to the WILD Expo parking area.