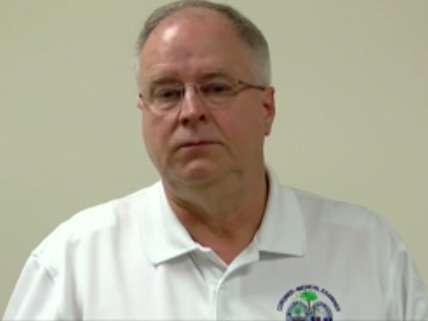 CNN
Last week a South Carolina coroner blamed a teenager's sudden death on caffeine-induced arrhythmia, prompting yet another burst of alarmist warnings about the dangers posed by energy drinks. As usual, the stories either glossed over or misrepresented the amount of caffeine these products contain compared to other, less controversial beverages.
Davis Cripe, a student at Spring Hill High School in Chapin, collapsed during art class on the afternoon of April 26 and was rushed to Palmetto Health Baptist Parkridge Hospital, where he was pronounced dead about an hour later. Cripe's friends reported that he had drunk a McDonald's latte, a large Mountain Dew, and an unspecified energy drink over the course of two hours. Richland County Coroner Gary Watts attributed Cripe's death to a "caffeine-induced cardiac event causing a probable arrhythmia."
Watts, who announced his findings at a news conference that also featured Cripe's grieving father, conceded that his conclusion was debatable. "I realize this is a controversial scenario," he said. "There are are obviously people that don't think this can happen—that you can have this arrhythmia caused by caffeine."
One reason to doubt Watts' determination is that Cripe does not seem to have consumed a very large dose of caffeine. According to the website Caffeine Informer, a McDonald's latte contains 142 milligrams of caffeine, a large (20-ounce) bottle of Mountain Dew has 90, and the most popular energy drinks contain 10 milligrams per fluid ounce, or 160 milligrams in a 16-ounce can. That's a total of less than 400 milligrams, which is the daily limit recommended by the Food and Drug Administration (FDA) for adults. A lethal dose of caffeine is estimated to be somewhere between 5 and 10 grams—i.e., between 5,000 and 10,000 milligrams—for an adult. Cripe was 16 and weighed about 200 pounds.
Watts acknowledged that Cripe did not consume very much caffeine. "This is not a caffeine overdose," he told Reuters. "We're not saying that it was the total amount of caffeine in the system. It was just the way that it was ingested over that short period of time, and the chugging of the energy drink at the end was what the issue was with the cardiac arrhythmia."
Millions of teenagers chug energy drinks, of course, but very few of them die afterward. So assuming Watts is right, Cripe must have been especially sensitive to caffeine. Yet Watts said Cripe seemed perfectly healthy and there was no evidence of previously undetected cardiovascular disease. The coroner suggested that energy drinks kill at random. "This is what's dangerous about this," he said. "You can have five people line up and all of them do the exact same thing with him that day, drink more, and it may not have any type of effect on them at all. It's not something that just because you drink one drink or three drinks [it] is necessarily going to have this effect."
The implication that energy drinks kill something like one out of six teenagers who consume them obviously has no basis in reality. Yet for some reason Watts wants people to think that energy drink consumers face Russian roulette odds. "Our purpose here today is to let people know, especially our young kids in school, that these drinks can be dangerous," he said. "Be very careful with how you use them, and how many you drink on a daily basis." But since Watts is saying even one can might be lethal, complete abstinence would seem to be the only prudent course.
That does appear to be Watts' message. "These drinks can be very dangerous," he said. "I'm telling my friends and family, 'Don't drink them.'" Yet he also claimed that "the purpose here today is not to slam Mountain Dew, not to slam cafe lattes, or energy drinks." It is hard to see how Watts is not slamming energy drinks when he describes them as so dangerous that no one should consume them.
Although Watts emphasized that Cripe did not die from a caffeine overdose, news outlets bent over backward to exaggerate the amount of the stimulant he ingested. Relying on Caffeine Informer's numbers, BBC News reported that "a McDonald's latte has 142mg of caffeine, a 570ml (20oz) Mountain Dew has 90mg, and a 450ml (16oz) energy drink can have as much as 240mg." That "as much as" is a bit of a giveaway. Since the type of energy drink is unknown, it seems more reasonable to cite the caffeine content of the leading brands, which generally contain 160 milligrams or less of caffeine in a 16-ounce can. But even adding another 80 milligrams brings the total to just 472, not far above the level the FDA deems safe for adults (a cutoff that seems to be excessively cautious).
To make that number seem more impressive, BBC News claims a cup of brewed coffee contains "roughly" 100 milligrams of caffeine, even though Caffeine Informer, the source it cites for the other beverages, says it's more like 163 milligrams for an eight-ounce cup. According to Caffeine Informer, brewed coffee typically contains about twice as much caffeine per ounce as those "very dangerous" energy drinks. Brewed coffee sold by some retailers is less potent but generally contains at least as much caffeine per ounce as energy drinks. Dunkin's Donuts brewed coffee, for instance, has 15 milligrams per ounce, while Peet's has about 17. At the low end, McDonald's coffee contains about nine milligrams of caffeine per ounce.
BBC News is suggesting that Cripe consumed the caffeine equivalent of more than four cups of coffee, which is true only if the coffee is unusually weak. The coffee served at other news organizations seems to be even less potent than the BBC brew. NBC News says 400 milligrams of caffeine is equivalent to "about five cups of coffee," while The Washington Post says "about four or five."
BBC News also reports that "most energy drinks contain a caffeine equivalent of three cups of coffee," relying on an estimate by the American Academy of Pediatrics. Even if we compare eight-ounce coffee cups to 16-ounce energy drink cans, that cannot possibly be true, since it implies a total caffeine content in the neighborhood of 480 milligrams. None of the energy drinks listed by Caffeine Informer contains anywhere near that amount in a container of any size.
The Post is slightly more cautious, saying "energy drinks may contain about 300 mg of caffeine." Although that is literally true, fewer than 10 of the 401 varieties listed by Caffeine Informer contain that much caffeine in a single container. Yet an earlier version of the Post story, later corrected, said that potency was typical.
"We're not trying to speak out totally against caffeine," Watts said. "We believe people need to pay attention to their caffeine intake and how they do it." But if that is the message, why did Watts single out energy drinks, which are about half as potent as coffee, urging people to eschew them entirely? And why are news organizations so keen to reinforce the same irrational distinction?
******************************************************************
Jim Hutchinson Sr. report ... 
The captains of the Beach Haven Charter Fishing Association wish everyone a happy Fourth of July as we observe our great country's day celebrating our independence. The boats of the BHCFA have been finding their own fireworks out on local waters catching fish. 
The offshore tuna fishing continues to provide great action. The "Reel Determined" with Captain Jimmy Zavacky at the helm recently ran south to the Baltimore Canyon where at first light they hooked and landed two yellowfin tuna weighing 30-pounds. Throughout the day they continued to troll, catching and landing many more tuna at times in groups and other times singly. Throughout the night they boated a brown and a mako shark. They ended the trip with a total of 14 yellowfin. On another trip Captain Jimmy went offshore for three yellowfin and picked up a fourth about 40-miles out while heading home. 
Captain Ray Lopez had the" Miss Liane" offshore in search of tuna. They experienced decent action with three 40-pound yellowtails. Hero of the day was Nolan Baum who landed his first ever tuna. 
"The Irish Jig" captained by Gary Dugan continues to shine, fishing structure in the ocean along with some bay action. On one trip Jerry and crew put five fluke in the box with most of the fish 20-23 inches. Now that black sea bass season has come back in, Captain Gary is finding a selection of fluke along with sea bass and even a big lingcod. 
Captain Brett Taylor has returned to the water with Reel Reaction Sportfishing following the recent birth of his second son. He put in little pre-charter time one day this week doing some fly fishing. He picked up 6 short stripers using a yellow clouser.  He had Mark Odendahl and his 3 boys Patrick, Connor, and Luke out on a bay fluke trip. Working shallow areas, the crew released close to 60 fluke with 7 keepers up to 24 inches in addition to releasing a pair of 18-inchfish. The trip celebrating Patrick's birthday was a big success.
Additional information on the Beach Haven Charter Fishing Association can be found at www.bhcfa.net.
*****************************************************************
I'm having a bad social stint. Not only didn't I know there was a Juneteenth (nor does my spellcheck) but I'm clueless to a Black National Anthem. 
Thus I'm being told/schooled: "Wiki: In 1919, the National Association for the Advancement of Colored People (NAACP) dubbed it "the Negro national hymn" for its power in voicing a cry for liberation and affirmation for African-American people."
Not for nothing, Latinos can sing, too -- "Nuestro Himno" (Spanish for "Our Anthem") is a Spanish-language version of the United States national anthem, "The Star-Spangled Banner". The debut of the translation came amid a growing controversy over immigration in the United States (see 2006 U.S. immigration reform protests).
*****************************************************************
Worldwide Slowdown in Fishing Unlikely to Save Rare Species
Copyright © 2020 The Associated Press
By Christina Larson and Patrick Whittle
July 1, 2020
Commercial fishing taking place worldwide has dipped since the start of the coronavirus pandemic, but scientists and conservation experts say it's unclear if the slowdown will help endangered species of marine life recover.
Hours logged by fishermen at sea fell by nearly 10% around the world after the March 11 declaration of a pandemic, and in some hard-hit countries such as China, fishing completely stopped. The fishing decline has spurred questions about food security, ocean management and global trade.
As countries begin to resume fishing, new questions are emerging about whether an extended fishing slowdown could help rare ocean animals, such as the North Atlantic right whale. The whale numbers only about 400 and is vulnerable to fatal entanglement in fishing gear.
Less fishing could also help jeopardized fish stocks of the Mediterranean Sea, which is home to the overfished Atlantic bluefin tuna. And many rare species are vulnerable to accidental catch, called bycatch, in fishing gear.
But it's too early to hail the respite from fishing lines and nets, said David Kroodsma, director of research and innovation for the nonprofit Global Fishing Watch. And since millions of people rely on fishing for their livelihoods and sustenance, any benefit to sea life has come at a cost, he said.
"I don't think we should be celebrating anything here. Not by making people suffer incredibly," Kroodsma said. "I bet what we'll find is, it is not sufficient for rebuilding stocks in places they have to rebuild."
Fishermen around the world logged about 6.8 million hours at sea from March 11 to April 28, down about 700,000 hours from averages the previous two years, according to data compiled by Global Fishing Watch. The Food and Agriculture Organization of the United Nations said the pandemic has brought "changing consumer demands, market access or logistical problems" that could keep fishing difficult indefinitely.
The time spent with boats docked was much more severe in countries such as Italy, Spain and France, which suffered large virus outbreaks, Kroodsma said. Fishing in those countries was down 50% to 75%, he said.
Fishing dropped off because of concern about spreading the virus on boats and because of decreased demand for seafood. Two-thirds of the U.S. seafood spending is in restaurants, according to a study in the June 2020 journal Nutrients, and thousands of those remain shuttered by social distancing rules.
As a result, some fishermen are bringing less catch to the docks so far this year. The American catch of Atlantic herring was down more than a fifth — almost 3 million pounds (1.4 million kilograms) — through the end of May, according to federal statistics. Herring is a key species because it's used as human food and as bait for more profitable fisheries, such as lobster.
None of this necessarily means fish populations are rebuilding, said Gavin Gibbons, spokesman for the National Fisheries Institute trade group. American fisheries are managed by the National Oceanic and Atmospheric Administration, and the plans to help species recover can be highly technical and take years to implement, Gibbons said.
"It's much more specific than just give fish a break and they'll rebuild," he said.
But in some corners of the world, there is hope less fishing will help fragile ecosystems recover. In the Indian Ocean island nation of Madagascar, Wildlife Conservation Society's Marine Conservation Director Ravaka Ranaivoson said that overfishing, along with climate change, threatens the health of coral reefs.
"We're always concerned about people using illegal fishing gear, and not respecting rules about the size of fish catches and other restrictions," Ranaivoson said, adding that her team has worked with local communities to try to implement more sustainable practices.
But the virus has also created many disruptions for Madagascar's fisheries, a key piece of the economy.
First, communities that generally follow good fishing practices are hurting financially because their regular customers, especially tourist hotels and restaurants, don't need to buy as many fish, leading to lower prices. "The price of fish has dropped 50-70%," Ranaivoson said.
On the other hand, more people without regular work need to somehow feed themselves.
"In some areas, people who live there are afraid to go outside because of the virus — but sometimes people from outside come to the area to fish," and they are less concerned about the long-term health of the fisheries, she said.
A study in the journal Marine Policy this year stated that somewhat less lobster fishing won't necessarily harm fishermen economically, but it could help the endangered right whale. The authors, who performed the study before the pandemic took its toll on fisheries, said fishing less yet more efficiently could actually lead to more profitability for lobster boats.
Co-author Hannah Myers, a graduate student at University of Alaska Fairbanks, said the virus outbreak represents "an unfortunate natural experiment" that is sure to impact fisheries.
The long-term impacts of the fishing slowdown remain to be seen, though with coastal communities starting to return to work, they could wind up being short lived.
"We're definitely seeing cleaner water, fewer ships out and fewer entanglements," said Jake Bleich, a spokesman for the conservation group Defenders of Wildlife. "We'll see what happens when the economy restarts."