TV Triumvirate
New to the whole COVID thing ... 
While the white stuff Down Under is painfully real. 
Friday, December 18, 2020: So, this is winter, eh? Not much to look at in our-here parts, compared to the full Currier and Ives visages not all that far away. I did make a snowball right here on LBI. It came compliments of a large so-called snow goblin -- sometimes named snow cuds -- that broke off a vehicle coming on-Island from whiter places.
I hate to rub in the now near positive news that it will not be a white Christmas, even for places that just got over a half foot of snow. There's not only a load of snow-melting rain coming but also that weird mildness of which I had written in past blogs. After that mildness, another slap of fast-arriving cold, though nothing like the subzero nighttime bitterness the Great Lakes will feel.
It's oddly quiet on the wild canine front, though I'm finding a load of fox tracks on the mud side of the south end. I had expected tons of 'yote sightings. It would have been very interesting had we gotten even a couple inches of snow. Anyone residing on the Island could have seen at a glance if any canids had been in-yard. Since the odds of canine paw prints being from a free-roaming pet dog, anything resembling a dog's tracks were likely placed by wildlife. Below: Fox prints (left) and coyote tracks (right). 
Chatted with a bayside homeowner who said he has had otters get into his trash cans. That sounded a little odd, so I asked if he had put any fish parts within those cans. A bulb lit up over his head as he recalled disposing of the racks from two stripers.
Nature point: Otters do not hibernate. In fact, they become very active during the day come winter. While it's unlikely we'll see a deep bay freeze this winter, otters love sliding around on ice, even small ice showings near shorelines. To the many folks who routinely walk the new Causeway walkway, take some time to look over the side of the last bridge onto the Island, technically the East Thoroughfare Bridge. A couple otter families hang there and just might be viewable for months to come. I'll be checking, with cameras in hand.
Below: A huge otter on ice. This pic was taken by premier nature photograph Mike Laptew. 
DECK THE HALLS WITH … BUGS!?: I got word from a pest control expert noting how Christmas trees usher in more than mere Christmas joy.
Sundry insects and related egg sacks, Trojaned within trees and boughs, should be responding to the indoor warmth … right about now. Many of those buggers had naturally settled in for a comfortable stint of dormancy prior to a merry spring bust out. Well, spring comes early in these-here indoor parts.
Sorry but this is gonna get a bit crawly, possibly having you move your easy chair a bit further from the finally fully decorated tree.
Apparently somebody with quite an eye to details has anecdotally counted just how many bugs might be in those boughs of holly and such. A slew of news stories, all similarly titled "Your Christmas tree could be home to up to 25,000 insects" (NY Daily News, ieyenews.com, zaysmith.com) tell of more bugs than you can possibly identify all arriving for the holidays.
Take heart, virtually none of those tens of thousands are overly nasty-ass when it comes to bites or stings. The big bugaboo is how many can become quite reproductive after getting their feet into the door of comfy in-house environments.
To get a good overall read on bugs among the boughs, check out "Are there bugs in your real Christmas tree? Could your beautiful tree have creepy crawlers in it?" at www.today.com/home/does-your-christmas-tree-have-bugs-t119361
A LOCAL FEEL: The wildest insect invasion I've ever personally been told about  centered on a hatch of praying mantises which sprang to life on a cut-your-own tree. Oh, they were cute little critters … and hell-on-wheels to round up.
Yep, they we're literally rounded up. The homeowners strapped with debugging a nearly uncountable showing of maybe ¾-inch long hatchlings were avowed nature lovers. They knew the dismal fate of the newborns if simply chucked out into the freezing outdoors. Instead, they dutifully collected, for well over a week, the critters, which were "totally adorable," per the lady of the house. The hubbie dragged an old fish aquarium down from the attic, screened it over and put the captures inside.
"We never counted them but there had to be a 100 or more," said the missus.
There's even a happy ending to this tale of "The buggiest Christmas we ever had."  The well-maintained mantises, fed as best the owners knew how, were quickly – and rather cleverly -- handed off to a high school for a "winter project," prior to a warm-weather release. While I lost track of the story after that, I still admire the wildlife compassion on those homeowners.
By the by, there has since been a ton of similar stories of mantises arriving for the Christmas holiday. Google it, or go to YouTube.
Less jolly, I've known of Southern Ocean County homes forced to go the costly extermination route due to seasonally introduced stinkbugs (of both brown and green). This is apparently an emerging pest problem.
Stinkbugs are double trouble. Not only are they loud winged when a-fly but they noisily bounce off ceilings at night. They have also been known to crash land on beds … right onto the heads of sleeping (not sleeping!) folks. Then there's the toxic side of stinkbugs. No, they don't have caustic bites or the likes, but their rowdy flitteryness offer an irresistible call to the hunt for dogs and, more so, nocturnally inclined cats.
According to Dr. Franklin, a veterinarian at the Mid-Atlantic Veterinary Hospital, stink bugs aren't poisonous, but the smelly secretions from stink bugs will irritate the gastrointestinal tract of dogs and cats. This irritation may produce symptoms of vomiting and/or excessive drooling by dogs and cats.
A little scarier, Ecocare Pest Control(ecocarepestcontrol.com) reports, "If your dog or cat decides this bug is a nice snack, they can lead to an upset stomach, including vomiting and diarrhea. In a worse case scenario, eating too many stink bugs can cause problems in your pet's digestive tract, often resulting in surgery."
Unexpectedly, a major bug intrusion problem in our domain stems from seemingly dickens-sweet ladybugs.
I can offer on good authority that kiddie-poem-worthy ladybugs … can frickin bite! I found this out when trying to nicely remove a happily-nested load of them from inside a friend's window. Two of the spotted buggers took umbrage, letting me know it. I'd equate their grabs to the bite of an angry ant. It even led to a hint of swelling and a touch of itching.
Considering I was grabbing dozens of lady bugs, a couple bites were apparently on par, per a 2004 study by an entomologist who placed 641 lady bugs into plastic containers then put his hand into the containers to see if the ladybugs would take a hostile nip at him. He found that 26 percent of the 641 beetles bit him." (healthline.com) Hmmm. It sounds like it might be fun to hang out with that bug guy. "You first, sir." "Oh, no, you first, I insist."
My minor skin reactions to my ladybug bites were also par for the course. A post in healthline.com "While ladybugs are beneficial to species control outdoors, they can be a nuisance indoors. They can also bite you. While their bites aren't known to be lethal or overly harmful, some people can experience allergic reactions to their mere presence."
Well, I have no allergic reactions to much of anything. I'll hazard a guess that the nips themselves were surely the cause of my short-lived reaction. My prognosis might fly in the face of published assurance at ladybugplanet.com that "ladybugs can't pierce the skin." Yeah, right. Put your hand in this jar of 'em. However, I'm not going to bug those nice folks. Hey, how uppity can one get with folks believing they live on a Lady Bug Planet. Rainbows, unicorns … and ladybugs.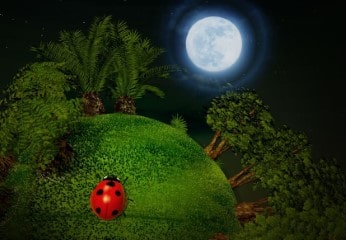 Sidebar: As to sweet and kindly unicorns, what in bloody hell do you think they use that horn for? Hell, that swirled shape is meant to deal double damage when savagely driven into a victim's body. Just sayin'.
One final mention of bugs arriving for Christmas, a large majority of bug eggs, like those of aphids, spiders, mites, bark beetles, etc., are tiny as all get-out, meaning you can't visually/manually try to pick them off. Therefore, there are many mild and organic bug sprays that will do the trick. Do not go overly chemically if spraying for bugs. Not only will that dry a tree more quickly but warmth generated by lights tends to disperse chemicals into the air, not the stuff of a healthy happy Christmas atmosphere.
Geez, does all that ever put a Grinchified touch on Christmas greenery.
(((((((((((((((((((((((((((((((((((((((((((((((((((()))))))))))))))))))))))))))))))))))))))
Coast Guard rescues 2 duck hunters stranded near Little Egg Inlet, NJ
Editors' Note: Click on images to download high resolution version.
BRIGANTINE, N.J. — The Coast Guard rescued two duck hunters today after they became stranded on an island while hunting near Little Egg Inlet in Brigantine. 
Watchstanders at Coast Guard Sector Delaware Bay received a call from Sea Tow around 3 p.m. that two duck hunters had disembarked their vessel to hunt on an island but were unable to recover their boat upon return. Due to the shallow water surrounding the island, Sea Tow was unable to reach the individuals.
Watchstanders launched an MH-65 Dolphin helicopter aircrew from Air Station Atlantic City. Once on scene, they discovered the hunters with only one bottle of water, no food and cell phones with little charge left. The air temperature was close to freezing and the sun was setting. The aircrew hoisted the two hunters and brought them safely back to the air station. 
"This case could have had a much different result," said David Umberger, command duty officer at the Coast Guard Sector Delaware Bay Command Center. "The water is an unpredictable place and a potentially fatal place for the unprepared, especially given the freezing water temperatures this time of year. Anyone thinking about heading out on the water should be prepared with a life jacket and some type of marine radio that can reach Channel 16 so that we can find them quickly in an emergency."
**************************************************
So when you consider the "big picture" of commercial food production, or how your food $$ will ultimately effect the environment. Keep in mind at Parsons Seafood we take what's normally considered trash (waste shell from restaurants or processing plants), and transform it into what has been critically depleted oyster reef habitat.
75-100 years ago most of our NJ coastal bays were thriving with huge, productive oyster reefs. Today you would be extremely lucky to find any resemblance of a living reef in the open bay. So here at Parsons Seafood we're putting them back.
Each round dot on the shells in this video is an oyster, and today we planted around 3-4 million of them on one of our commercial leases. Over the next couple years they will filter large volumes of water, and remove an impressive amount of excess phytoplankton. Based on where and how we planted them their ability to clear the water may be visible from above. Throughout their growth period they will provide habitat for tiny fish, clams, scallops, crabs, other filter feeders. This is when the biological magic of the reef takes place .....
Once they reach marketable size we will dredge them up, cull them out, and sell them to whoever wants them. Much of the shell that you see in this video will remain, and eventually we will plant the area again, with another generation of disease resistant oysters.
So when you see the "Briny Piney" or "Pineyette" on the menu, remember they came from a restored reef. 
P.S we're also the only seafood company in New Jersey who facilitates the restoration of live, disease resistant, permanent oyster reefs. Planted on designated research leases, these reefs will never to be commercially harvested.....