That is one jealously pissed off T-shirt -- 
Friday, December 17, 2021: Even if it ends tomorrow – which it will – this very friendly batch of December mildness felt mighty fine.
I did a load of forest time and, short of the emergence of ticks, it was a fun end to fall, which still has a few days to go, meaning the shortest day of the year is soon upon us.
For hunters and outdoorites, take offseason ticks seriously when returning home after woods time. Lyme knows no seasons. Like so many other routine ailments that can ruin you, the pandemic has back-burnered Lyme concerns. No, your COVID vaccine does not protect against Lyme. At least I don't think it does.  
I'm heading into my semi-vacation mode, as The SandPaper semi-shuts down until early January.   
As I tell anyone who'll listen, it's not the same publication I joined almost (inconceivably) 35 years ago. (And they said it would never last, me being a wayward surfer dude back then.)
Way back in the 1990s, winters at the paper offered a respite from summer's writing madness. Then, at some more modern point, the Internet popped up almost overnight, birthing our cyber Cloud edition. It can be found at thesandpaper.net/.
Trying to interpret why the off-season is now so hectic, I'm not sure if the Cloud evoked a closer concentration on minute-by-minute breaking news, or if life stuff hereabouts is happening harder and heavier than before. Obviously, there's no overlooking the sprawling fact that our area continues to grow in infuriating leaps and bounds. News and growth are kindred spirits.  
Both The SandPaper as a whole, and my office specifically, truly appreciate input from all ya'll. With social media gone gonzo, there are thousands of eyes and fingertips passing on goings-on like never before. Please share, via email or phone.
As always, 2022 will have The SandPaper looking for what I call personality pieces. Our area has an awesome abundance of interesting folks with stories like no others. Contact me about those who you feel deserve some ink. Which reminds me, I was thinking of getting another tattoo, possibly Viking icons, seeing my spit (DNA) says I'm from an area where they used to roam, namely, Caithness, the Hebrides, and the Northern Isles over Scotland way. I can't remember the Vikings, though. 
These telephone poles have been taken down from the Road to Nowhere and from across the meadows:
I can't be sure but I think they were first placed when final plans were being made for Beach Haven West North (my term). The Shapiro brother who built Beach Haven West were that close to building a similar sprawl north of Route 72/Causeway. Only some last-minute qualms by the town, then only referred to as Manahawkin – never Stafford Township -- and a slowdown in purchases in the BHW build prevented what would have been a horrifically burdensome buildout, including miles of ruinous lagoons.
Yes, that is what the Bridge to Nowhere was all about: access to the meadows, at least that has been how local wisdom has it, though the bridge's width could only accommodate a single vehicle. I could see it as a sales pitch to drive potential financial backers across the creek – to point out the grassy vista that would become 2,000-unit BHWN.
SWINGING DOOR SMASHES: I saw – and heard, as in "WTF!?" -- a nasty smashed door accident in a parking lot. As the involved folks got out and hissied – led by the older male who hit the suddenly swung open door (by a much younger gal) – I stepped in as a calmative go-between, which worked surprisingly well for a change. I left with both quieted and civilly examining damages.
Made curious about such door slams, I rushed to the office to seek legal reads on the matter. As expected, most legal sources agree that if someone opens their vehicle door into traffic and it gets hits by another driver, the person who opened the door bears responsibility for the crash.
It turns out that doors getting clobbered by a passing driver is highly common in parking lots, based on insurance claims.  
Per legal speak-age: Fault is assigned to the driver who opens the door of their parked vehicle. The onus is on the driver of the parked vehicle, who has the responsibility of making sure it is clear to open the door.
I imagine there are some exceptions for police officers:
That said, hitting a person exiting a vehicle is a whole other matter. It insinuates an oncoming driver had enough time to avoid impact, thus some serious legal wrangling begins, with nobody winning but the attorneys.   
There is a legal term for the width a vehicle door can open. It's called the door zone, a zone that can become painful, if not deadly, with motorcyclists and bicyclists paying dearly.  
On LBI, some of the worst door zone threats are found on the Boulevard in Surf City, which has single lanes, north and south, offering no recourse except to drive the lane closest to parked vehicles. The How Ya Brewin' area is like a door-opening minefield – despite its very accommodating parking lot.
Now, to the scariest part of tight quarters lanes. Should you or I instinctively swerve to avoid a thrown open door – and end up face-to-face with oncoming traffic, the head-on potential is ghastly high, even when panic breaking.  
It's likely not written anywhere, but always take impacting the door over swerving into a vehicle next to you (two-lane flow) or, more so, going head-on into oncoming lanes. Both of those, albeit unfairly, opens a legal can of worms that will suddenly have you wiggling in the culpability can. Any drivers involved with your swerving move will only see you as the culprit.
Should the swerve-crash scenario occur, do not allow the door opener in such a case to discretely drive off. Believe me, folks with less than stellar driving record will try to sneak away before the smoke clears. Just sayin'. And for good reason. In most cases, the door opener could be responsible for the whole crash shebang.
Note: If you witness such a scenario, take down the plates of the door opener, who will likely have "leaving the scene" headaches added to a litany of others.
Putting the shoe on the other hand, none of this need take place if those folks parking and about to exit a vehicle take a solid look in the rear view, the famed coast-is-clear gander. look.
Per insurers: A driver is responsible for signaling anyone in the back seat that it's clear to open their driver's side door. A driver is equally culpable – insurance-wise – for thrown-open rear doors.
I realize this is more than you wanted to know about this, but it seems quite apropos during the heavily-driven holiday season. Both the folks I saw in the parking lot smashup had lost virtually all of the spirit of the season.   
(((((((((((((((((((((((((((((((((((((()))))))))))))))))))))))))))))))))))))))))))
HAKE YEAH: In my weekly SandPaper column, I write of surfcasting with drone assists, something allowed by the International Gamefish Association, at least in the US. Based on the numbers of "Angling Drones" flying out shops this holiday season, this method of aerial line placement (ALP) will likely show in some LBI form or another, though any hookups will not qualify for the LBI Surf Fishing Classic or, I imagine, many spring surf tournaments. I'll have to check with the likes of American Angler and such.
There's one offseason perk for a drone delivery of bait I didn't bring up in my column. It's little known/appreciated but there are often thick school of hakelike fish (silver hake?) just beyond the Island's sand bars. I know this from my crazed kayaking days when I'd paddle out amid the frigidity to nab half a dozen of these luscious bottom-feeders in nothing flat – nothing flat being the exact amount of time I was able to tolerate the embrace of icy west winds, winds that were more than willing to blow me helplessly out into the shipping lanes should my paddling arms freeze up. By the by, hake were surely the famed frostfish that would wash up back in the days when wicked winters reined and hake, driven shoreward by cold-water sharks and whales, would become stranded on the beach and freeze solid, a natural form of individually quick frozen. I never saw such washups but I know folks who did.             Below: Silver hake.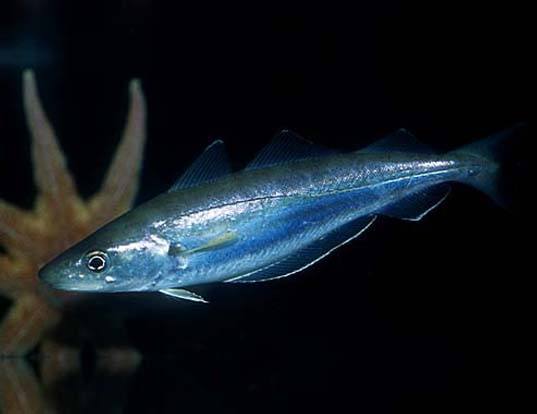 IT'S ALL GOOD: A sincere thanks to the surfcasters who took part in the 2021 LBI Surf Fishing Classic. Your participation helped keep this long-lived Island contest up and casting … and in fine form. Winners can be found at www.lbift.com. Click on "Fall Classic," then scroll down to "2021 Live Results."
Classic entrants also displayed a certain stick-with-it fortitude by having a fun time even in the ugly face of the too-hastily imposed trophy bass ban. Here's to the current slot imposition fading fast, as managerial number crunchers detect a rapid, most likely ecologically unhealthy, bounce back of bass.
Speaking of the striper young-of-year decline, which is behind the drastic conservation actions, there is a strong possibility that any downward trend in bass reproduction success might be related to an overall ecological pattern that has been cycling for eons, leading to a natural drop in abundance.
Below: Y-O-Y striped bass ... 
Reducing the presence of certain reigning species is nature's way of allowing other species to establish themselves in an equally cyclical manner.
Possibly related, striped bass in the Chesapeake Bay have been suffering from a mycobacteriosis, spread by packed-in fish bumping into one and other. While this outbreak is being attributed to a suffering marine environment, despite the bay being in a highly improved state, who's to say such close-contact diseases haven't been a population leveler going back eons, long before humans added their muck to the system. Disease has long been nature's way of reducing a runaway species, to the benefit of countless other unaffected species.
Oh, calm down. I realize such thinking is too out-there for modern times. It just hints that proper and effective fishery management can't be based on limited species-specific thinking. Enter ecosystem-based fisheries management, defined by fisheries.noaa.gov as "A holistic way of managing fisheries and marine resources by taking into account the entire ecosystem of the species being managed."
Since I've written this matter to death in here, I'll allow NOAA to explain.
"The traditional management strategy for fisheries and other living marine resources was to focus on one species, in isolation. For example, if a particular species' population was declining, fishery managers might reduce the annual catch limit the following year in an attempt to reduce over exploitation. However, fishing is only one variable affecting a species' population. Additional elements come into play, such as interactions with other species, the effects of environmental changes, or pollution and other stresses on habitat and water quality."
Even a hardcore bassophile should see there's a ton to be said for a balanced marine ecosystem, resulting in a slew of species for anglers to pursue, as opposed to a couple top-heavy ones that could literally become boring to catch. I heard of just such boredom from anglers working a remarkable showing of autumnal bay bass this year.
On the way-crazy front, a viral tale about a tuna caught in the LBI surf had a couple emails coming my way, mainly folks wanting details. I steered clear of writing up the incident – for an angler-friendly reason. As rare as any such hookups are, it is decidedly illegal to keep, even hoist overhead, these pelagics without a special permit. To be specific, that includes surfcasters.
The legal angle was heavily debated on social media so I went on a data-seeking mission and finally pinned down an official answer, located in a Q & A page within the NOAA Fisheries website.
"Q: May I fish for Atlantic tunas without a vessel (e.g., from an oil rig or from shore)?
"A: No, only permitted vessels may fish for Atlantic bluefin, bigeye, albacore, yellowfin, and skipjack tunas in the Atlantic, Gulf of Mexico, and the Caribbean. If one of these species is caught incidentally during fishing activities from shore or from an oil rig, it must be released immediately."
What I couldn't pin down is what, let's say, actions one can take upon finding a fresh tuna on the beach, something that has occasionally happened in Jersey.
I'll merely guess that a beached tuna, possibly one desperately pining for the fjords, can't be merrily hauled back home. "Sushi for all!" With that in tow, perish any savory thoughts of furtively hacking off a ten-pound chunk of said sad tuna – such a carving only being properly done with a huge gamefish knife, pretty much like the awesome 30-inch Japanese maguro bōchō blade I just happen to keep in my truck for fileting finger mullet and such. And what kind of devious mind would use such a knife to surgically carve away big tuna chunks in the exact shape of great white shark bites? Hmmm.
Here's a past tale of tuna hitting the beaches of LBI: 
With your help, we can protect the 360,000 + acres that are home to New Jersey fish and wildlife
From our mountains to our shore, New Jersey's Wildlife Management Areas provide the perfect habitat for our fish and wildlife to thrive. They're also the perfect places to go year-round to enjoy the beauty of the outdoors and all nature has to offer.
Whether your passion is birding, photography, fishing, hunting, or just enjoying New Jersey's natural beauty, helping us care for our wildlife management areas now ensures that they'll be around to enjoy for years to come.
This holiday season, help New Jersey wildlife. Join the Wildlife Habitat Supporter program.
Wildlife Management Areas are owned by the NJ Department of Environmental Protection and managed by the Division of Fish and Wildlife.  Maintaining these properties has traditionally been supported and funded by New Jersey's hunters and anglers. Join them this holiday season by taking part in our Wildlife Habitat Supporter program and you can help conserve the natural beauty of New Jersey.