Continuing with the ...  Atta boy!
==========================================
Hockey season about to start ... shortage of refs is a problem ... 
=================================
Remember this kid, going in last ...?
Here's his mom ...
Friday, August 24, 2018: I must rate today as possibly the finest of its kind all summer. The sun was a solid 10, even for the visiting Russian judges (I ran into a couple very cool Russian visitors) . The air temp was toasty but not oppressive. The water temp was 76.1, where I took it in Harvey Cedars, though I heard of a 79 toward Beach Haven. The beachside water was again crystal clear, highlighted (where I was) by one of the largest bottlenose dolphin parades I've ever seen, heading north, covering hundreds of yards. The serene dolphin scene was fouled when a PWC literally blasted into the flow of marine mammals. Cheers to the lifeguard who whistled the numbnuts out of pod – and got a one-finger salute from the departing D-bags. There was also some one-pound bluefish being caught on small metals. The snappers were feeding on the scraps from the dredging outflow in Harvey Cedars. That slurry also had terns in a diving frenzy.
Here's hoping for a near repeat of today for Saturday and Sunday. It seems it'll be one of those gorgeous weekends, which affirms that everything that we're doing to keep the Island sandy and stellar are wonderfully worth it. A warning to all abandonist and you're-all-gonna-die retreatists: You better pick some other weekend to peddle your gloomy wares. Amazing how much fun their missing – or moronically overlooking – while they strut their "The End Is Near" emblazoned placards. It's sorta sick, but it would break their dismal little hearts if, say, a killer asteroid suddenly appeared and ruined their pretentious effort to kill us off as they see fit -- so they can finally cry, "We told ya!" Sure your told us, but, guess what, we had so much frickin' fun here before the end finally comes that we wouldn't trade it for the world.
But I digress from my luxuriating well into the night over the beauty we saw today.
KEEPING IT CLASSIC: I need to begin hyping this year's 2018 Long Beach Island Surf Fishing Classic. It truly will be bigger and better than ever. A crack committee of talented folks have been meeting monthly to perfect the long-time event, which has some stacked up the prize money from last year. Yep, it carries over. It should be noted that there are a goodly number of rather big-ticket expenses, including tee-shirts, weigh-in slips, entry forms, caps, insurance. Still, the prizes will flow freely this year. Signing up early assures getting shirts, caps and other giveaways.  Entry forms will soon be in the shops. I'll keep you posted. 
Along with the carried over moneys from last year, this year's business sponsorship is looking amazing. Sponsorship is what floats the classic. It's supporting an LBI event that date back to 1954, making it one of the longest lived fishing contests on the coast. 
On that business angle, I need to alert area merchants -- all of whom benefit from the extended season offered by the Classic -- that there are still $50 "Bronze" sponsorships out there. That gets the contributing business the event's revived banner, harkening back to the former tourney days when supporters proudly displayed such banners, garnering business from entrants and their families.  The new banner is down-sized a bit, allowing for easy window displays. If you're interested in offering bronze/banner support, check in with the participating weigh-in stations:
Surf City Bait &Tackle, 317 Long Beach Blvd., Surf City
Fisherman's Headquarters, 280 W. 9th St., Ship Bottom
Captain's Quarters Bait & Tackle, 8201 Long Beach Blvd., Brighton Beach
Jingles' Bait & Tackle, 1214 Long Beach Blvd., Beach Haven
=========================================
Jim Hutchinson Sr. 
A recent highlight for the Beach Haven Charter Fishing Association was the annual John Koegler Memorial Junior Mates Fishing Tournament. Over 20 junior mates spent fished on several of the boats of the association followed by a party and awards ceremony at the Beach Haven Marlin and Tuna Club. 
Mate Max Goldman took top honors in the contest with his 5.48-pound fluke. All mates received fishing gear to mark the occasion along with a beautiful rod and reel compliments of Canyon Reels and the Koegler family. 
Captain Ray Lopez had the Janice Yates family on the "Miss Liane" for a fluke and sea bass trip. The family enjoyed non-stop action, with several keepers in the box. Happy birthday to Rich Yates! On another trip Captain Ray had the Tabacco family out for an action packed day on the water. Throughout the trip the crew caught fluke, sea bass and blues taking home enough fish for dinner. 
Captain John Lewis of the "Insatiable" reports another good week with good numbers of fluke and sea bass with the average size of the fluke increasing. He has also been catching baby brown sharks around 3-fee long that are promptly released. 
In addition to the inshore action on fluke and sea bass, the bay waters have started producing large numbers of panfish. Mixed in with the small bluefish, sea bass, and blowfish have been black drum up to 20 pounds along with some sheepshead and triggerfish. 
The members of the BHCFA were saddened to learn of the passing of Captain Brant Whittaker, who was one of the captains of the "Miss Beach Haven" fleet. Captain Brant was an excellent captain. Condolences are extended to his family. 
Additional information on the Beach Haven Charter Fishing Association can be found at www.BHCFA.net.
==========================================
PETA's Billboard Urging Baltimore to Stop Eating Crabs Not Well Received
SEAFOODNEWS.COM [ The Baltimore Sun] by Lauren Lumpkin - August 24, 2018
PETA is coming after Baltimore's beloved crab.
The animal rights group selected the local crustacean as the mascot for its latest pro-vegan campaign. A billboard in Baltimore pictures a crab with the words, "I'm me, not meat. See the individual. Go vegan."
Danielle Ohl, a reporter for the Capital Gazette, tweeted a picture of the billboard Thursday, and it set off some strong reactions. (The Capital Gazette is part of the Baltimore Sun Media Group.)
Locals took to Twitter to share their reactions to the billboard that was erected yesterday on the corner of East Baltimore Street near the Shot Tower. Jimmy's Famous Seafood chimed in, too.
"I thought it was fake, honestly," said Tony Minadakis, owner of the restaurant. "I was shocked. It was pretty tone-deaf."
Kelly Diaz, 35, said she found the billboard "funny," though she agreed it made a bold statement given its location.
"This is Baltimore and we are a city that has had great pride in our crabbing industry," she said.
But Diaz, a 35-year-old attorney, said she doesn't have an issue with vegetarian or vegan lifestyles, and has even tried — and enjoyed — a zucchini-based faux crab cake.
Vegan crab cakes happen to be having a bit of a moment in Baltimore right now, with the Land of Kush restaurant's version being named one of the top 10 vegan seafood dishes nationwide, by none other than PETA.
The city is also in the middle of Vegan Restaurant Week. But the billboard was actually erected to engage local diners ahead of the Baltimore Seafood Festival in September, a PETA spokesperson said.
"This is exactly the point. We want people to look up and hopefully change what's on their plate that day," said Amber Canavan. "Our ad, it reminds people that crabs are not inanimate objects. They're living, feeling individuals."
PETA has placed similar billboards in other East Coast cities. The Maine International Jetport is the site of a lobster-themed pro-vegan advertisement.
Baltimore's crab-themed billboard is the only one of its kind in Maryland, Canavan said.
The Norfolk, Va.-based organization wants to call attention to the way crabs are caught and cooked.
"PETA's billboard aims to give Charm City residents some food for thought about sparing sensitive marine animals the agony of being boiled alive or crushed to death in fishing nets simply by going vegan," said Tracy Reiman, PETA executive vice president, in a statement.
Photo credit: PETA
Recreational Fishers and Humpbacks Come Face-to-Face as Whale Population Steadily Recovers
SEAFOODNEWS.COM [ABC Radio Darwin] by Jesse Thompson and Tales from the Tinny - August 24, 2018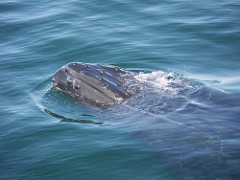 A face-to-face encounter with a large humpback whale almost ended in turmoil for a group of fishermen, with the large mammal coming close to capsizing their boat.
Brett Lee was fishing with friends near the Peron Islands, a group of low-lying islands off the west coast of the Northern Territory, when they noticed an object bobbing on the ocean's surface.
"It looked like a rock, and then we got up a bit closer and this thing decided to wake up," fisherman Brett Lee said.
"We just thought it was dead and just drifted on pretty much on top of it, and it woke up and happy days.
The creature only revealed its true size as it quickly swam away from the party — but by that point they were so close they could have touched it.
According to a scientist who viewed the footage, they are lucky not to have capsized and fishermen should take caution given humpback whale migration patterns this time of year.
Encounters Rising With Population
According to marine scientist Carol Palmer, humpback whale populations have steadily increased since commercial whaling ceased in 1978, giving rise to more encounters with recreational fishers.
Recently, local woman Laura Horvath was fishing in a nearby area when she had a similar encounter with an object she initially believed to be a boat.
She soon realised the object was, in fact, a pod of three whales approaching their boat.
"I thought it was just too warm up here."
Dr Palmer, who is the Northern Territory Government's senior cetacean scientist, said that a number of local fishermen had reported sightings in recent weeks.
Despite this, she believed some are oblivious to the fact that the mammals occupy Top End waters between June and October and caution must be taken.
"They are having calves, so they are just hanging around in calm, quiet waters," she said.
Admire at a Distance
According to Dr Palmer, the exact scale of the increase in whale numbers is difficult to pinpoint.
This is because of a second trend: an increase in people travelling by boat to remote marine areas.
"I think the numbers are increasing — not hugely — but I think there are more and more people out there fishing, or just out on the water, and they're good enough to record that information, and we end up with it," Dr Palmer said.
Still, she said, the creatures are best admired at a distance.
In Australia, Commonwealth regulations provide guidelines as to how vessels, aircraft and people should behave around the animals.
Vessels must not deliberately come within 100 metres of a whale, and travel at low speeds within 300 metres.
Dr Palmer said the whale approached by Mr Lee was likely to have been resting before it got a surprise that could have ended in turmoil.
"I can understand why they approached and went over: they thought it was dead," she said.
"But they're actually just resting.
"They're really lucky that the whale — and it would've been by accident — that the tail fluke or the body didn't come up and capsize the boat that the rec fishers were on."
Photo Credit: Rebecca Siegel/ Flickr
National Wildlife Federation President Stunned by 'Level of Carnage' From Florida Red Tide
SEAFOODNEWS.COM [Washington Post/ AP] by Tamara Lush - August 24, 2018
ST. PETERSBURG, Fla. — The head of one of the U.S.'s largest environmental nonprofits says he was stunned Wednesday to see thousands of dead fish and devastation to other marine life from a red tide off hugging southwest Florida's Gulf Coast.
Collin O'Mara, the president and CEO of the National Wildlife Federation, went on Wednesday with a charter boat captain in waters off Southwest Florida coast in the Sanibel Island area. He reported thousands and thousands of dead fish, eels and horseshoe crabs in the Gulf of Mexico. He also saw the carcasses of six-foot-long Goliath grouper fish.
"I was astounded by the level of carnage that we saw," said O'Mara. "Of all the disasters I've seen in the past decade, this is probably the most visual."
The toxic algae bloom has overrun Florida's southern Gulf Coast this summer. It's hugging much of Florida's peninsula, from Naples in the south to Bradenton some 150 miles north.
Red tide is a natural occurrence that happens due to the presence of nutrients in salt water and an organism called a dinoflagellate. This bloom started in November.
The last toxic bloom in the Gulf happened between 2004-2006. The algae bloom can cause breathing problems in some people, and because of the smell left behind by the dead fish, has cleared vacationers from some tourist areas.
But the main impact has been on the wildlife, and experts are concerned.
"It was actually pretty overwhelming being there," said O'Mara, who also toured another part of the state on Wednesday to look at a different algae crisis. He visited areas affected by blue-green algae, which is in freshwater.
Heavy May rains caused Lake Okeechobee to discharge water containing blue-green algae into rivers and canals. The bright green sludge oozed onto docks, dams and rivers.
People often get the two algae confused, because they're occurring simultaneously, and in some cases, in the same county.
The red tide algae in the Gulf has killed at least 452 sea turtles, nearly 100 manatees, 11 dolphins and tons of fish. County maintenance crews have had to use backhoes to scoop up all the dead marine life on the beaches.
Gov. Rick Scott declared a state of emergency in seven counties along Florida's Gulf that have been overrun by the pungent bloom. He also ordered $1.5 million to be spent on various clean-up efforts and to help business impacted by dwindling tourists.
Changes to California's labeling law Prop 65 to take effect by month-end
California's Proposition 65, first passed in November 1986, will have new guidelines for all products sold in the state as of 30 August. 
Known widely as the legislation that requires some products to have the label "WARNING: This product contains chemicals known to the State of California to cause cancer and birth defects and other reproductive harm," the new rules have updated the "clear and reasonable warnings" section of the law. Now, any product that contains one or more of over 900 listed chemicals in "significant" amounts must clearly label which chemical is present.
The new label requirements include containing a "black exclamation point in a yellow equilateral triangle with a bold black outline." If the label has no color, it may be printed in greyscale. The label must also say "WARNING" in all capital letters in bold print, and list at least one of the chemicals the product contains that are named on the list of known chemicals. Finally, the label requires a link to the Prop 65 website, www.P65Warnings.ca.gov.
The new rules were passed on 30 August, 2016, and so far have been undergoing a two-year grace period. Post 30 August, 2018, however, any company selling a product – including seafood – inside California that could contain a chemical in significant amounts must have the new labeling on their products or risk a lawsuit. 
"Two years ago we adopted this regulation to make these warnings more useful and more informative, in our opinion," said Sam Delson of the Office of Environmental Health and Hazard Assessment, who manages the list of chemicals. "The old warnings really don't tell you anything."
Previously, the labels that became widely known throughout the United States for their cautions about cancer, never actually told you what exactly it was in the product that could be harmful, according to Delson. The labels also didn't say what the risk was, and how to avoid those types of chemicals in the future. 
While the labels are new, the products requiring a label are the same. Lynsee Fowler, of the National Fisheries Institute, said the organization is making sure its members are aware of the coming changes and requirements. 
"The list of Prop 65 compounds has not changed given this new rule, so what was required before is still required, and what was not needed before is not needed now," Fowler said. 
The law specifies that the presence of the chemical must prove a "significant risk" to a consumer exposed to it. For example, if Bisphenol A (BPA) is present in a product, it must contain a sufficient amount of the chemical to increase the chance of cancer. 
"The warning is based on exposure, not content," said Delson. "If there's no exposure to people, there's no warning."
For the seafood industry in particular, the caveat that products must expose California consumers to sufficient levels of a listed chemical is important.
Carbon Monoxide, one of the listed chemicals in Prop 65, is used to preserve the color in the fillets of several fish species. According to Delson, that use wouldn't require a label, as long as the gas wasn't exposing consumers. 
"That would probably be an occupational exposure rather than a consumer exposure," he said. Occupational exposure is covered under federal law, and does not require a consumer-level label.
Another key change to the Prop 65 legislation is the liability of who has to give the warning. The language has been changed to require any company manufacturing a product that contains one of the listed chemicals to provide the proper labeling materials. 
According to the wording of the changes, the motivation is to "minimize the burden on retail sellers of consumer products." It requires any "manufacturer, producer, packager, importer, supplier, or distributor of any product" to comply with the article by either providing a label or providing written notice directly to the "authorized agent for a retail seller."
"The manufacturer or distributor has the primary responsibility for determining if a warning label is needed," Delson said. "It clarifies that the primary responsibility is with the manufacturer or the distributor."
Enforcement of these standards will still be left up to California consumers, something that the law has come under criticism for in the past.
"It's kind of unique," Delson said. "Any citizen can file an enforcement action."
That has led to some criticism of the law as a cash-cow for law firms looking to capitalize on insufficient labeling. In 2017, out of 333 judgements on Prop 65, USD 167 million (EUR 144.3 million) was awarded in penalties. 
The seafood industry has come up against Prop 65 lawsuits in the past. In 2009, StarKist, Bumble Bee, and Chicken of the Sea successfully fended off a lawsuit – which lasted several years – about their lack of labels stating that methylmercury is present in tuna. 
The companies successfully argued for a "natural occurrence" exemption, and the court agreed that the scientific evidence indicates that the mercury present in tuna occurs normally and doesn't require additional labeling. 
Other exemptions that have already existed with other products will also be carried over to the new regulations, according to Delson.  
"All those are grandfathered in, so they don't have to change," he said. 
Essentially, if it needed a warning label before, it needs the new one now. If it didn't require one at all, then that still holds true under the new rules. 
Only applicable products sold in California will require labels of this sort.  
"If you're not exposing Californians, then the law does not apply to you," Delson said.
=============================================================
Ocean Acidification Task Force to Evaluate NYS Coastal Waters
SEAFOODNEWS.COM [usagnet] - August 24, 2018
New York State Department of Environmental Conservation (DEC) Commissioner Basil Seggos Wednesday announced the creation of a 14-member Ocean Acidification (OA) Task Force to assess impacts of acidification on the ecological, economic, and recreational health of New York's coastal waters, work to identify contributing factors, and recommend actions to reduce and address negative impacts. The Task Force includes experts in climatology, hydrology, economics, marine fisheries, aquaculture, oceanography, and ecology. The task force's first meeting will be scheduled this fall.

Commissioner Seggos said, "Governor Cuomo established New York's Ocean Acidification Task Force to ensure that the best available science is used to assess and respond to this emerging threat to our coastal waters and fisheries. The task force is charged with providing New York with the tools and information to protect our natural resources from changing ocean chemistry and safeguard the long-term sustainability of our fisheries."

Signed into law in 2016, the 14-member Task Force is composed of experts appointed by Governor Andrew M. Cuomo, the State Senate, the State Assembly, New York City, and Nassau and Suffolk counties. As the lead agency, DEC Commissioner Basil Seggos' designee will chair the Task Force. The Task Force will also include representatives of the New York State Department of State and the Office of General Services.

The Task Force members named to date are:

- James F. Gennaro, Chair, DEC Deputy Commissioner (DEC designee)

- Marci Bortman, Director of Conservation Programs, The Nature Conservancy (Governor's designee)

- Professor Malcolm J. Bowman, Distinguished Service Professor, Stony Brook University School of Marine and Atmospheric Sciences (Assembly designee)

- Todd Gardner, leader of the New York State Office of General Services green sustainability procurement team (OGS designee)

- David Gugerty, Democratic Commissioner of the Nassau County Board of Elections (Nassau County designee)

- Jeff Herter, Division of Community Resilience and Regional Programs, Office of Planning & Development, New York Department of State(DOS designee)

- John K. McLaughlin, Managing Director, Office of Ecosystem Services, NYC Department of Environmental Protection (New York City designee)

- Karen Rivara, Owner, Aeros Cultured Oyster Company and former president of the Long Island Farm Bureau (Suffolk County designee)

- Professor R. Lawrence Swanson, Former Dean and Director of the Stony Brook University School of Marine and Atmospheric Sciences (Governor's designee)

- Professor Carl Safina, Endowed Research Chair for Nature and Humanity at Stony Brook University School of Marine and Atmospheric Sciences, and Director of the Safina Center, a not-for-profit research, educational, and environmental advocacy organization (Assembly designee)

- Jeremy Thornton, Former U.S. Navy SEAL and Strategic Markets Director at Janssen Pharmaceutica (Senate designee)

The task force will produce a report and an action plan, including:

- An assessment of the anticipated impacts of ocean acidification;

- Recommendations to provide stronger, more protective standards, and the implementation and enforcement of such standards in the context of OA;

- Recommendations for adaptive measures to respond to OA, including measures to identify and monitor early effects of ocean acidification on marine life, animals, plants, and natural communities, and integrate ocean acidification mitigation and adaptation strategies into state environmental plans;

- Recommendations on state and local regulatory and/or statutory actions to respond to the impacts of OA;

- A review of existing scientific literature and data on ocean acidification and how it has directly or indirectly affected or may potentially affect commercially harvested and grown species along the coast;

- Monitoring data on factors contributing to OA; and

- Recommendations to increase public awareness of OA.

The OA Task Force's efforts will be supported by DEC's Division of Marine Resources in East Setauket and faculty of the School of Marine and Atmospheric Sciences at Stony Brook University.

When dissolved in water, atmospheric carbon dioxide forms carbonic acid. Increased levels of carbon dioxide are making ocean waters increasingly acidic. Ocean acidification can be further impaired by runoff and nutrient influx from land. According to the National Oceanic and Atmospheric Administration (NOAA), each year the ocean absorbs approximately 25 percent of all the CO2 emitted by human activities, and ocean acidity has increased by about 30 percent since the beginning of the Industrial Revolution. The current rate of change of ocean acidification is faster than any time on record and 10 times faster than the last major acidification event 55 million years ago.

The Atlantic Ocean along the Northeast U.S. shore has the potential to be especially vulnerable to acidification because carbon dioxide is most soluble in cold water and the Northeast is subject to increasingly intense rain events leading to more intensive runoff. Still under scientific study, it is believed that ocean acidification could have an adverse impact on the marine fisheries industry.

New York's marine resources are critical to the state's economy, supporting nearly 350,000 jobs and generating billions of dollars through tourism, fishing and other industries. More than 500,000 anglers in the region will reap the benefits of this initiative, supporting the region's growing marine economy which accounts for approximately 9.7 percent of Long Island's total GDP.

Assemblyman Steve Englebright, Chair of Assembly Committee on Environmental Conservation, said, "One of the primary reasons I drafted this legislation is that we have a responsibility to prepare for the impacts of climate change, and that includes the impacts on the ocean. With millions of New Yorkers living near the coast, this Task Force has some important work to do. Like climate change, the process of ocean acidification is invisible. The work of the Ocean Acidification Task Force will bring the magnitude of this threat into plain sight and help us develop strategies to mitigate and adapt to ocean acidification. I am confident that the Task Force participants will be up to the challenge and look forward to seeing their findings."