Friday, August 16, 2013:
(MINOR BEACH BUGGY UPDATE: I have never ever gotten so many calls, emails and Facebooks asking about the status of the front beaches for buggies. Please believe me when I say – on the behalves of Island municipalities – that there are tricky last-minute beach tweaks needed to give the final OK – and offer the permits.
I will go out on a limb by highly unofficially saying that it seems towns are amenable to buggyists this fall. Still (!), beach entrances/exits must pass muster, legally, before the final go-aheads are given. Those access/egress points are a real question mark in Surf City where final crossovers are just being begun by the Army Corps. And there are also some erosion problems in a few parts of Long Beach Township, Beach Haven and Holgate. However, those are nothing we haven't seen many times in the past.
Holgate is quietly hopeful, as the NJBBA helps the refuge place boundary markers.)
Note: Not that anyone has to be told this, per se, but it has been a beyond-average bitch getting on LBI in the morning. It has little to do with the Causeway construction. Folks are day-hopping and weekend warrioring like never before. I just bring this up to remind anglers heading for charters and headboats to get a huge head start. Same goes for beachgoers. Either arrive pre lifeguards or have plenty to do when waiting in line -- starting as far away as west Manahawkin.
Run-down: It's what might be called ongoing gorgeousness. Though some very unstable tropical air looked as if it would play weekend spoiler, but the saucy system to the south seems to be losing steam – which might give us a decentish weekend after all, showers notwithstanding.
The current cool night air will surely spark the fluke bite, mainly near the inlets. However, you can't rule out good to very good fluking at all common flattie locales, bayside (even west).
Speaking of fluke, the really big ones being caught in the ocean continue to regurgitate sand eels, likely scarfed up closer to the beach. That might suggest a slight switch to darker GULPS and other sand eel lookalikes.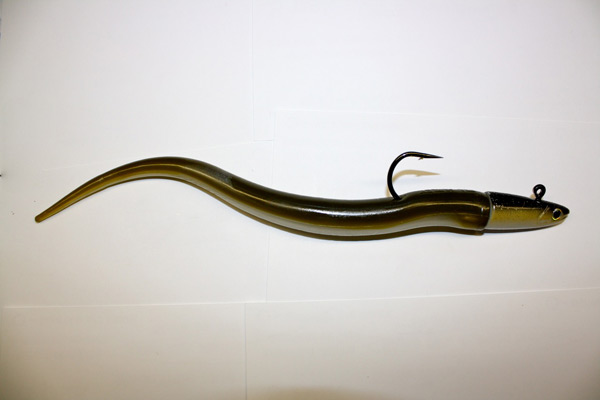 While it's always a good strategy to go with larger baits when trying to single out doormats – from loads of little stuff – I had two emails about 5-pound fluke going for more subtle offerings, including a half-ounce Spro with squid/spearing being used (because of a slow drift) that won over a 5-11 fluke, with nothing in its belly when cleaned. I always note that fluke are violent regurgitaters when hooked. In deeper water, they'll offload everything they've eaten when being fought; then, when being cleaned later, it seems they were starving. Not likely. There are no starving fluke anywhere, unless sick. If they run out of readily available forage they'll gladly dine on their little ones.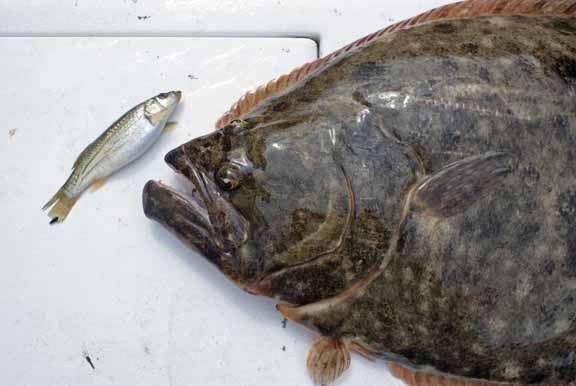 Blowfishing remains insanely good once they're chummed up to an anchored boat. I did get a bit of a chuckle when a relative newbie to chumming asked what he was doing wrong, having chummed "twenty bucks worth of chum for squat." I just happened to ask about how his chumline looked behind the boat. "It was hard to follow. We kept drifting away from it." Gospel truth. I explained the anchoring prerequisite and he was all gung-ho to grab another twenty bucks worth of chum. It must be nice to have chum money at one's beck and call. I had written about this same (very nice) fellow last spring. He had bought a new Lexus for his daughter's graduation – from frickin' high school!
((((((((((((((((((((((((((((((((((((((()))))))))))))))))))))))))))))))))))
SEAFOOD.COM NEWS
The operator of the dragger F/V Norseman and an associated fish dealer pleaded guilty Thursday in federal court in Central Islip, N.Y., to federal violations stemming from their role in systematically underreporting fluke (summer flounder) that was being harvested as part of the federal Research Set-Aside Program, the Justice Department's Environment and Natural Resources Division announced.
Charles Wertz Jr., a commercial fisherman from East Meadow, N.Y., pleaded guilty to one count of wire fraud and two counts of falsification of federal records for knowingly submitting 137 falsified dealer reports from May 2009 through December 2011, and 70 falsified fishing logs, known as fishing vessel trip reports (FVTRs), from May 2011 through December 2011, as part of a scheme to defraud the United States of overharvested and underreported fluke. The fish dealer, C&C Ocean Fishery Ltd., pleaded guilty to one count of wire fraud and three counts of falsification of federal records for its participation in the scheme, which included aiding and abetting the submission of falsified dealer reports and FVTRs.
As part of the plea deal, the defendants agreed to pay between $480,000 and $516,000 in combined fines and forfeitures. The defendants also agreed to multiple sentence conditions, including relinquishment of federal fishing permits, a ban on participation in the Research Seat-Aside Program, divestiture of any interest in the F/V Norseman, and shutting down the company, C&C Ocean Fishery Ltd. The court will hear sentencing recommendations at a hearing set for Nov. 22, 2013.
"Protecting the integrity of the Research Set Aside program supports the goal of ensuring sustainable fisheries for future generations," said Robert G. Dreher, Acting Assistant Attorney General for the Justice Department's Environment and Natural Resources Division. "When individuals like the defendant willfully defraud the government in order to turn a larger profit for themselves they are also cheating their fellow fishermen who choose to play by the rules. Today's plea demonstrates that we will hold those who break the rules accountable and make sure that this valuable resource remains available to everyone."
"Our office takes these violations very seriously," said Logan Gregory, Special Agent in Charge of the National Oceanic and Atmospheric Administration (NOAA) Office of Law Enforcement's Northeast Division. "This type of illegal activity has a ripple effect on seafood markets and impacts fishing communities by driving down the price of fluke which reduces the potential profits of fishermen and dealers who abide by the regulations. We hope the outcome of this case deters others from coming up with similar schemes to circumvent federal fisheries laws and regulations and from gaining an unfair advantage over those who comply with the regulations."
Under NOAA regulations, all of the Norseman's catch had to be reported to NOAA on FVTRs. During the years 2009, 2010, and 2011, the Norseman principally targeted fluke. However, on multiple occasions the vessel exceeded its relevant federal and New York State quotas for fluke for 137 trips, totaling 86,080 pounds of fluke worth approximately $200,000.
In order to cover up the illegal fluke harvesting, the operators of the Norseman falsified the FVTRs that were submitted to NOAA. For each of the 137 trips, a false FVTR was submitted. During 2009 and 2010, another individual submitted the false FVTRs, but by May 2, 2011, Mr. Wertz was falsifying and submitting the FVTRs himself. The defendants were aware that the FVTRs were utilized by NOAA as part of the administration of its statutory-mandated fisheries management program.
C&C Ocean was not only aware of the false Norseman FVTRs, but it aided and abetted the perpetration of the FVTR scheme through its preparation of federal dealer reports. As a federal dealer, C&C Ocean was required to prepare and submit federal dealer reports to NOAA. The dealer reports include information such as date of landing, port of landing, catch vessel, corresponding FVTR numbers, commercial grade, species, price, and weight. In order to cover up the overharvesting that occurred on the water, C&C Ocean's dealer report had to match the catch data that was submitted on the corresponding FVTR. In other words, if the FVTR falsely underreported the Norseman's catch of fluke, then the scheme would likely be detected unless the corresponding dealer report was similarly falsified. Both defendants prepared and submitted false dealer reports for each of the trips set forth in the table.
The defendants electronically submitted the 137 false dealer reports from Wertz's desktop computer in New York, through an out-of-state internet server, to NOAA's Regional Fisheries Administrator in Gloucester, Mass.
The case was investigated by agents of NOAA's National Marine Fisheries Service, with assistance from the New York State Department of Environmental Conservation Police. The case is being prosecuted by Christopher L. Hale of the Justice Department's Environmental Crimes Section, Environment and Natural Resources Division.
((((((((((((((((((((((((((((((((())))))))))))))))))))))))))))))))))
SEAFOOD.COM NEWS [Seafoodnews.com] - August 16, 2013 - S RELEASE
At a House Natural Resources Committee hearing last month, Congressman Frank Pallone, Jr. (NJ-06), expressed his strong opposition to offshore oil and gas drilling in the Atlantic Ocean to Secretary of the Interior, Sally Jewell. Pallone, a senior member of the committee, urged the Department of the Interior (DOI) to consider abandoning any plans to drill in the Atlantic.
The DOI is currently deciding whether seismic airgun testing should be allowed to search for offshore oil and gas in the Atlantic Ocean. As the first major step toward offshore oil and gas drilling in the Atlantic, the proposed area for seismic airgun testing spans seven states from Delawareto Florida. Seismic airguns are towed behind ships and shoot loud blasts of compressed air through the water miles into the seabed to search for oil and gas deposits. These airguns make intense pulses of sound, almost as loud as explosives, every ten seconds, 24 hours a day, for days to weeks on end.
Pallone challenged Secretary Jewell on the environmental review that the Department is carrying out to determine if such testing will hurt marine mammals and interfere with fishing.
"The Department's draft Environmental Impact Statement (EIS) estimates that 138,500 marine mammals will be injured or killed by this testing over the course of eight years and over 13 million more disturbed," said Pallone. "Yet, the National Oceanic and Atmospheric Administration (NOAA) is currently working on developing new acoustic guidelines for assessing the effects of sound on marine mammals that are likely to increase the current estimates for disturbances to vital behaviors of marine mammals. It would seem that these new guidelines would be very relevant to the final EIS your department is compiling. Since any Final EIS that does not include these new acoustic guidelines would be severely flawed, will you commit to waiting until these new guidelines are published and finalized before issuing a Final EIS on this matter?"
The Secretary said that she would consider Pallone's request to postpone the Final EIS, review the matter, and get back to the Congressman.
Pallone also asked why the negative impacts of seismic testing had only been investigated for marine mammals. He suggested that fish would also be impacted.
"Commercial and recreational fishing off the mid- and southeast Atlantic generates $11.8 billion annually and supports 222,000 jobs," said Pallone. "Meanwhile, airgun noise has been demonstrated to depress catch rates of several commercial fish species by some 40-80 percent. For this reason and others, the Mid-Atlantic Fisheries Management Council has formally objected to DOI's plan to open up the Atlantic to seismic exploration. And yet you haven't done anything in the Draft EIS to reduce harm from seismic exploration to fish and fisheries. What am I supposed to tell the fishing community in my state?"
The Secretary responded that she was not certain as to why the impact of fisheries was not taken into consideration but would consider the issue and respond with more details.
((((((((((((((((((((((((((((((((((((((())))))))))))))))))))))))))))))))))))))
Warming oceans could hold untold horrors:
http://www.youtube.com/watch?v=Lz7GApYOZsE
While 12-year-old Zachary Reyna fights for his life against a brain-eating parasite, the Florida Department of Health has issued a warning for swimmers.
High water temperatures and low water levels provide the perfect breeding ground for this rare amoeba, called Naegleria fowleri, officials said. They warned the public "… to be wary when swimming, jumping or diving in freshwater" with these conditions.
Zachary's family told CNN affiliate WBBH-TV that the boy was kneeboarding with friends in a water-filled ditch by his house on August 3. He slept the entire next day.
Zachary is an active seventh-grader, his family said, so sleeping that much was unusual. His mother took him to the hospital immediately. He had brain surgery, and doctors diagnosed him with primary amoebic meningoencephalitis, according to WBBH. The family said he is currently in the intensive care unit at the Miami Children's Hospital.
The Centers for Disease Control and Prevention said it has been in touch with Zachary's doctors and has released the same experimental anti-amoeba drug used to treat 12-year-old Kali Hardig recently in Arkansas. The Arkansas girl is only the third person in the last 50 years to survive this deadly parasite.
Zachary's family is hoping he becomes No. 4.
"He's strong," his brother, Brandon Villarreal, told WBBH. "He's really, really strong."
Getting Naegleria fowleri is extremely rare; between 2001 and 2010, there were only 32 reported cases in the United States, according to the CDC. Most of the cases have been in the Southeast.
The cases are nearly always deadly, but Kali's condition is giving the Reyna family some hope.
The Arkansas girl was infected with the same parasite a couple of weeks ago and was in the intensive care unit at Arkansas Children's Hospital in Little Rock.
She is in rehab, which is "really a great sign for her," hospital spokesman Tom Bonner said Tuesday. She is listed in fair condition.
Kali has shown so much progress that she can now sign her name, her mother, Traci Hardig, told Bonner. Kali can't talk yet because of a sore throat from the breathing tube and the general grogginess she feels from medication, Bonner said.
Naegleria fowleri is found in hot springs and warm freshwater, most often in the Southeastern United States. The amoeba enters the body through the nose and travels to the brain. There is no danger of infection from drinking contaminated water, the CDC said.
"This infection is one of the most severe infections that we know of," Dr. Dirk Haselow of the Arkansas Department of Health told CNN affiliate WMC-TV about Kali's case. "Ninety-nine percent of people who get it die."
Dr. Sanjiv Pasala, one of Kali's attending physicians, said doctors immediately started treating the girl with Impavido, an experimental anti-amoeba drug they received directly from the CDC. They also reduced the girl's feverish body temperature to 93 degrees. Doctors have used that technique in some brain injury cases as a way to preserve undamaged brain tissue.
Several weeks ago, doctors checked the girl's cerebral spinal fluid and could not find any presence of the amoeba.
Willow Springs Water Park in Little Rock is the most likely source of Kali's infection, the Arkansas Department of Health said. Another case of the same parasite was reported in 2010 and was possibly linked to Willow Springs, a three-acre sand-bottom, spring-fed lake.
"Based on the occurrence of two cases of this rare infection in association with the same body of water and the unique features of the park, the ADH has asked the owner of Willow Springs to voluntarily close the water park to ensure the health and safety of the public," the health department said.
Willow Springs' website says its water is pH-balanced, chemically treated, chlorinated and routinely monitored by the health department.
The first symptoms of primary amoebic meningoencephalitis appear one to seven days after infection, including headache, fever, nausea, vomiting and a stiff neck, according to the CDC.
"Later symptoms include confusion, lack of attention to people and surroundings, loss of balance, seizures and hallucinations," the agency website says. "After the start of symptoms, the disease progresses rapidly and usually causes death within one to 12 days."
Here are some tips from the CDC to help lower the risk of infection:
• Avoid swimming in freshwater when the water temperature is high and the water level is low.
• Hold your nose shut or use nose clips.
• Avoid stirring up the sediment while wading in shallow, warm freshwater areas.
• If you are irrigating, flushing or rinsing your sinuses (for example, by using a neti pot), use water that has been distilled or sterilized.