(I might be adding to this overt the weekend. If i do I'll "Share" to repost.)
Friday, August 07, 2020: Ready for another hoppin' weekend. Come on, get in the spirit of one of the busiest LBI summers since summers were invented. More than ever, folks are swarming here in something closely akin to a last hurray before fall closes in with more uncertainty than a hurricane's path – though maybe I shouldn't even make a mere mention of a 'cane, not the way this year is going.
For the umpteenth week – and hopes of many saving a life – I implore all ya'll to drive like lives matter. I've had it endlessly confirmed that there has never been a bicycling summer like this. Many bike shops are out of inventory. Fra more obvious is the insane presence of pedalers, especially those darkly traveling after dark. We've not in so much a motoring hurry that we can't slow down when seeing dark forms up ahead.
STORMY LOOKBACK: Reflecting on the 100-mph-plus wind readings in Beach Haven, Surf City and (unofficially) the Bonnet Islands, there is some compelling evidence those readings were in the area of tornadic winds, maybe call them twister-enhanced winds. That means they were far more powerful than the strongest winds the tropical storm has to officially offer.
A cyclone's winds are measured as sustained and gusts. Sustained winds are universally identified as winds lasting ten minutes or longer 33 feet from the ground. Gusts measurements are "sudden increases in winds" lasting 20 seconds or less, mainly less, at three meters (33 feet) above the ground.
Tornadic winds on the lower end of the zero to five Enhanced Fujita Scale, EF0, roughly top out at 85 mph. The next lowest level in the scale is EF1,which can host winds as high as 110 mph. That would place LBI's wind surges (can't call them gusts, per se) in the EF1 category.
A complex wind scenario can arise when sustained winds and gusts combine with the swirling action of an F0 tornado. This interplay could also account for high winds speeds -- though the 107-mph speed recorded in Beach Haven still presents as a rain-wrapped F1 tornado.
As might be expected, rain-wrapped funnel clouds aren't always visible. That said, I received a communique -- which I posted in my last blog -- indicating folks on Cedar Bonnet Island saw the tornado. I'm hoping someone got a photo of it.
Might that observed tornado have been a waterspout coming off the bay? Absolutely. A waterspout is simply a tornadic vortex over the water, though it is often a thinner more concentrated funnel, darkened by water being drawn into it.
I have doubts that those 107-mph winds and a possible F1 twister covered much ground. Most of the widespread damage indicated enhanced gusts closer to 70 to 80 mph, which was still far above the storm's sustained winds, which were 50 mph or lower.
The storm's damage, mainly downed trees and power lines, seemingly exceeded that expected from the sustained wind speeds and gusts. We've had multiday nor'easters with winds that hard. It was highly likely those two wind events from last month – with winds of 91 mph (derecho) and 80 mph (storm cell) -- weakened poles and trees. Though, as noted, there sure seemed to be a cluster of tornadic wind events that had their way with many grounded objects.
(DERECHO: A line of intense, widespread, and fast-moving windstorms and sometimes thunderstorms that moves across a great distance and is characterized by damaging winds.)
Might we now we very unstable for any other wind events? Let's just say you might want to do a property check on any large nearby trees. In fact, the electric company is requesting folks report any unstable utility poles, though it will obviously be a while before they can check them out. Also, keep those generators handy – and maintained. If you used one, it needs a rubdown and, if unused since Sandy – until this storm – a very close look-over before storing away.
WHO PAYS: I'm putting in the following excerpt from litigationguide.com. It gives a very general overview of an issue that might hit very close to home – and your vehicles -- regarding who pays if your house is rudely visited by a falling utility pole. I need to emphatically point out, after making a call to a real estate lawyer buddy, it is NOT always a slam-dunk that a utility company will readily foot the bill, especially in the case of vehicles parked in road, i.e. public domain, where there is no expectancy of safety from utility poles.
Per the Litigation Guide: "Negligence by a utility company may cause extensive damage to your property. If so, the utility company may be held liable. Each state has laws regarding whether or not a utility company can be sued for damages, but most states require the utility to take responsibility and pay for damage caused."
Speaking of the expectancy factor, folks living on the previously mentioned Bonnet Islands – along with Mud City further west -- have astutely learned to move their vehicles to safer/higher grounds in the face of an arriving storm. They, in particular, know that making repeated claims is problematic but can be a lengthy procedure – especially after, say, the third such loss-of-vehicle claim.  
Obviously, trees on your property are fully your responsibly, in as much as most insurance plan deductibles leave removals and minor building repairs firmly in your wallet's domain. Having friends living in forested places, I understand that a post-storm tree check walk-about is imperative.
BRIDGE HIKES: To keep the old legs in good working order, I've recently been doing almost daily over-and-back Causeway hikes, camera at the ready. I wouldn't mind my walkabouts into jogabouts but that's tough with a camera – which I refuse to leave behind with my truck in Ship Bottom. The one time I don't take it something amazingly photogenic will jump out, though even mundane things make fun photos. Below are just a few of a slewful of everyday shots I've captured along the way.
BELOW: About as plein as it gets ... "Hey there." 
BELOW: There was a crooked walker who walked a cooked ... 
ABOVE: Getting all their geese in a row.
ABOVE/BELOW: Is the Duchmans really going to balance atop those?!
Bottoms up ... at Dutchmans. 
Below: I guess this is just as good as a tow line ... 
Below: The first clouds showing from TS Isaias . 
BELOW: Always time for a bit of a Boatyard buzz ...
FLASHBACK OUT OF THE BLUE: This would appear to be nothing more than a paved stretch of secondary roadway adjacent to the Causeway on Bonnet Island. But, as I walked it last week, the oddest recall swept over me, almost as if the road was talking to me. The piece of asphalt on which I stood was the exact piece of roadway my family and I drove to reach the Island over 6 years earlier -- with more excitement in the car than I could take.
For those who might not grasp this reminiscence, this is a piece of archaic Causeway that once held wooden draw bridges. I got a little chocked up --- though that might have been a stray bug or two as I continued my walk to Manahawkin and back. Also, I imagine you had to have been here back then to fell the full weirdness factor. 
(((((((((((((((((((((((((((((((((((((((((((((((((((((((()))))))))))))))))))))))))))))))))))
We are Barnegat residents and were encouraged by a local to send this photo of a fluke we caught this morning off the beach on East Colorado Ave (Near Nardis). It was a whopping 22 INCHES!!!! 
It has been such an excellent season for fishing in beautiful LBI! Just thought we'd share this awesome news! 
Kindest regards, 
******************************************
Jim Hutchinson Sr.:
After a couple of days of rough ocean conditions following the hurricane, the captains of the Beach Haven Charter Fishing association are ready to get back to work. 
The strong winds and big waves stirred things up quite a bit and dirtied the water for a while, but things are beginning to look much more normal. 
Prior to the storm's arrival, the fishing action on the inshore reefs and wrecks was at a high level. The Starfish" with Captains Carl Sheppard and Vic Bertotti along with mates Max and Matt had many fishing trips with constant action and many keepers. Over the week prior to the storm they were catching black sea bass, sea robins, fluke, weakfish, bluefish, and herring. 
Captain Gary Dugan also was finding good numbers of fluke on area reefs. Captain Gary was quick to praise young Richie Conrad for taking honors on a recent trip with the biggest fluke of the day. 
Captain Brett Taylor of Reel Reaction Sportfishing managed to make a trip following the storm. He had new client Tom Kelly and his son on a 4-hour bay trip. The water was dirty, but the guys jigged hard to release 23 fluke and put 8 quality fish in the box-an excellent result considering the conditions. The SS Bigeye tipped with natural baits was the key to catching fish. 
Additional information on the Beach Haven Charter fishing Association can be found at www.bhcfa.net
**********************************************
DEP Cites Illegal ATVs - More Needs to be Done
A total of 13 ATVs and dirt bikes were impounded as the NJ Fish and Wildlife Conservation investigated illegal off-road vehicle use in the Greenwood Forest Wildlife Management Area in Ocean County the weekend of July 25th. Owners of the impounded ATVs and dirt bikes will face fines starting at $274 and impound, towing, and storage fees of at least $300.
"The state of New Jersey has allowed illegal ATV use to destroy and damage our forests and public lands for far too long. Finally, they took action. They impounded a total of 13 ATVs and dirt bikes in one weekend in the Greenwood Forest Wildlife Management Area. This is just one area. There have also been a lot of violations in Wharton and Stafford and other areas of the Pinelands. The fact that they caught 13 people in one weekend in one spot shows just how many violations are happening each month," said Jeff Tittel, Director of the New Jersey Sierra Club. "The state needs to do more to stop illegal ATVs because they damage the environment and threaten public safety. We need tougher laws and a real plan to stop illegal operation of ATVs, especially in environmentally-sensitive areas like the Pinelands."
The DEP announced that they were creating a plan to deal with off-road vehicles in Wharton State Forest in 2016, but they have done nothing since. Their plan included increased enforcement, increased signage, and repairing the forest's sand and dirt roads. Motorized use would be restricted in certain environmental areas that have sustained too much damage. 
"We have been trying to get the DEP to implement a plan to limit ATVs in Wharton State Forest for years. They talked about creating a plan in 2016, but nothing has happened and damage is still taking place from illegal ATVs. They need to create a real plan that closes off environmentally-sensitive areas by using barriers to stop ATVs. It needs to include real enforcement, funding for education for ATV riders on what they can and can't do and the consequences of breaking the rules," said Tittel.
In the past New Jersey allowed ATVs to be used legally in parks causing a lot of damage. Years of ago they allowed for a one day ATV rally in Allamuchy Park years causing $60,000 work of damage. Sierra Club studies in other states have showed that legal ATV parks increase illegal ridership in the areas. 
"Enforcement of illegal ATVs is critical because they can cause serious damage to the environment. ATVs destroy wetlands and streambeds and trample small plants. They can damage rare plant and animal species found in the Pinelands and other areas of the state. They kill endangered pine snakes and endangered pitcher plants, swamp pink, and other endangered species. The siltation and runoff alone hurts water quality and makes it harder for trout to lay eggs. These vehicles not only disrupt important natural habitats, but they contribute to air pollution as well," said Tittel. "We need the state to step up and take action to stop illegal ATV use. These vehicles are a scourge and there needs to be enforcement and a real plan to deal with this problem."
Earlier this year, Governor Murphy signed a law that revised certain penalties for illegally operating snowmobiles, all-terrain vehicles, and dirt bikes on public streets, highways, and rights of way in violation of existing laws. However, we need stricter laws and more enforcement, especially to protect the Pinelands and other environmentally sensitive areas in New Jersey. 
"New Jersey needs to do more to stop illegal operation of ATVs and dirt bikes because they pose a serious safety threat as well as damaging the environment. People are getting killed or hurt by illegal ATV drivers, and the drivers are getting hurt as well. If an ATV driver is illegally riding in the forest and is involved in an accident, they may not be found immediately. DEP needs to be impounding more vehicles. They also need to block trails, especially in areas like Wharton and Stafford and other places where there are a lot of violations in the Pinelands," said Jeff Tittel, Director of the New Jersey Sierra Club. "We need the state to enact tougher laws and put together a real plan of action to stop illegal ATVs from hurting people and the environment."
NJ and MA Members of Congress Request More COVID-19 Relief Assistance For Nation's Fishing Industry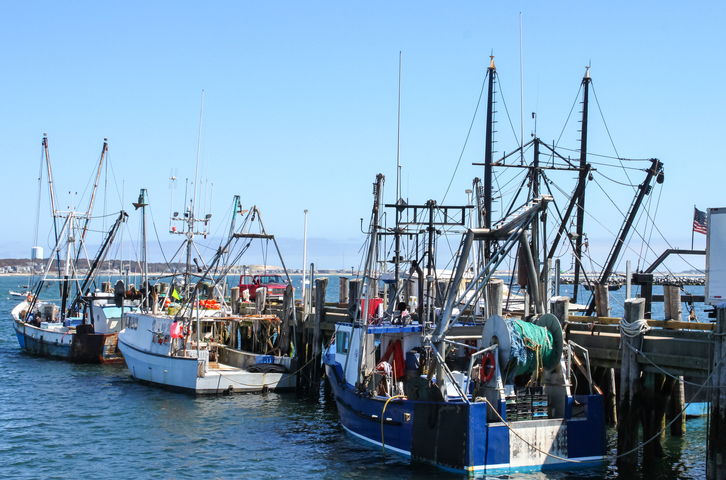 Members of Congress from New Jersey and Massachusetts have sent letters to Speaker of the House Nancy Pelosi requesting assistance for the nation's fishing industry in the upcoming COVID-19 relief package. 
"New Jersey was among the hardest and earliest hit states by the pandemic and continues to have one of the highest counts of COVID-19 cases in the nation," reads a letter from NJ's representatives, including Frank Pallone, Jr. and Andy Kim. "The pandemic arrived in New Jersey at the start of the critically important Striped Bass and Black Fish season, leading to devastating results for our fishing industry. With bipartisan support, Congress has already acted once to deliver $300 million in aid targeting fishing communities throughout the country. Congress must act once again to save this vital industry and protect those in our state and across the country who rely on it."
The $300 million in fisheries assistance funding was part of the CARES Act, which was passed in March. However, it wasn't until early May that the allocations were released by NOAA. New Jersey was allocated $11,337,797, however according to the Atlantic States Marine Fisheries Commission, none of that money has been made available yet. 
As for Massachusetts, their Division of Marine Fisheries announced earlier this week that they have just begun the process to distribute federal disaster relief aid. The state was awarded $28,004,176.
Massachusetts Members of Congress Joseph P. Kennedy, William R. Keating and Seth Moulton are urging that at least $1 billion in fisheries assistance is included in the next pandemic package. 
"The CARES Act provided $300 million in fisheries assistance, an important start but insufficient to address the magnitude of the challenges faced," explains the letter to Pelosi. "We respectfully request Congress include at least $1 billion in fisheries funding in the next relief package. In offsetting some of the massive fishery losses caused by the pandemic, these funds will help the thousands of Tribal, subsistence, commercial, and charter fishery participants fighting to stay in business. It will also ensure Americans have continued access to a wide array of nutritious seafood products."