***************************************************************
Above: See https://www.facebook.com/travis.benintendo/videos/pcb.2470433226417...
December 23, 2019: Well, it looks like the way-back prediction that Christmas would come in like a lamb is playing out. For this entire week, temps near or above 50 will carry carols. That isn't the worst thing to many kids who'll get gifts that demand some immediate outdoor time to break things … I mean to break in things.
There has been a decent spattering of surfcasters plugging and jigging. I know of one throwback taken toward the south end. It went for a teaser.
I got a few throws in today, though gathering Christmas clams was the main time consumer, followed by finally getting around to some gift buying. Ocean conditions are excellent for surfcasting and boat fishing. I took a 49-degree water temp, Holgate. However, readings there can be all over the board.
Saw no seals despite advisories that they're moving in. See below for MMSC notification regarding seals.
No snowy owl. There are a decent number of birders making the hike down to the Clam Trail, the last place that big male snowy was seen. Not much of an avian nature out there, short of forever flittering snow bunting.
Pre-Christmas surprises await along Jersey Shore beaches - makes me feel like a little boy opening presents under the tree! Merry Christmas and Happy Hanukah to all!
*****************************************************************************
NO MORE CHRISTMASSES! 
Move over Scrooge. Take a backseat Grinch. Stand down Bill Murray. None of you bah-humbugger curmudgeons can hold a bayberry candle to the prissy Puritanical leaders of the Massachusetts Bay Colony. Throughout a big chunk of the 1600s, they banned Christmases. More exactly, they outlawed it, levying a nasty five-shilling fine upon anyone caught celebrating the suddenly former holiday in any, way shape or form.
Lest you think I jest, read the exact language from that colony.
"For preventing disorders arising in several places within this jurisdiction, by reason of some still observing such festivals as were superstitiously kept in other countries, to the great dishonor of God and offence of others, it is therefore ordered by this Court and the authority thereof, that whosoever shall be found observing any such day as Christmas or the like, either by forbearing of labor, feasting, or any other way, upon such accountants as aforesaid, every person so offending shall pay of every such offence five shillings, as a fine to the county."
Below: Nope.
Below: Far more like it ...
BUSTED!!!!!
Oh, no. Even the seals got popped!
So, how did one of the most significant Christian holidays come to be persecuted in the earliest days of America? It all began with the beginnings, most notably the early rationale behind fourth-century church officials deciding Christmas should fall on or around December 25. That choice of days was all about conversion; no birth of Jesus in the mix.
The Church wanted the newly assigned Christmas day to nicely (and conveniently) align with existing well-practiced pagan festivals, most notably Saturnalia, in honor of Saturn. That day of tribute to Saturn – accompanied by a good deal of partying, if not debauchery – was first celebrated on Dec. 17.  However, the Romans, knowing a good partying time when they saw one, expanded Saturnalia to extend through December 23. In that same time-frame, there was also the nearby celebrating of Mithra, the Persian god of light. Face it, December rocked the Casbah.
By aligning Christmas with known partying times for pagans -- more than any actual and accurate birthday of Christ -- it became easier for Christianity to convince Rome's people to accept Christianity as the empire's official religion.
Why the 25th? To begin with, there was a deemed acceptable 1-in-365 chance of getting the day right. OK, so maybe the date was little more than a shot in the dark of winter. Even if the devised birthday of Christ is wrong, it's the thought that counts, much like gifts given at Christmas. And it hit the mark, gaining so much religious importance that many baptized Christians only attend church that one day a year. It outdoes Easter, which is a far more ecumenical day in scriptural terms.
It should be noted that the Bible makes absolutely no mention of any day being Christ's birthday. In fact, esoteric theologians have long proffered evidence suggesting Christ was born in spring, i.e. a time of year when shepherds would more likely be tending the flocks.
One might ask if they even had birthdays back in Christ's times? Sure. OK, so when did birthdays come forth? When a true-to-time calendar came forth.
Way-early cultures, like the Babylonians, were known to have mighty ingenious astronomical calendars, meaning you might have been born half past a waning moon. Early Egyptians had a dang-accurate calendar, albeit with a law attached to celebrating birthdays: Only the Pharaoh's birthday could be celebrated.
Oddly, his celebration-worthy birthday wasn't even the day he was born into life. Instead, it was when he was born into godliness; the day he became a thought-godly Pharaoh. Of party history import, the big guy's annual birthday was marked by gifts, merriment and acceptably excessive beer guzzling --accompanied by sporting challenges, like trying back flips of a Sphinx's nose. Gospel truth: In olden Egypt, getting totally blitzed on beer was thought to be the only fully sacred way to acquire religious ecstasy. In fact, heaven help any Egyptian who found to be unplastered. 
It was the arrival of the Roman Julian calendar, introduced by Julius Caesar, that got pretty much everyone on the same page, day-wise. With it came the tradition of marking an exact day, month and year of one's birth. Eventually, all Roman males began doing birthdays, marked by varying degrees of merriment, based on societal rank and access to inebriants.  Most Romans went Egypt with their birthday celebrations.   
At the birth of birthdays, women were left out in the cold. While some might say that reflected the sexist thinking of the day, a strong anecdotal case can be made that woman were indeed included, at first. Then, when men learned the folly of asking a woman how many birthdays she had under her tunic's belt, they quickly discovered it might be prudent, not to mention safer, to just exclude them from the whole birthday counting thing. The gals were quite fine with that … and might still be to this day, if polled.
It's now time to venture back to those seemingly Grinch-like Puritans and the effort to banish Christmas. Their superficial rationale was anchored by the sacrosanct premise that no single day should be any more, or any less, holy in a worship way. Less spoken, but at the base of the ban, was the clear connection of Christmas with those raucous pagan rituals.
It was the Christian carry over from pagan times that had become all too problematical for Puritans. There are many historic documents that indicate Christmas celebrations back then held religiously to the old Roman partying ways.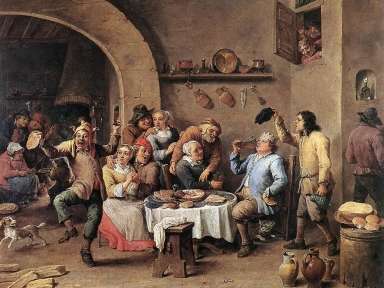 In both Massachusetts and back in the English Motherland, Christmastimes had gotten downright raucous in pubs and homes. The predecessors to our coveted and calming Christmas carols were off-color barroom ballads boisterously sung by one and all -- often accompanied by traditional holiday drums, matched in cadence by fisted tankards being pounded on wooden tables by celebrators. It wouldn't be until 1818 that "Stille Nacht, Heilige Nacht" (Silent Night) could honestly be written by Franz Xaver Gruber and Joseph Mohr.
It was the debauchery aspects of many a Christmas celebration that offered some religious integrity to the Puritan's Christmas ban, which lasted for a goodly number of years. However, by the 1700s -- after much Christmaslessness and countless five-shilling fines (which many a scofflaw saved up for throughout the year) – savvier Massachusetts religious leaders allowed Christmas to again be celebrated … but only until too many neighbors complained about the damn nonstop drumming.
****************************************************
I had a great day of Sea Bass fishing yesterday on the Pension Plan!! Five of us went and we all limited out, catching 75 keeper fish and probably releasing 30 that were also keeper size.
The bite was unbelievable. Capt. Nick Perello put us on fish after fish, all great size, with the smaller ones being in the 2 pound range all the way to over 4 pounders (weighed in at BHMTC).
The crew: Rich and Nick Perello, Cheyne Lenhard, Alex Plick and your's truly.
Thanks for a wonderful Christmas gift Perello family and my family will be thrilled to have fresh Sea Bass for Christmas Eve dinner.
A few calls have come in about seals on the beach or in the water. Please DO NOT CHASE them back into the water if they are on land, as they're ashore to rest, digest their meal, and warm up in the sun. Stay back 150 feet and call us. 609-266-0538. We have volunteers who have taken our stranding training course to check on them. Thank you. ps- NOAA Law Enforcement will be watching for any seal harassment photos on social media. There are fines for interfering with marine mammals.
Cod Could Choke Catch of Other Northeast Fish
Copyright © 2019 Gloucester Daily Times 
By Sean Horgan
December 20, 2019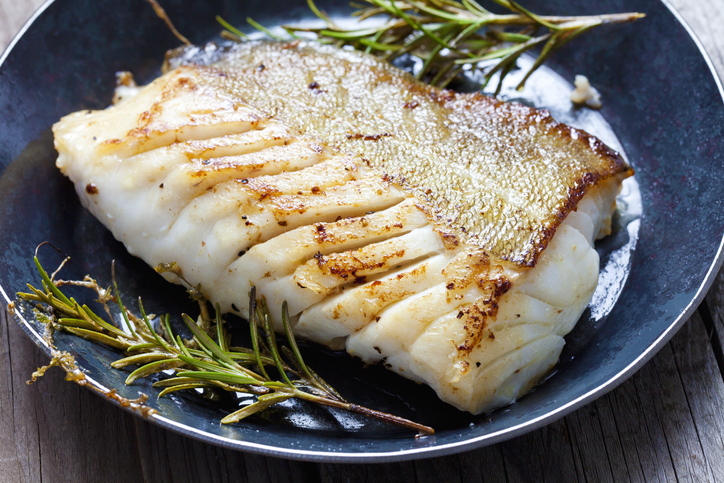 It's been a long road to setting final groundfish catch limits for the next three years in the Northeast Multispecies groundfishery and the journey isn't quite over yet.
The New England Fishery Management Council approved the management framework that sets Northeast multispecies groundfish catch limits for 2020-2022 earlier this month. And local groundfishermen are looking at significant increases in several flounder stocks, American plaice and haddock.
But the state of the cod fishery in the Gulf of Maine and on Georges Bank remains a point of contention.
"Overall, it's pretty rosy," said Jackie Odell, executive director of the Northeast Seafood Coalition. "But the real issue is codfish, with catch limits that are going to be limiting and constricting when fishermen try to target other stocks."
The council approved a 32% cut to Georges Bank cod to 1,073 metric tons per season and slashed the annual catch limit for Gulf of Maine cod by 24% to 275 metric tons per season.
Fishing stakeholders say those cuts reflect the continuing deep divide between what fishermen are seeing with cod on Georges Bank and in the Gulf of Maine and what NOAA Fisheries scientists include in their projections and assessments.
They also say the cuts will make it even more difficult to target healthier stocks without tremendous cod bycatch.
"The real question for us is how is the recreational and commercial fisheries going to stay away from cod and still harvest these other stocks?" Odell said. "How long are fishermen going to have to avoid areas with cod and keep pretending they don't exist?"
Fishing stakeholders, led by the Gloucester-based Northeast Seafood Coalition and the Associated Fisheries of Maine, did carve out a semblance of a victory when they pushed the council to approve the catch limits, but with caveats:
Fishing advocates questioned the council's Scientific and Statistical Committee's methods — known as control rules — for establishing allowable biological catch for four stocks that are considered healthy and where overfishing is not occurring.
The council voted to instruct the SSC to revisit the control rules used to set its allowable biological catch recommendations — a metric used to help determine final catch limits — for Gulf of Maine haddock, Georges Bank haddock, American plaice and pollock.
The council action calls for the SSC to present its revisited recommendations at the council's January meeting in Portsmouth, New Hampshire, but with another caveat: The council will approve whatever the SSC recommends.
"Whatever the SSC decides, the council will accept," said Janice Plante, council spokeswoman. "They'll do it automatically because no one wants to see a delay in the implementation of the framework this close to the start of a new fishing season."
As the catch limits currently stand, commercial groundfishermen are looking at double-digit increases in annual catch limits for Cape Cod/Gulf of Maine yellowtail flounder (73%), American plaice (79%), witch flounder (53%) and Georges Bank yellowtail flounder (12%).
Beyond cod, they are — pending the SSC review — looking at a 53% reduction in Southern New England/Mid-Atlantic yellowtail flounder, a 33% reduction in Georges Bank winter flounder, a 19% reduction in Gulf of Maine winter flounder, a 26% reduction in white hake, 63% reduction in pollock and a 40% reduction in Gulf of Maine/Georges Bank windowpane flounder.
Pending the SSC review, they are looking at a 16% reduction in Gulf of Maine haddock. Odell, however, said she expects the council to ultimately increase the catch limit for that stock.
Study: Americans Looking For Healthier Food Choices to Help Mind and Body
December 20, 2019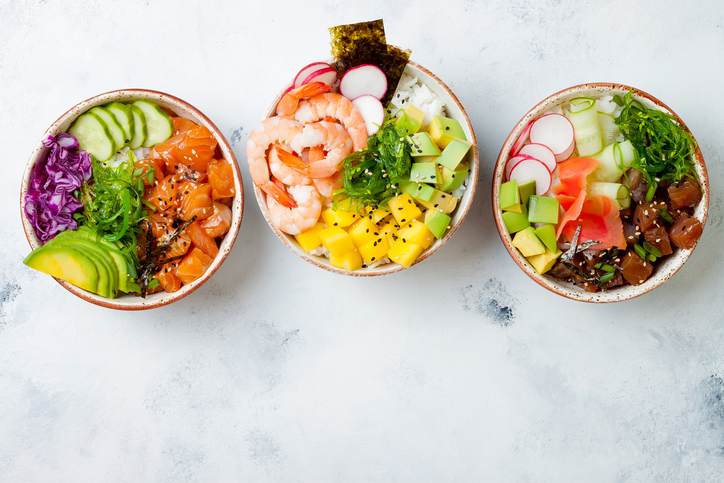 Americans are always looking for healthier food options, but according to a new study from Nielsen, Millennials have different views about what eating healthy means.
For Millennials, eating healthy is not just about nutrition and diet – it encompasses mental wellness, stress management, saving money, and saving time. What a perfect opportunity to push seafood!
Tuna is considered a "top brain food" since it's one of the leanest kinds of fish, offering anxiety support, depression support, brain health, and sleep support. And since tuna is comprised of omega-3 fatty acids, it can reduce cholesterol and help maintain good heart health. Omega-3 fatty acids also help to lower blood pressure, which reduces risk of stroke and heart attack.
Shrimp is also considered a "top brain food" since it's low in fat and high in protein and can aid in anxiety support and sleep support. The antioxidants in shrimp means that it can reduce inflammation and lower your risk for chronic diseases.
Seafood companies can begin to market their products to consumers who have an interest in "mindful food." According to Nielsen, in the past 52 weeks food and beverages that offer anxiety support brought in $50.6 billion in sales, while sleep support brought in $47 billion, depression support $36.6 billion, and brain health $29.2 billion.
Pollution Ranked Number 1 Threat to Seafood by Customers, Strong Support for Ecolabels
Source: Fish Radio with Laine Welch
By Laine Welch
December 23, 2019
This is Fish Radio. I'm Laine Welch – Seafood lovers support well managed fisheries. More after this -
Want to make energy efficiency improvements on your boat?  Check out the Fishing Vessel Energy Analysis Tool online at www.AFDF.org
IMS is offering special discounts on Refrigerated Seawater Systems through the end of the year.  Integrated Marine Systems.  Simple, reliable, built to last.  Visit imspacific.com
Seafood lovers around the world believe that the biggest threat to the oceans is pollution, followed by overfishing. Those are some of the top takeaways from a recent survey of over 25,000 people in 22 countries.
The survey was done by the public opinion research firm GlobeScan for the Marine Stewardship Council.
The non-profit MSC led the movement starting 20 years ago towards certifying fisheries that are managed sustainably. Sourcing seafood from 'earth friendly' fisheries has become a requirement of doing business by most seafood buyers around the globe.
The study found that 72 percent of seafood consumers want sustainability verifications at their supermarkets, but price is still the biggest motivator for buying decisions. A surprising gender divide showed that men are more motivated by price while women regarded seafood sustainability as more important. 
Seventy-two percent also agreed that buying seafood from sustainable sources will help save our oceans; 70 percent said people should switch their purchases to well managed fisheries.
Eighty-three percent of global consumers agreed that seafood needs to be protected for future generations, and 70 percent said they would like to hear more from companies about their sustainability purchasing practices.
In what the survey called "a climate of persistently low consumer trust in business globally," trust in the blue MSC label has remained high at 69 percent, and understanding of the label has increased to 37 percent, up from 32 percent in 2016.
Younger consumers are even more tuned in to choosing sustainable seafood, with 41 percent of 18-34 year olds understanding what the Marine Stewardship Council label means.
That younger group also showed a slightly different profile, eating less seafood on average and worrying more about the effects of climate change on the oceans than their older counterparts.
Alaska uses a Responsible Fisheries Management) model based on the Food and Agriculture Organization of the United Nations for its third party seafood certification.
Global consumers rated certification organizations third for their contribution to protecting the oceans, after NGOs and scientists.
Governments and large companies rated as contributing the least.
U.S. Lawmakers Request Probe on Impact of Illegal Seafood Imports
Copyright © 2019 Thomson Reuters
December 20, 2019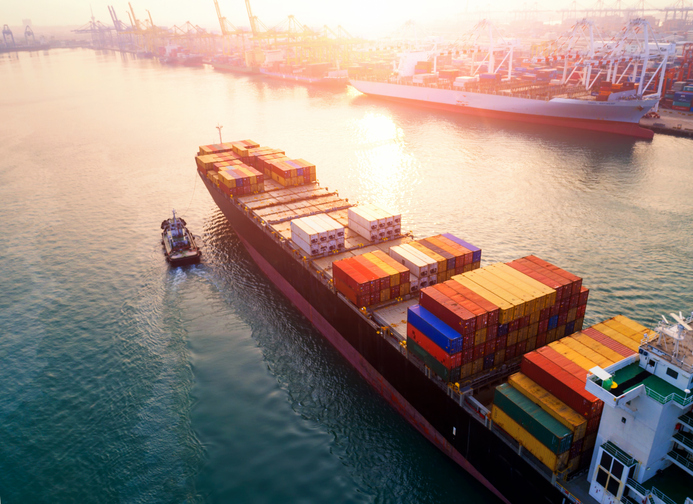 Senior House of Representatives Democrats on Thursday asked the U.S. International Trade Commission to investigate the impact on the economy of "unfair competition" from illegal, unreported, and unregulated (IUU) seafood imports from China and elsewhere.
Such imports account for up to 31% of the global catch of fish, at an estimated value of $23 billion, House Ways and Means Committee Chairman Richard Neal and fellow committee member Earl Blumenauer said in a letter to the ITC.
The request for a probe comes a week after the United States and China reached agreement on a Phase 1 trade deal to defuse trade tensions and scale back tariffs that have been a drag on global economic growth.
"IUU fishing contributes to the overexploitation of fish stocks, threatens the livelihoods of coastal communities, jeopardizes food security, and harms marine ecosystems," the lawmakers said in the letter. It also creates "unfair competition for U.S. fishermen as imports account for 90 percent of U.S. seafood consumption."
Neal and Blumenauer said China, the largest seafood trade partner of the United States, was ranked as "worst among 152 coastal countries based on the prevalence of IUU fishing and the country's response to it."
The lawmakers urged the ITC to investigate the size, scope, supply chains, pricing pressures, and potential economic effects of the problem, as well as details about the prevalence of IUU products in the U.S. import market.
They asked for details on international mechanisms for monitoring and enforcement to address IUU fishing; the size and structure of the U.S. commercial fishing industry; and major global producers of IUU products.
China in August unveiled a draft law to prevent illegal fishing and depletion of coastal fish stocks, calling illegal and unsustainable fishing practices, such as the use of explosives or electrocution, a serious problem.
The ITC, an independent, nonpartisan federal agency, investigates issues at the request of the U.S. Trade Representative, the House Ways and Means Committee or the Senate Finance Committee. Such investigations can be used by the trade representative or Congress to undergird initiatives.
HELP WANTED SECTION: 
More seasonal positions with the Division of Fish and Wildlife!
NJ Division of Fish and Wildlife
Looking for a JOB working with FISH?
The Pequest Trout Hatchery has entry-level openings for Seasonal Fisheries Workers. Workers assist in loading fish stocking trucks, sorting and moving fish within the hatchery, cleaning raceways; light maintenance of equipment and other duties. Applicant should be in good physical condition, and willing and able to work outdoors in all types of weather. Applicant must also possess a valid driver license.