Dolphin basketball team ... 
Below: I think I'd grab a penguin, a whisky sour,
strip bare-ass naked, and walk in all ...
"What the f*** you sellin' here?" 
CAUSEWAY DRIVING SMARTS: Our Causeway has become an example of proactive and preventive policing.
As local drivers have more than passively noticed, Stafford PD frequently has officers-in-waiting at both the east and west bases of the Big Bridge. They're craftily tucked within nonpublic crossover areas. From such secretive vantages their radar easily reaches the crown of the bridge, meaning there's no last-minute deceleration upon spotting the spotters far below. Too fast, you're nailed. Man/woman up.
Stafford's nestled-in officers are not only nabbing many a leadfooted Causeway motorist but, far more significantly, serving as a bad-driving preventative, almost comically so. Driving the Big Bridge, it's now common to see brake lights popping on as savvy motorists routinely slow near the Bridge's peak, knowing what might lurk below. It's a tad Pavlovian since such ingrained slowing happens even when "The Man" isn't in waiting – thus the preventive angle.  
And it's not just the Big Bridge being hawked over by persons in blue. Stafford PD cruisers –SUVs in most cases -- are also habitually awaiting speeders and such on the grassy medians just east of the Big Bridge along with the median strips west of the bridges, all the way up to Route 9.
Below: No, this isn't a map of radar traps, just a look at the current roadwork -- a bitch in its own right. 
While those being nabbed might beg to differ, such an intense presence is generally a win-win-win. Sarah Jackson, Santa Cruz County California Highway Patrol, encapsulates it nicely. "Whether (motorists) obey the speed limit due to their own good judgment, the avoidance of a citation, or forewarning, the outcome is the same: A safer roadway." 
HIGH BEAM FLASHES: In a very roundabout way, this brings up the question of folks flashing their high beams to alert traffic to an officer hidden up ahead -- an ages old custom, dating back to bootlegging times when lights would be flashed off and on as warnings between moonshine runners.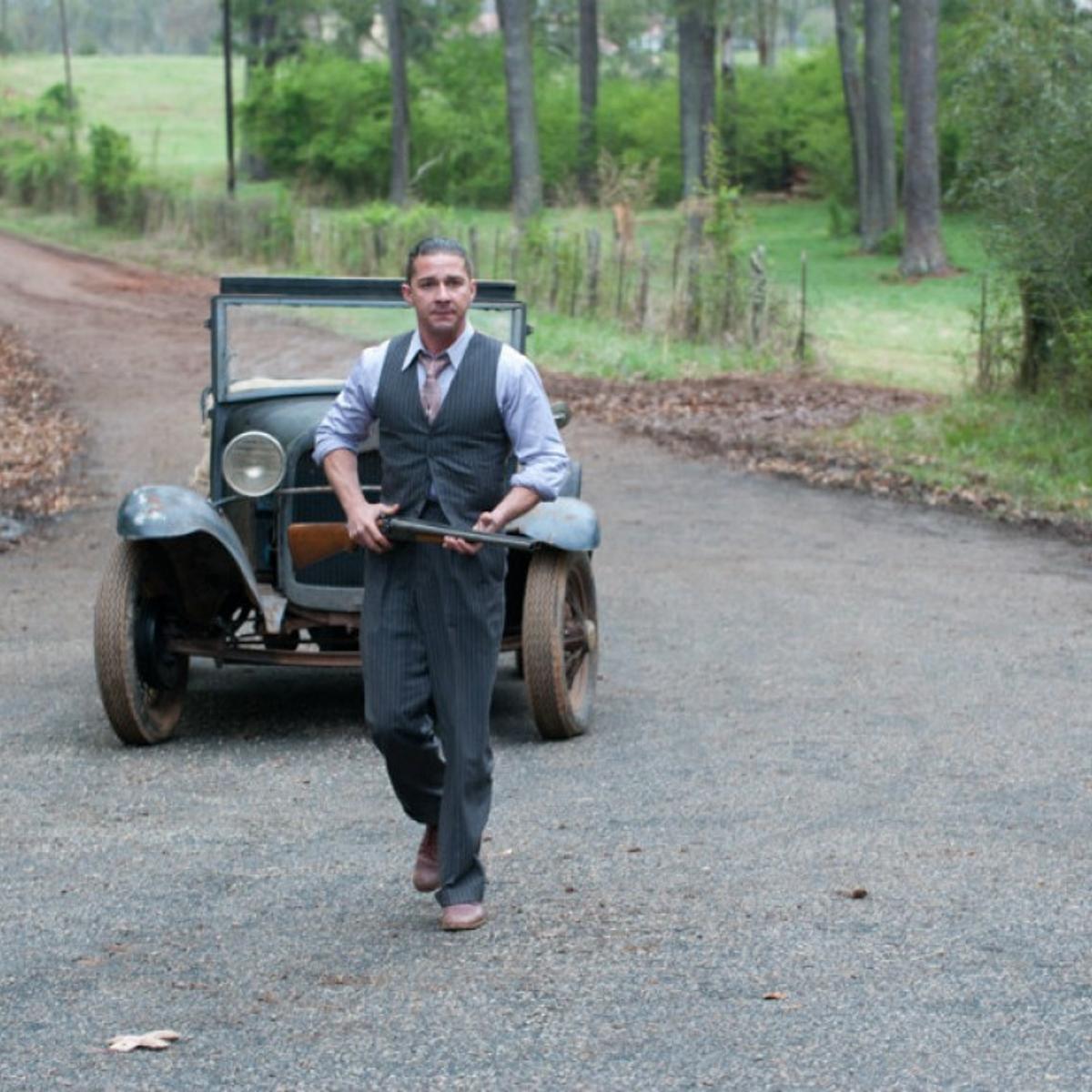 So, is such a seeming flash of kinship among drivers legal in NJ?
Well, the answer might elicit some cop cringes since the practice of flashing high beams is quite legal, possibly under constitutional freedom of expression. Nonetheless, such flashes can be dangerously disruptive for the oncoming flow of traffic unsure what the flash is all about. When I'm flashed, I take my eyes off the road to see if I have my high beams on. Others get a different read and just hit the brakes … that's not a good combination.
If you're willing to take responsibility for the possible outcome of high beam flashing as an alert to cops up ahead, you might want to avoid looking in your  review mirror to see what wreak havoc you have wrought.
TURBINE TALK: I feel the following is worth a read for those following the wind turbine turmoil.
Speaking both sophomorically and metaphorically, it's hard to tell if changes are truly in the wind or if offshore wind farming efforts are closer to pissin' in the wind.
As of this week, coastal NJ politicos are almost unanimously against wind farms, mainly out of fiscal fears that the blemishing of the eastern horizon might be onerous enough to send tourists packing. While such tourism loss is sheer nonsense, when combined with fishing and environmental concerns we might become another Massachusetts, thinking back to 2017.
Below: Rhode Island's functioning wind turbine array, being built, final layout.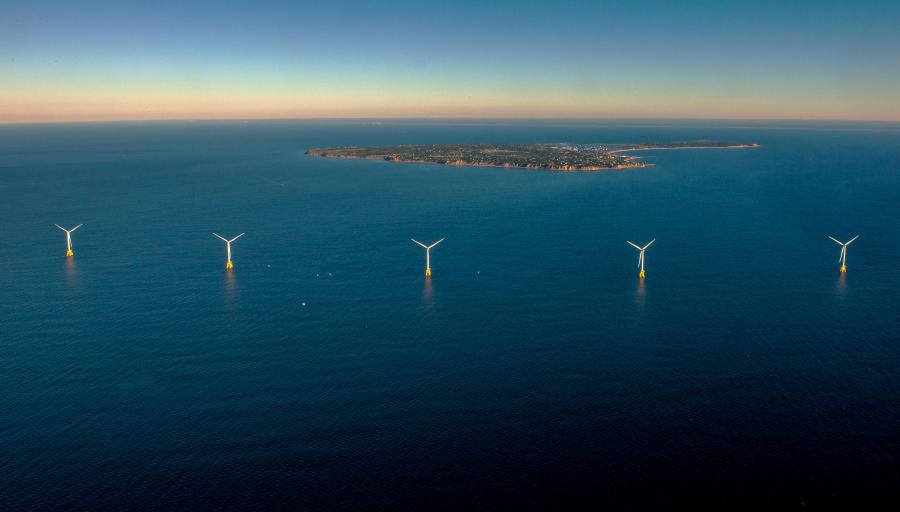 In an article headlined, "US has only one offshore wind energy farm, but a $70 billion market is on the way," – an article essentially hyping the fiscal potential for oceanic wind power -- CNBC recalled a failed 2001 New England windfarm proposal, writing, "Massachusetts has come a long way since the debacle known as Cape Wind, a proposal dating back to 2001 to erect 130 turbines in Nantucket Sound, within eyeshot of Cape Cod, Nantucket and Martha's Vineyard. The project was ultimately scuttled in 2017 following a series of legal and financial setbacks and 'not-in-my-backyard' protests from wealthy homeowners."
Of updated significance is how deep-pocketed people can alter the course of history in a pendulum manner. Where richies beat out the Cape Cod proposal, renewable energy stocks are now doing quite well, heading upward on the wings of some oomph from D.C. That means money might now be talking in a more let's-try-it tone.
"We are in an incredible growth period," Laura Morton, a senior director at the American Wind Energy Association in Washington, D.C., told CNBC, citing a recent white paper from the Special Initiative for Offshore Wind projecting a "$70 billion business pipeline in the U.S. by 2030."
Such rhetoric holds air when coupled with a US Department of Energy prediction that offshore wind could potentially produce nearly twice our nation's current electricity usage – and we're energy hogs.
So, what might come of our coastal contingency of politicians snubbing both Trenton and D.C., as both those governmental hubs bank on wind power to finance the future?
You got me, though I'm nonetheless going whole hog to fulfill my personal ecological and environmental watchdog responsibilities by pondering the prospect of offshore wind farms coming to fruition. In pondering that viable possibility, I'm seemingly a step ahead of many/most, as I gird for any eco dangers that might come ashore. 
The come-ashore aspect is where I've chosen to circle my wagons, standing locked and loaded, ready to target any impacts from the laying of the "shielded cables" that will carry farmed juice. Those cables will be lain across the beach sands of Island Beach State Park, then through the dunes, before emerging to travel across Barnegat Bay, one of the most ecologically sensitive areas in the nation.
How will it be done? Here's the email I sent prime-player, Oersted: "As progress is made toward the windfarm off Atlantic City, I would like some information on the laying of shielded cables across Island Beach State Park and then Barnegat Bay – to Oyster Creek on the mainland. Will there be tunneling or dredging involved? 
I await response. In the meantime, I'm guessing cable placement will entail either a trenching or tunneling action. Then again, the lines might simply be draped across the bottom in a way that might thwart fluke fishing in the vicinity. Whichever, it will surely cause some sort of invasive impacts to the bottom.
Sidebar: A few years back, NJNG tried an allegedly inventive tunneling technique to lay pipes from West Creek to Brant Beach. Well, millions of dollars of tunneling equipment remains essentially trapped halfway across the bay, going nowhere is a very costly way. Fortunately, the equipment is well below the bay bottom surface.
With that ongoing failure in mind, it is most likely the cable crossing would constitute quite a dredging effort, somewhat similar to channel deepening. The big difference is the cables won't follow existing channel patterns. Instead, huge areas of virgin bay bottom will essentially be gouged. Again, that is where eco scrutiny should reign supreme. 
PAYBACK IS A MUST: As part of standing ready in case the farms fly, I'm hellbent on seeking restitution for the bay bottom damage and the aggravation dumped on fishermen.
When I brought up this payback concept many moons back, I got expected negative feedback, primarily because I was implying the wind farms might be built. It was duly noted that the farms are in federal waters so the state couldn't endorse any restitution demands. Considering the end game for wind farms is to pump power ashore, through state waters and onto NJ terra firma, we are surely in the heavily impacted loop.
Proving my hometown point, a new wind farm proposed for off Rhode Island is hung up as commercial fishermen iron out what degree of monetary compensation they'll receive for the turbines inconveniencing their livelihoods. We're talking big bucks. Vineyard Wind offered $6.2M to compensate R.I. fishermen. They want more. This is living proof that the idea of compensation/remuneration is not only doable but being done.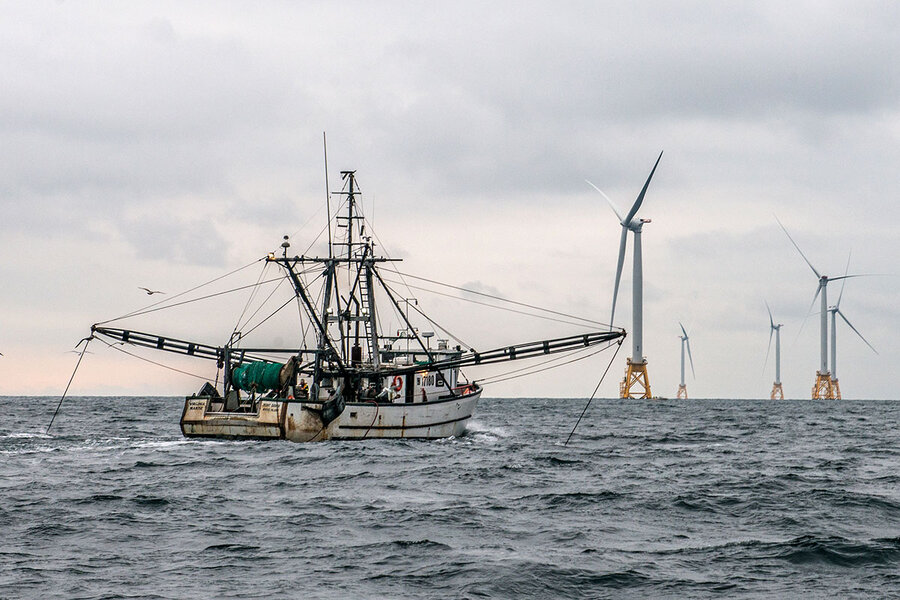 But such paybacks, with fat bucks hanging off of them, get complicated. It would be profoundly unfair if commercialites got all the compensatory money despite recreational fishermen and, even more so, Barnegat Bay itself taking huge hits of aggravation … well worth remuneration. I just hope anglers haven't blown their whole protest wad on trying to stop the build.
What might paybacks to the noncommercial sector look like? How about huge additions to our artificial reefs? Bay-wise, there's the reclaiming of damaged bay bottom -- outside the areas wind-power companies will damage. Helping to re-clam or re-oyster the bay would be apropos. Thinking way outside the box, how about placing temporary (summer) living "water cleaning reefs" comprised of screened containers holding mussels or oysters. Hey, the evidence is overwhelming that such purification reefs can thoroughly remove pollution from pollution-troubled waters. Laugh now but be awed in the future.
I'm looking for those wanting to make sure the Bay gets its due recompense from Big Wind, possibly ReClam or Save Barnegat Bay.
AFTER "ANGLERS":  I must advise readers that I will remain politically incorrect by frequently using the term fishermen, despite its vaguely sexist angle. I'm not overly worried about doing so since I've gotten the go-ahead from men, women and suspected tweeners, all agreeing fishermen is not overtly offensive. In fact, many lady fishermen feel fine with it while openly gagging over fisherwoman -- or even fisherperson. I use neither, thank-you. 
My wording options for folks who fish is rather limited, comprised mainly of fishermen, anglers, and one I get surprisingly little smack-back from, hookers.
All this word optioning comes after reading a very well done scientific study titled, "Risk to consumers from mercury in bluefish (Pomatomus saltatrix) from New Jersey: Size, season and geographical effects" by Joanna Burger. Within, she stunned me by using the expression "recreational fisherfolk." Say what?!
I know the studious Ms. Burger was trying her PC best. However, I will hereby drop her term like a hot potato served with sizzling deep-fried bluefish fingers. That promised, I can't deny that the term folks is indispensable to me, the only way to keep things close and homey, especially when all y'all doesn't quite fit the northern audience.
As to anglers being fishers, I've only seen that used in a biblical text, which is where it should solemnly remain -- unless speaking of the fisher, the North American mammal, a toss-up between a weasel and, say, a Tasmania devil, taking some geographical liberties there. And it has a true devilish attitude. 
There should be no confusion should I someday have to write, "I was bitten by a fisher."
*************************************************************
(Callie)
Davey's Locker Sportfishing & Whale Watching ...
Not something we pulled onto the boat today but still an AMAZINGLY RARE FIND off of local @newportbeach at Crystal Cove State Park yesterday. State park rangers and lifeguards with Crystal Cove State Park were alerted to a weird looking fish that washed ashore Friday morning from beach visitor Ben Estes who happened to notice it on the sand.
.
It's been identified as a deep sea Pacific Footballfish, which is a species of anglerfish that are normally dwellings at depths more t...
See More